With Zoe, you can easily share account information from the Totango Customer Success Center (CSC) with anyone in your company via email or Slack. By sharing information, you can share important account information, collaborate, create a task force, or simply brag about your customer success accomplishments.
When would I use Zoe's to share customer information with others in my company?

Here are some examples of use cases
As a Customer Success Manager (CSM), I am logging a Touchpoint in Totango about the extra-successful onboarding just completed with a customer. I can then use Zoe to share up-to-date account information with my whole company and brag with the message: "CloudRumba is live, and they had a stellar onboarding - read more about it here!"
As a CSM, I am reviewing a customer's state in Totango, only to find out that the customer experiencing a support storm (a lot of support issues logged in a short period of time). I can use Zoe to share this realization and account information via email with colleagues, including several support members, other CSMs, and the relevant sales manager, to ask how we can help this customer.
As a VP of Customer Success, I am reviewing a customer's billing issue in Totango, and I would like to immediately inform my finance department. I can use Zoe to share it ASAP to the #finance channel via Slack



Where can I find Zoe in the Customer Success Center?
The Zoe button is always in the bottom-right corner of the Totango CSC.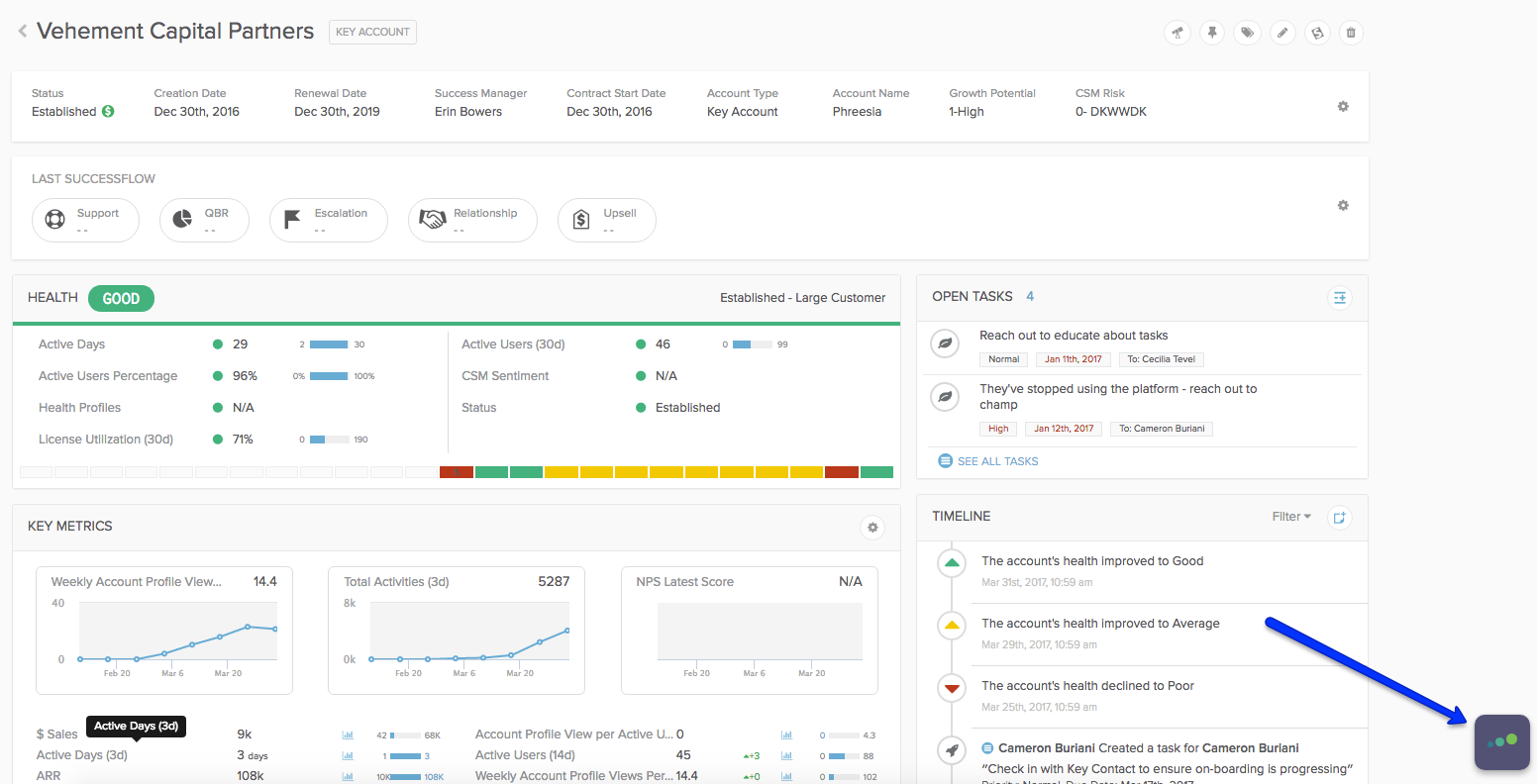 How can I use Zoe to share information or ask for help?
Watch the animation below to see the entire flow.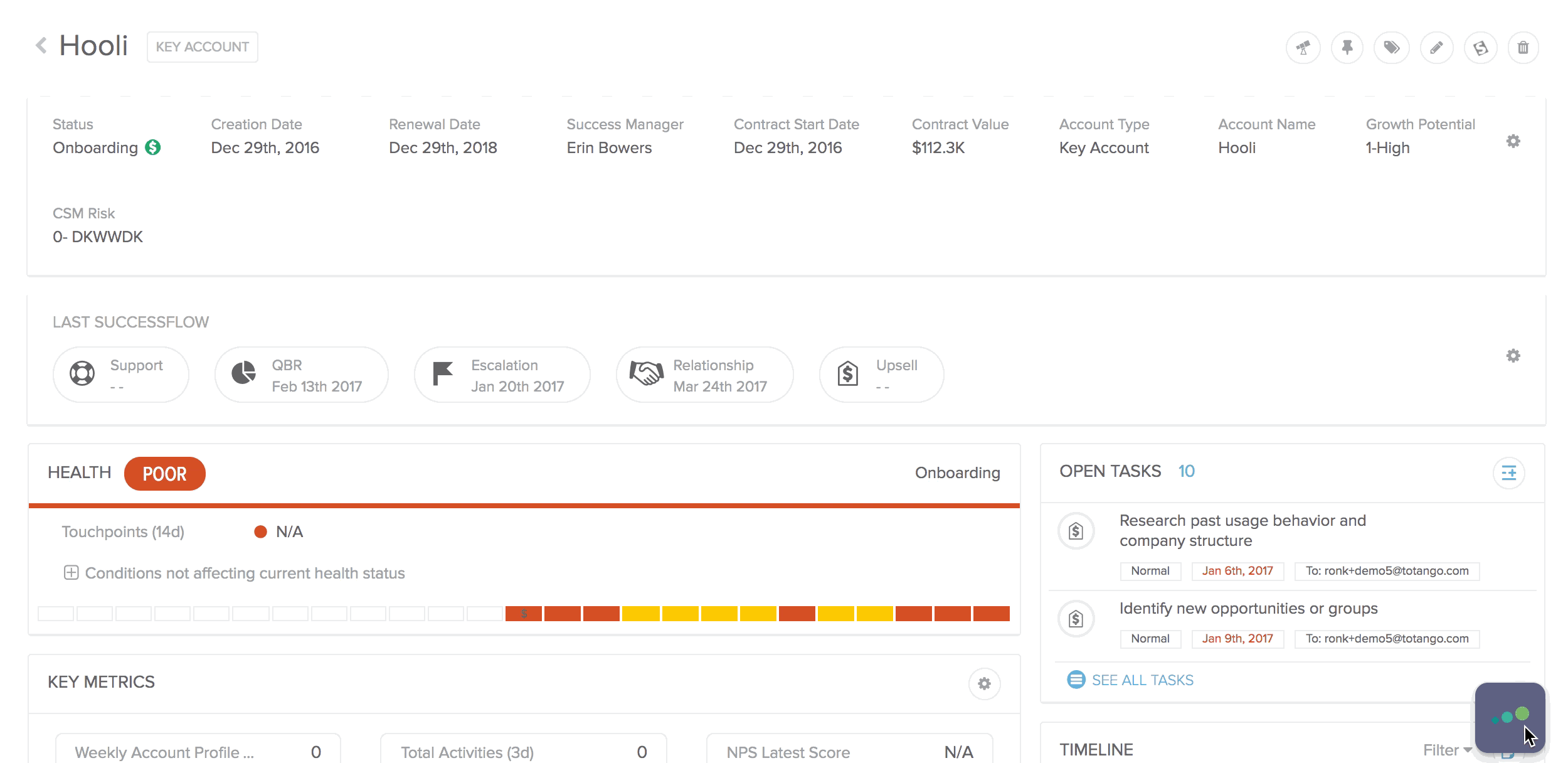 Q & A
Which channels can I use to share information sharing

?


Right now, Zoe supports sharing via email and Slack. More channels are in progress and will be added in the future.

When I share, what account information will be included

?
Zoe will share pre-defined account information, which is different for email and Slack.

Via email, the information that will be shared includes:

Account information - name, account type, account hierarchy
Subscription information - contract value, renewal date, and number of licenses
Recent touchpoints -

including up to 3 touchpoints from the last 3 months only

Key contacts - the customer key people as defined in Totango

The email shared via Zoe will look like this, with your personal message on top: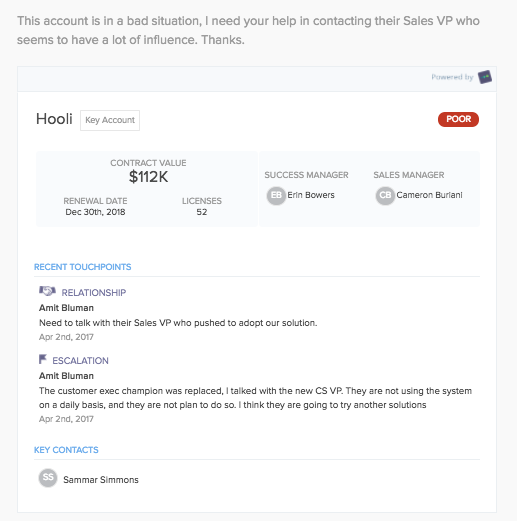 When you share via Slack, you share an overview, a brief summary of the account information, which includes:
Account name - you get it
Subscription status -the customer status as defined in Totango, it usually presents the customer journey.
Account type - the customer category as defined in Totango
Account hierarchy - the hierarchy of the customer
Health - the customized account health as defined in Totango
Subscription section - includes contract value, contract start date, and renewal date
Team info - includes the Success and Sales Managers' names






In addition to the account overview, there are options in Slack to view much more customer information. Here is what each button will display:
Key Information - Displays the attributes which appear at the account profile header. Please note: only attributes with values will be shared.





Usage - Displays usage trends and module usage




Trends - Displays the metrics which appear at the account profile key metrics widget (these are the most important metrics chosen by the admin user).




Touchpoints - recent 3 touchpoints from the last 3 months






Why do I need to authenticate

?
When sharing information via Slack, you must go through the standard Slack authentication flow that asks permission to share messages on your behalf.



Can I connect Zoe to another Slack team

?
Zoe connects a single Totango instance to a single Slack team. However, your Totango administrator is able to switch your connection to a different Slack team in the

Totango Integration Hub

, and it will apply to all Totango users.