Who can use this feature?
Default value metrics available to Salesforce users without a Totango user license
Available on all plans (requires configuration)
If your administrator has configured the Totango Salesforce widget, you can view Totango insights without leaving Salesforce. Use these insights to help you identify:
Early warning signals: Accounts that might be off track and require your attention
Expansion indicators: Accounts with high license allocation, engagement, and usage frequency within your product(s)
Historical context: Accounts with health fluctuations, particularly approaching renewal
View a snapshot of value metrics
You don't need a Totango user license to view the snapshot of value metrics provided in the default widget. This means everyone in your Salesforce instance can rely on these valuable data points in your conversations!
Hover over the tiles to learn more about each one.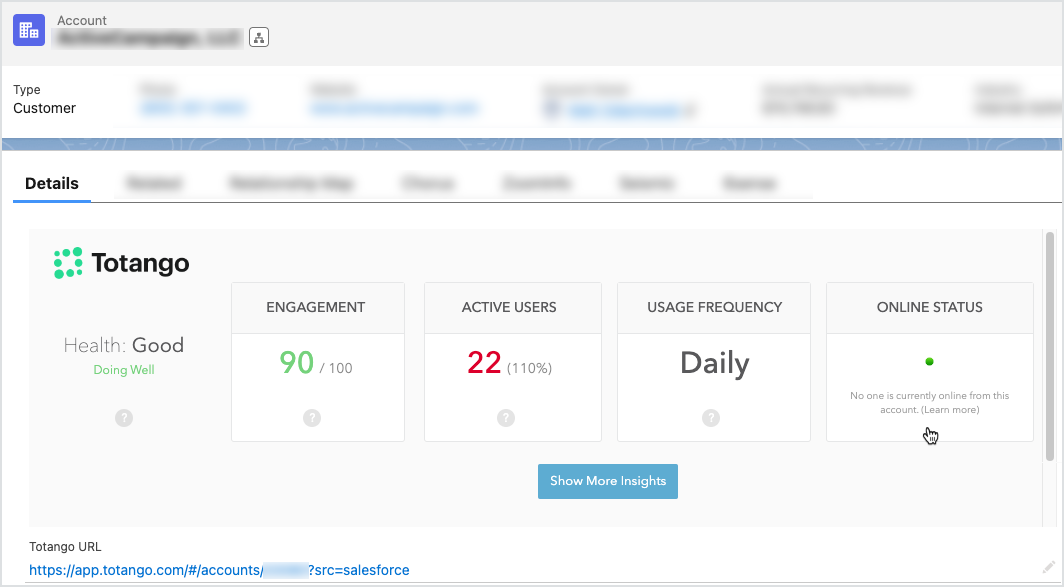 Value metrics are computed automatically for product usage data points collected from your web application, if configured in Totango.
Health rank
The current health classification for how a customer is doing, according to a pre-defined "ideal" profile.


Good (Doing Well):

Indication that the customer is on track and meets all "good" requirements of the health profile

Average (Take Notice):

Indication that the customer is off track or recovering; does not meet

all

"good" requirements of the health profile, but does not meet

any

"poor" requirements

Poor (Requires Attention:

Indication that typically requires action; meets at least one "poor" requirement of the health profile
N/A: A health rank is not available for this account (e.g., Totango does not calculate health for accounts in a canceled status)

Engagement
Level of activity within your product the customer has spent within the last 2 weeks (out of 100).
Active Users
Number of enabled users in your product over the last 2 weeks (out of the number of contracted users).

In the example above, the account is contracted for 20 users, so they are at 110% of allocation—could be time for an expansion opportunity!

Usage Frequency

Frequency with which the customer has used your product in the last 2 weeks.

Daily
Weekly
Occasional
Inactive

Online Status

Indicator of the number of users at the company who are currently online in your product

Green: Someone

is

currently online (in your product) from this account
Grey: No one is currently online (in your product) from this account
View more insights
Additional Totango insights for the account are available from within Salesforce for anyone who is logged into Totango (requires a user license):
In another browser tab, log into Totango.
From the Totango widget in Salesforce, click Show More Insights.

If you're not already logged into Totango, the widget prompts you to log in.

The Totango health profile for the account expands.
Use the health widget to analyze health metrics for the selected profile. Scoring system and metrics vary depending on the health profile enabled (account health or multidimensional). 


You can also look back at health snapshots over time.

Optionally view or edit account tags. Tags identify an account with a custom label. Tags can indicate anything you want—like an account that is a renewal risk.

Once a tag is applied to an account, you can use tags within Totango segments, SuccessPlays, and campaigns.



Optionally click the Totango URL to view the full Totango account profile for this customer.
Click the X within the widget to return to the snapshot of value metrics.