Who can use this feature?
If you have an existing paid subscription, you can manage all plans and billing information from one place, including options to increase plan and usage capacity without switching plans.
View plans and billing
The plans and billing page is available to global admins and users with advanced permissions. Refer to resolve customer account overages for more details.
From Settings, click Subscription from the left nav.
View current usage and capacity for each area:

Spark users
Zoe users
Customer accounts
Campaign emails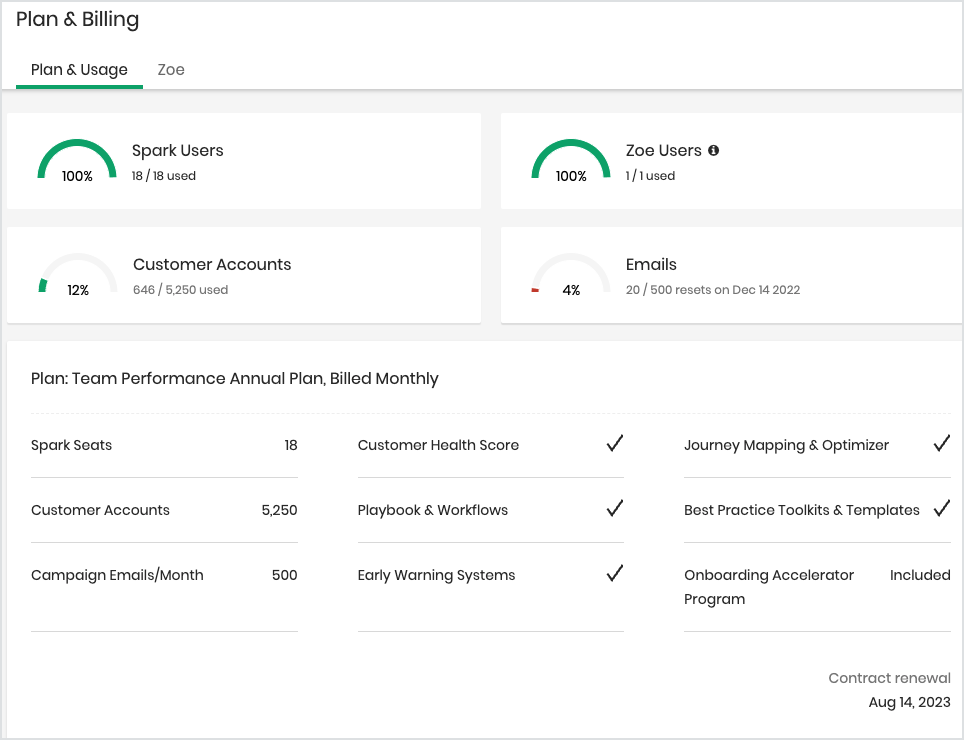 You can also view usage indicators for items individually from the following areas.
Users: User Management > Totango Users
Accounts: Data Management > Customer Data Hub
Emails: SuccessBLOC > Campaigns tab. Shows the number of campaigns sent in the current cycle and when the new cycle starts.


Control who can modify your subscription
Global admins who already have this permission set for themselves can set it for other users.
From Settings, click User Management > Permissions > Subscription Permissions.
Choose the specific user(s) you want to allow to modify the subscription.

The user is notified by Totango with links to relevant knowledge articles.
Choose a new add-on for your subscription
The option to add an add-on is available to users with appropriate permissions. 
From Settings, click Subscription from the left nav.
Click Upgrade for the available add-on(s).

Details of the transaction are unique for each circumstance. They include:

What exactly is being added to your subscription
How much does each add-on cost (annually)
The prorated charge for today
That once you added an add-on to your subscription, the commitment is made until the end of the contract. In other words, the downgrade is not available until the renewal date.
When the transaction is complete, you'll receive a confirmation message. You'll also receive an email that includes the summary of the upgrade, following an invoice shortly after. The upgrade will become a part of your subscription going forward, and you can use the new capabilities right away.
If you perform an action that puts you over your current limit, Totango also provides the option to buy a subscription add-on. For example, if you have 1 unoccupied seat under your plan, and you invite 2 or more users, Totango provides the option prior to completing the invitation.