Overview
Touchpoints denote interactions with your customer. Touchpoints are an important tool not just for logging your conversations but also an important part of tracking the last time there was a customer touch on each account.
In order to create, edit or delete Touchpoints, you must have the appropriate permissions or be a Global Admin.
Topics covered in this article:
Creating a Touchpoint
You can create a touchpoint from your My Portfolio page or from the Account Profile directly. If creating it from My Portfolio, you will be able to use the search feature to find the account where you would like the Touchpoint to be added. If adding from the Account Profile page, the account name will populate automatically.
The touchpoint modal allows you to capture all the rich information from a meeting you had with the customer. Including:
Date - T

he actual date that the interaction happened (you can backdate if you forgot to add it right away)

Account - The account for which you want to add a touchpoint
Type - The touchpoint type list includes values to indicate the type of touch you had with your customer. This list is configurable and you can read the touchpoint settings section below on how to do that. Totango's includes the following types by default:

Web Meeting
In Person Meeting
Phone Call
Email
Internal Note (Use this to capture anything related to the account that does not involve an explicit customer touch)

The Internal Note allows you to capture internal notes on the account and @mention your colleagues
The Internal note is not counted as a touch and will not affect criteria such as "Last Touch" and "Number of Engagements".
The timeline allows you to filter Notes to view them together

Subject

- Capture a short subject to describe your customer interaction

Participants - Capture a list of internal and customer participants to accurately reflect presence and also include email addresses to notify partners or other stakeholders where necessary. Look at touchpoint settings below for options to turn these features on

Users can choose the Account team members or contacts added to the account.
Users can also choose other users from the SuccessTeam
When the partner settings is on in touchpoint settings, users can also enter email addresses of partners to email the touchpoint

Description - The Description field supports rich text formatting making it easy to add bullets, hyperlinks and other rich formatting so that you can document the meeting minutes. You can @mention both internal users and customer contacts and also add existing objectives or SuccessPlays in the account using the '+' shortcut. Keep in mind that there is a 10k character limit for the body of the Touchpoint.
SuccessFlow - Select the appropriate SuccessFlow

for this interaction

Reason - You can choose one or more Reasons to further qualify the type of interaction with the customer. This list is configurable and you can read more about how to setup the items here.
You can attachments to the touchpoint and these will be added as an Asset

on the Account Profile.
Sending a copy of Touchpoint via Email
Based on the participants added to the touchpoint, the system automatically prompts to send an email to internal and external participants. You can decide to send it to both internal or external participants selectively. The system sends the notified participants a copy of the touchpoint. When external customer contacts are added you are asked for confirmation before sending the email out and the email will go to the email address associated to that contact on the account (as seen in the Contacts Widget).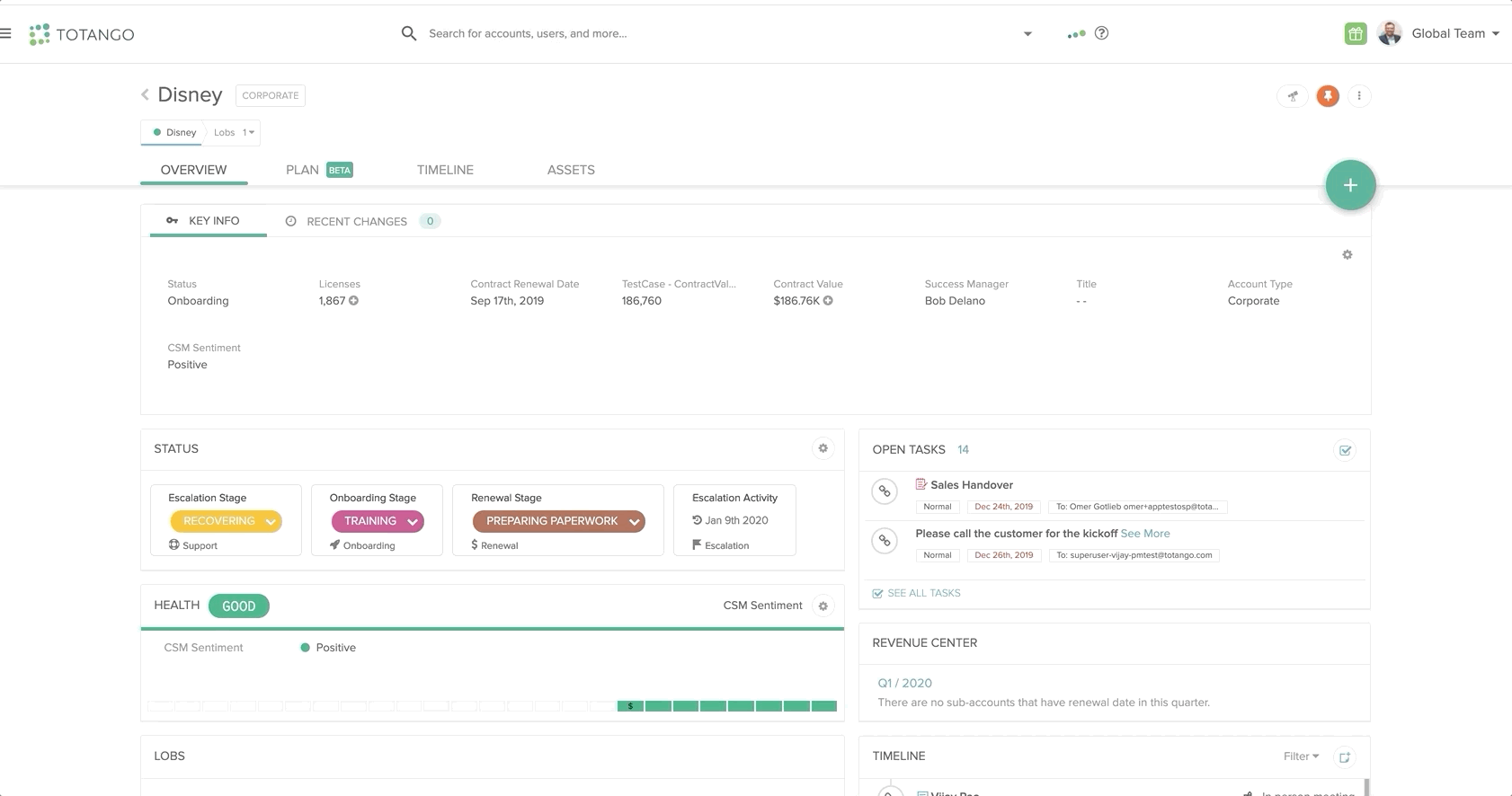 Note: Only Internal emails include a header to capture the account context by displaying Account Name, Health and Contract Value. If the Health is not available on the account it is skipped and if the Contract Value is marked as "Privileged" in the attribute definition it is skipped as well.
Example of emails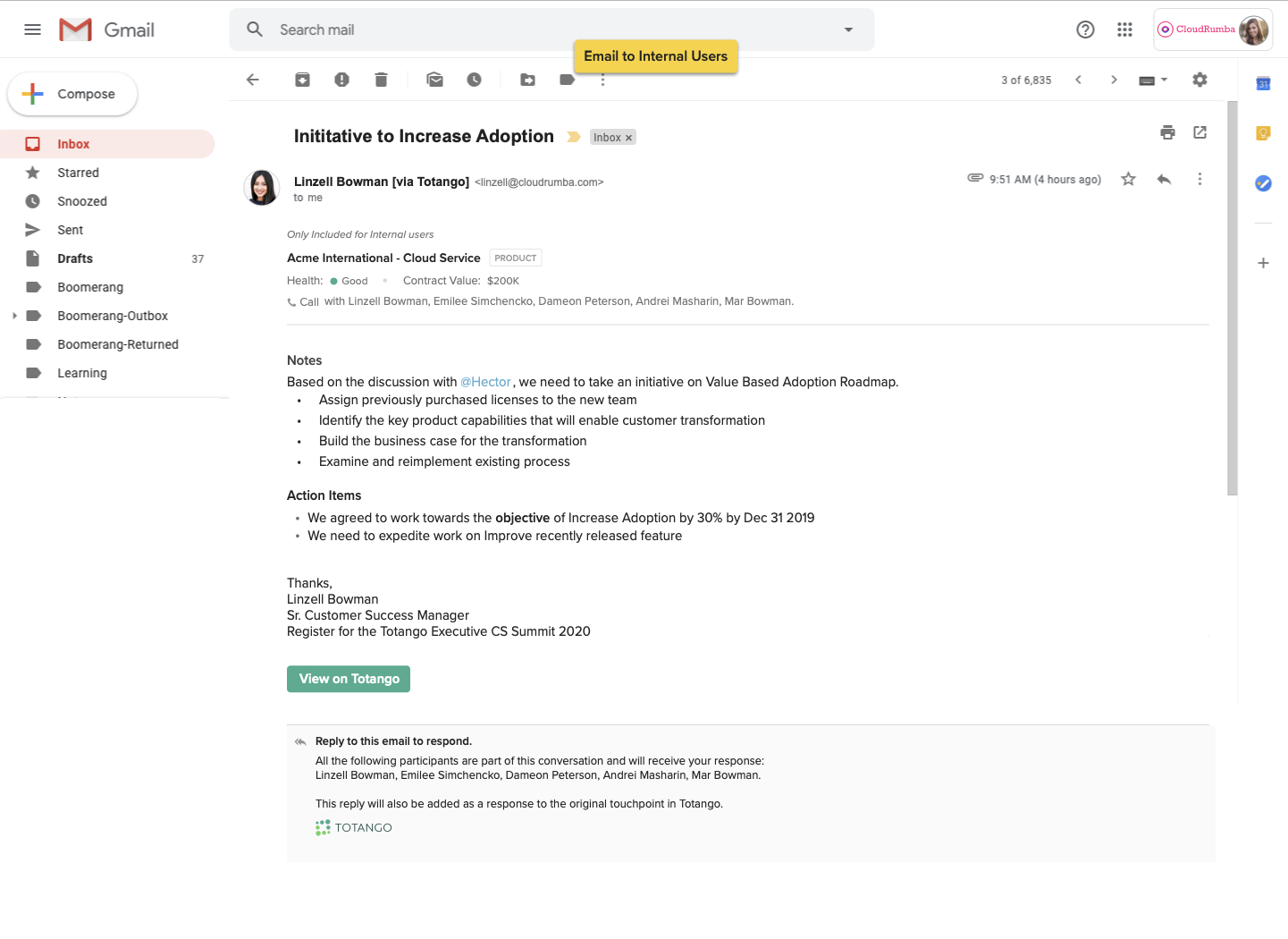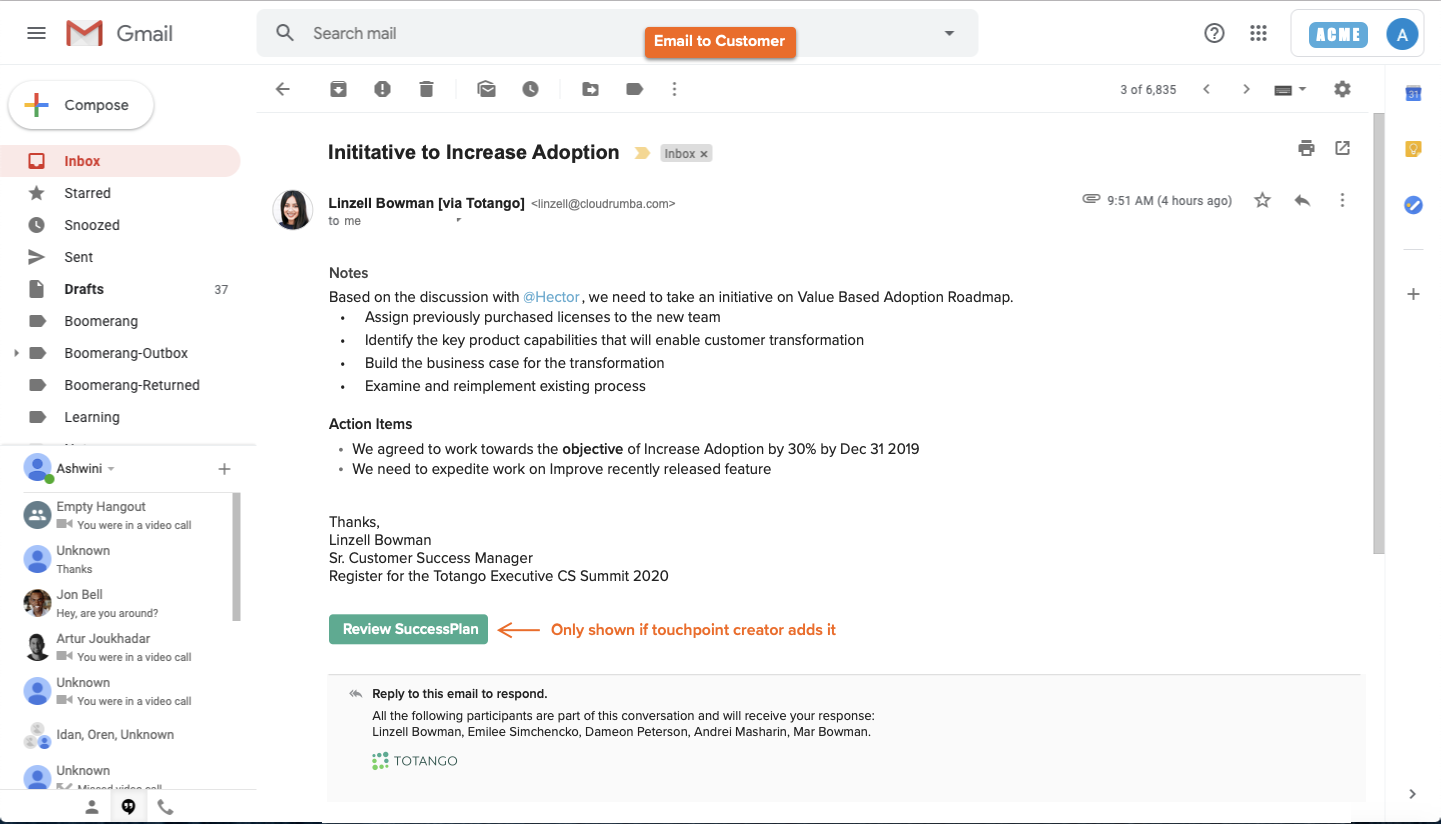 Replying to a Touchpoint
Replying to a touchpoint is as simple as replying to the touchpoint email or hitting reply button in Totango. A touchpoint thread is automatically created once you reply to a touchpoint.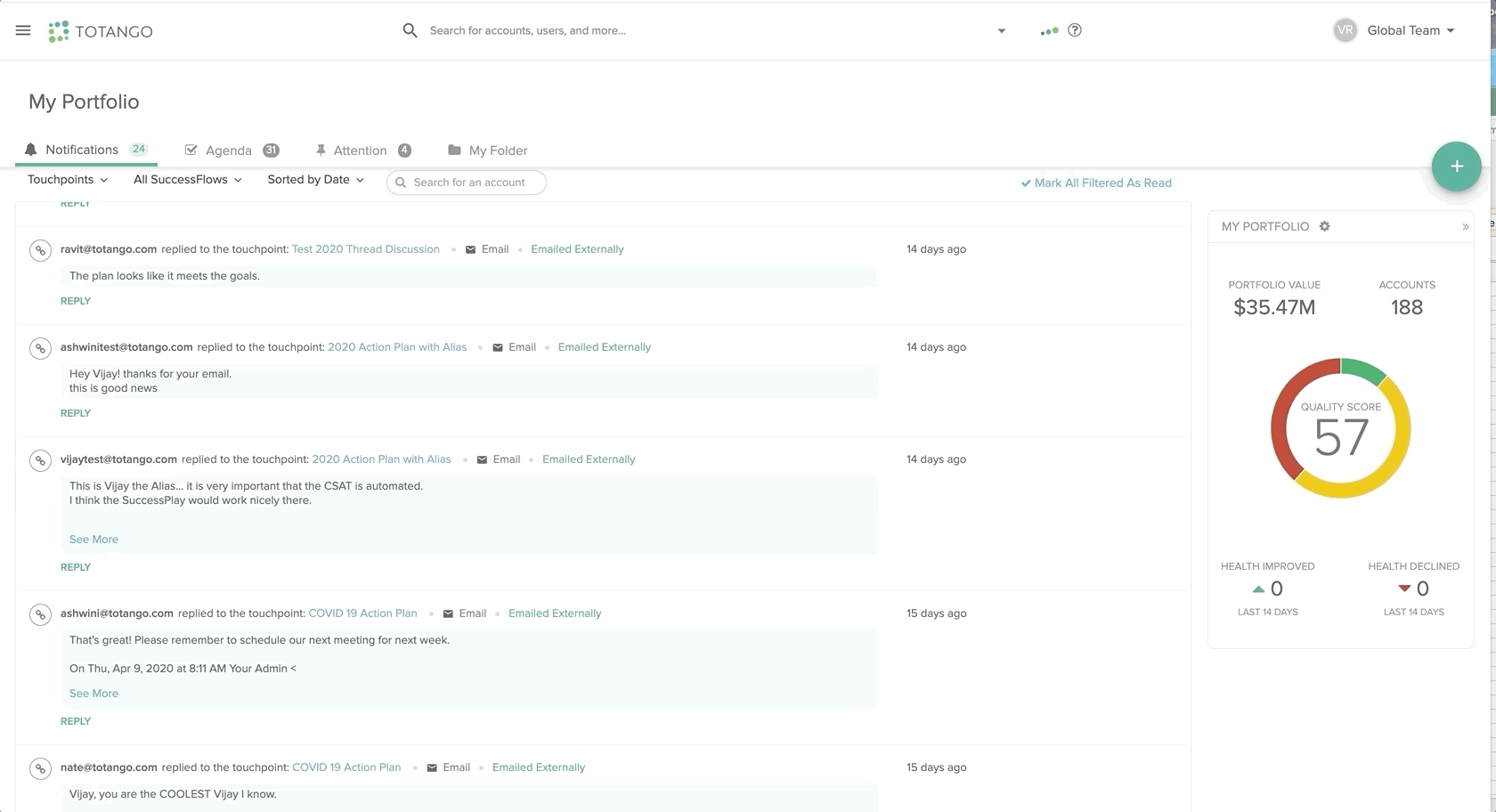 Touchpoints emailed externally to customers are indicated with a green background and marked as "Emailed Externally". All replies are collapsed under the main touchpoint and the number of replies are indicated. Clicking on it expands the thread.

The Reply-To email address is unique to this thread and the replies from customer or internal stakeholders are automatically recorded in Totango as replies to the original thread.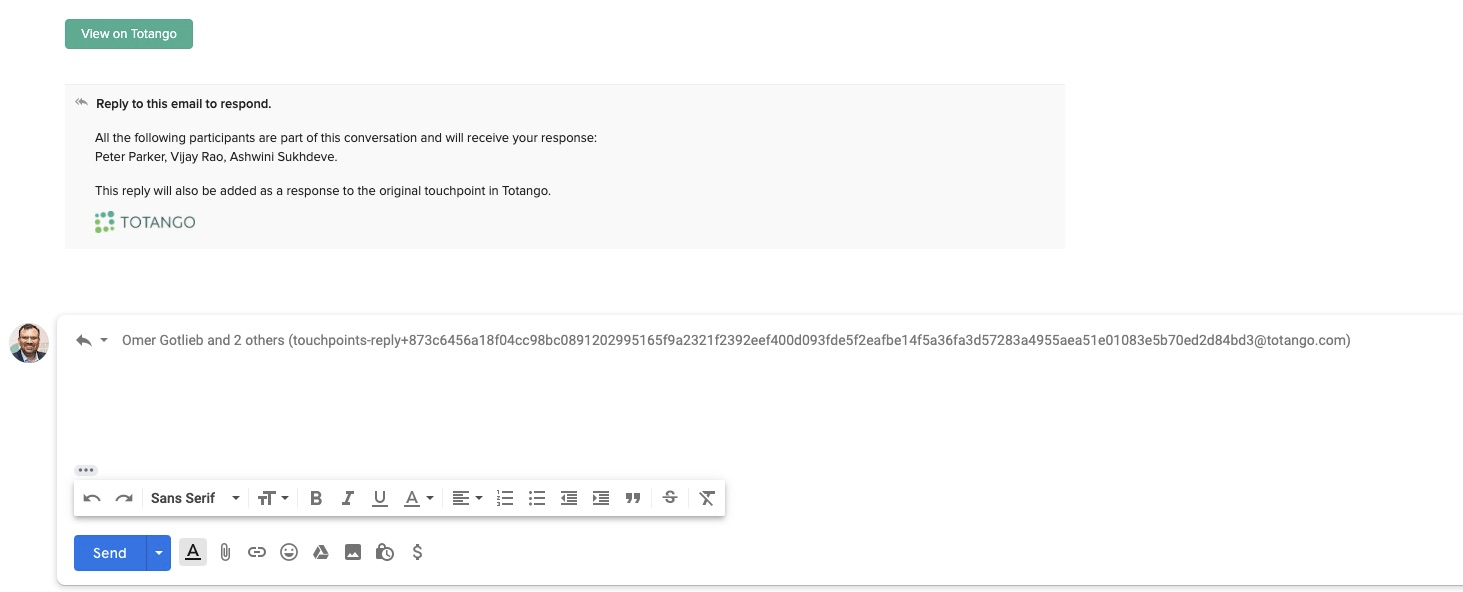 Adding a Touchpoint via an email
Many times your customer interactions happen via email and instead of having to copy and paste that email after you send to the customer, you can simply BCC touchpoints@totango.com and the email will automatically be saved on the Account Profile for the account that the recipient(s) are associated with.
Please note that when adding a Touchpoint via email, it will automatically be saved under whatever your Totango instance's default SuccessFlow is. Check out this article for more in depth information about adding a Touchpoint via email.
Editing or Deleting a Touchpoint
Once you add a Touchpoint, you can edit or delete it by clicking on the pencil or trashcan icon next to the Touchpoint. The only thing you will not be able to edit is which account it is associated with. Also, please keep in mind that you cannot edit a Touchpoint that another user entered unless you are a Global Admin.
Creating a followup Touchpoint from a Task
Anytime you close a Task you will have the option to create a followup Touchpoint from that Task and (optionally) have the ability to have the task completion automatically update selected account attributes based on your interaction.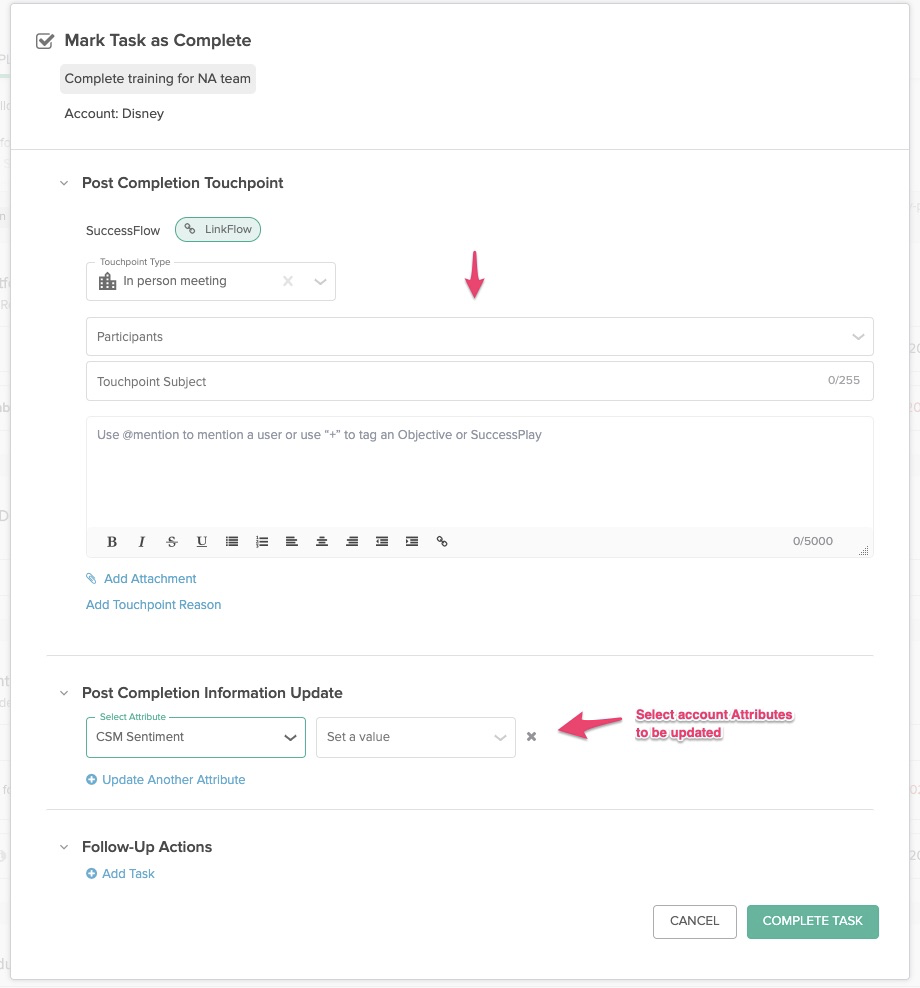 Keep in mind that the Touchpoint you are creating when closing a Task will automatically be associated with the same SuccessFlow as the Task.
Creating a Touchpoint from a Campaign
When creating a Campaign, you can decide if you would like that Campaign to be counted as a customer Touchpoint. Note that even if you do not select your Campaign to become a Touchpoint, it will still be visible under the Timeline on the Account Profile.

Viewing all your Touchpoints
If you would like to view all the Touchpoints associated with an Account, you can filter the Timeline to show only Touchpoints, or even only Touchpoints under a specific SuccessFlow.
The timeline also shows additional details of participants captured as well as the type of the meeting.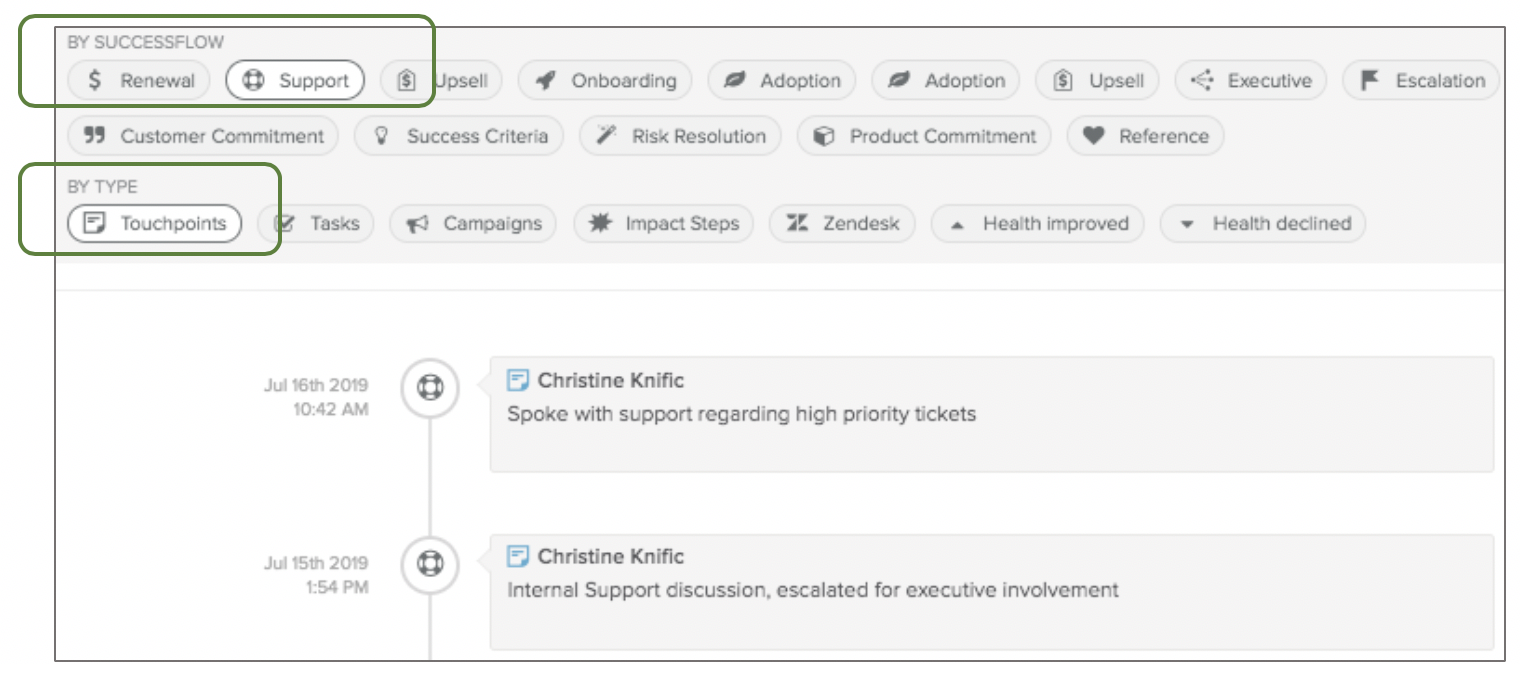 Learn how to sync Totango Tasks & Touchpoints back to Salesforce!
Touchpoint Settings
The Settings page in Global Settings > Engagement > Touchpoints allows you to control the following aspects of touchpoints
Email touchpoints to customer contacts
Email touchpoints to partners
Add or modify existing touchpoint types
Add or modify Touchpoint reasons
Emailing Touchpoints
Set the "Emails can be sent from touchpoints to" setting to the right value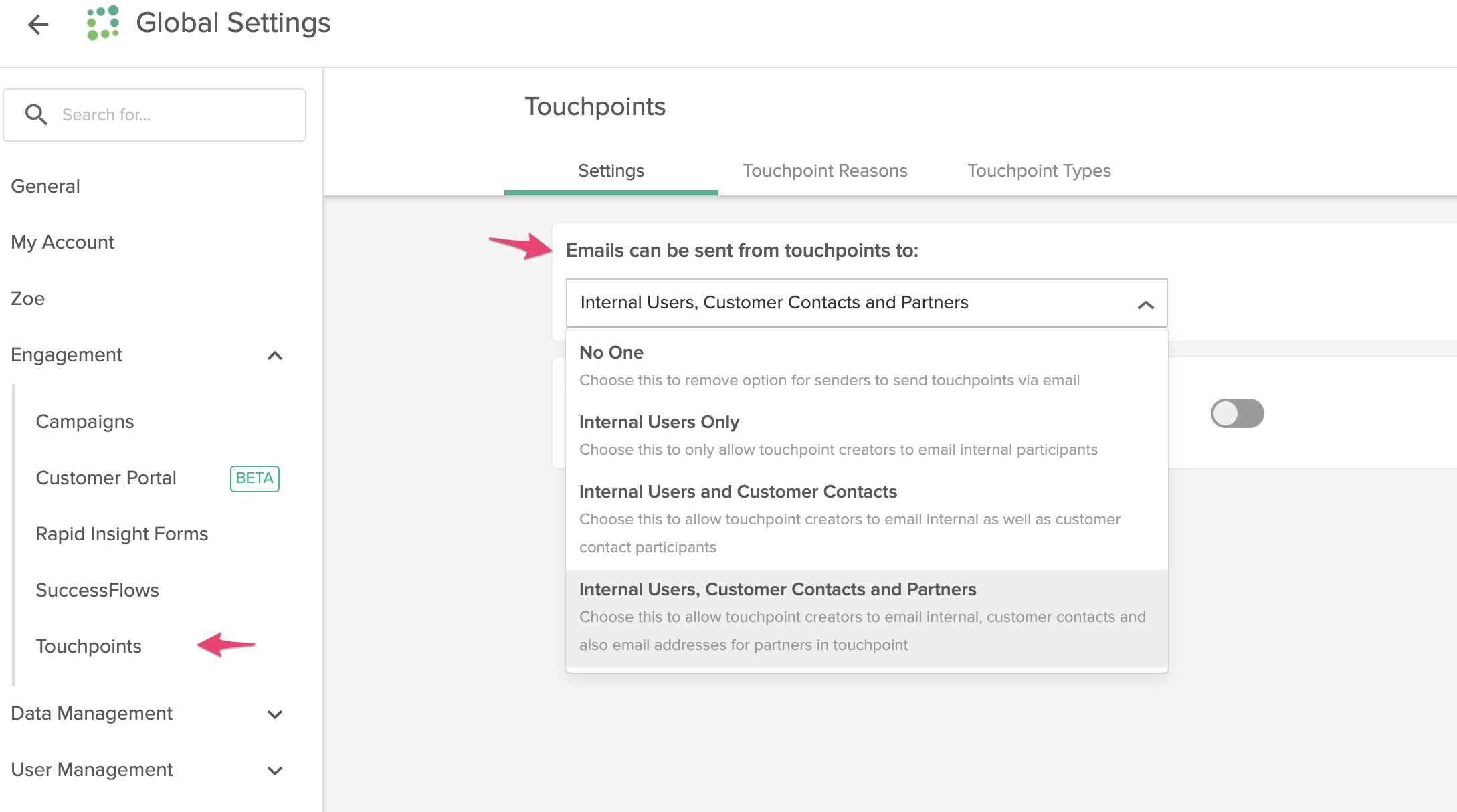 When this setting is set to Internal Users and Customer contacts you will have the option to send email to customer participants.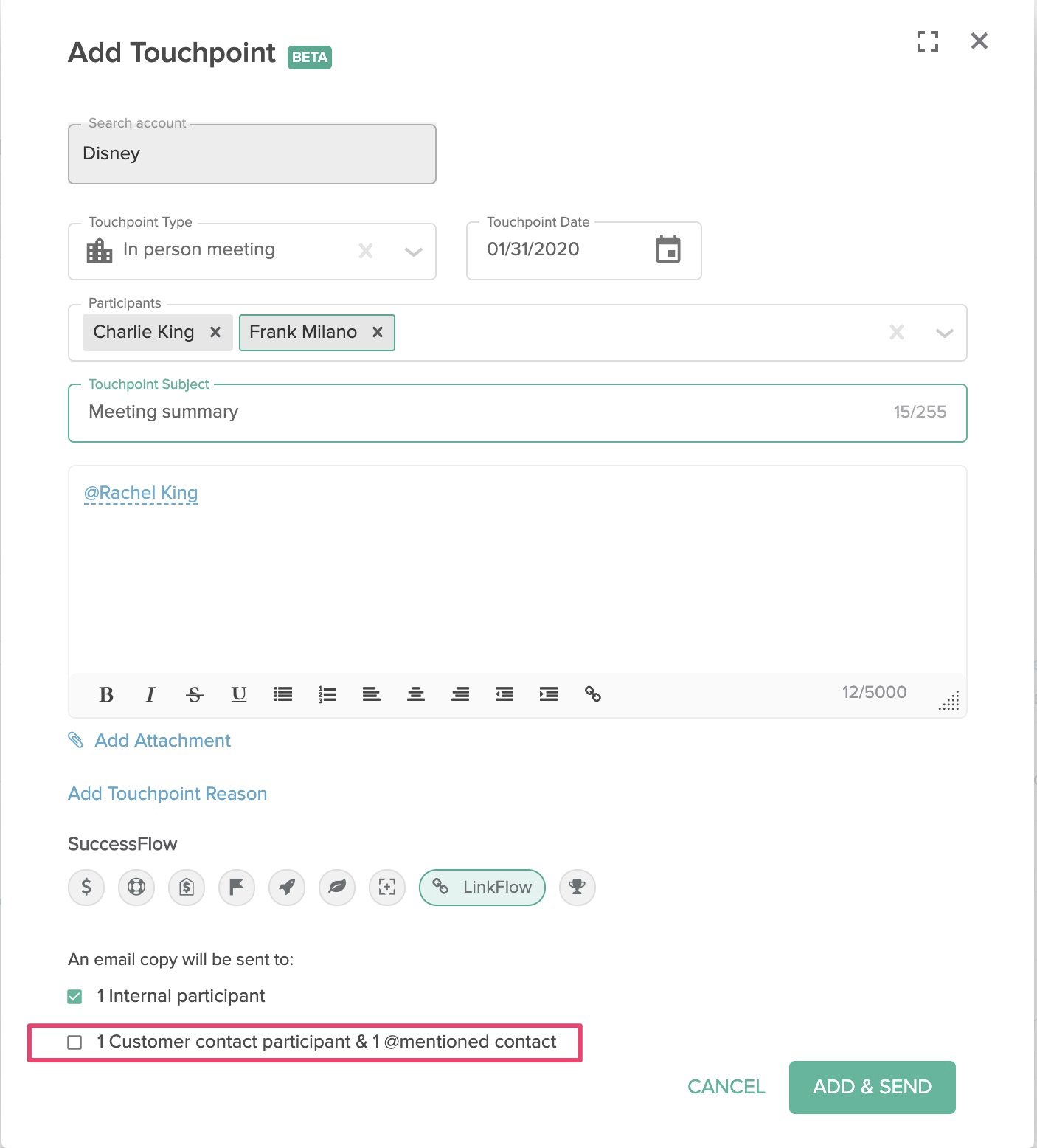 When the setting is set to Internal Users, customer contacts and participants
This setting allows your users to add partners and other stakeholders by entering their email addresses in the participants field of the touchpoint and emailing the touchpoint to them.
Touchpoint Types
The Touchpoint Types tab allows you to define new types or modify existing types that suit your organizational needs. Each type is associated with an icon and the system supports 9 types that can be defined overall.

Touchpoint Reasons
The Touchpoint Reasons tab allows you to define additional Touchpoint Reasons to allow users to choose one or more reasons while creating Touchpoints.

FAQs
Question: Why can't I edit this Touchpoint?
Answer: In order to edit, create or delete a Touchpoint you must have the correct application permission which is set up by your Global Admin. If you have that permission, you still will not be able to edit a Touchpoint that another user unless you are a Global Admin.
---
Question: Why don't I have the option to automatically update an account attribute when creating a Touchpoint from closing a Task?
Answer: You must have the correct application permission to update account information in order to update account attributes, which is set up by your Global Admin.
---
Question: I have a Salesforce integration configured in my Totango instance, is all the Touchpoint information sent to Salesforce?
Answer: Yes. Touchpoints are synced to Salesforce. Read more about the integration and how to configure it here.
---
Question: How does Totango define "Last Touch"?
Answer: "Last Touch" is the date of the last touchpoint on the account. A 'Touchpoint' is always a touch and a 'Task' is only a touch if you mark it as one when completing the Task.