Totango's SuccessFlows allow you to categorize and group your customer success team's activities and engagements by lifecycle stages and the business processes you define as critical for tracking to improve workflows, team productivity, and overall impact.
View SuccessFlows overview article here.
Now with SuccessFlows Segmentation, you can incorporate SuccessFlows into Totango's Segments. This allows you to filter, analyze and act based upon the activities and engagements pertaining to your customer accounts.
Use Cases
As a user, I am able to take action and create an automated task (via SuccessPlays) on all accounts with no meaningful interaction in the last 90 days.
You can segment all upcoming renewal accounts without any renewal or upsell SuccessFlow in the last 45 days, and automatically create tasks (via SuccessPlays) for their CSMs.
You can segment all account that did not have a QBR SuccessFlow in the last 5 months, and automatically create QBR tasks for the account owners.
Admins can include SuccessFlows in the Health configuration.
For example, all accounts that had an escalation SuccessFlow activity in the last 14 days should be in poor health.
Segment accounts with Completed tasks by Successflow activity in the last 14 days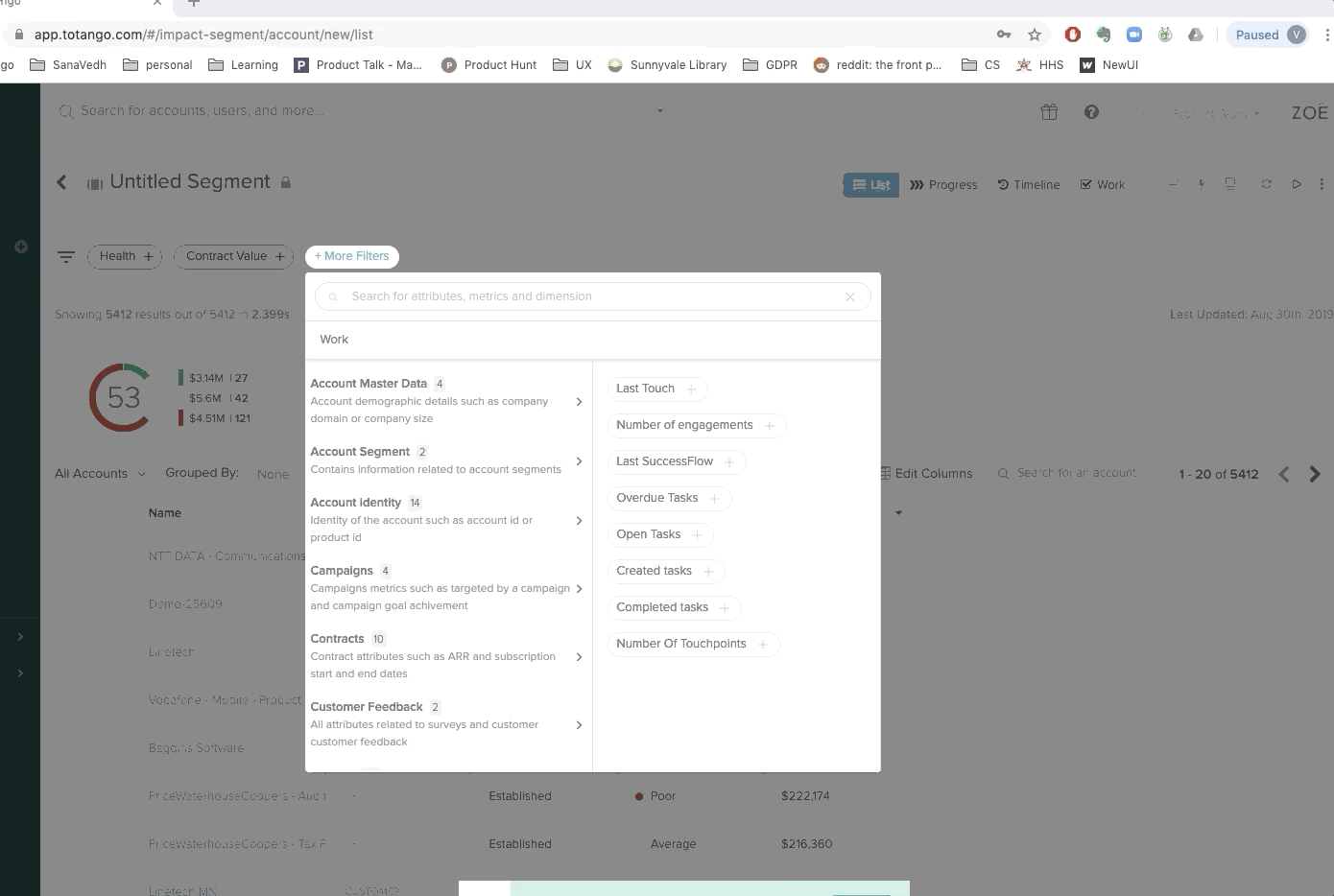 The following segment filters support query by Successflow
Last Successflow
Open Tasks
Completed Tasks
Overdue Tasks

Where to find it?
Under "WORK" section in any segmentation engine
Other Resources
FAQs
Q: What is considered a Last SuccessFlow Date?
A: Last SuccessFlow Date is only based on SuccessFlow activities that are considered customer touchpoints.