Who can use this feature?

Segment views allow you to view data sets in different groupings:
List View - Provides a tabular view of accounts within a segment
Progress View - Provides a grouped status view of all accounts in different lifecycle statuses
Timeline View - Provides a running view of the timeline of all the accounts in the segment 
Work View - See the overdue and completed tasks for the accounts in the segment
Timeline view is often used as a starting point for 1:1s with CSM teams. Learn more.
Sort and refine segment results
Sort and refine segment results in a variety of ways.
All Accounts/My Accounts: View results for all records that are available in your team's account set, or filter results by accounts assigned to you (My Accounts).

Search the result set: Start typing for a name in the segment search bar.

In an "Other" segment, there is no search.
Grouped By: Group your segment by any text-based attribute to analyze a group of accounts. Select the attribute from the Grouped By drop-down. Use column sorting to sort the grouping, and also switch to see only your accounts.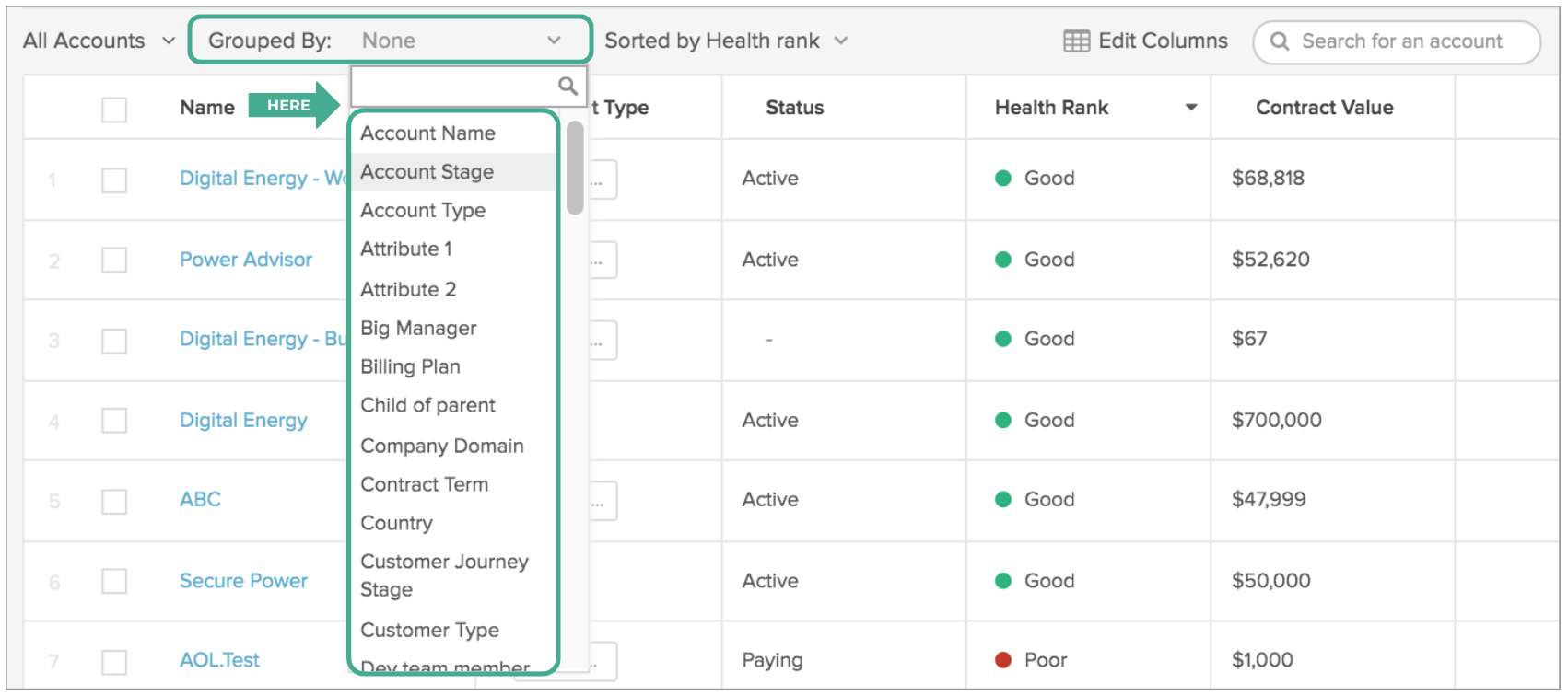 Grouped by option is only relevant in an account segment.
Column Selector: Select the columns to display in your results view and organize them in the order you want to view them in.
Click the Edit Columns to manage columns for the results.
Search for column headers, and drag & drop from the column bank.
Reorder the columns on the right side by dragging & dropping a column in the order you want.
Remove a column by using the "x" button located on the right side.

Table Sorting: Click on each header to sort the column.  Clicking it again reverses the sorting.

Edit segment data
Edit a single attribute right from the segment cell, or update in bulk (requires permissions). 
Click inside cell to update the value. Or, select the accounts by selecting the check box(es) next to each row.
Choose the option you want (Add Tags, Remove Tags, Edit Attributes, Clear Attribute Values).
Choose one of the options, and click to apply.
Use segment actions
Segment actions allow you to monitor and take action on the data from a segment.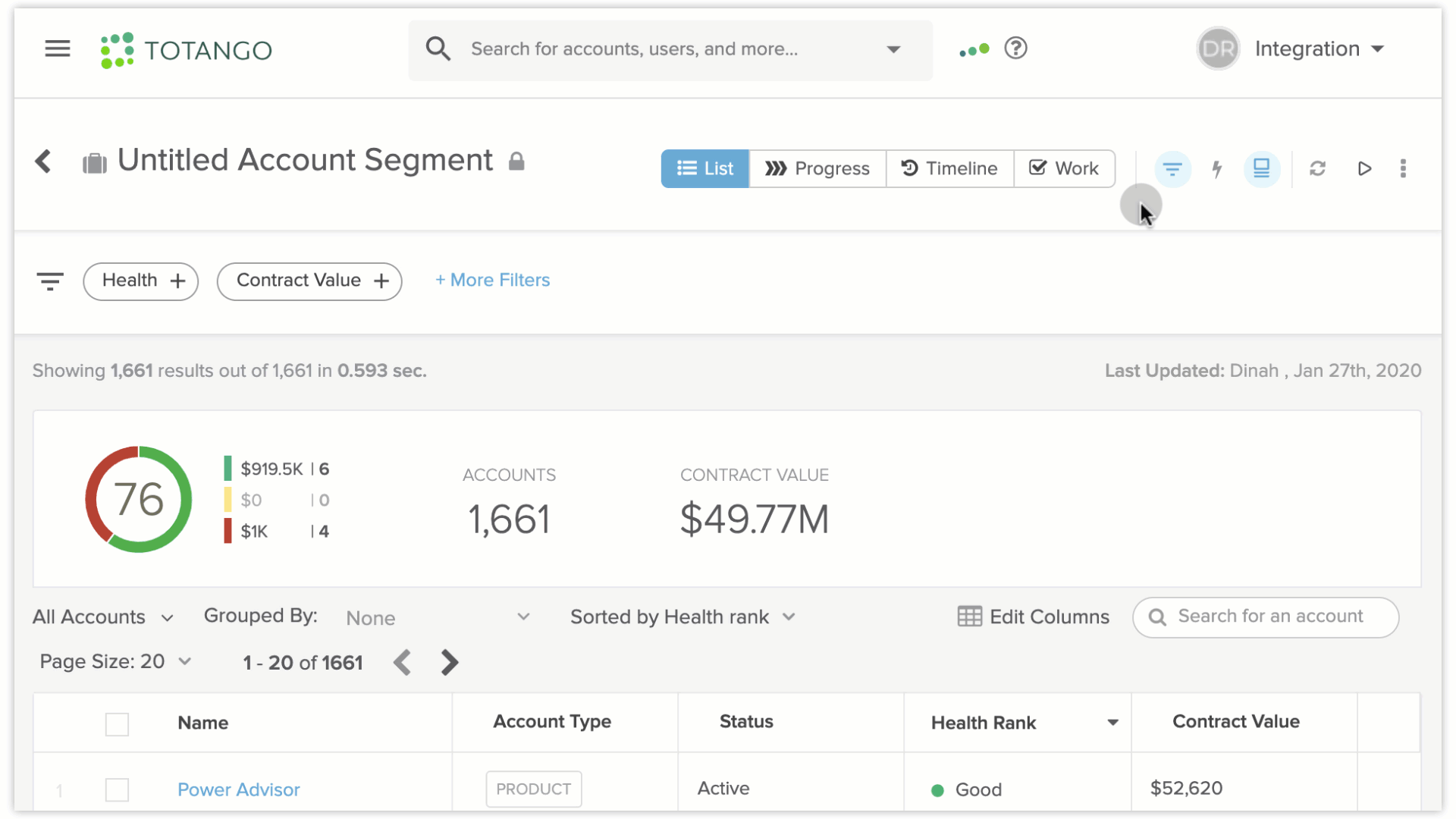 Triggers: Automatically apply/remove tags on entry (meets the criteria) or on exit (no longer meets the criteria).
Refresh: Reload the segment results without reloading the entire page, including filters.
Follow a segment: Send a daily snapshot of the segment to your email. 
Create a SuccessPlay: Create a new action based on the criteria of the segment.
Save current view as default: Save all segment preferences for future viewing.
Download: Export segment results outside of Totango
Copy: Create a copy of the current segment
Delete: Remove the segment permanently (only if you own it or have global permissions)
FAQs
---
Question: I have a column of data in my segment that includes numbers. I have it sorted from highest to lowest, but it is not sorting them correctly. Why?
Answer: Make sure that the attribute field type that contains these numbers is either a numeric or currency data type. If it is set up as a text field, it will sort left to right instead of highest to lowest.
---
Question: Is there a way to do a mass clear of a field? I want to remove all values for a particular attribute within all account profiles in bulk.
Answer: Yes, but bulk editing in segments requires permissions. Create an account segment. Select all accounts in the segment, and then choose the Clear Attribute Values option. Refer to Edit segment data (above).
---
Question: How do I unfollow a segment?
Answer: Locate the original segment. From the Ellipses (...) option, choose to Unfollow. If daily updates are too frequent, try setting up a segment trigger to send an email based on segment activity.