Overview
SuccessPlays give organizations the ability to standardize workflows and achieve consistent and effective delivery of services to both increase the scale of a team and reduce churn.
If you are a Global Admin, have access to the 'Tools' section and/or are the Owner or Collaborator of a SuccessBloc, you are able to create and active SuccessPlays. You can create them within the 'SuccessPlay' tab of a SuccessBloc or under 'Tools'.
This article covers the following topics:
What does your SuccessPlay do?
Now you have started to build your SuccessPlay and the first step is to configure what your SuccessPlay will be doing.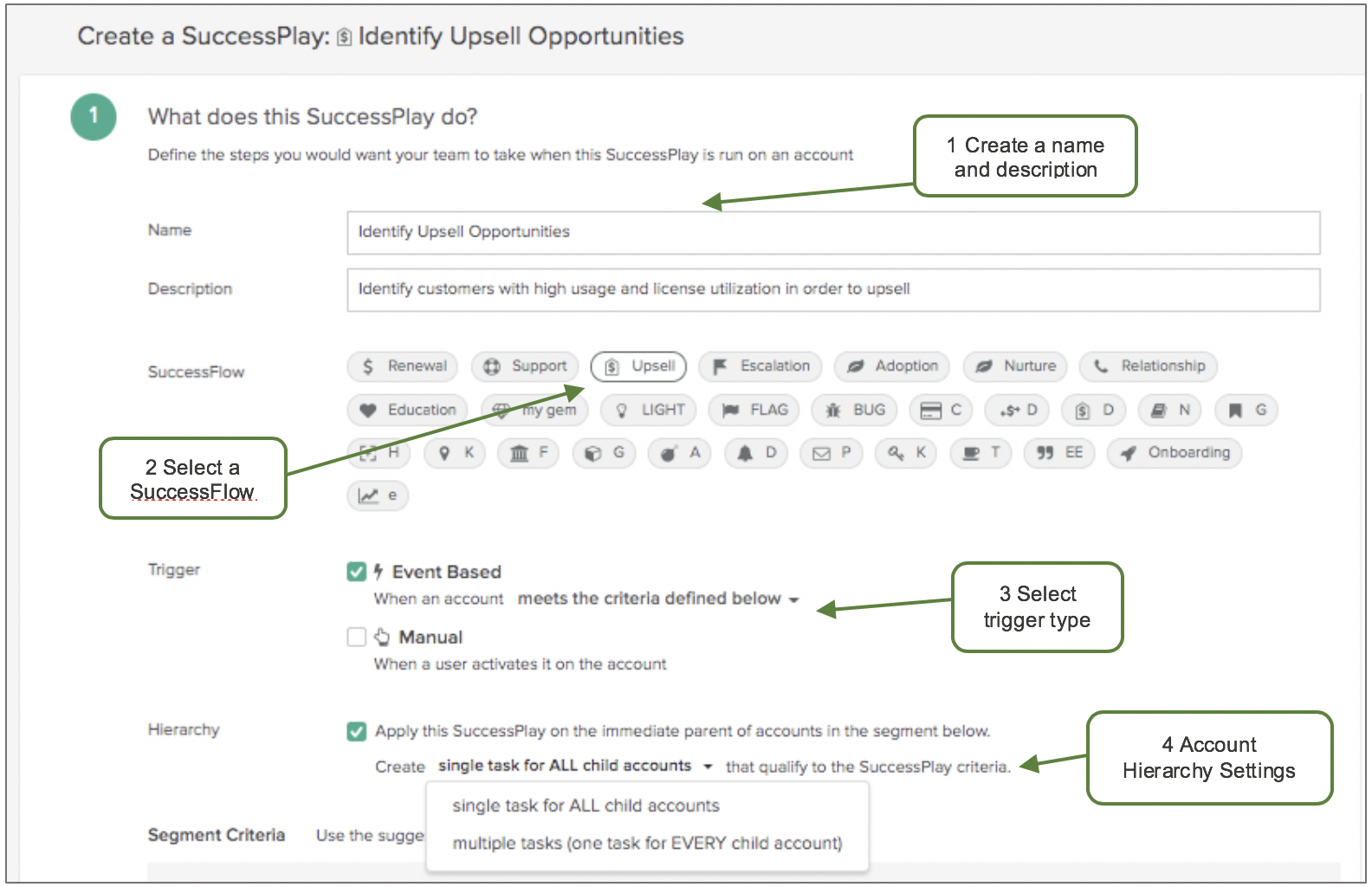 Create a name and description (both are required)
Select a SuccessFlow that makes sense for the purpose of your SuccessPlay
Select your trigger type

Event Based - An event based SuccessPlay will be an ongoing trigger that will fire a task(s) anytime an account either enters ('meets criteria') or exits ('does not meet') the Segment criteria (depending on which option you select)

Manual - A manual SuccessPlay is an on demand trigger type where users can elect to run the SuccessPlay when necessary.

If you have account hierarchy (multiple levels of accounts), select where you want the Task(s) to be placed
Apply to the immediate parent of accounts in the segment - If you do not have account hierarchy then you can leave this deselected. If you do, then you will want to decide if this SuccessPlay should fire tasks only to the immediate parent (Note - this is not the ultimate parent account, this will be the level directly above the account that qualifies for the segment).

Create single task for ALL child account that qualify - If you have selected the option above, then you want to decide how many tasks that you want the immediate parent to receive. If you select this option, then only 1 task will fire even if more than 1 child account qualifies.
Create multiple tasks (one task for EVERY child account) that qualifies - If you have selected the option above, then you want to decide how many tasks that you want the immediate parent to receive. If you select this option, then is will fire a separate task to the immediate parent for each child account that qualifies.
Creating Criteria for Your SuccessPlay
Once you have made these decisions you will need to configure what set of accounts that should be targeted by the SuccessPlay. Keep in mind that if you selected an Event Based trigger, then this criteria will be dynamic - accounts will 'enter' the segment when they meet this criteria and 'exit' the segment when they no longer meet this criteria.
1. You can select criteria from a wide range of pre-determined KPI. In our above example for 'Identify Upsell Opportunities' you might select the following:

2. Or you can create a completely customized segment of accounts using Segments by clicking on 'View Advanced Editor'.

TIP: You can create a Segment(s) under 'Tools' and then use the "is in" or "is not in" segment filter. This allows you to manage the segment outside of the actual SuccessPlay and if the criteria of that segment changes, it will also impact the SuccessPlay criteria.
If you are creating a SuccessPlay from within a SuccessBloc, you have the additional option of selecting an existing segment as your criteria and the SuccessPlay will copy that criteria in automatically.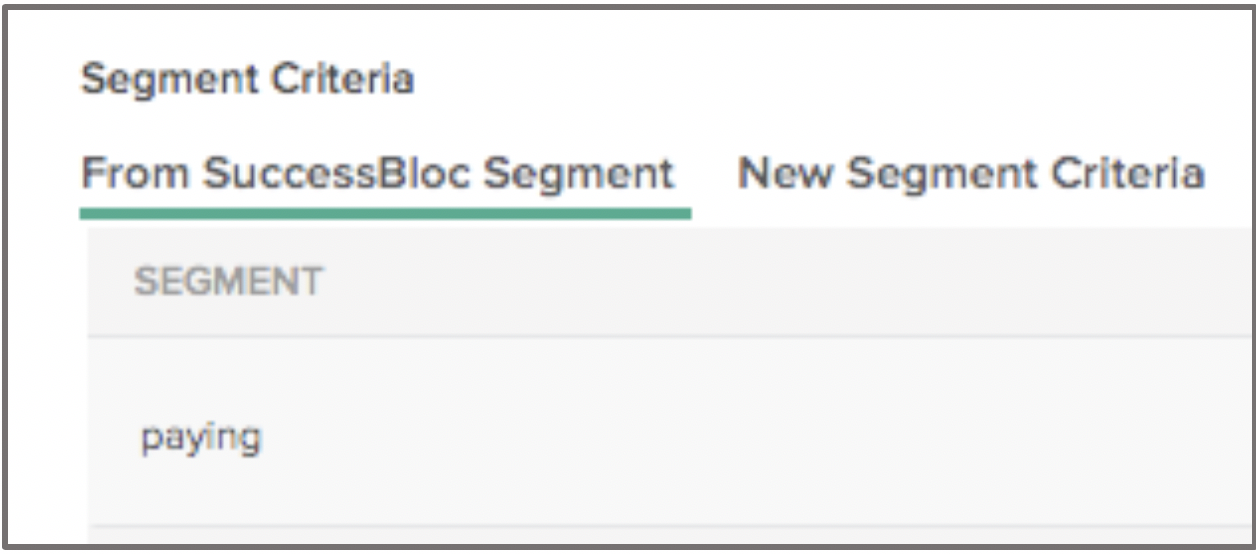 3. Make sure you Preview your Segment to ensure you are targeting the correct accounts and it meets your expectations before moving to the next step
Creating Tasks
Once you have completed the initial configuration and defined your segment criteria, you will either need to build your tasks or select to use forms. You can build multiple tasks for the same SuccessPlay, or use both Tasks and Forms.
1. Create a title and description, this is what will be shown to the assignee of the task so make sure it is detailed (both fields are required). Keep in mind that you can 'Add Data' by using dynamic fields that pull in specific account information based on your accounts' attributes.
2. Decide on the due date based on the date that the task was created (7 days after for example).
3. Decide on the Assignee, Assigned By and Accountability:
Assignee - This can be a specific person, or a specific role in relation to that account (the Success Manager for example).
Decide on the Assigned By - This does not have to be you (the creator of the SuccessPlay) and many times it is not. Again, this can be a specific person or role and it will be visible to the Assignee.
Accountability - The SuccessPlay Overall Accountability is intended to give you the ability to assignee a member of the team as the 'owner' of the SuccessPlay. This person would have the overall accountability of ensuring completion and could be different than the person that shows as the 'Assignee' or the person that created the SuccessPlay.
Post Completion Actions- You can decide if there are specific actions that the assignee needs to take once the task is completed, such as updating an attribute or adding a mandatory touchpoint to the account. Or, you can have these actions be automated.
Don't forget to decide if you want these tasks to immediately fire to the accounts that currently meet your segment criteria, or only on new accounts entering/existing the segment:

Learn more about Tasks & Touchpoints!
Activate Your SuccessPlay
Once you are finished configuration, you can 'Enable' your SuccessPlay or save it as 'Disabled' if you are still working on it.
Once it starts to fire tasks, the Assignee of each task will receive an email alert and the task will show under their 'Work' tab on their MyPorfolio page and on the Account Profile.
Now that you have an active SuccessPlay, learn how to monitor your SuccessPlay Effectiveness Score!
FAQs
Question: Can I have tasks fire to the ultimate parent account (top level of hierarchy) instead of the immediate parent?
Answer: Currently no. You can only decide if it goes to the account that qualifies for your criteria or it's immediate parent account.
---
Question: Can I set up a recurring SuccessPlay, where it fires tasks on a schedule like every 90 days?
Answer: Currently no.
---
Question: When a SuccessPlay segment criteria is edited, do tasks get created again for the accounts that were in the segment originally?
Answer: No, tasks will be created for only those accounts that get added newly to the segment due to the criteria change.
---
Question: When a task in a SuccessPlay is edited, do existing tasks get updated?
Answer: No, only the new tasks that get created going forward will be updated.
---
Question: If an account exits and enters the segment of a SuccessPlay again, do tasks gets created again?
Answer: Only if the previously created task is completed will a task be recreated on the account.
---
Question: If I selected an 'Existing Segment within SuccessBloc' as my segment criteria and then that segment gets changed later, will it impact the SuccessPlay?
Answer: No. The SuccessPlay effectively 'copies' the criteria used to build that segment and that criteria then stays stagnant in the SuccessPlay. If you want the SuccessPlay to change as the criteria of a segment changes, use the 'is in' or 'is not in' segment criteria instead.
---
Question: If I assign the tasks to a specific role on the account but one of the targeted accounts does not have anyone assigned to that role, what happens?
Answer: The task will be assigned to the creator of the SuccessPlay.
---
Question: What happens to the open tasks when a SuccessPlay is disabled?
Answer: Tasks that were already fired and still open will not be impacted but the SuccessPlay will not generate any new tasks when disabled.
---
Question: How do I created a SuccessPlay where the task due date is today?
Answer: Currently this is not supported, the due date should be >=1.
---
Question: Will Tasks get fired by a SuccessPlay that is in a SuccessBLOC when that SuccessBLOC is not published?
Answer: Yes, if the SuccessPlay is 'active' then Tasks will get fired even if the SuccesBLOC is not published.
---
Question: Will a task get fired multiple times to the same account with an ongoing SuccessPlay?
Answer: If the previous task is closed and the account exits and enters the segment again, then yes, it will fire another task to the same account. If the previous task is still open when the account meets the SuccessPlay criteria again, then the SuccessPlay will not fire another task.