Overview
Today when a task assignee completes a task, they have the ability to enter a touchpoint or a followup task. Tasks that are part of a larger workflow, related to Onboarding or completing renewals typically also involve updating certain attribute values to indicate progress in the workflow. To perform this update the task assignee has to remember to go to the Account Profile and update the specific attributes after completing a task.
To make this process easier, CS Admins can now define one or more post task completion actions that can advance the workflow by updating specific attributes. Task assignees can also choose and update any account attributes while completing a task.
This article has the following sections
How to define post task completion action
A CS Admin while defining SuccessPlays can add post task completion actions to the tasks defined in it. An Admin can setup 3 different types of updates for the task assignee to complete.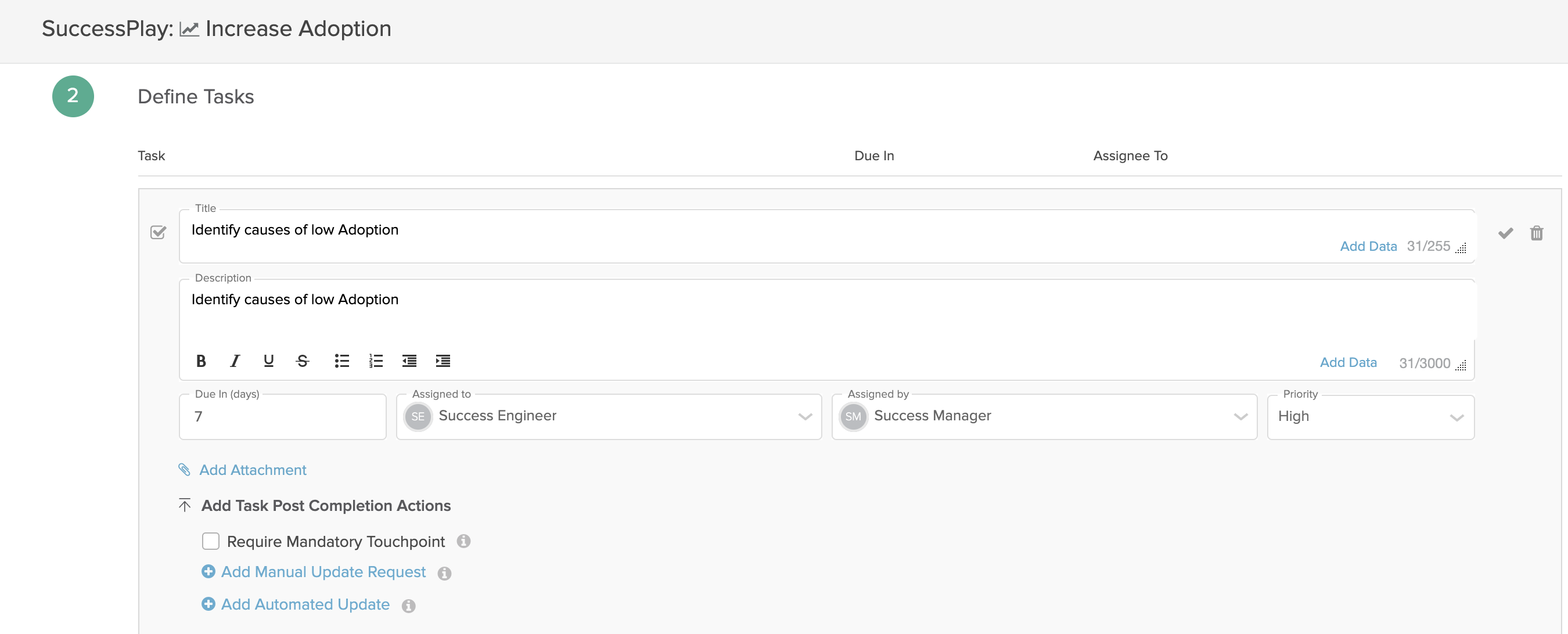 Require a mandatory touchpoint
The admin can mandate the task assignee to enter a follow up touchpoint where appropriate. For e.g. when a QBR task is complete the Admin may require the task assignee to file a detailed touchpoint detailing the discussions points as part of the QBR meeting.
Add a manual update request
The CS Admin may define some attributes to be manually updated by the task assignee on task completion. The admin may also define these updates to be mandatory prompting the task assignee to enter them. If the attribute is not marked as mandatory the task assignee is not prompted to fill them. For e.g when an escalation task is closed it may be important to know the CSM sentiment based on their latest discussions related to the recent escalation.

Add an automatic update
The CS Admin may also define any List or Lifecycle status type attribute to be automatically updated on task completion. The task assignee only needs to mark a task as complete for these updates to happen. For e.g when a Kick off task is complete during the Onboarding of a customer it may make sense to update the Onboarding Lifecycle status to the next stage of Integration after Kickoff.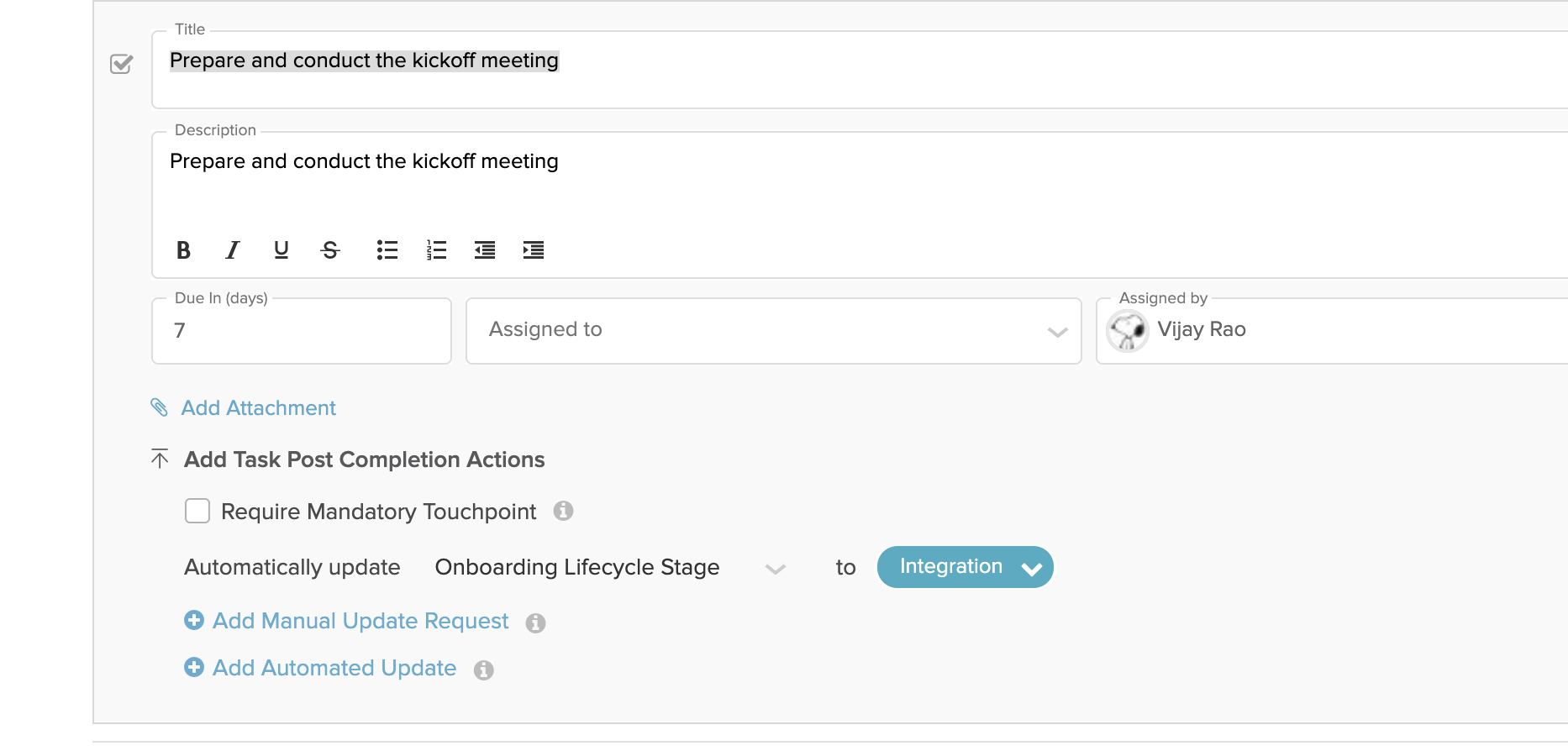 Updating attributes on task completion
As a task assignee when I am completing the task I also have the ability to update attributes manually. This is regardless of the updates requested by the Admin captured in the section above.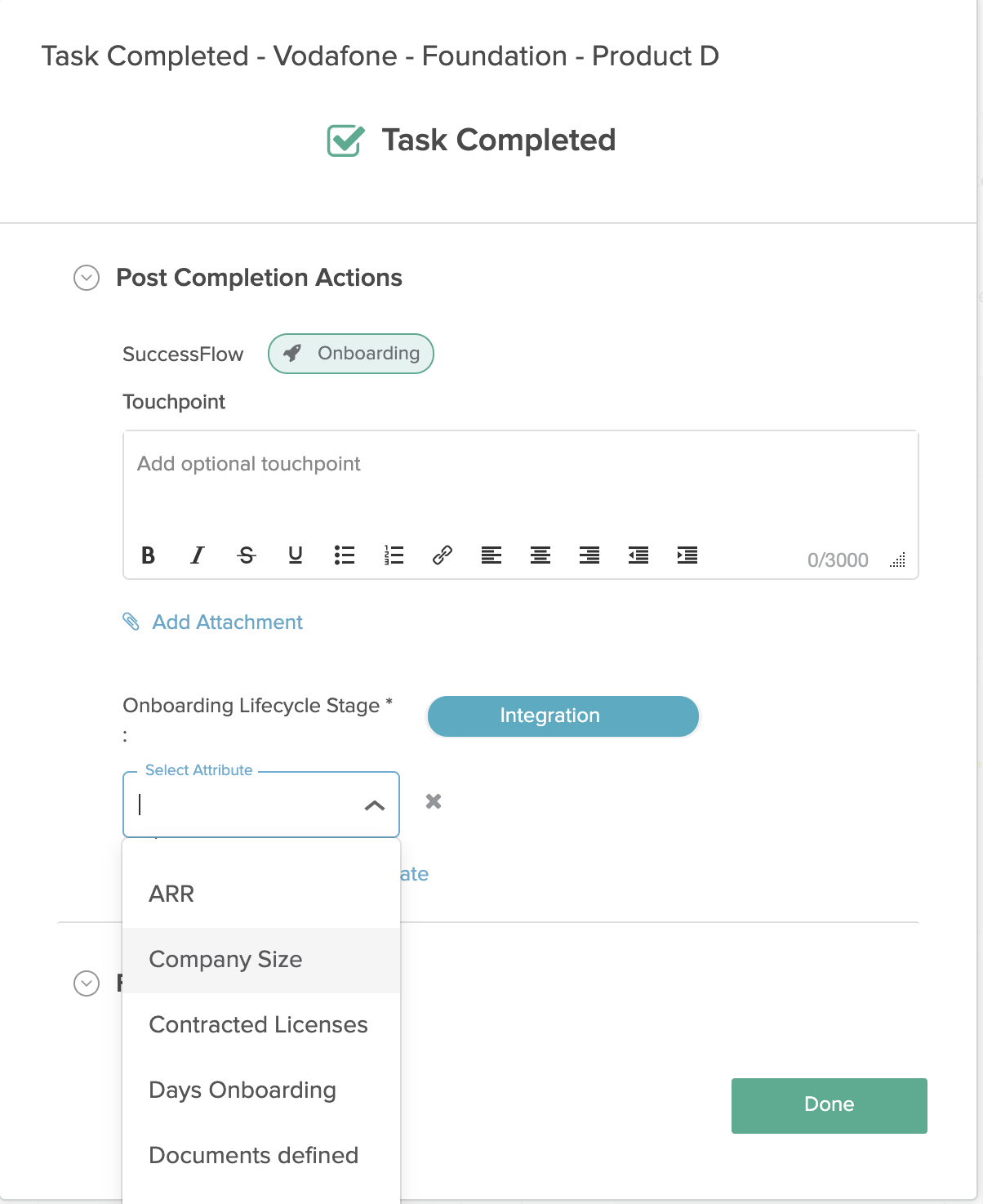 Permissions and other items to note
Only attributes marked as editable in the Global Settings > Data Modeler page appear in the attributes dropdown.

Task assignees must have the "Update account permission" for their account role or team role to update attributes on the account.

CS Admins should ensure that the task assignee has this permission before requiring mandatory attribute updates as it may result in an error.