Single sign-on (SSO) allows your team to log into Totango using authentication from other systems.
Totango does not allow a user to be part of multiple services; users can access a single service. Additionally, multiple Totango instances cannot be connected to the same SSO source.
SSO user experience
Totango supports the following options:
Google
Slack 
Microsoft 
Salesforce (custom)
SAML (other Identity Provider)
Once enabled, additional sign-in options appear on the Totango login screen. SSO options for Google, Slack, and Microsoft use OAuth and require no additional configuration.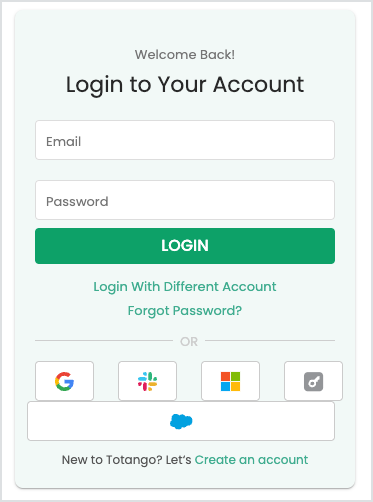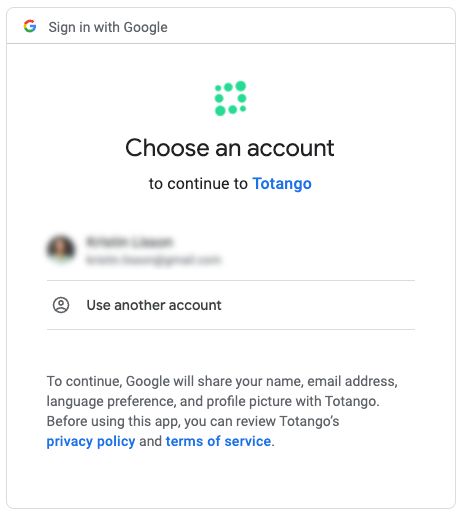 Enable SSO using Salesforce credentials
Setting up sign on with Salesforce allows users to enter Salesforce credentials to authenticate with Totango.
A Totango user must already exist and have the same email address as used in the Salesforce user profile. Totango legacy Salesforce data connector does not work with Salesforce multi -factor authentication.
Enable SAML SSO
Setting up sign on with Salesforce allows users to enter company credentials via an identity provider to authenticate with Totango.
User invitation experience for SAML SSO
Users can click the Login with SSO button (lock icon) on the Login screen to use SSO, or using the Direct Login Link (e.g., post this link on a company intranet).
On the login screen, click the Login with SSO button (lock icon).
User is redirected to the identity provider's page. If not already connected, enter credentials.
User is redirected to Totango (logged in).
Configure SAML SSO for Okta
Force SSO authentication
Enable this option to enforce SSO login as the only option for authentication. Totango will prevent users from entering Totango credentials on the login screen. 
Make sure you have users set up with your company SSO credentials before enabling this option.
Team members invited to Totango when SAML SSO is enforced will be able to log in only using their SAML SSO credentials.
FAQs
Question: When I click on Totango app inside my Okta dashboard, it takes me to Totango credentials login page and requires my users to login with SSO. How do I fix this?
Answer: Ensure you have the correct value in Okta configuration within Default Relay State (see above). In order for Okta to direct to the Totango home page, the Default Relay State value should be your company domain.