Who can use this feature?
All users; managing data via integrations requires global admin or advanced permissions
Available on all plans and license types
Contacts appear on the account profile (Contacts widget). A contact is an additional classification for a user and typically represents a person at a customer company that you do business with. Contacts may also represent a user of your products. 
View contacts across a hierarchy
By default, the list of contacts in the Contacts widget shows those that are directly associated with the current account type.
Use the View, Roles, and Search boxes to view and engage with all contacts in an account hierarchy, regardless of which account type you're currently viewing.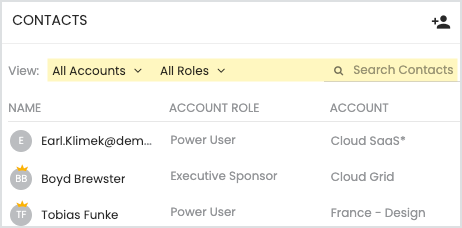 Unified contacts prevents your team from having to create duplicate contact records at multiple levels of a company hierarchy. You can also link tasks and touchpoints to any contact in the company hierarchy.
Add a contact from the account profile
Adding a contact from the Contacts widget automatically creates a user profile.
From an account profile, click the +Add Contact icon in the Contacts widget.
Start typing the contact's name. If the contact is already in Totango, you can associate the person with the current account. If not, choose the (new) option.

In the Add contact window, enter the remaining information about the person.

Email, First Name, and Last Name are required.
Account role may vary, depending on the account profile to which you're associating the contact
Key contact is an additional designation to quickly identify top contacts, denoted by a crown icon.

Click Save.
Add a contact from an integration
Use Customer Data Hub to add users via integration (e.g., file import or data source). To designate users as contacts, map the following user attributes:
Contact

value = yes (lowercase) - adds the user as a contact
value = no (lowercase) - removes the contact but keeps the user profile

Key Contact

value = yes (lowercase) - adds the user as a key contact
value = no (lowercase) - removes the key contact but keeps the user profile