Overview:
In this article, you will learn how to define and configure your Customer's Journey stages, how to use data in Totango to set your Customer's Journey stage, and how to automate movement between stages.
Topics:
Getting Started
Your Customer's Journey represents the key stages that they go through post-purchase through advocacy.
Here is a summary of a typical Customer Journey Lifecycle: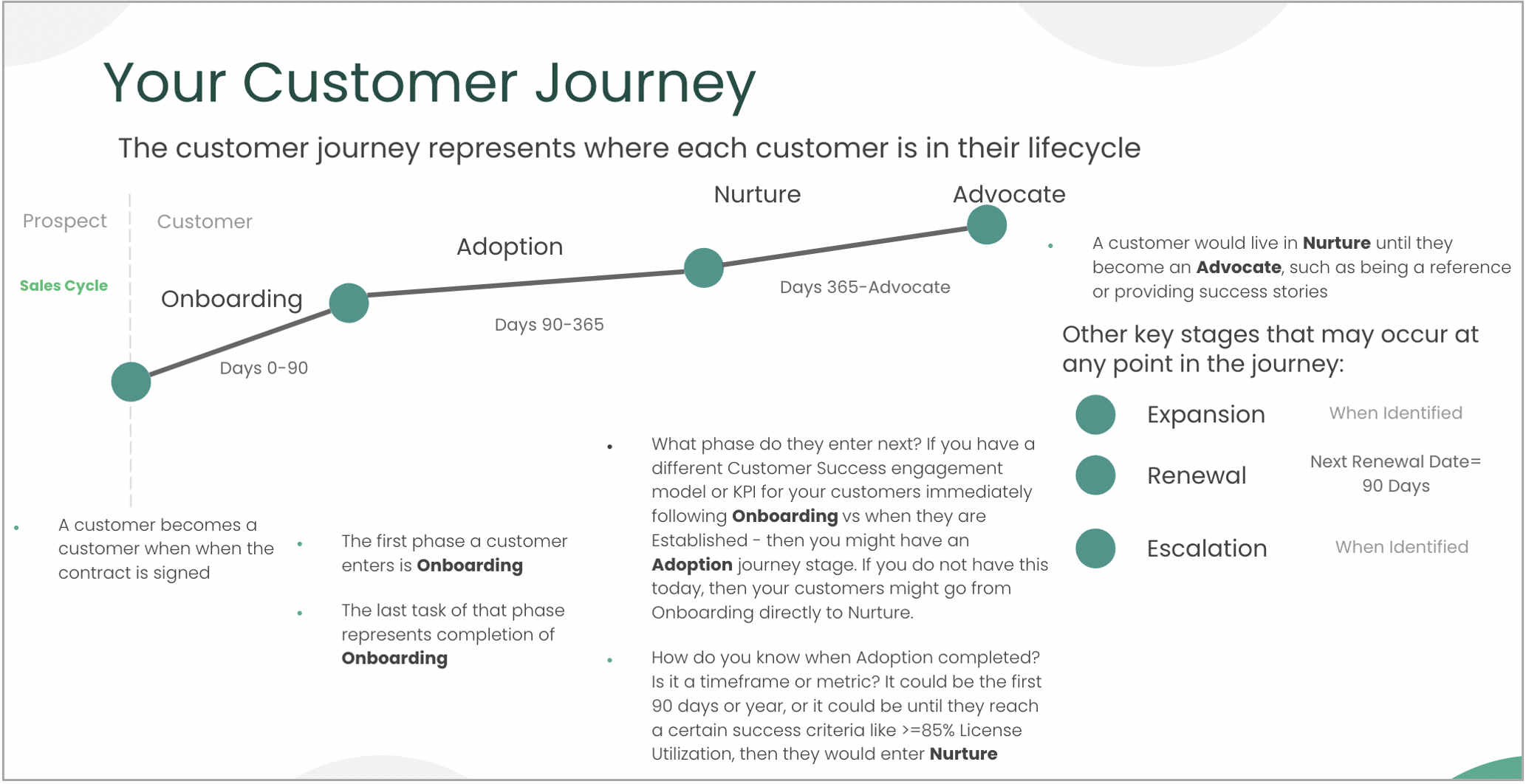 Things to think about:
What is Onboarding? The process of g
etting the customer fully deployed and ready to use the product.
How do you define it? Onboarding begins when the customer has purchased the product and ends at the point where they are ready to use and adopt the product. The success criteria to exit Onboarding could vary depending on whether you have a Digital Onboarding or a High Touch Project based Onboarding. For Digital, there should be key set up steps that the customer has completed and for High Touch/Project Based, it is completed once the last task of the project is completed.
Do you have Adoption as a Customer Journey stage?
Driving product adoption is an initiative that happens across a customer's lifecycle, but it is a stage in the lifecycle? You would model this stage when you have different KPI and engagement strategies during the period immediately following Onboarding and this stage typically ends by a specific timeframe (such as 90-365 days post contract start date) or by success criteria (such as License Utilization>85%). If you do not currently have different KPI and engagement strategies immediately following Onboarding, then you likely do not have an Adoption Customer Journey stage today. (You can always add this later when you are ready)
Nurture is the stage where the customer "lives" for most of their lifecycle.
This stage focuses on recurring engagement strategies, such as QBRs and SuccessPlan reviews. In this stage, your team is also analyzing the customer for potential expansion opportunities and increasing the customer's use of the product for them to become an Advocate.
Why is Renewal not in the Customer Journey?
There are 3 key stages that could happen at any point in the customer's journey - Renewal, Expansion, and Escalation. If you are configuring recurring engagements in Totango based on a Journey Stage (for example - QBRs during Nurture), you may not want these engagements to be interrupted when the customer enters Renewal. Renewal would be a separate (and concurrent) Lifecycle Status that the customer enters. This is also true for Expansion, this event could happen even during Onboarding!
Once you have defined your Customer's Journey Stages, you may want to edit the defined stages in Totango.
Go to Global Settings>Data Modeler and search 'Customer Journey Stage':

You can edit/rename the existing values: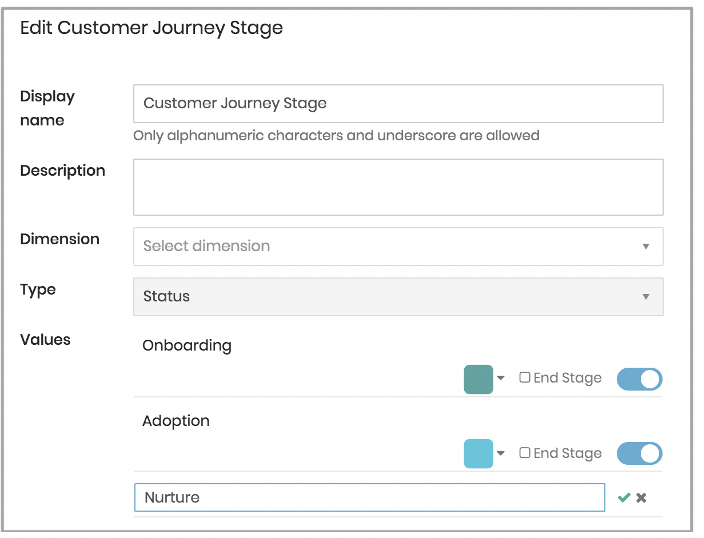 Or disable the stages that you are not using today: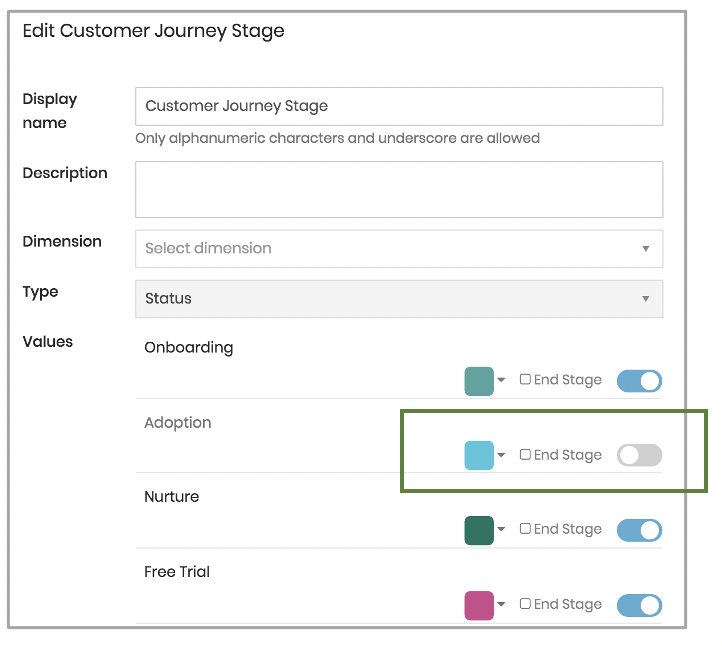 Or add new stages: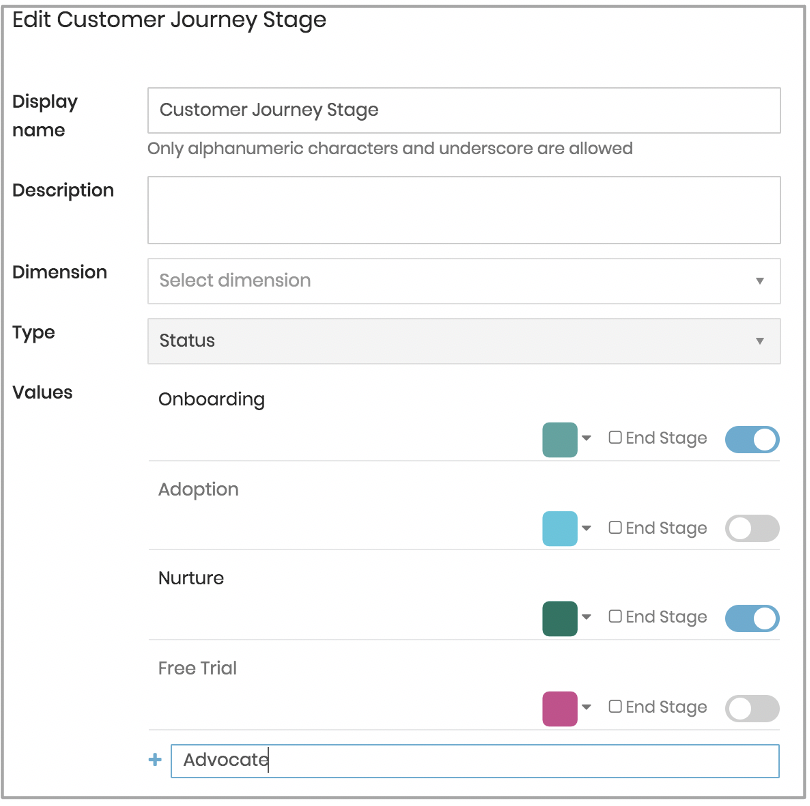 Setting your Customers' Journey Stage:
Now that you have defined the beginning and end of each of your stages, a simple way to get started is to use the data in Totango and set the stages.
For example, all accounts where Contract Start Date is in the last 90 days=Onboarding, and All Accounts where Contract Start is over 365 days ago=Nurture, and lastly, All Accounts where Customer Journey Stage is not=Onboarding or Nurture, is Adoption.
For more information see Working with Segments.