Overview
If you are new to Customer Health Scores or want to learn more about calculations and best practices, see Defining the Customer Health Score.
The first graphic on My Portfolio is a Quality Score. Account Health is at the heart of Totango, and the Quality score is the aggregate of all account Health. Health Scores predict the likelihood of an account's success (renewal) and can trigger a cascade of corrective actions when an account is in jeopardy. Your Totango Customer Success Manager is happy to work with you to understand your business and recommend the most effective design for modeling health for your organization.
This article includes the following topics:
Aggregated Quality Score
Aggregated Quality Score is a weighted average of your accounts in each health category (Good, Average, and Poor.) Accounts with better health are worth more points: 100 points for Good, 60 points for Average, and 40 points for Poor. The points are summed and an average calculated with a top possible score of 100 (all accounts in Good Health).
Here's an example. You have a portfolio of 10 accounts with:
5 in Good (green) health = 500
3 in Average (yellow) health = 180
2 in Poor (red) health = 80
Divide the sum of 760 / 10 for an Aggregated Quality Score of 76 out of 100.
Click a section of the circle chart to see a list of your accounts that are in Good, Poor, or Average Health. The graphic below shows a list of Good Health accounts. If you're interested in an account, you can click a link to view it, and you can pin the account to your attention stream at the bottom of MyProfile.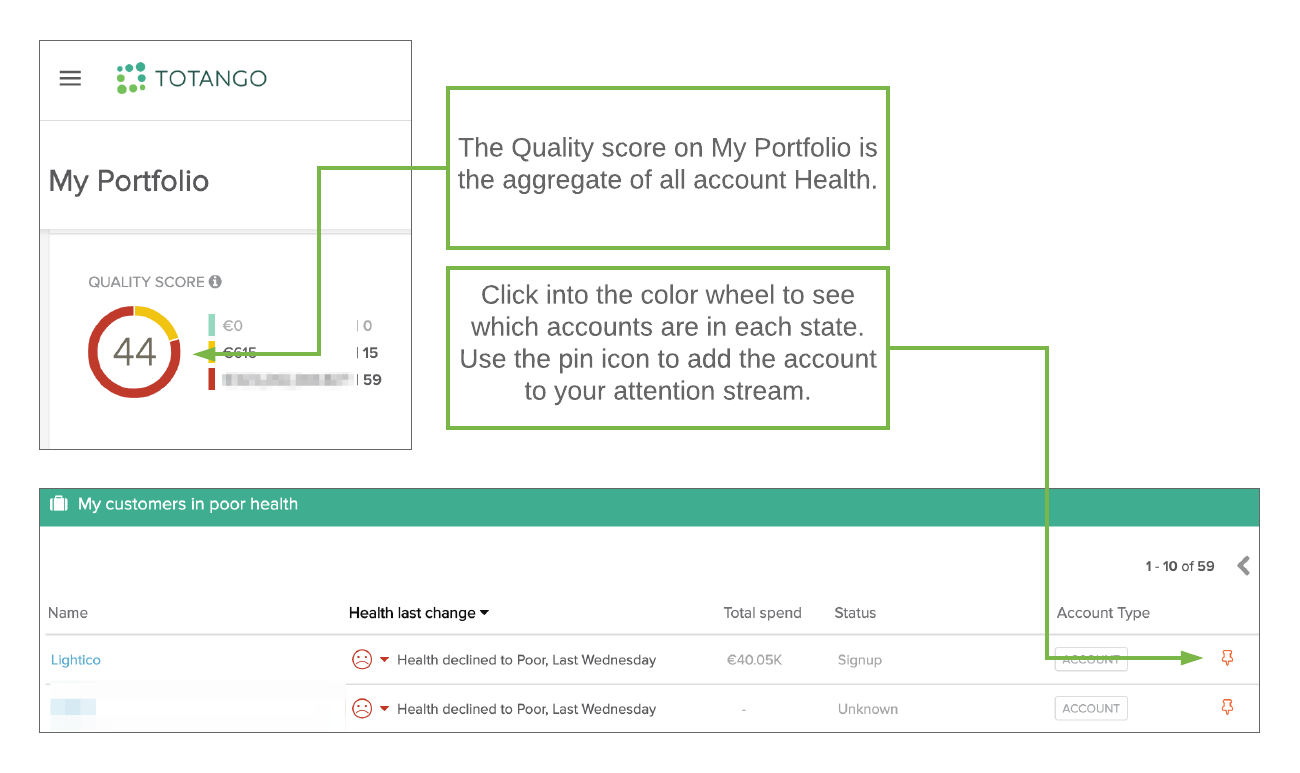 What impacts a Health Score?
Health Score Profiles
Totango uses Health Profiles to define the health criteria of each account and is the basis of the overall Health Score of each account. Because standards for success depend upon many factors (account type, age, life cycle stage, etc.) Totango allows admins to define multiple health profiles. Each profile targets a set of account and the attributes that matter most for that account set. As such, a Health Score Profile must:
Identify which accounts it will measure. For example, a profile might target accounts based on contract value and lifecycle stage and that profile will only be applied to accounts that fit that criteria.
Identify the attributes used to measure health. Totango health profiles use only relevant (as defined by you) attributes.
Establish values for health. "Good" marks a value beyond which an attribute is considered to reflect good health. "Poor" marks a value beyond which an attribute is considered to reflect poor health. If an attribute doesn't qualify as Good or Poor, it's considered Average.
Totango uses these attribute values to figure the overall Account Health Score. Currently, all Account Health Scores are figured the same way:
If all the attributes with value are defined as "Good," then the account is in Good Health.
If even one of the attributes with value defined as "Poor," then the account is in Poor Health.
If none of the attribute values fall in the "Poor" definition and they do not all fall in the "Good" definition, then the account is in Average Health.
Also see "What is Unknown Health?" below.
Examples of Attributes Driving the Account's Health Score

The graphic below shows the Health Score section of an account. The account is in Poor health because one of the attributes (Active Users) is Poor. You can also see attributes that have value, but don't contribute to overall health. (They don't contribute because only one attribute in Poor will move the Health Score to Poor.)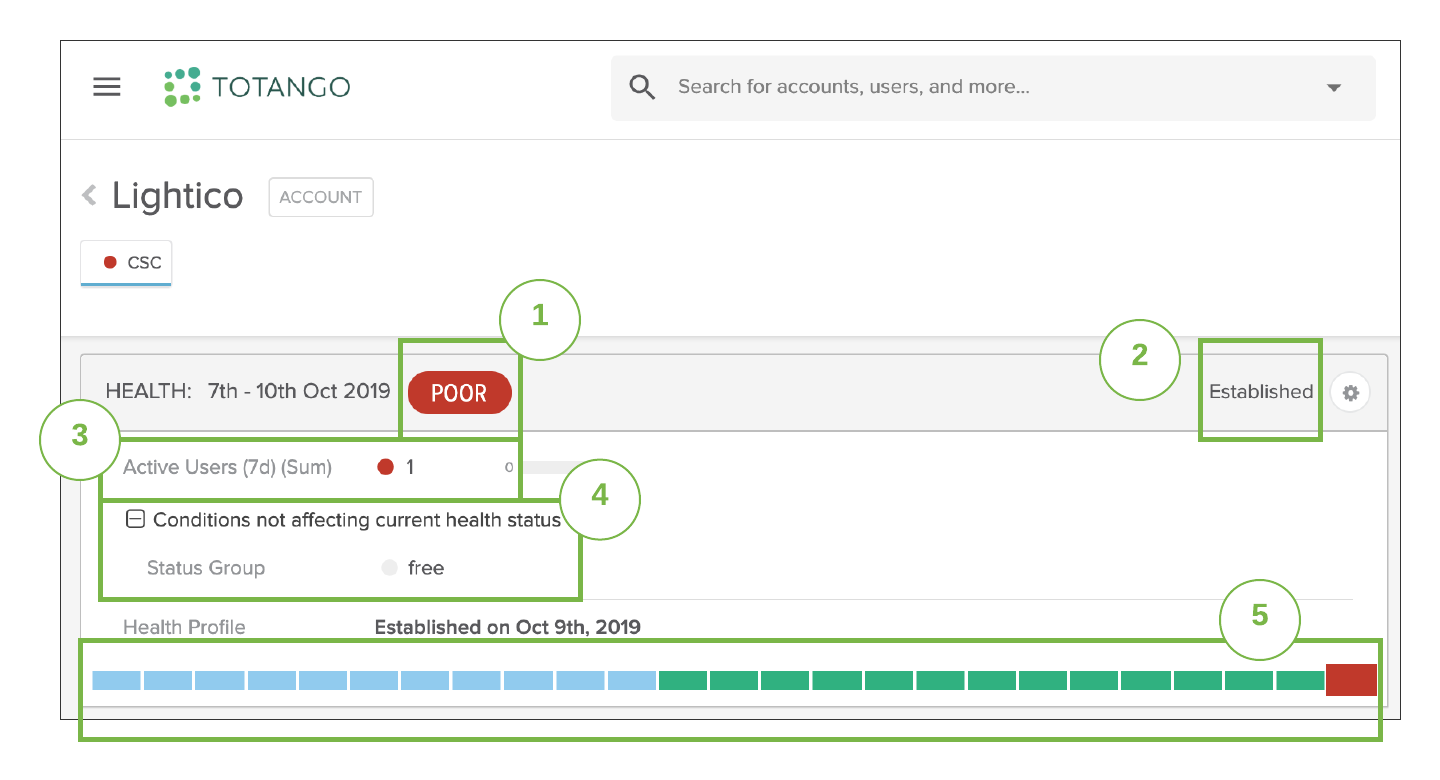 Overall Health — This indicates the current state of the account's health. Toggle the Health Score History Timeline (#5) to view previous Health.
Health Profile — This indicate which Health Profile the account is currently in. Learn more about setting up a Health Profile in Health Designer.
Conditions Affecting Health Score — Here we can see what attributes from the Health Profile are specifically affecting the Health Score. In the case of the above graphic we see that there have been no active users within the set threshold.
Conditions Not Impacting Health Score — The attributes listed in this section are not currently negatively impacting Health. If the account is in Poor Health and attributes are listed here, these attributes remain in Good or Average.
Health Score History Timeline — Scroll along the timeline to view Health history. You can click on the timeline and see when it was in "Good" health and see that all the attributes had values that fall into the definition of "Good" at that time.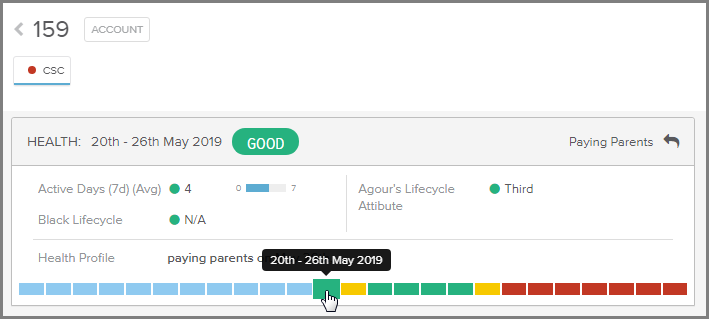 If you look at a time when it was in "Poor" health, you will see that one attribute had a value that fit the definition of "Poor" and thus the Health Score was "Poor".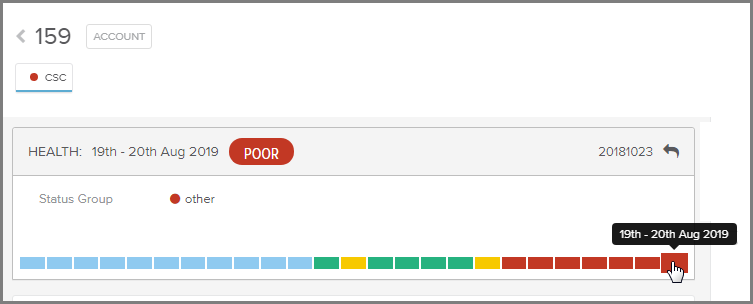 Reducing sensitivity to exchange rate related Contract Value currency fluctuations
Sometimes if the Contract Value is being brought in from CRM Totango may detect minute changes to the contract amount sometimes a few cents and trigger a health warning. To avoid this you can define a threshold so changes below this threshold will not trigger unnecessary warnings. You can set a low bar so bigger changes will be detected but changes in very small amounts will be ignored.
Health Score History
The Health Score History timeline is a historical representation of the account's health. It's especially useful for someone taking over the account to see how the account has changed over time. Anytime you see the $ on the timeline, it indicates that the contract value changed during that time period.

A grey timeline indicates the time period before the account was created.

Additional Impacts to Health
As noted, only attributes with value can contribute to overall Health. It's important to keep an account's attribute information up-to-date. Another impact to overall health can be a change in the Health Profile. If you see a change in an account's Health on the timeline, it might be due to addition, deletion, or criteria changes to profile attributes. Lastly, remember that an account is measured by different profiles at different times. When an account's Health changes, it might be due to a new Health Score Profile being applied.
Improving Your Customer's Health
Health Scores provide an objective and data-driven means of managing customer health. As shown above, an account's Health Score section shows account Health, the attributes (license utilization, last touch, etc.) that contribute to the health, and the attribute values that define either Good or Poor health. From that information, you learn what accounts need attention and what KPI you need to drive to.
Customer Health Scores contribute to actionable information that keeps all team members on track and on the same page. Health information also provides information for strategic use via executive reports and can trigger tasks related to SuccessBlocs and SuccessPlays.
"Unknown Health"
In addition to Good, Average, and Poor, account Health is sometimes classified as Unknown. Either one of two conditions produces Unknown Health:
The account does not fall under any Health profile definition, so cannot be classified as Good, Average, or Poor.
The account is cancelled.
The Health history graphic below shows an account that is currently in "Unknown" Health (blue).

As a best practice, be proactive if you see Unknown Health on an account that isn't cancelled. Speak with an Admin to make sure that all the accounts in your system are covered by a Health Profile.
FAQs
Question: I updated the attributes of my account and it should have change the Health Score but it did not. Why?
Answer: The Health Score is not calculated in realtime and it will be reflected on the account profile the following day.
---
Question: Why is my account showing 'Unknown Health' even though it qualifies for a Health Profile?
Answer: You may see your account in 'Unknown' health while the Health Scores are being recalculated because this happens realtime. Health Scores are recalculated automatically (and in realtime) only when the Health Profiles are update or if initiated by your Admin.
---
Question: My account is in 'Average' Health but it is displaying the attribute definition/criteria for 'Good' Health. Why?
Answer: Totango only stores the values that have been defined for either 'Good' or 'Poor' Health. When the value fall into 'Average' Totango does not create a definition for that and instead displays the 'Good' definition.