Who can use this feature?
All users with access to Executive Console can use Customer Health Console; team members can view activity for the team(s) to which they have access
Global admins and users with advanced permissions can configure health profiles
Available on all plans
Customer health console allows you to view aggregated health trends by segment and team. Quickly analyze which classes of customers are doing well and which are struggling—and more importantly, how you can improve those trends.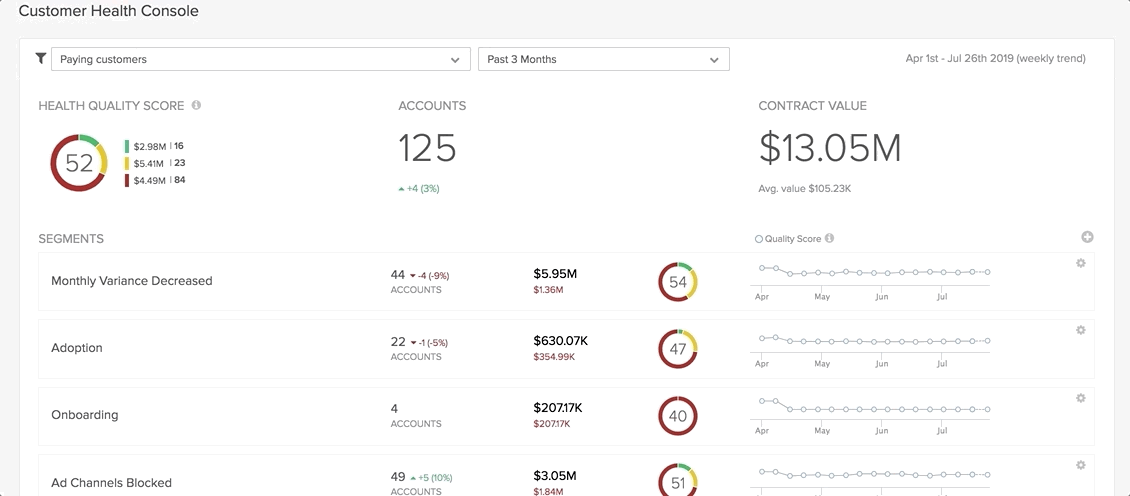 Health scores in this console are not supported for the trendline and team portfolios when multidimensional health is enabled.
Filter the dashboard
The top of the dashboard includes two top-level filter options that influence all other data on the dashboard.
From the left nav, click Customer Health (under Executive Console).
Filter by the following:

Custom filter: Choose any account filter(s), such as Paying Customers or North America Customers.
Date range: Choose from weekly trends within a selected timeframe (current month, previous month, past 3 months) or monthly trends (current quarter, previous quarter, past 6 months)
The data in the dashboard adjusts based on the selected filters. If a selected segment displayed in the dashboard does not satisfy the main filter criteria, it will be greyed out. 
Health quality score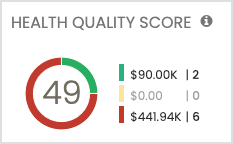 Totango applies a health quality score for all accounts in the dashboard. Click in the widget to view for more details.
Good

 = 100 points

Average

 = 60 points

Red

= 40 points
The above example uses the following formula based on the account scope: (100 x 2) + (60 x 0) + (40 x 6) / 8 accounts = 49
Accounts with unknown health are not included in the quality score calculation.
Accounts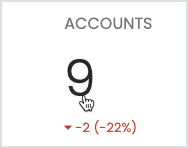 Displays the number of accounts in the scope of filters. Click to view more details. 
In the above example:
9 accounts match the filters
There are 2 fewer accounts (22%) since the previous comparable time period
Add or remove segments on the dashboard
The segments section allows you to view groups of accounts within an overall scope. For each segment, you can click to more details in each area:
View number of accounts with trend indications
View accumulated value with value at risk
View health segmentation with score
Historical trend chart for that segment based on the selected time period
By default, segments from your active health profiles are applied. You can customize this section as needed.
A best practice is to use the customer health console for renewal forecasting. Typically, customers with poor health too close to their renewal period are at high risk of churn. Adding a "Renewals" segment to your weekly meetings at the beginning of the quarter gives you immediate visibility and allows you to plan proactively before it's too late. 
From health console, click + next to the segments section. Or click the cog wheel icon for more options to configure, arrange, or remove.
Add a name for the segment, and choose the filter criteria you want to apply.
User attributes or segments based on the user object are not supported.

Click Save.
The segment is added to the view. 

Click + > Revert to health profiles to remove all custom segments from the console at once.
View team portfolios
The bottom of the dashboard displays a snapshot of account health by team portfolio. This analysis allows you to quickly view which team members are carrying the most risk in their portfolios.
Click in the widget to view more details
Optionally select Show team members only to filter this section by team members within the selected team (not extended account set).

The following conditions must be met in order for a Totango user and related accounts to appear within the team portfolio section of the health console:
Accounts represented must be in the contract status of "paying"
Accounts should have a health status (good, average, poor) 
Accounts must have a Totango user mapped to an account assignment (team role) of either "Success Manager" or "Sales Manager"