Touchpoints capture interactions with your customers and internal team. Admins can configure settings that apply to all users and teams.
Configure general touchpoint settings
Configure touchpoint settings from Settings > Customer Engagement > Touchpoints. The Settings tab allows you to configure the following options.
Emails can be sent from touchpoints
Sending emails from touchpoints is a powerful way to streamline your team's workflows. The From email address used is always the touchpoint sender. Depending on your domain authentication settings, you can choose from the following options:
No one: Remove the ability to send emails from touchpoints
Internal users only: Add internal users but no account contacts
Internal users and customer contacts: Add internal users and account contacts. Requires domain authentication.
Internal users, customer contacts, and partners: Allows touchpoint creators to enter email addresses as participants, even if the address is not an account contact. This option is often used for partners and other stakeholders on the account. Requires domain authentication.
Domain authentication is required in order to send emails externally (excluding Community and Free Trial editions). If you have recently transitioned from Free Trial to a paid account, you should authenticate your domain as soon as possible. If your domain is not authenticated, the options to email participants and mentioned users in the "Add touchpoint" window are not available.
Allow only one reason per touchpoint
Optionally prevent your team from selecting more than one touchpoint reason.
Count and display touchpoint and replies as one touchpoint
By default, touchpoint replies and follow-ups are counted as separate touchpoints when represented in segments, reports, and scorecards. You can enable this setting to instead count and display touchpoint and replies as one touchpoint.
As an example, if you have a touchpoint and 8 replies to this touchpoint, you can count it as one touchpoint rather than 9 (1 touchpoint + 8 replies).
The following areas apply when this option is enabled. 

Account segments with touchpoints in the last x days filter/column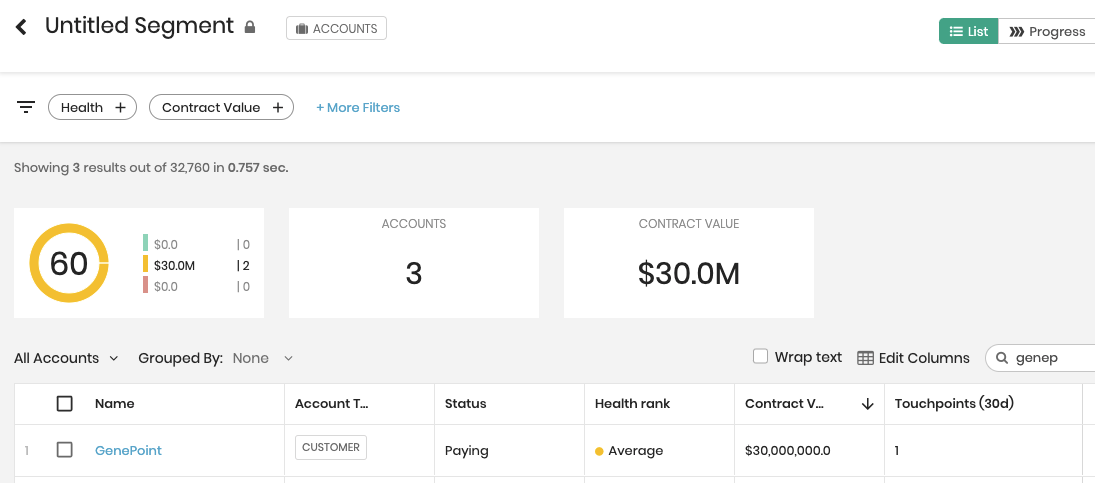 Totango Watermark
Optionally remove the Totango watermark from emails. The watermark will be hidden for external participant emails, not for internal users.
Free and community accounts must upgrade to remove the Totango watermark. 
Default touchpoint type for integration
Choose a touchpoint type that is selected by default when touchpoints synced from other systems do not specify a touchpoint type.
Configure touchpoint reasons
From Touchpoint Settings (Settings > Customer Engagement > Touchpoints), click Touchpoint Reasons. The Touchpoint Reasons tab allows you to:
Add, edit, or delete touchpoint reasons to select when creating touchpoints.
Make touchpoint reason(s) required.
Set a default reason to apply to email-to-touchpoints (edit a touchpoint reason and choose Make Default.
Flows typically capture the customer journey, where touchpoint reasons typically capture generic activities that span journeys.
Configure touchpoint types
From Touchpoint Settings (Settings > Customer Engagement > Touchpoints), click Touchpoint Types. The Touchpoint Types tab allows you to:
Add, edit, or delete touchpoint types to select when creating touchpoints. You can have up to 11 types.
View the number of times a touchpoint type has been used.
Configure touchpoint templates
The Touchpoint Templates tab allows you to define new or modify existing templates that your team can select from when creating touchpoints.
From Touchpoint Settings (Settings > Customer Engagement > Touchpoints), click Touchpoint Templates.
Click Create New Touchpoint Template (+).
In the Create Touchpoint Template window, enter a template name (required). Choose a naming convention that makes it easy to identify when choosing the template, such as starting with the flow (e.g., Onboarding: Handoff).
To limit the template to a particular type, choose a Touchpoint Type. Otherwise, leave set to "Any Type."
Enter other touchpoint details that you want to pre-populate in the template for Reason, Flow, Subject, and Body. All formatting options you apply in the body will be part of the template when selected.
Click Save.
The touchpoint is now available for your teams to to choose from in the Add touchpoint window after clicking Use Touchpoint Template. Templates that are associated with the selected Touchpoint Type (or any type) appear in the list of options.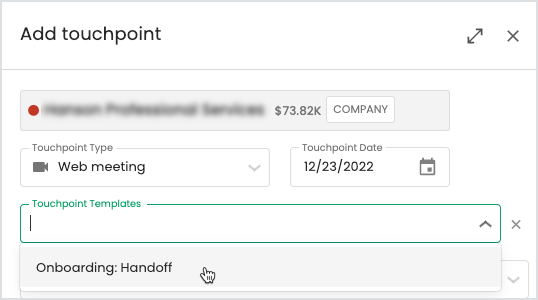 Touchpoint creators can modify any of the pre-populated selections in the new touchpoint that were copied from the template. If they change to a different template, any modifications they made will be overwritten with the settings from the new template.
FAQ
Question: I accidentally deleted a touchpoint reason that I shouldn't have. Is there any way to revive this?
Answer: It may be possible. Please contact Support to assist.