Overview
Scorecards help you define and track goals visually using one or more KPIs for a SuccessBLOC. Use these to ensure you are on track to achieve your goals and take corrective action when you are not meeting your targets.
The system supports various types of visualization as described below
Use Numeric KPIs to show a numeric visualization of a metric.

E.g. # of Accounts Onboarding in Poor Health, Average ACV of accounts in Onboarding

Use Trend KPIs (line / bar chart) to show a trend of a particular metric over a period of time

E.g. Trend of NPS Score post Onboarding, Trend of Accounts delayed in Onboarding

Use the Pie KPIs to show the distribution of a metric for a Segment

E.g Health of accounts in Onboarding

Pie charts are supported for List or Text attributes that can be distributed in a Pie format.

Use the Percentage KPIs to calculate percentages using any metric such as Contract Value or Number of Accounts.

E.g Percent of accounts delayed in Onboarding

E.g Percent of accounts with poor health over all Paying accounts
Examples below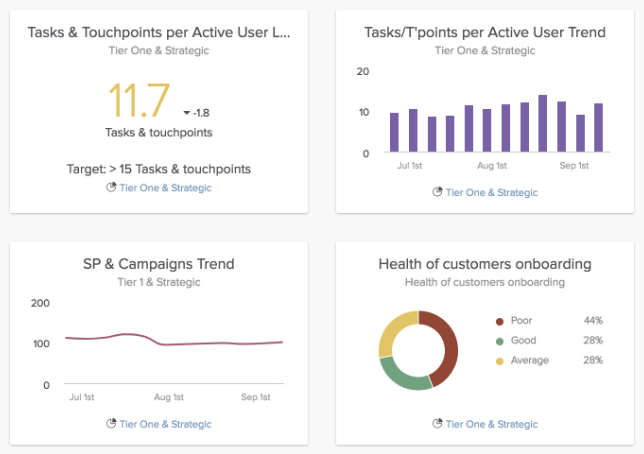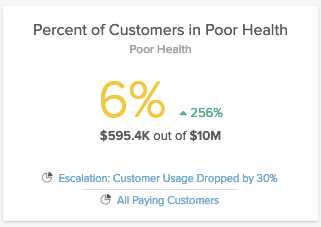 Defining a Scorecard is easy:
Add a title and subtitle that describes the KPI

Define the type of visualization you need for the KPI

Pick a metric that drives this KPI

The system offers "Accounts" to help you count the number of accounts that meet the criteria

Specify a unit for display purposes

Pick an aggregation

Note that if the metric is "Accounts" the aggregation option is hidden since it does not apply

Define an interval to compare the current data against and trend it

Finally, define a threshold target to indicate the color for the display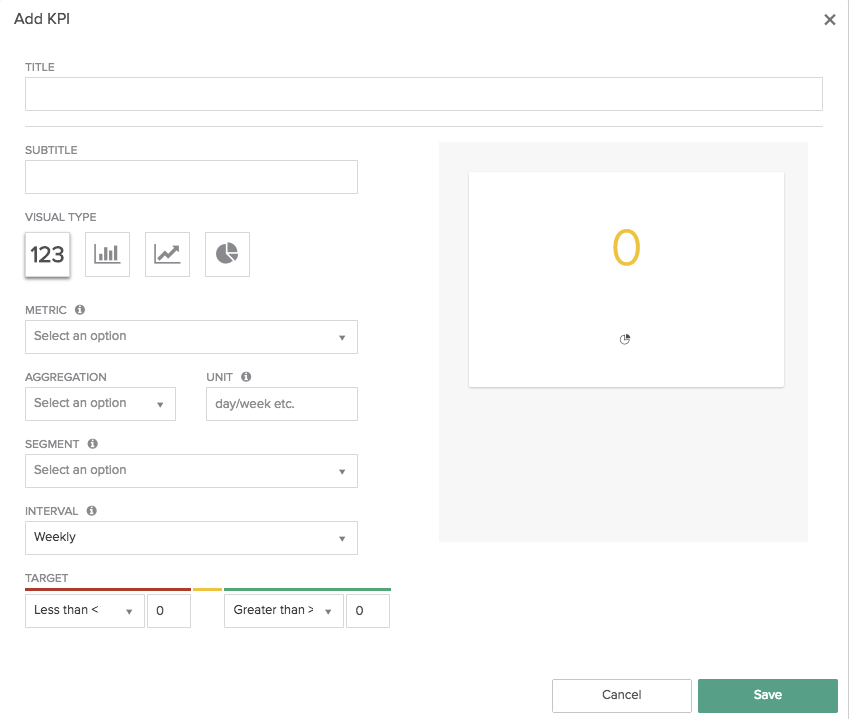 For Trend Scorecards (Line or Bar)
Additionally choose a historical timeline to trend the data
For Percent Scorecards
Choose any metric, aggregation function to aggregate the metric on accounts in Segment for numerator and denominator calculations

You may choose a fixed value to calculate the percentage.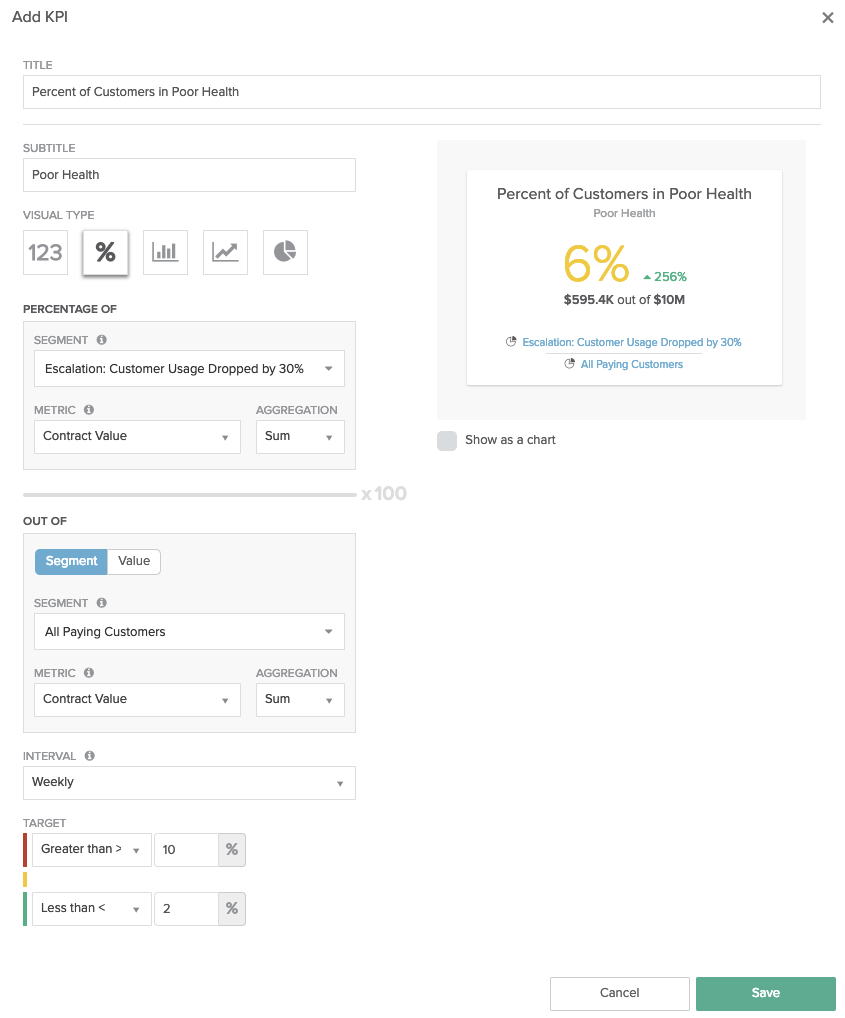 Leveraging User, Collection and Touchpoint Segment in Scorecards
You can use different segment types (like user, collection, and touchpoint segments ) to display more sophisticated KPIs in Scorecards.
These segments are supported only for Numeric, Percent, and Pie KPIs. Trend-based KPIs (Line and Bar KPIs) are not supported and will be disabled when selecting these segments.


Please note, for collection or touchpoint KPIs you can only use SuccessBLOC's existing segments (you will have to create it before adding it to the KPI in the Segments tab of the SuccessBLOC).
Filtering all KPI based on the customer ownership
Sometimes, you want to look into Scorecards, and isolate the customers who are managed by a particular user (or several users).
To achieve this, there is a temporary filter, which contains all your teammates. It is located at the top of the Scorecards screen:

When you select the users, it will recalculate all the cards accordingly.
NOTE:
After you apply these filters, you could also open a segment by clicking on a segment: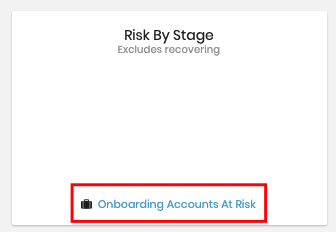 The filters will be preserved in the segment you opened:

However, if you open the same segment in a new tab, the temporary filters will not affect that segment. The following notification will appear:

This is done to avoid confusion and present the information accurately