Overview
SuccessPlays are an automatically triggered set of tasks that an organization can configure in order to improve team workflows so that Customer Success Managers are focused on the meaningful activities at the right time.
Organizations and team leads can operationalize their business processes by defining and implementing consistent Customer Success activities across their team so that fewer accounts slip through the cracks. The ability to standardize workflows helps you achieve consistent and effective delivery of services to increase the scale of your team and reduce churn.
Key Features
Post-Onboarding Training -- Customer Success executive to reach out to sponsor 30 days after onboarding is complete.
Identify Upsell Opportunities -- Identify accounts with high usage and license utilization in order to upsell.
Kick-Off Renewal Plan -- Identify any roadblocks or growth opportunities to present to the customer and secure the contract renewal.
Weekly Active Users (WAU) Dropped >25% - Investigate accounts with a decrease in activity.
Getting Started
In order to create a SuccessPlay you will need to be a Global Admin, have permission to the 'Tools' section and/or be the Owner or Collaborator of aSuccessBLOC.
Create the SuccessPlay
You can create a SuccessPlay from scratch under 'Tools' or you can create one from the SuccessPlays tab within a new or existing SuccessBLOC.
If creating within a SuccessBLOC, Totango has provided some recommended SuccessPlays that you should consider implementing as best practices.
Criteria and Triggers
Using the Segment Criteria, you can define what accounts will be targeted and using Event Based Triggers, you decide if you want tasks to be fired to those account when they 'meet' or 'no longer meet' your criteria.
Or make it a Manual SuccessPlay that can be activated on demand.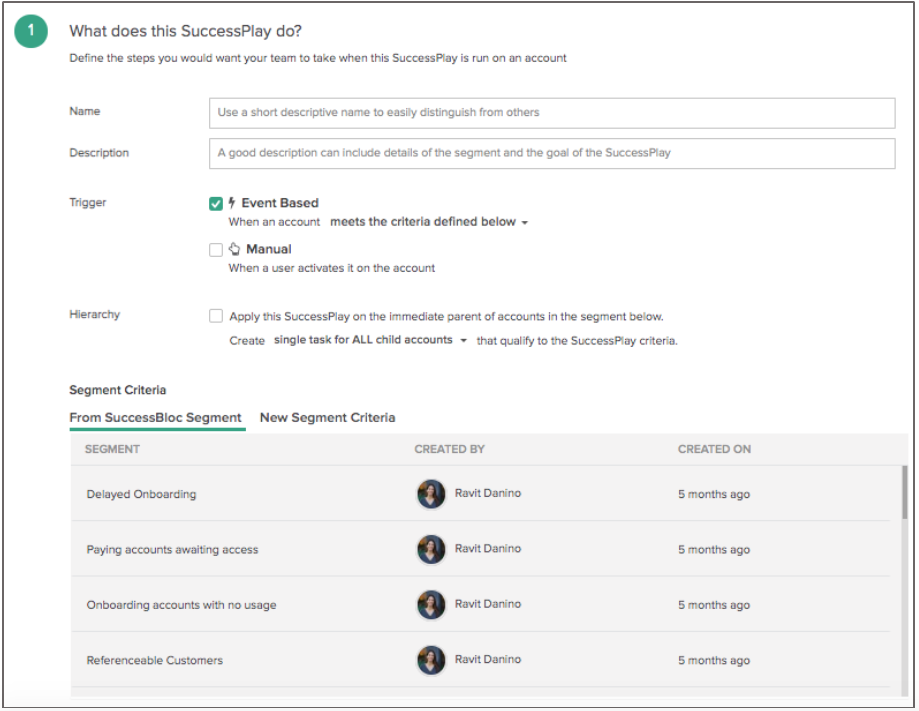 Configure Tasks or Forms Requests
You define the set of tasks that will be triggered on the selected account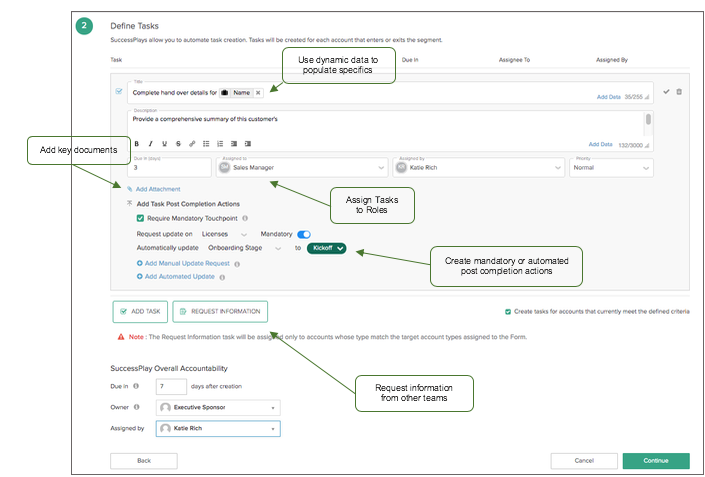 Create multiple tasks for different team members when the SuccessPlay gets triggered.
Assign Tasks by role (e.g. Success Manager) so that you can create a single SuccessPlay that would run for the entire team.
Add links or attach assets to a SuccessPlay to provide resources like templates and documents to your team.
Create mandatory or automated post task completion actions.
Data gather across multiple teams/team members with Forms, ensuring all the right information is in one place.Streamline Account Information using Forms
Review your SuccessPlay & Activate!
Ready to get started? Check out how to Create & Configure SuccessPlays!