Who can use this feature?
Custom reports allow you to visualize trends over time, monitor fluctuations, and track changes for any of your team's data. Reports help you make business-critical decisions based on patterns, such as contract value trend for customers in poor health or weekly active users of top features.
Create a report
SuccessBLOC attachments are typically links and files that support your processes,  such as checklists, configuration documents, presentation templates.
Open the SuccessBLOC you want to modify.
On the Reports tab, click + Create Report.
Choose the segment you want to use.

Only account segments are available for reports. User segments or account segments that use revenue filters are not available for reports because those objects do not have historical values.

Optionally modify the title on the report and choose a preferred color.
Choose the metric within the selected segment that want to use: Accounts, Contract Value, Active Users, or other metric.
Set the metric aggregation (Sum or Avg) and metric timeframe.
Click OK.
When the report preview appears, click Save Report.

Optionally add filters, segments for comparison, or breakdown by a particular metric (table or graph). Any additional changes you make are saved for all report viewers.

Customize and view reports
From any report, you can configure the report to dynamically update results.
Only global admins, the SuccessBLOC owner, and collaborators can add filter criteria, modify segments, modify breakdowns (cog wheel), and save changes.
Adjust timeframe or select a custom date range. Available timeframe includes: Last 7 days, Last 14 Days, Last 30 Days, Last 90 Days, Current Month, Current Quarter, Current Year.
Change main trendline visual to display distribution or numeric results.
Display daily, weekly, or monthly trend.

Download a trendline or breakdown data.
Click on a segment summary to view a summary of account details.
Read results
Consider the following report examples. View Contract Value sum for accounts in poor health in the top section, and trend since the beginning of the year in the graph section. Each data point in the graph represents the daily sum of Contract Value for all accounts in poor health on that particular day.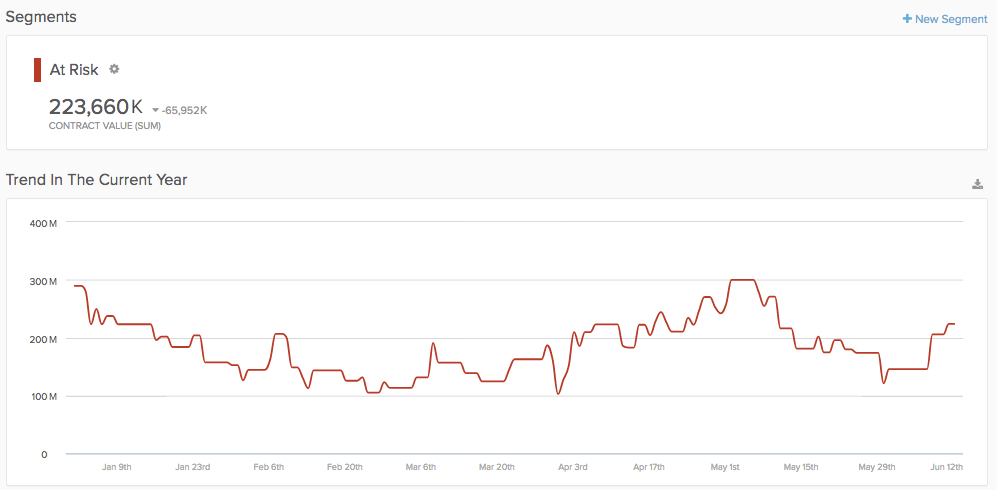 The example below shows the sum and trend of Weekly Active Users. Each data point represents the sum of active users for the past 7 days for each feature. For example, on June 26th, you see the sum of users who were active in the past 7 days.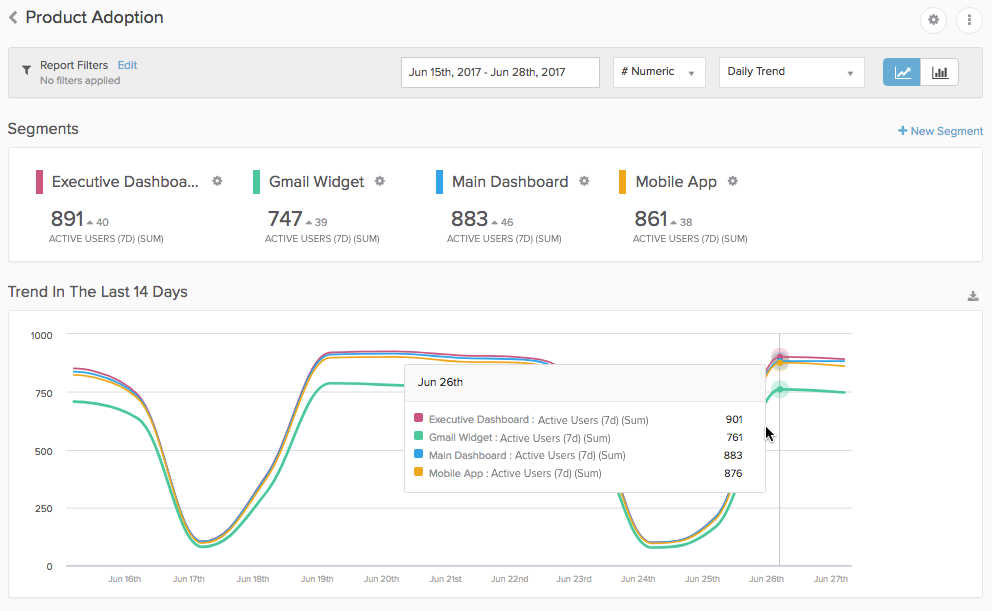 FAQs 
Question: Why does the "Quarterly trend" option not appear in the drop-down?
Answer: The time period range selected should at least be 90 days like "Last 90 days" or "Current Quarter" or "Current Year"