Overview
With Totango's SuccessBLOC Marketplace, you can now instantly add best-practice SuccessBLOCs to your Totango service without the need to spend time on building them on your own. You can also create a SuccessBLOC from scratch as before, from within the Marketplace.
This article has the following topics:
Viewing the Marketplace
Any user with permissions to add a SuccessBLOC now has access to the SuccessBLOC Marketplace:
1. Click to view the left menu
2. Under SuccessBLOCs section, click on 'SUCCESSBLOC MARKETPLACE'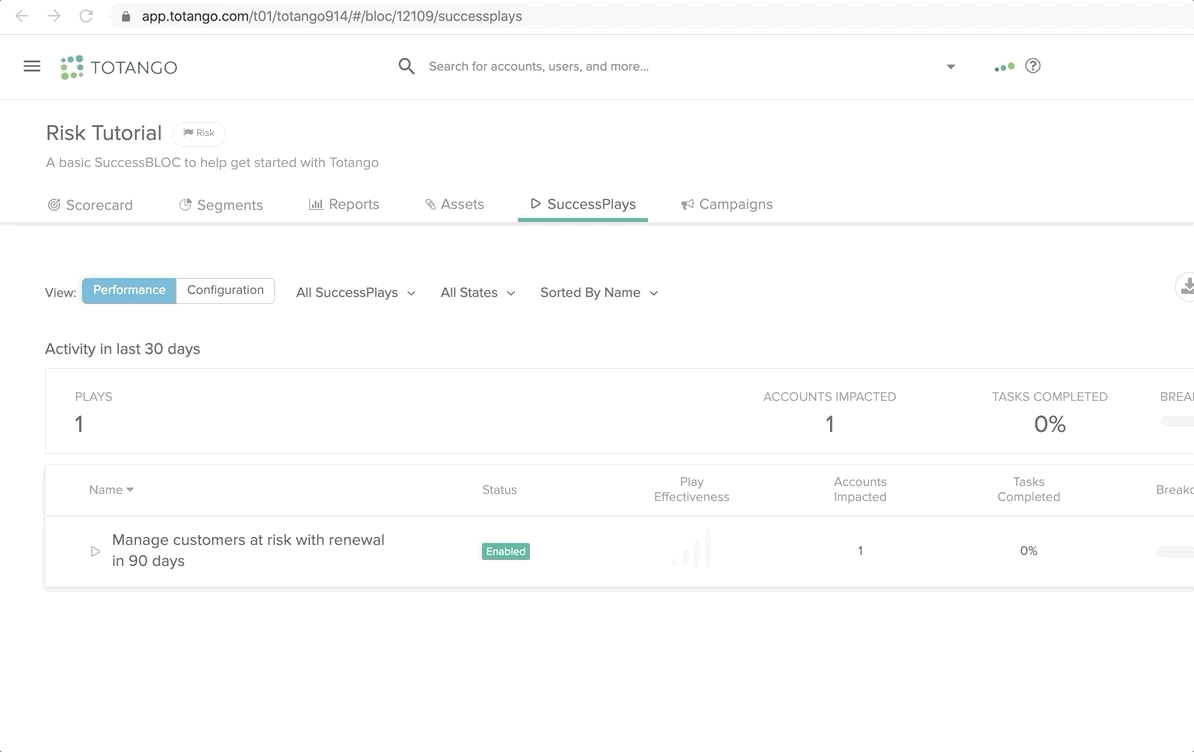 Adding a SuccessBLOC
To add a best-practice SuccessBLOC to your Totango service, select the SuccessBLOC you would like to add and click on the 'Get' button. It takes 2-3 seconds for the SuccessBLOC to be added, then you will be redirected to the SuccessBLOC you added. If you had the data associated with the SuccessBLOC, it would already be populated with your customers' information and insights.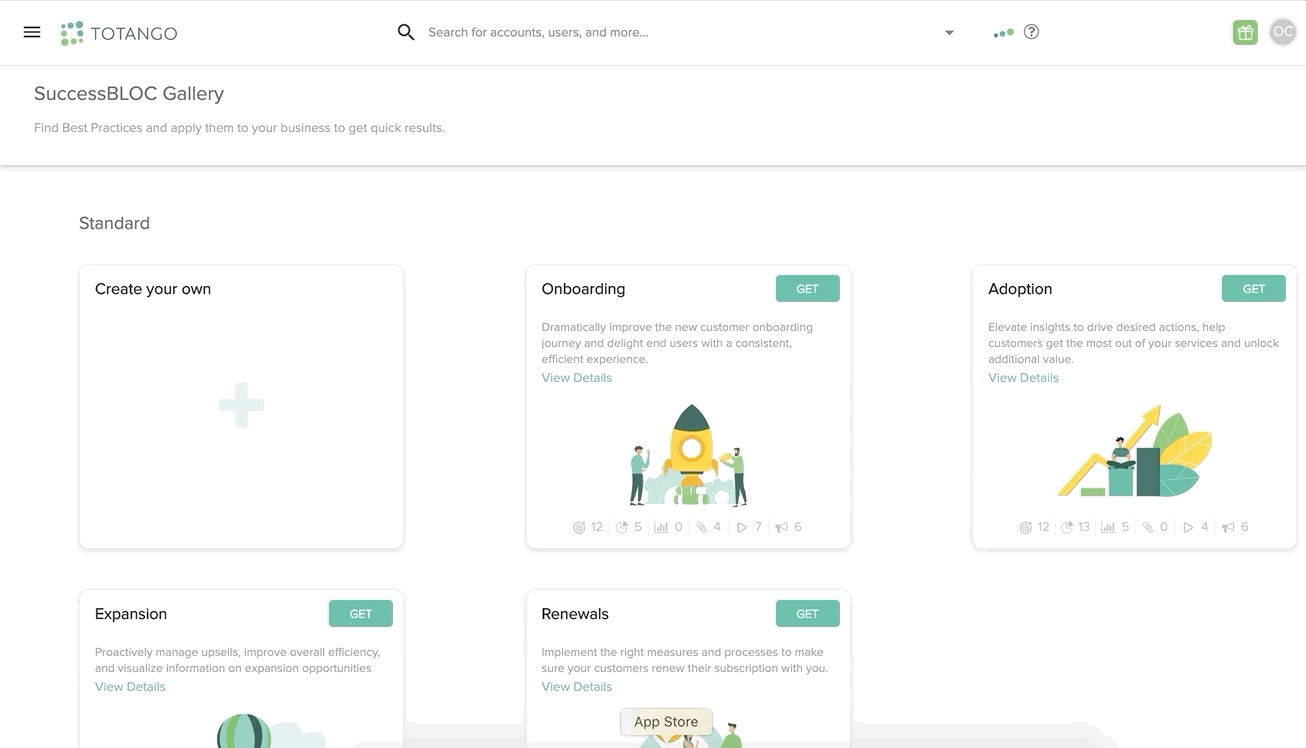 To read more on the description and all the assets included in the SuccessBLOC before you add it, you can click on 'View Details'. Inside the SuccessBLOC details, you can find everything that is in that SuccessBLOC: Goals, KPIs, Campaigns, SuccessPlays, etc.
You can also add the SuccessBLOC from within its details page by clicking on the 'Get' button in the upper right corner of the screen.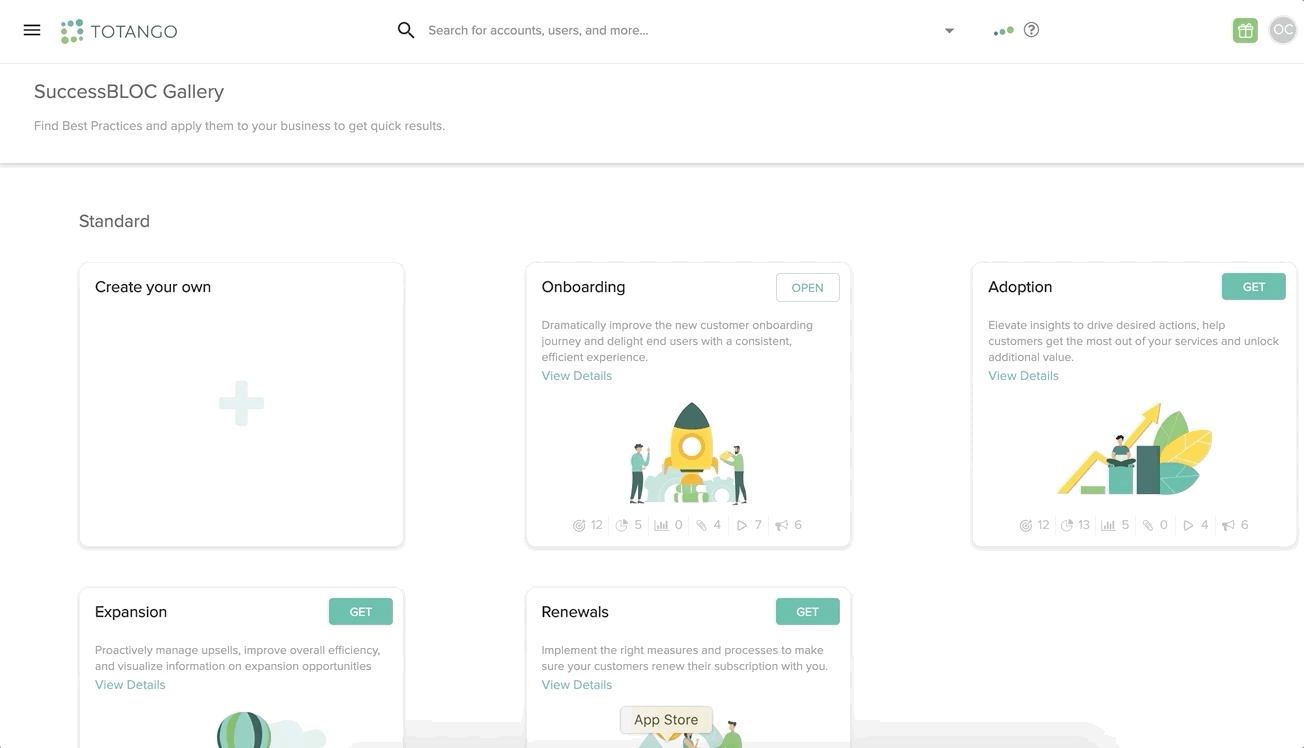 Creating a New SuccessBLOC from Scratch
To create a new SuccessBLOC from scratch, click on the top left card in the SuccessBLOC. A dialog will open for you to enter the SuccessBLOC details, the same as the old workflow for creating a new SuccessBLOC.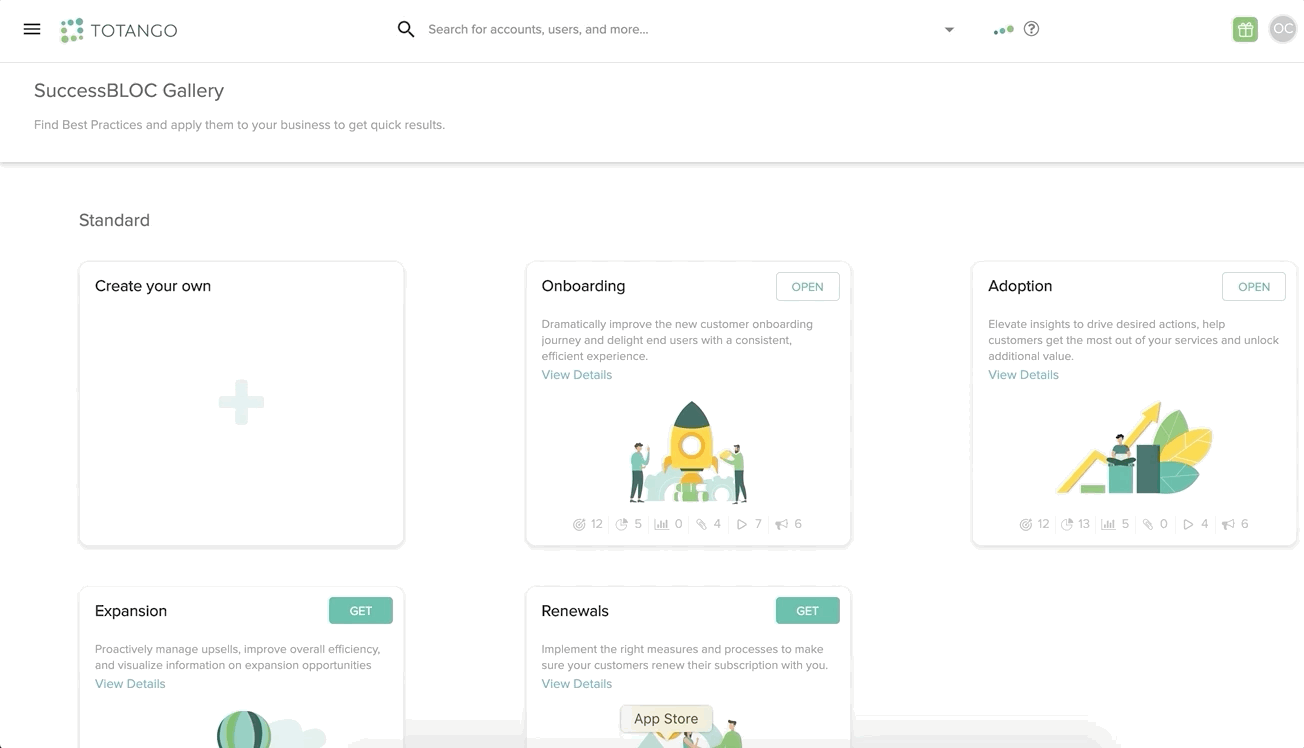 Known Limitations
You currently cannot get updates for SuccessBLOCs you add from the app store. This capability will be available in the future
Adding your own SuccessBLOC templates to the Marketplace is currently not supported. Contact your Totango CSM if you have a SuccessBLOC you would like to share.
FAQ
Question: Can I customize the SuccessBLOC after I add it to my Totango service?
Answer: Yes. After you add the SuccessBLOC, it behaves like any other SuccessBLOC that you created, and is fully customizable.
---
Question: Is the SuccessBLOC added from the Marketplace as public or private?
Answer: It is added as private. You will need to publish it to your team as any other SuccessBLOC
---
Question: What happens if I already have a SuccessBLOC with the same name?
Answer: You will have two SuccessBLOCs with the same name. You can rename one of the SuccessBLOCs after you it is added to your Totango service.
---
Question: Is Totango planning on adding new SuccessBLOCs to the Marketplace?
Answer: Absolutely. We intend to add many more SuccessBLOCs with industry best practices soon.