Who can use this feature?
Global admins
Available on all plans
Global admins can copy a SuccessBLOC and its contents from one team to another. This practice is often done to share customized scorecards and segments with other teams.
Copy a SuccessBLOC
You can selectively choose items to copy with a SuccessBLOC. Once a SuccessBLOC is copied to another team, any item you copied is a new version. Edits you make to a segment in a SuccessBLOC under one team are not made in the copied item.
Open the SuccessBLOC that you want to copy.
From the Ellipses (...), click Copy.
From the Copy window, choose which elements from the SuccessBLOC to copy over.

Segments are always copied over by default. The option to activate SuccessPlays and campaigns is available if you choose to copy those items.
Choose the team(s) to copy the SuccessBLOC to:

All teams
Teams by type
Named teams

Click Copy.
Totango copies the selected item(s) from the SuccessBLOC to the selected team(s). You can also choose to publish the SuccessBLOC in destination teams and notify team members.
Duplicate SuccessBLOC options
If Totango detects the presence of a SuccessBLOC with the same name in any of the destination teams, the system prompts you to choose from one of the following options during the copy process:
Override SuccessBLOC: Create a new SuccessBLOC in teams where the SuccessBLOC does not exist, and override contents in the destination. Contents with matching name is overwritten, and new content is added to the destination team SuccessBLOC. Unselected contents are not updated or deleted in destination teams.
Delete and recreate SuccessBLOC: SuccessBLOC in the destination is deleted and replaced with your selections. Any new reports / segments / scorecards, etc., including changes to existing items in destination SuccessBLOC will not be retained.

Unselected contents will be deleted from destination teams.
Limitations
The copy SuccessBLOC feature cannot be used if the SuccessBLOC has any of the criteria: Is in / Is not in segment, Targeted by / not targeted by campaign, or Goal achieved / goal not achieved in any of the following:
Segments
Reports Filter
SuccessPlay Criteria
Campaign Criteria
Totango provides a warning and will not proceed with the copy process until those items are resolved, which may include recreating the affected segments or removing them. You cannot selectively omit segments from being copied (all segments are included).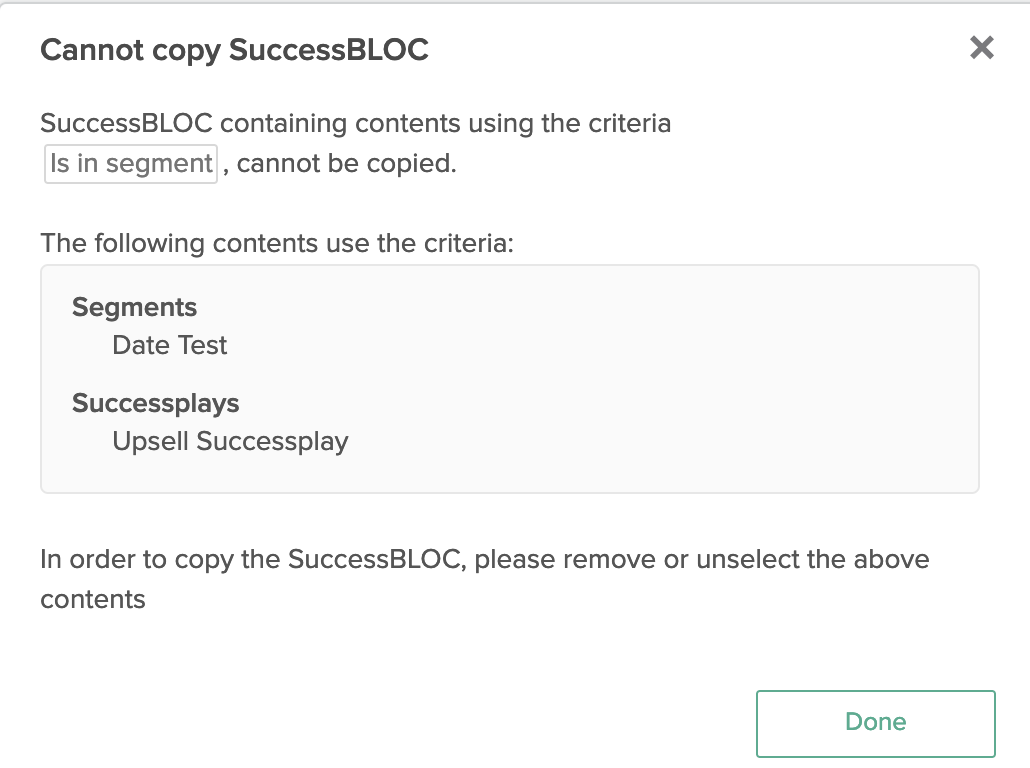 Move individual items to other teams
Optionally move individual SuccessPlays, campaigns, segments*, or report from one SuccessBLOC to another SuccessBLOC.
Open the SuccessBLOC you want to edit, and click the tab you want to manage.
Click Ellipses (...) next to the item, and click Move.
Choose the SuccessBLOC that you want to move the item into.
Click Move.
The move item feature cannot be used with segments if it has any of the criteria: Is in / Is not in segment, Targeted by / not targeted by campaign, or Goal achieved / goal not achieved.