Overview
Zoho CRM is a leading customer relationship management software that empowers many businesses globally to convert more leads, engage with customers, and grow their revenue.
With Totango's Zoho CRM connector, you can import Accounts, Users and data collections to Totango.
Learn more about Zoho CRM here
Topics covered in this article:
Creating Zoho CRM connection
In order to create a Zoho CRM connection in Totango, you need a Zoho CRM Client ID, Client Secret and Zoho API domain.
Please follow these steps:
First, you need to create a Zoho CRM oAuth app and get the Client ID and Client Secret:
Login to Zoho developer console:

https://api-console.zoho.com/

,

Click on Add Client
Chose Server-based Applications

Fill these fields:

Click the CREATE button

Now you can copy the Client ID and Client Secret fields



Zoho API Domain

Detailed information on how to find the API domain is here

The various domains and their respective API domain URLs are:
US: https://accounts.zoho.com
AU: https://accounts.zoho.com.au
EU: https://accounts.zoho.eu
IN: https://accounts.zoho.in
6. Paste the Client id, Client secret and API domain into the Totango connection window: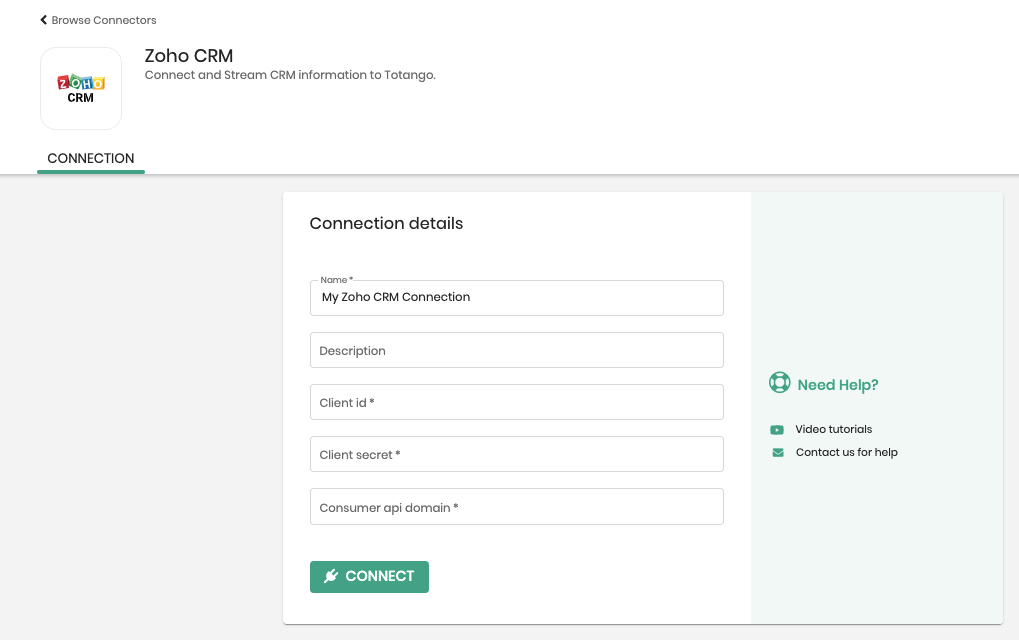 Importing data from Zoho CRM to Totango
Importing data from Zoho CRM to Totango is easy:
First, choose the data type you want to import and then select the object and the object fields
and add the COQL query in the Query Filter field
The COQL query filters the data from Zoho CRM that you want to import to Totango. Totango will execute the COQL query on your Zoho CRM account and import the data resulting from this query.
See here to learn more on COQL queries.
Totango supports importing data from these Zoho CRM objects:
Accounts
Users (Contacts)
Collections (of Campaigns, Deals, Calls, etc.)
Mapping Templates
In order to make it easier and faster to import accounts (companies) or users (contacts) from Zoho CRM, we created mapping templates for these two objects that gives initial defaults when creating a new Zoho CRM integration job to:
Object
Object fields
Query Filter
Mapping to Totango of these fields
We use the most popular object fields and mapping. The customer can add or change the fields and the mapping.
The mapping template is loaded automatically when the user creates a new Zoho CRM Accounts or Users integration job.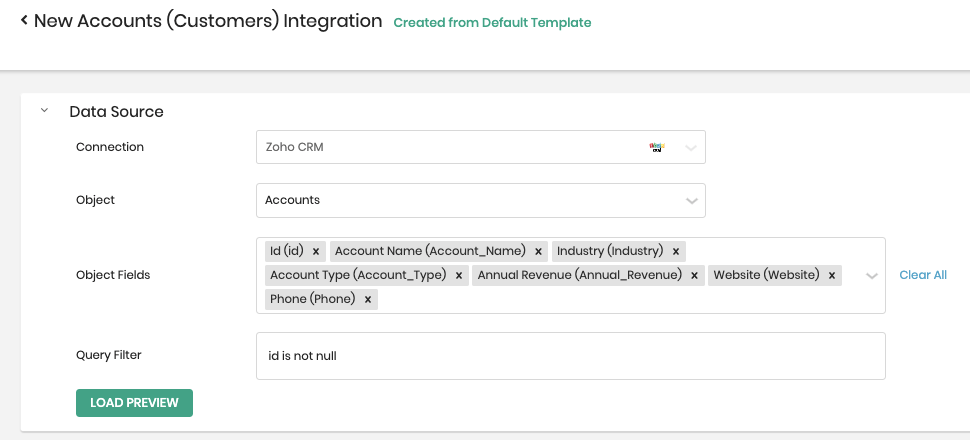 Continue to load preview, mapping, scheduling and settings and click 'Save and Sync'
Best Practices and Known issues
1. It is possible to sync Totango attributes back to Zoho CRM with the write-back capability. See here
2. When working with custom objects in Zoho, Write-back will work only if the custom object name starts with a capital letter and all the other letters are small letters (E.g.: Custom)
3. Totango uses Zoho V2 APIs to import data into Totango. API limits depend on the customer Zoho license. more details are here.