Overview
The Customer Experience Canvas makes it easy and fun to design, build, run and optimize your customer journey in one place. By bringing together all of the automated SuccessPlays and Campaigns within a SuccessBLOC into one workspace, Canvas enables your teams to visualize your complete engagement model, hone in on gaps, and implement changes quickly.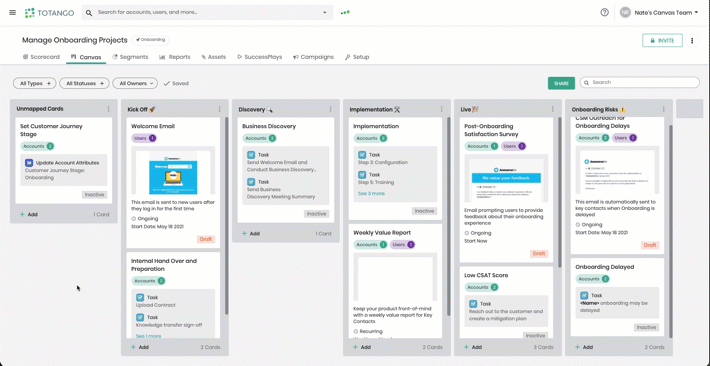 Key Features and Functionality
The Customer Experience Canvas is made of multiple components to enable creativity and flexibility.
Permissions
By default, the Canvas is open to all users by default. To manage access to the Canvas, navigate to Global Settings > User Management > Permissions > Application Permissions > Access Canvas
While the Canvas can be visible to everyone, only users with the following roles will be able to make changes to the Canvas:
Global Administrators
Team Administrators within their teams
SuccessBLOC Collaborators within the specific SuccessBLOCs where they are currently a collaborator
SuccessBLOC Owners within SuccessBLOCs where they are currently the owner
Tracks
Tracks enable you to model your flows by journey stage, customer segments, or any other logical grouping that makes sense to your business.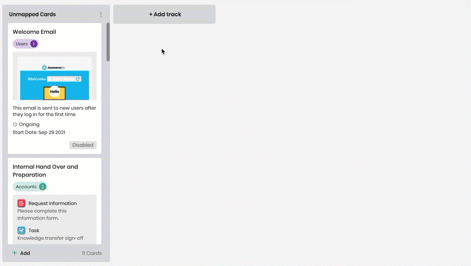 Cards
Cards represent the Campaigns and SuccessPlays that are a part of your SuccessBLOC. Only Campaigns and SuccessPlays with the following statuses will be shown on the Canvas as cards:
Enabled
Disabled
Draft
Pending
Campaigns and SuccessPlays with the following statuses will not be shown on the Canvas as cards:
Click on any card to expand it and get its full details, get a snapshot of performance, and launch the Campaign or SuccessPlay builders without ever leaving the Canvas.
Cards can be moved between tracks simply and dragging and dropping them where you want them to go.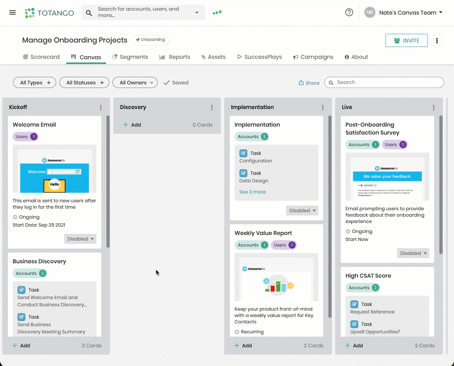 Share the Canvas
With Canvas, you have the ability to share your customer experiences so that you can collaborate and get feedback from your team. To export & share the Canvas, simply click the "Share" button and Totango will generate an auto-sized .png file.
The image will only export what is visible on the Canvas at the time that you click download. This means that any Cards that don't match applied filters will be omitted, and Cards and Tracks that are minimized will be exported as such.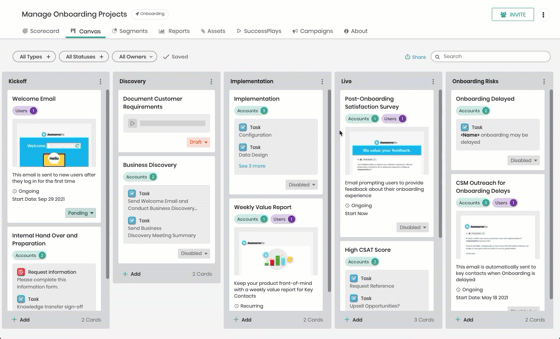 Filter and Search the Canvas
Over time, it's likely that you will have many Cards on your Canvas. In order to make it simple to focus on what is most important, you can search the canvas using the search bar, and filter the Canvas by:
Card Type (Campaign or SuccessPlay)
Card Status
Owner