Overview
With Totango's Jira connector, you can import tickets data into Totango.
Topics covered in this article:
Creating Jira connection
In order to create a Jira connection in Totango, you need a Jira Client ID and Client Secret. Please follow these steps:
Go to JIRA Developer application: https://developer.atlassian.com/
Click on the user icon (in the top right corner) and choose "Developer console"
Click "Create app" and choose "OAuth 2.0 (3LO) integration"

Add application name ("Totango" for example), agree with Atlassian terms and click on Create button
Go to "Permissions" tab and make sure "Jira API" is added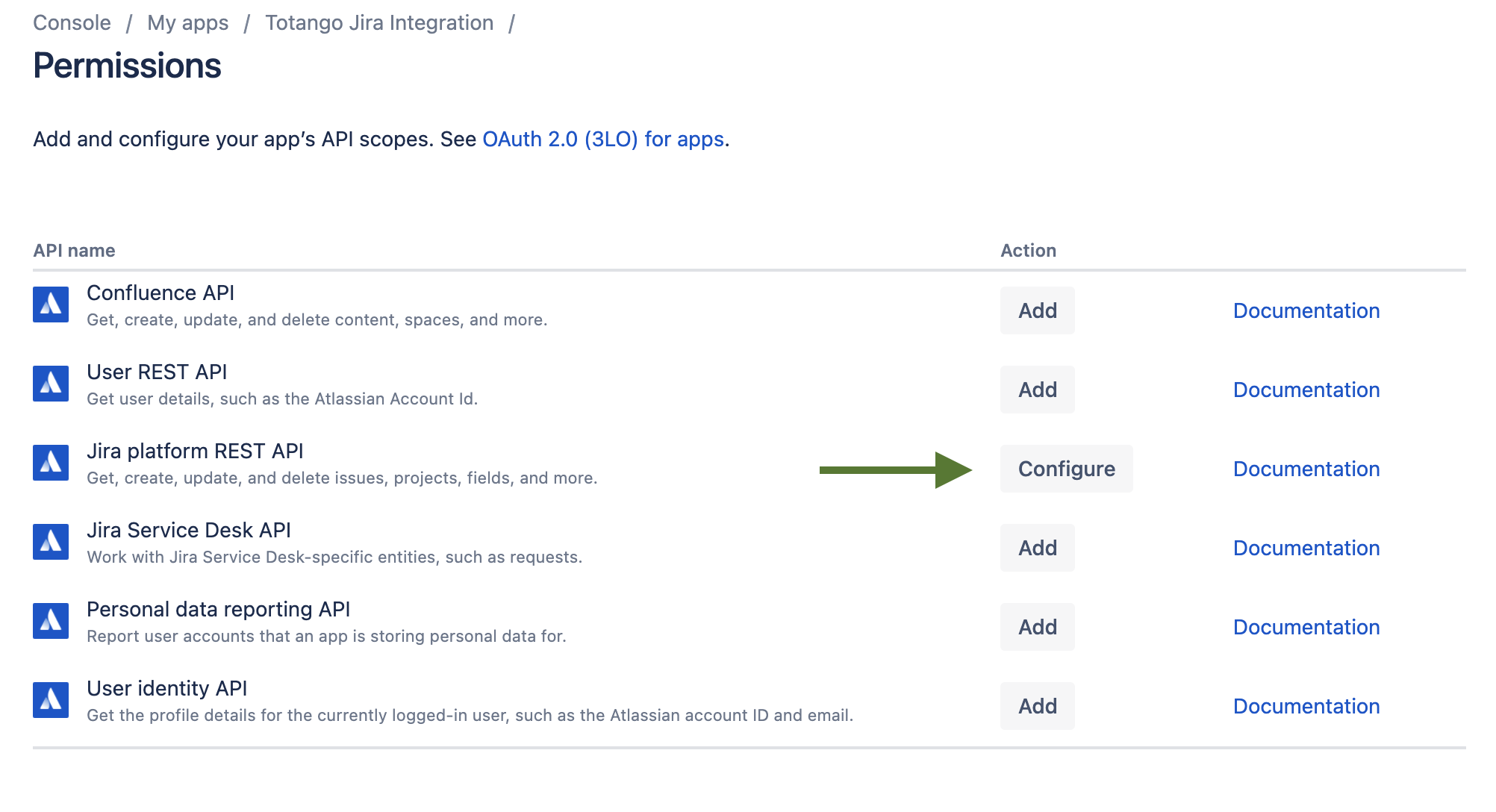 Click on the "Configure" button for "Jira platform REST API" and make sure "View Jira issue data" and "View user profiles" are added.

Go to "Authorization" tab and and add the Totango call back URL: "https://app.totango.com/auth/connector/callback"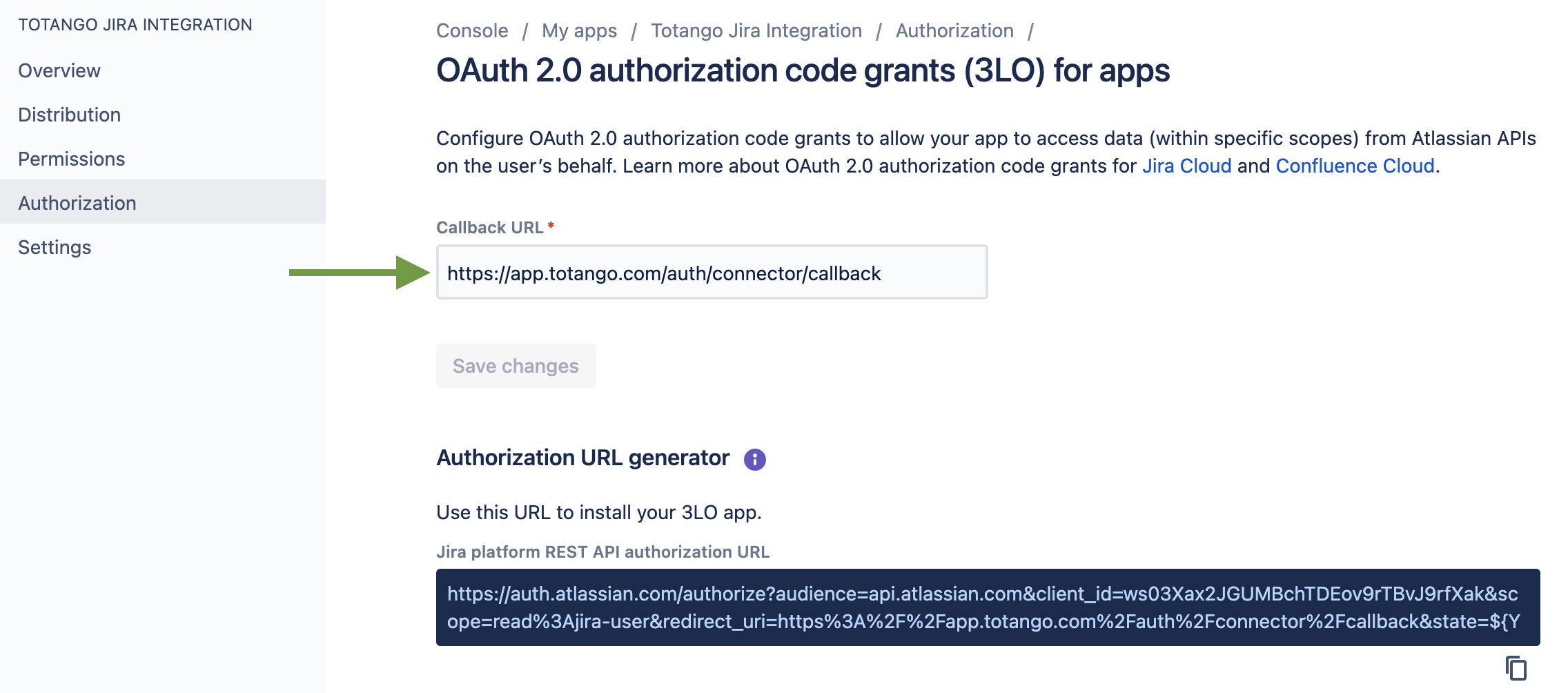 Go to "Settings" and Copy the Client ID and Secret. Paste them in the Totango Connection window
Totango connection window: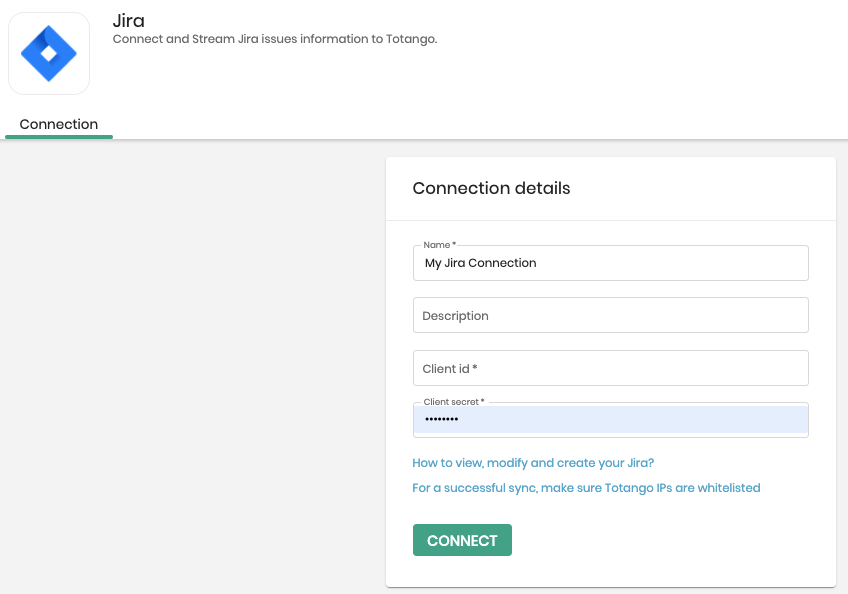 Importing data from Jira to Totango
Importing data from Jira to Totango is done using JQL filters. See here to learn more on JQL queries. The Filter is just a wrapper on a regular search using JQL.
First, choose the data type you want to import and then create an JQL query to filter the data from Jira that you want to import to Totango. Totango will execute the JQL query on your Jira account and import the data resulting from this query.
The best practice is to create a query in Jira, verify that it is working correctly and copy the working query to Totango. This way you can be sure that filter works as expected.

To create a query in Jira, go to Search -> Advanced Search -> Create whatever filter you want -> Switch to JQL -> Copy filter as is and paste to Totango Query Filter field:
In Jira:, Click "Search"
Click "Advanced issue search" and create your search query
Click "Switch to JQL"
Copy JQL query
In Totango, choose the data you want to import to Totango, choose the object and object Fields and paste the JQL query in the Query Filter field

Configuring an OAuth Application in Jira
(Cloud only)

This is a prerequisite to using Jira to create a Virtual Collection in Totango. To learn how to create an OAuth2.0 application in your instance of Jira see here.

Note: The required OAuth scope is: read:jira-work
Best Practices and Known issues
The best practice is to map Jira Organization attribute to Totango account. Please make sure that all Jira issues imported to Totango have one and only one organization attribute.

In Jira, users with multiple jira accounts, have to make sure they login to the correct one (the one they want to connect to Totango.

As the Connected App is not published, only the owner of it (i.e., the person created it) can have access to use it.