Overview
The Outcome Success Plans feature allows you to capture the mutual objectives of your customer and document the action plan against those objectives that will help them achieve their objectives. CSM's working with their high touch accounts can
User Stories
As a CSM I need the ability to capture the objectives and action plan on how I can help a customer achieve those objectives

As a CSM I need the ability to update the Plan and add additional Initiatives as I work with my customer

As a CSM I need the ability to capture the rich information in a touchpoint and reference any existing SuccessPlays or Objectives on the account
Lucy who is a CSM for Acme Corporation helps new customers have a smooth onboarding experience and ensures that customers that bought the new Hiring product from Acme are able to achieve their common goals of "Reducing time to hire by 20%" and "Improve Candidate experience and response by 30%". She can then add from a predefined library of manual SuccessPlay templates with tasks for various milestones that help her customers get on track to achieving those objectives. She can also maintain these plans on an ongoing basis and add additional objectives or Initiatives.
This article includes the following topics
Creating an Outcome Success Plan
Adding a Plan summary to the Account
Capture a concise Plan Summary for every account that captures your customer's high objectives and key milestones. Document what the customer is looking to achieve in the next 3,6 or 12 months. This allows the entire team working on this account to be in sync and quickly get up to speed on the account. You can edit this field if you have the "Update Account Information" permission in the system. The system automatically saves the content entered and indicates the last updated user and the time when the field was updated.

How add Objectives on the Account
You can define one or more mutual objectives of an account. Objective is a short sentence describing your customer's mutual objective.
Click on "Add New objective"

Provide a short title that follows on the lines of S.M.A.R.T principles

Add a description to the Objective that further describes this objective

Choose one or more SuccessPlays already present on the account to make them appear under this objective.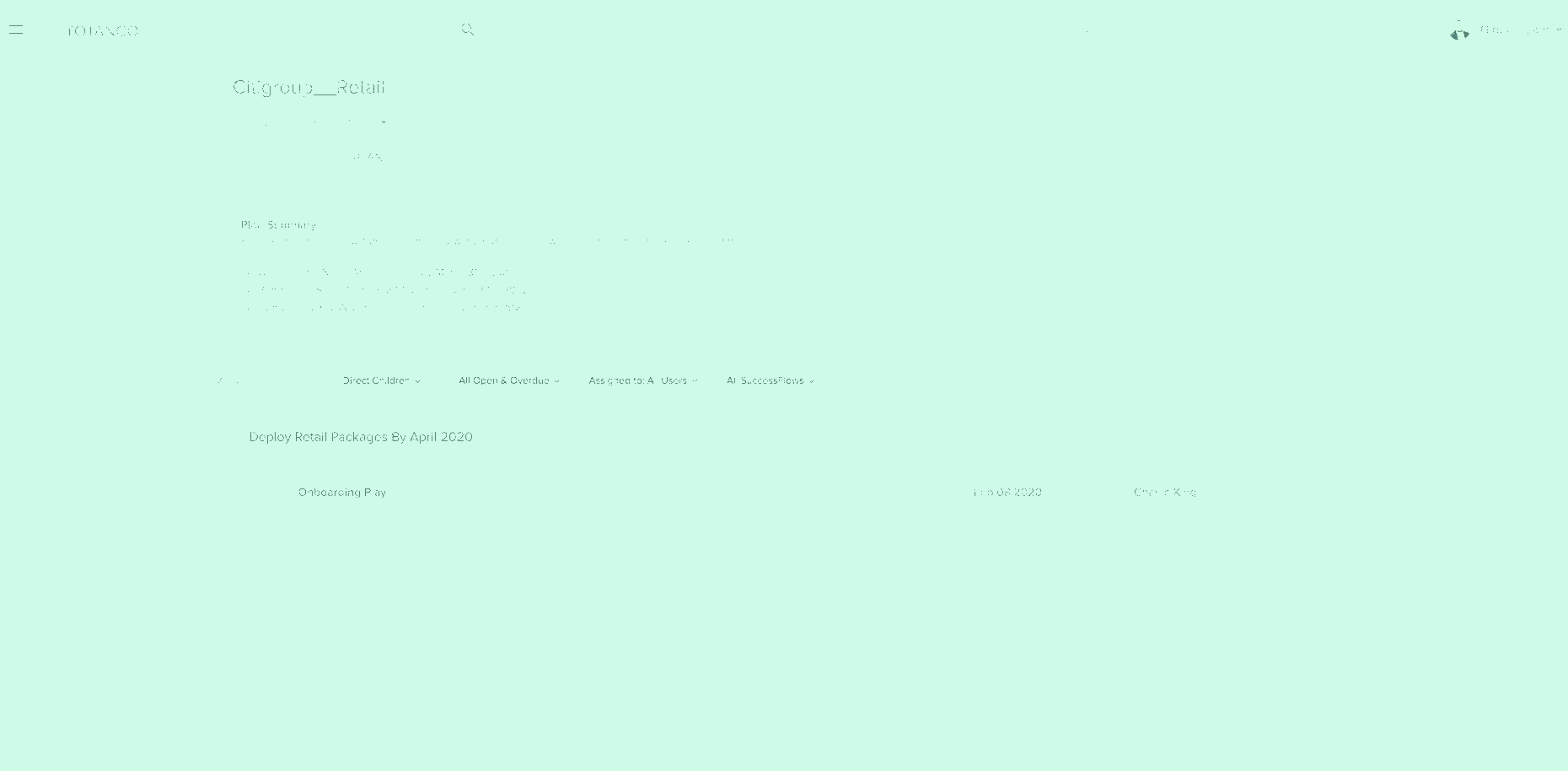 Adding a action plan from templates to the objective
Once you have created objectives, you can add one or more SuccessPlays to the Objective depending on which Plays will help progress the Objective. To learn more about creating these manual SuccessPlay templates please review this article.
Click on the 3 dots (more options) icon on an Objective

Click on "Run a SuccessPlay" option to add an action plan under this Objective

While choosing from a template you have the ability to make changes to the template before adding it to the account

Changes to the Play remain only on this account and will not be reflected in the template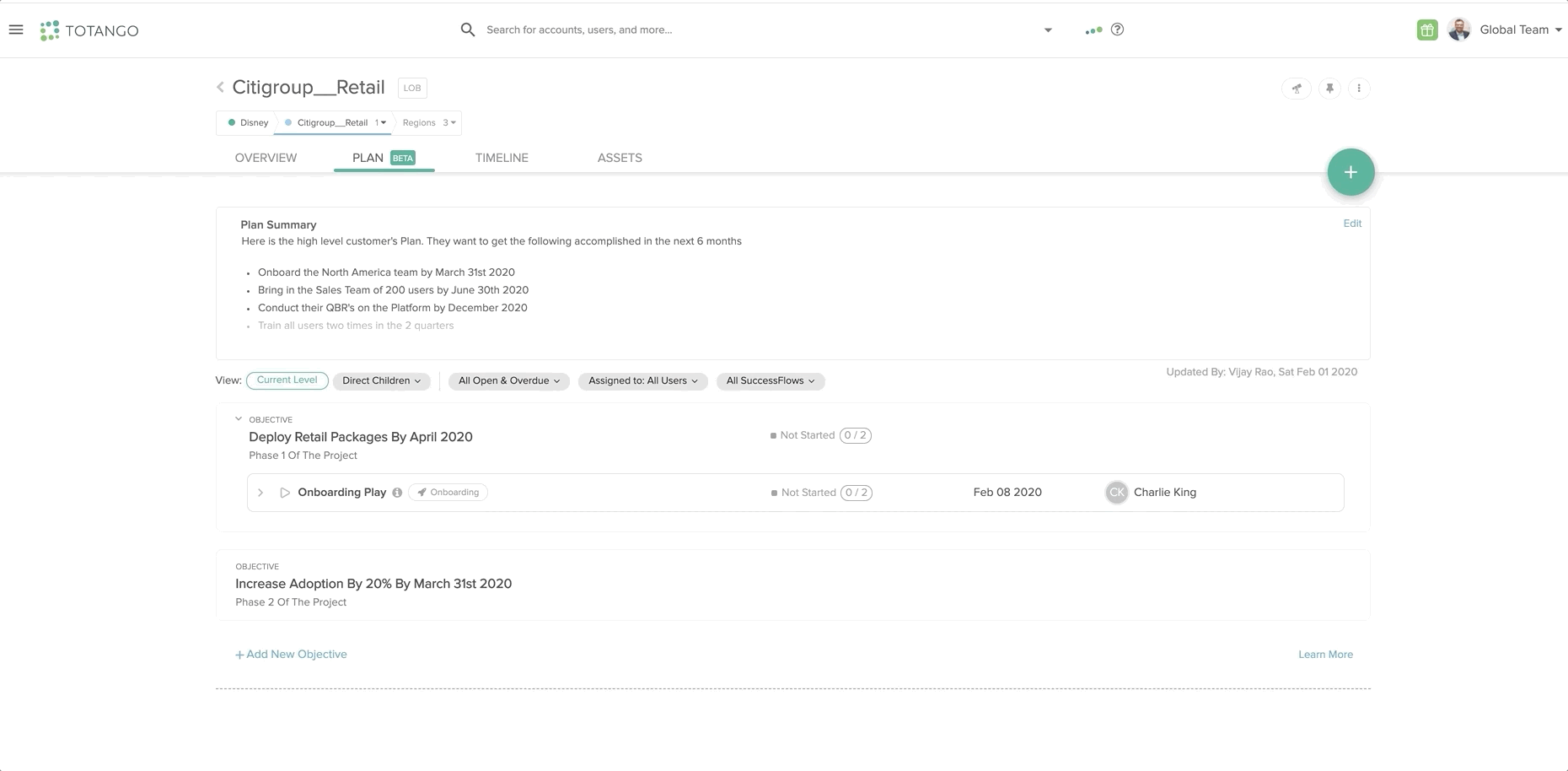 Creating a custom action plan to the Objective
When the templates defined by your Admin team don't apply to your accounts specific needs you can create a SuccessPlay on the fly and add it to the objective. Note that this Play is only added to the account and it appears to be a recurring pattern you should work with your admin to add this as a template so it can be reused.
Click on "Run a SuccessPlay" option

When none of the templates apply click on "+Custom SuccessPlay" to create a new Play for this account

Provide the name description and tasks you want added to the Play

Click Save to add it to this account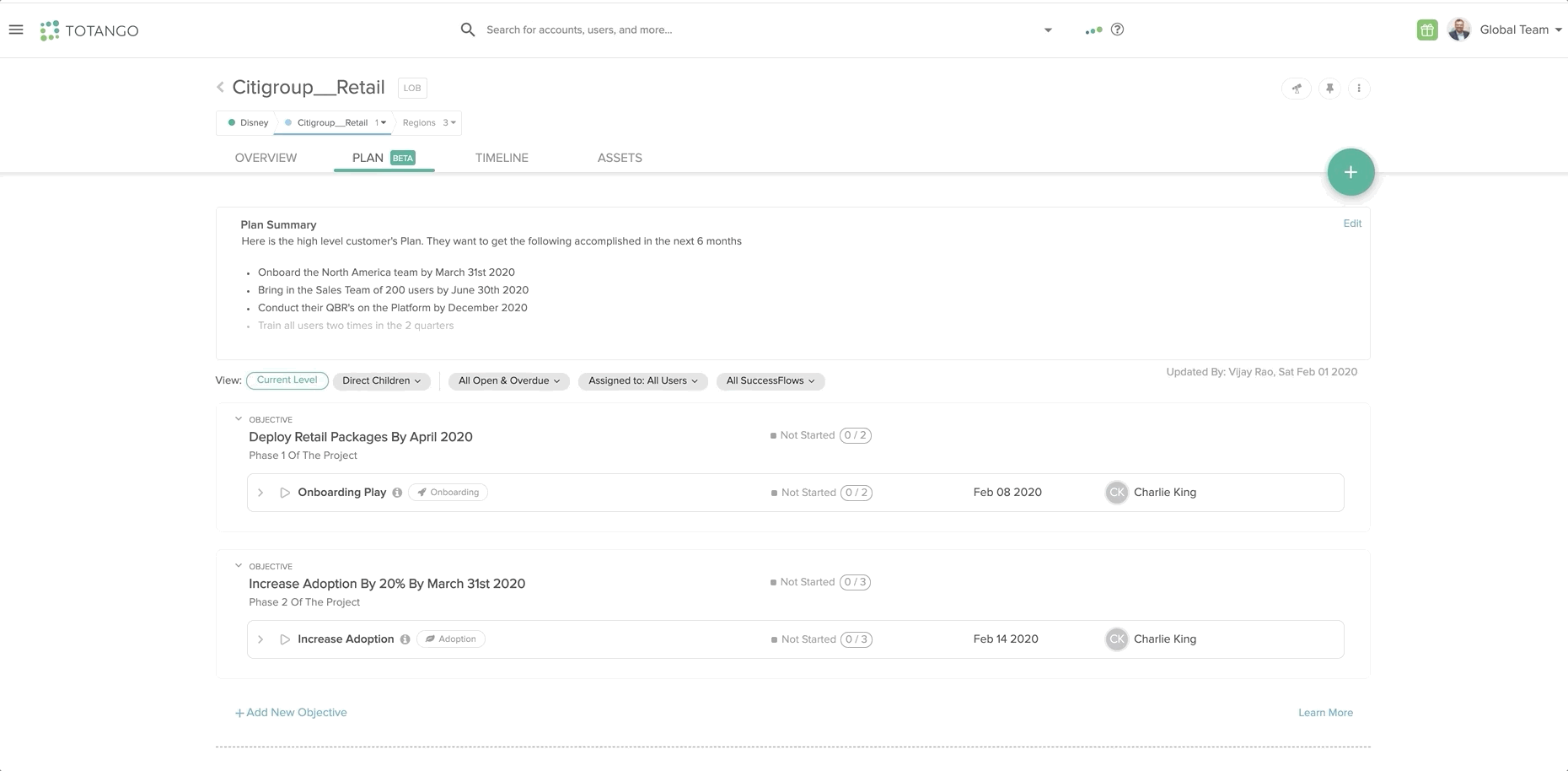 Making changes to an active Play
Once you have the Plan in motion there will be times when you need to make changes to the Play and add additional tasks, delete existing tasks or change due dates.
Chose the 3 dots (more options) on a SuccessPlay to edit the Play

Make changes by adding additional tasks or changing dates before saving the Play again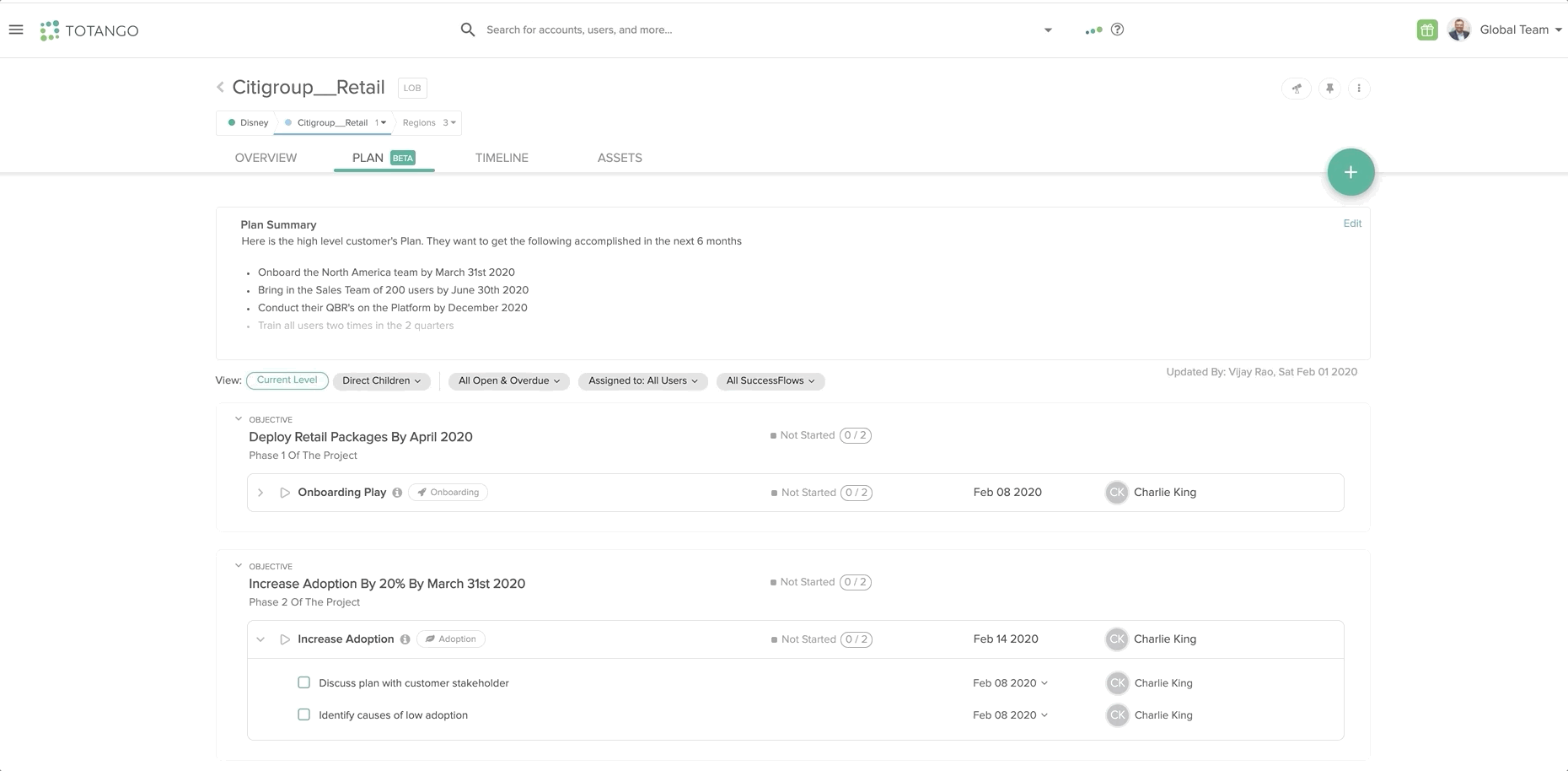 Plan rollup view across your account hierarchy
The Account Profile Plan tab has hierarchy filters that allow you to view the overall Plan for current account and all the child accounts. This is helpful when you have an overall plan for the account and individual Plans for the lines of businesses and may want to see the overall plan across all the accounts.
Users can change filters to view child accounts or accounts of specific account types. Once selected users can see the rollup view of Plans from all the selected accounts in a single view

Users can also view the touchpoints rollup in the Timeline tab with the composite timeline across all the accounts