Who can use this feature?
We want to hear from you! Send your feedback to us using the Totango Product Wishlist. Totango uses this tool to manage and prioritize feature requests. You can:
View open requests (no sign in required)
Submit and track your own requests
Vote on other requests.
We encourage you to upvote requests to help us to gauge demand for items.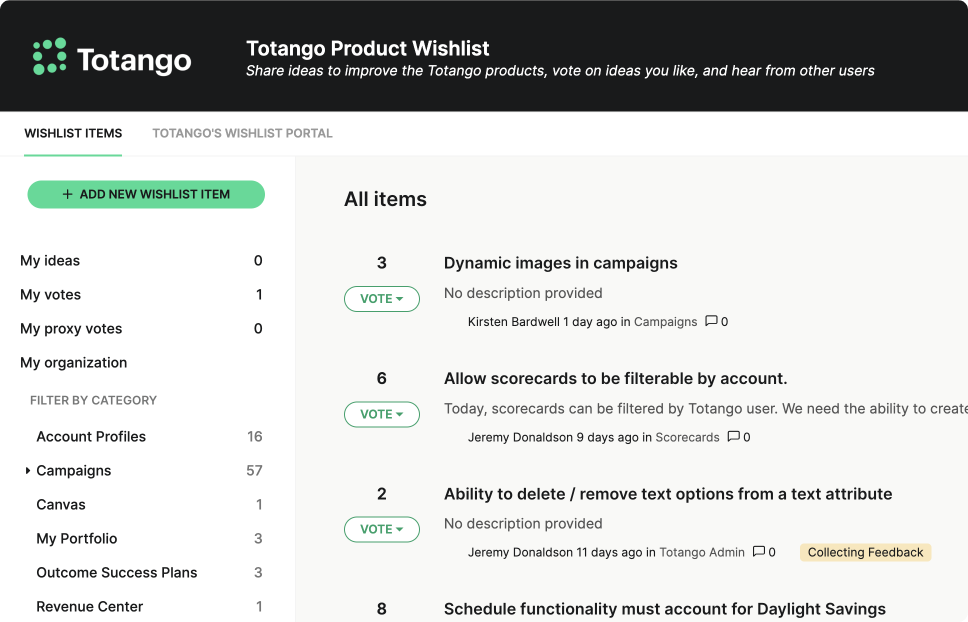 Submit a request
You will need to sign in to submit requests to the wishlist
Click Log in / Sign up.
Enter your email address, and click Next.
If this is your first time here, add your name and click to Sign up.
Click +Add new wishlist item.
Fill in the relevant fields. Make sure your requests are clear and concise so others can vote on it. Feel free to attach links/docs or screenshot that can help us understand your request.

Click Add wishlist item.
Comment on a wishlist item
You will need to sign in to comment on wishlist items
From the wishlist, click to open details for an item.
Click + Add comment to join the discussion.
Type your comment, and click Post comment.
Comments are viewable by all visitors.
Wishlist item lifecycle
New wishlist items are reviewed by the Totango product team on a bi-weekly basis; we go over all requests and update the status where appropriate. Roadmapping meetings occur quarterly, and we review top requests to evaluate if these could go in our quarterly roadmap. 
| Status | Details |
| --- | --- |
| Under Review | All new requests are set to "Under Review" until a member of the product team does an initial review, categorizes the request, and assigns it to the relevant PM.  |
| Collecting Feedback | Once a request is reviewed and assigned to a PM, it is moved to "Collecting Feedback." Requests remain in this status while Totango gauges demand, gathers use cases, and establishes impact. These requests are continually reviewed on a quarterly basis for new votes and comments. |
| Planned | If a request aligns with Totango's product vision, it is moved to "In Planning" status. The request will likely be added to the product roadmap in the near future.  |
| Released | Requests that have been built and rolled out. |
| Not Planned | If a request does not align with Totango's product vision or has a work-around already in place, it is moved to "Not Planned" status. |