Totango is the only independent customer success platform to manage customer relationships with complex account hierarchies and multiple products. With our modular approach, you can get up and running quickly without the need for monolithic deployment projects.
Totango helps your organization deliver better business results in weeks. Not months.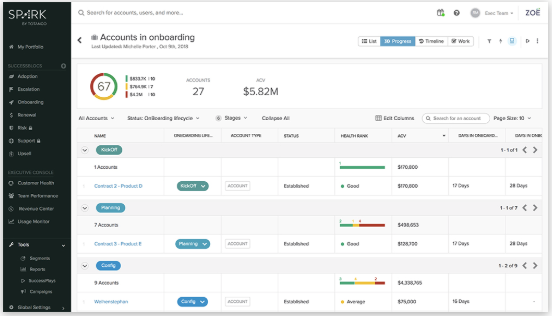 Built for outcomes, not activities.
Products & Key Features
Spark - Totango Spark is the enterprise customer success solution designed to help your team achieve their goals. Actively monitor all customer health signals and proactively engage at scale, resulting in focused, proactive customer success teams, increased productivity, and a lower churn rate.
Zoe - Zoe enables customer centricity. Companies can organize around the customer by unlocking customer success from a single team and empowering everyone to participate in customer success.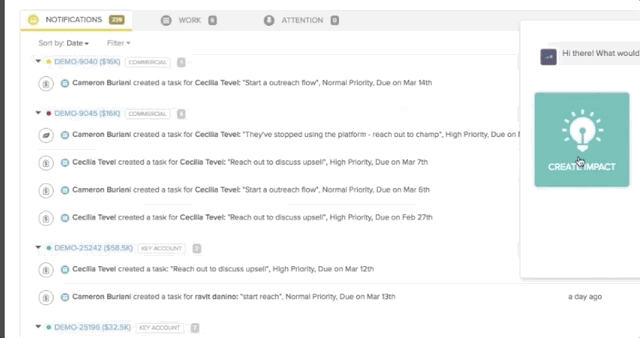 Zoe Web -

Zoe enables everyone in your company to participate in customer success by allowing access to customer data and enabling engagement across your organization.

Zoe Integrations -

Zoe expands the customer success mission beyond the customer success team and taps into the potential of the entire organization.

Zoe Share -

With Zoe, you can easily share account information from Totango with anyone in your company.
SuccessBLOCs

A SuccessBLOC provides a modular framework to package Customer Success organizations best practices around important customer journeys. It allows a Customer Success organization to define and operationalize these best practices consistently and effectively for successful outcomes.
Built using six key components to drive and monitor outcomes:
Data DNA-CX
Totanog's Data DNA-CX is a dynamic, schema-less active customer index technology that is at the core of all our products. Connect all customer data streams to reflect the unique, personal and value-driven relationships you have with your customers:
Financial Data
Usage Data
Customer Touchpoints
Totango Shield
Totango is ISO and Privacy Shield Certified and GDPR Ready. We have a suite of features to ensure you have complete control over the access to your data.
Bring your Data in from anywhere!