Who can use this feature?
Any account contact on a shared success plan
Access to the portal is available via email invitation
Totango's Customer Portal is shared web page where you and your vendor representative (e.g., Partner Team) can view objectives and tasks within your mutually agreed-upon success plan. Using this shared location is a great way to track progress in real-time for who's doing what and when. 
How to access Customer Portal
You can access Customer Portal whenever anyone from your Partner Team invites you via email.
There is no dedicated login page for Customer Portal; access is available via email only.
Look for an email from someone on your Partner Team with a link to view a shared success plan.
Click the link in the email to take you directly into the portal.

The portal displays any objectives and tasks that have been assigned to you, members of your Partner Team (vendor), or other members of your internal team.

Filter the list of tasks
Use the filters at the top of the portal to optionally filter by the following:
Date Range: Filter date options by Day, Week, Month, Quarter, or custom.
Assigned: Filter by Assigned TO and Assigned BY options.
Task Status*: Filter by Open & Overdue, Completed, Overdue - Selected Time Period, Overdue - All Time, and Exceptions.

Complete tasks
You can view task details for all tasks. The option to complete tasks is available for any tasks assigned to you.
Click on a task that is assigned to you.
Click Complete Task.

While the task completes, there may be the option to undo. Once the task completes, the option to undo is no longer available.

When the task is complete, it will be marked with a line through it. Your partner team can also view the completion date and status when they log into their Totango application.


If you don't see your completed task, you may need to adjust your filters to include tasks with a "Completed" status.
FAQs
Question: Will I get notified when I'm assigned to a task?
Answer: You may receive a system notification whenever someone from your partner team assigns you a task. To view the new task, locate the email with the link to your original Customer Portal invitation (not the one in the task notification email).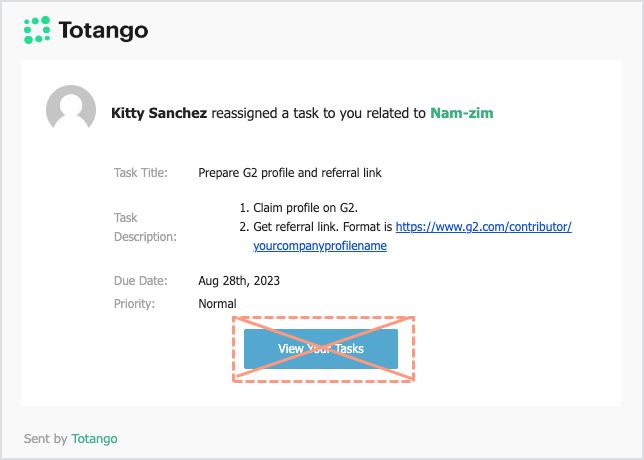 ---
Question: Can I assign tasks to someone else or change task owner?
Answer: Not from within the Customer Portal. Please reach out to a member of your Partner Team, and they can adjust objective and task details, due dates, assignments, and priority.