Overview
Your Totango instance, Account Health includes a Default Health Profile which is enabled at the outset, and a High Touch Onboarding Health Profile, as the health of your customers looks a bit different while they are in their onboarding customer journey stage. This article will review the High Touch Onboarding Health Profile, and provide guidance on how to make adjustments based on your onboarding timelines, stages and expectations. For more information on how Totango calculates Health, click here.
Prior to updating your High Touch Onboarding Health Profile, make sure your Onboarding Lifecycle Stages are updated and match your Customer Success Team's practices!
You must have a Global Admin role in Totango to access Health Profiles.
Topics
Navigating to Health Profiles
Select the hamburger menu icon at the top left of your Totango screen to open the Main Menu.
Scroll to the bottom of the menu and select Global Settings.
Select Data Management>Health Designer.
Click on High Touch Onboarding, which will be disabled.


The High Touch Onboarding Health Profile will open, and you should click the Edit Profile button on the top right to review the profile and make changes.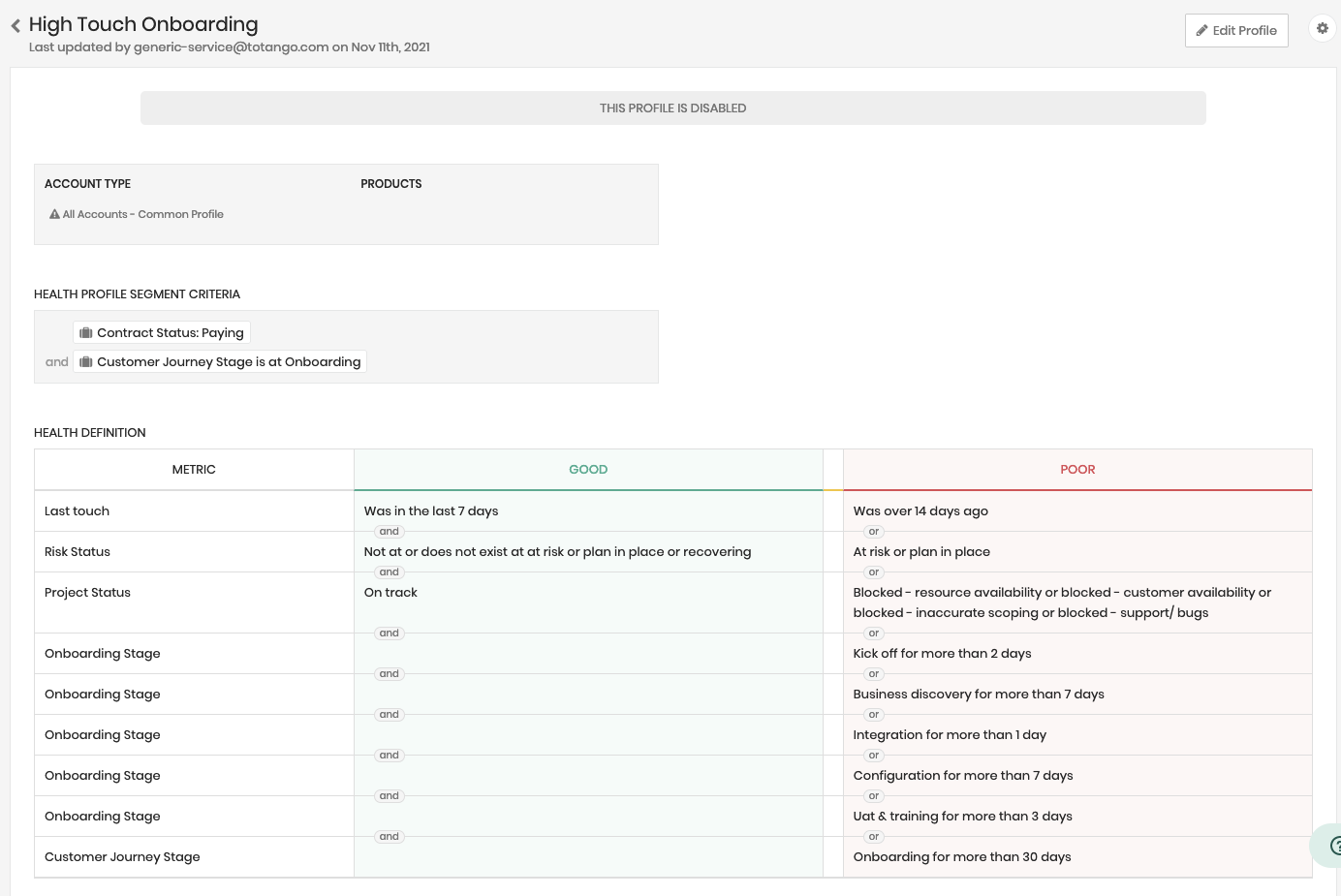 Editing the Health Profile Settings
Once you've selected Edit Profile, you will see that many fields within the profile are open to change.

Title: You may change this but it is not required.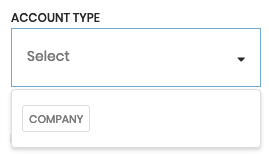 Account Type: This indicates which level of the hierarchy your health will be calculated on. If you have a Flat Hierarchy, you will just select Company here. If you have a two-level hierarchy, you may choose both levels if it is appropriate to use this health profile for both the parent and the child accounts. You may also create a separate health profile to measure each level, if that better suits your needs.
Products: If you have more than one product, and this onboarding process/profile only applies to a single product, then you will select it here. If you only have one product, then you will leave this blank.

Segment Criteria: The out of the box segment criteria should capture all of your accounts/customer in the onboarding customer journey stage. You may add extra filter criteria here if necessary by clicking anywhere in the grey box around the criteria. Then criteria filters will appear for you to add more.
Now that you have changed any of the general settings of this health profile as needed, you may now update the Metrics and associated criteria.
Editing Health Definition Metrics
Health Definition Metrics fall into two main categories: Good or Poor. In order for an account to qualify for Good health, they must meet ALL of the metric parameters set in the profile. You will note that the Metric criteria under Good in the profile are all "and" statements. However, for an account to qualify for Poor health, they only need to meet one of the parameters in one of the metric ranges defined under Poor. Any account that meets some, but not all, of the Good parameters and none of the Poor parameters, will be considered in Average health. Keep this in mind as you update the metric timelines. Note: The Totango default Onboarding Stages will appear in the metrics around Onboarding Stages, so if you made any changes to those Stages, you will want to remove the ones in place and add your appropriate stages to each metric. This is why it is very important to update the Onboarding Lifecycle Stages and finalize them around your practices before completing this Health Profile. Now let's start editing these Metrics!
Last Touch


This relates to touchpoints that are logged into Totango. Based on your onboarding practices, how frequently should your CSMs be in contact (direct or through Campaigns) with your Account contacts? How many days without a logged contact/touchpoint would indicate that there is a communication issue? While defaults are in place, you will want to update these to reflect your Onboarding best practices and process.
Risk Status

If you have a plan for your CSMs to assign risk to an account, which risk status fall within the Poor health criteria, and which statuses (if any) fall into the Good criteria?
Is not one of or does not exist: This qualifier allows you to determine which statuses to exclude from your criteria AND identify that no status falls into the same category. This is a great option for the Good health risk metric, because no risk status is great!
Project Status

Project statuses allow your team to identify issues on the product or onboarding process side, or on the customer side, that are hindering the progress of the onboarding process. This allows your team to provide more detail when roadblocks appear in your timeline. You may add or
Onboarding Stage(s)

Onboarding Stage: You will want to make sure that when setting the parameters for Poor health you delete the default onboarding stage by clicking the x on the grey box next to the stage name if you have changed the name or order of stages when editing your stages. Then you will find your stage names and add them accordingly.
For each Onboarding Stage you define, you will want to select the number of days in that specific stage that would exceed your team's expectations and the timeline shared with your customer. This does not need to match exactly any timelines around tasks assigned for that stage, but rather is an evaluation of time spent in the stage and risk posed to the onboarding project for that account.
In the Last: You will also want to set the "In the Last" parameter on each of these, otherwise the Poor health designation will follow your account into new stages. In the Last will identify how many days you want to look backwards to see whether that account fell into that metric parameter for Poor health. We recommend setting this to +1 whatever days you set as the number of days in that stage that would qualify the account for Poor health.
Customer Journey Stage

This metric allows you to track the overall health of your Onboarding process, but setting the total number of days for that stage of the Customer Journey that you expect would be a healthy number of days in your Onboarding process. This is set to 30 days by default, but this should be adjusted based on your process and timeline. It may be more appropriate to say that an Onboarding should not take more than 90 or 120 days or more.
Adding Additional Metrics
At the bottom of the list of Metrics, you have the option to create and customize additional metrics for Onboarding Health. Click the blue Add Metric link to proceed.

You will then see a list of Account attributes available to measure: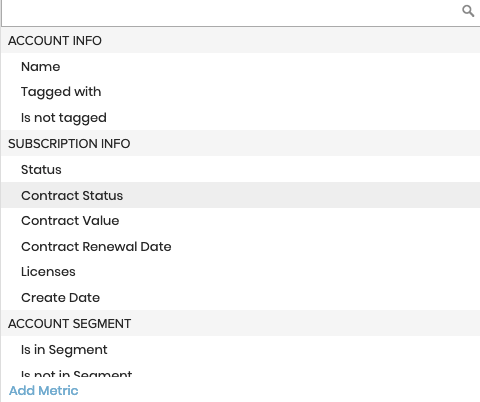 Choose the attribute you would like to measure, an a new Metric row will populate with parameters you may set. It will show up below the last metric in your list.

Deleting Metrics
Next to each metric row on the right, you will see a round black icon with an x in the middle. Click that to remove a metric and its corresponding criteria completely.

Once you are done updating all of your High Touch Onboarding Health Profile Metrics and Settings, you may click the Done Editing Button at the top right of the profile to save your changes.


Health Profile Order in the Health Designer
Out of the box, the Default Health Profile is the first in the order of your Health Profiles in the Health Designer. The order of Profiles on this page is key to making sure Totango evaluates the right health profile for each account. Therefore, you should place these profiles in the order in which you want Totango to use to qualify health. So if you move High Touch Onboarding into the first position on the screen, Totango will look for all of the Accounts that qualify per the Health Profile Segment Criteria you set and use that profile to set health. If the account does not meet the parameters of the first profile, then Totango will move on to the next profile on the list to see if the remaining accounts meet that criteria for health, and so on. So you should have the profiles with the most narrow criteria set in the first positions, and the ones with the most general criteria in the last positions to make sure you are assigning the right health metrics to your accounts based on their customer journey stage and attributes.