Overview
Your Onboarding Stages are represented using a Lifecycle Status attribute type in Totango, which allows you to automatically track the time in each stage. These are key stages of the process and each stage will include a series of tasks required to complete that stage. These should be fairly high level (about 4 - 5 stages total). Onboarding Stages are included out of the box with the Manage Onboarding Projects SuccessBLOC. Prior to configuring your Manage Onboarding Projects SuccessBloc, or configuring your High Touch Onboarding Health, we recommend that you review and update (if necessary) these onboarding stages to match your process. This guide will provide you with instructions on how to review and edit your Onboarding Stages in Totango, so you can prepare to set up your Manage Onboarding Projects SuccessBLOC and High Touch Onboarding Health!
Topics
Onboarding Stage Navigation
To review Onboarding Stages in Totango, first click on the hamburger menu at the top left of your Totango instance, and navigate to Global Settings.
Then select Data Management>Data Modeler from the Global Settings menu.
Search for Onboarding in the search bar at the top right of the Data Modeler:

Click on the Name Onboarding Stage and it will generate a pop-up screen for the Onboarding Stage editor: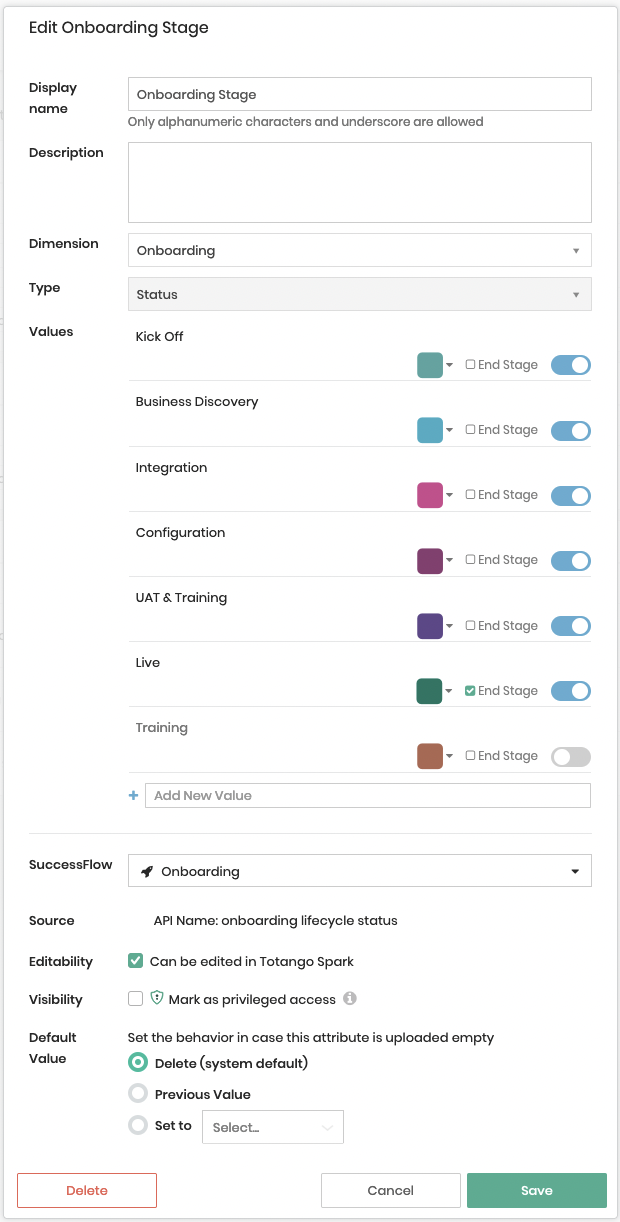 Display Name: We advise against editing this name, as it is seen across many resources in our help center.
Description: You may provide a description of this stage attribute to display to your team on hover over, but this is not required.
Dimension: You may leave this field blank.
Type: Onboarding Stage is a type of status for your Accounts, so you will not change this field.
Values: These are the names of your Onboarding Stages, listed in descending order.
SuccessFlow: This is tied to the Onboarding SuccessFlow, which ties these stages to your Manage Onboarding Projects SuccessBLOC.
Source: When you see the API: indicator on source, this means that this attribute is created in Totango. You will manage these Onboarding Stages through Totango, so this is appropriate.
Editability: Totango will be the source of truth for the Onboarding Stages, so you will want to leave this enabled allow Totango and Totango users on your team to update this stage manually or through a SuccessPlay.
Default Value: Since Totango will be the source of truth for your Onboarding Stages, you may leave the default setting in place. This would only be changed if your Account data source updates these stages.
Edit Onboarding Stages
To edit an existing value in an onboarding stage, click on the title of that stage and change the name. Then click the green check next to the text box to save, or the x to cancel.

To disable an Onboarding Stage, click the toggle next to that stage. The value will become greyed out, and the next stage descending on the list will become the subsequent stage available, as seen below in the Business Discovery stage.

To add a new stage, click the blue + sign at the bottom of the list of values, to add an additional stage. Note - we recommend renaming stages in descending order and THEN adding additional stages if necessary.

When you are done updating your stages, click the green Save button at the bottom of the screen.