Introduction
Emails remain the most important medium of engagement with your customers/users. Creating rich, engaging emails with personalized content is essential for getting your users' attention in an increasingly distracted world. You can do just that with our component-based drag and drop campaign designer. The new designer has the following benefits over our legacy designer.
The new campaign designer has rich, flexible, rich drag and drops components to create truly engaging email campaigns

Compose an email with multiple layouts and sections and drag and drop components anywhere to create rich emails
Add multiple buttons and images and move them around anywhere in the email

Rich, beautiful intent-based campaign templates ready for you to use out of the box
User click tracking for all buttons and links
Dynamic global theme and footer so change immediately apply to existing enabled campaigns.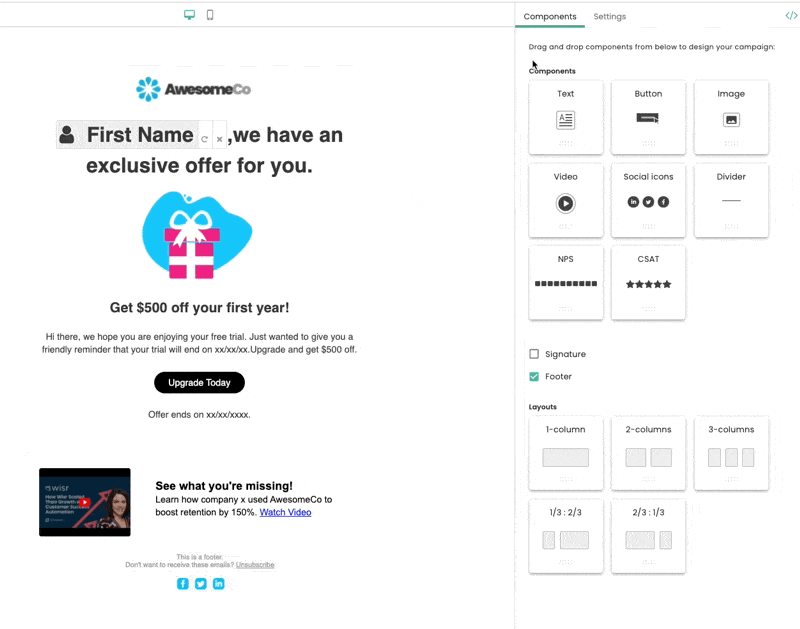 This article contains the following sections.
Campaign creation demonstration
Our designer Calvin walks you through how easy it is to create a campaign, and she also walks through the settings so you can see how to create that perfect campaign!
Choosing a template and customizing it
When you create a campaign, the first step is to choose a template from the existing list of templates. We have provided a rich list of templates for you to choose from. The templates will appear in your company theme colors.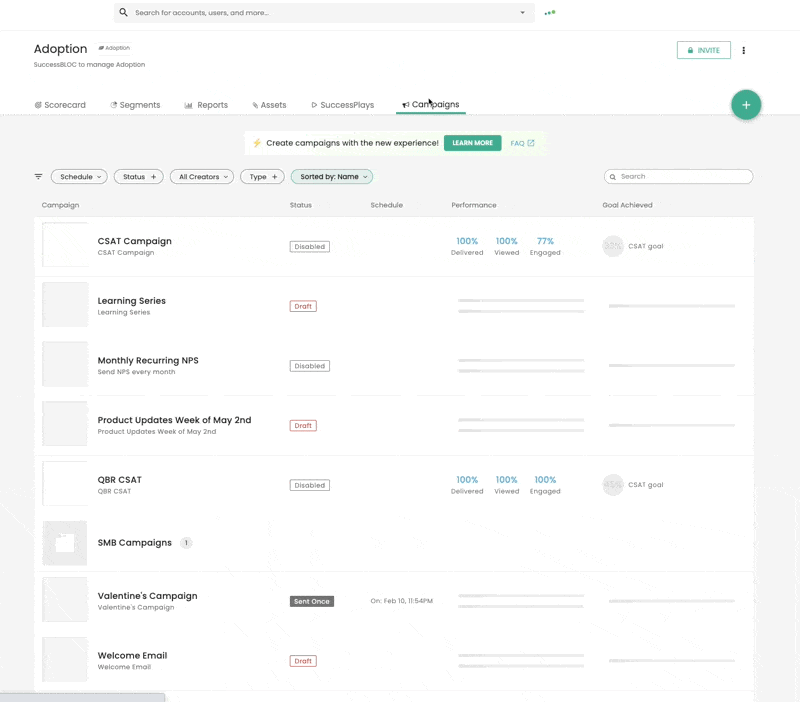 Once you choose a template, you can make changes to the template by dragging and dropping various components into the email body.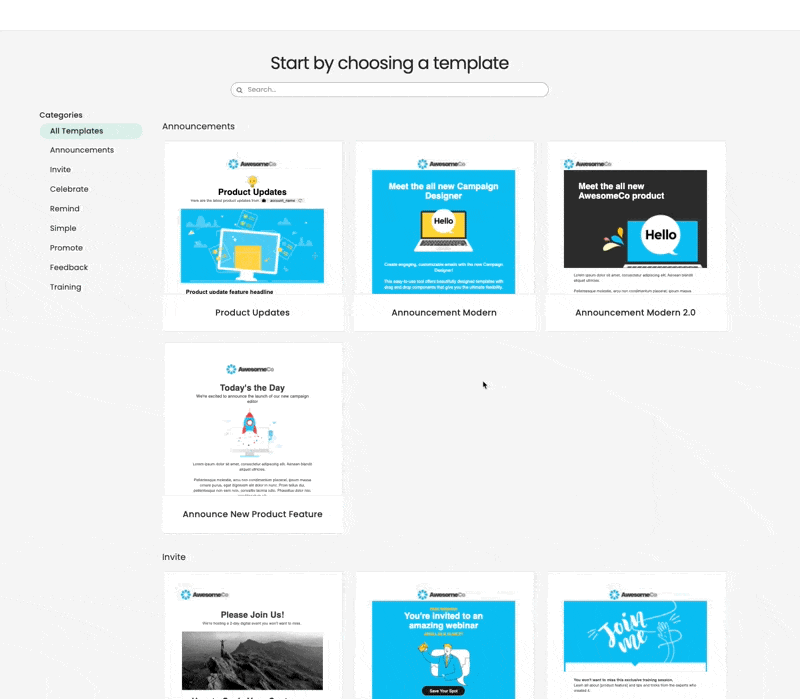 Basic Email Settings
When configuring your email, you can define a few settings that apply to the entire email.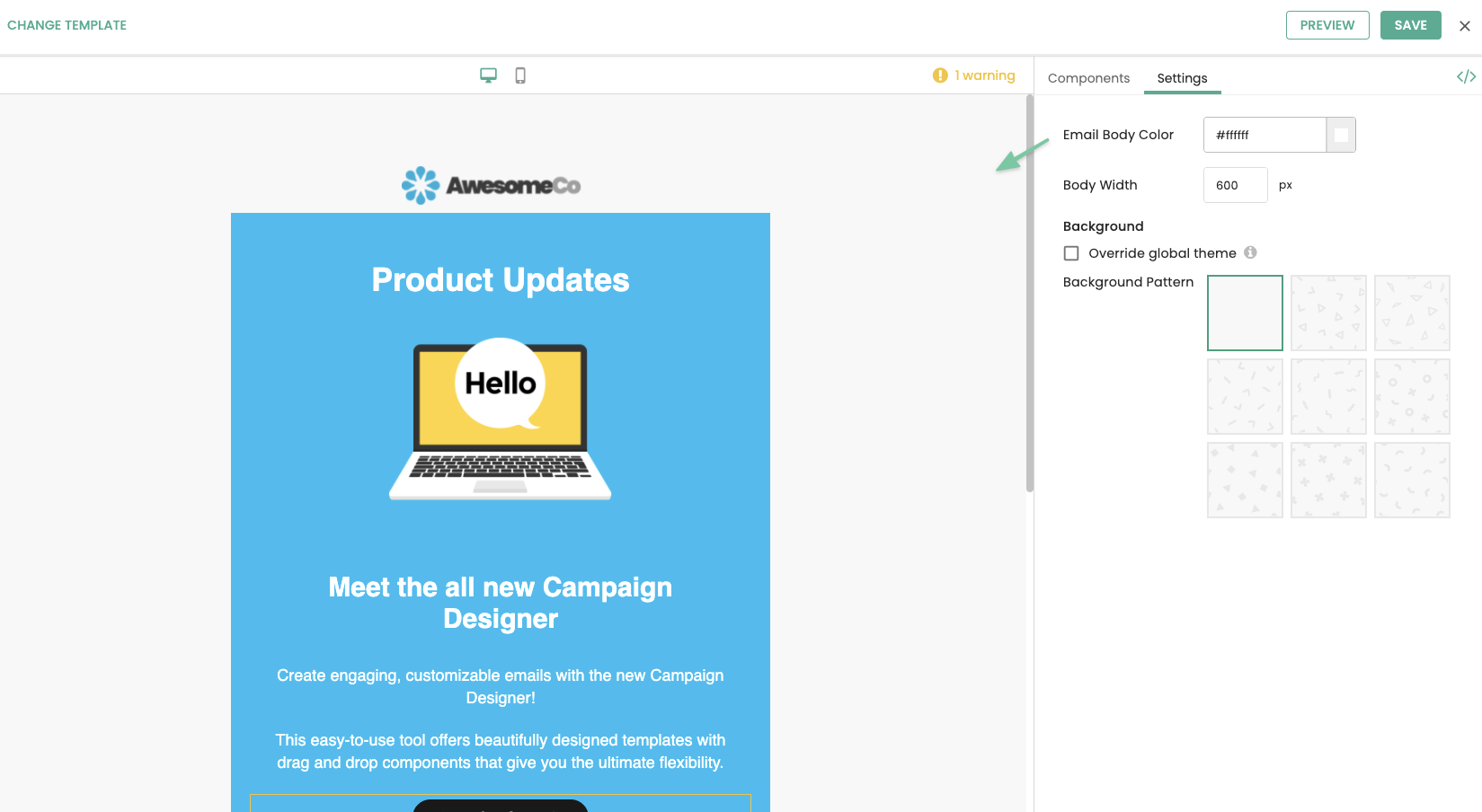 Campaign Components
Usage Component
The usage component allows you to add account metrics or other attributes to inform customers via campaigns. It is a powerful tool in personalizing campaigns and increasing retention.
The usage component supports the following visualization options
1. A horizontal card type
2. A numeric Scorecard type visual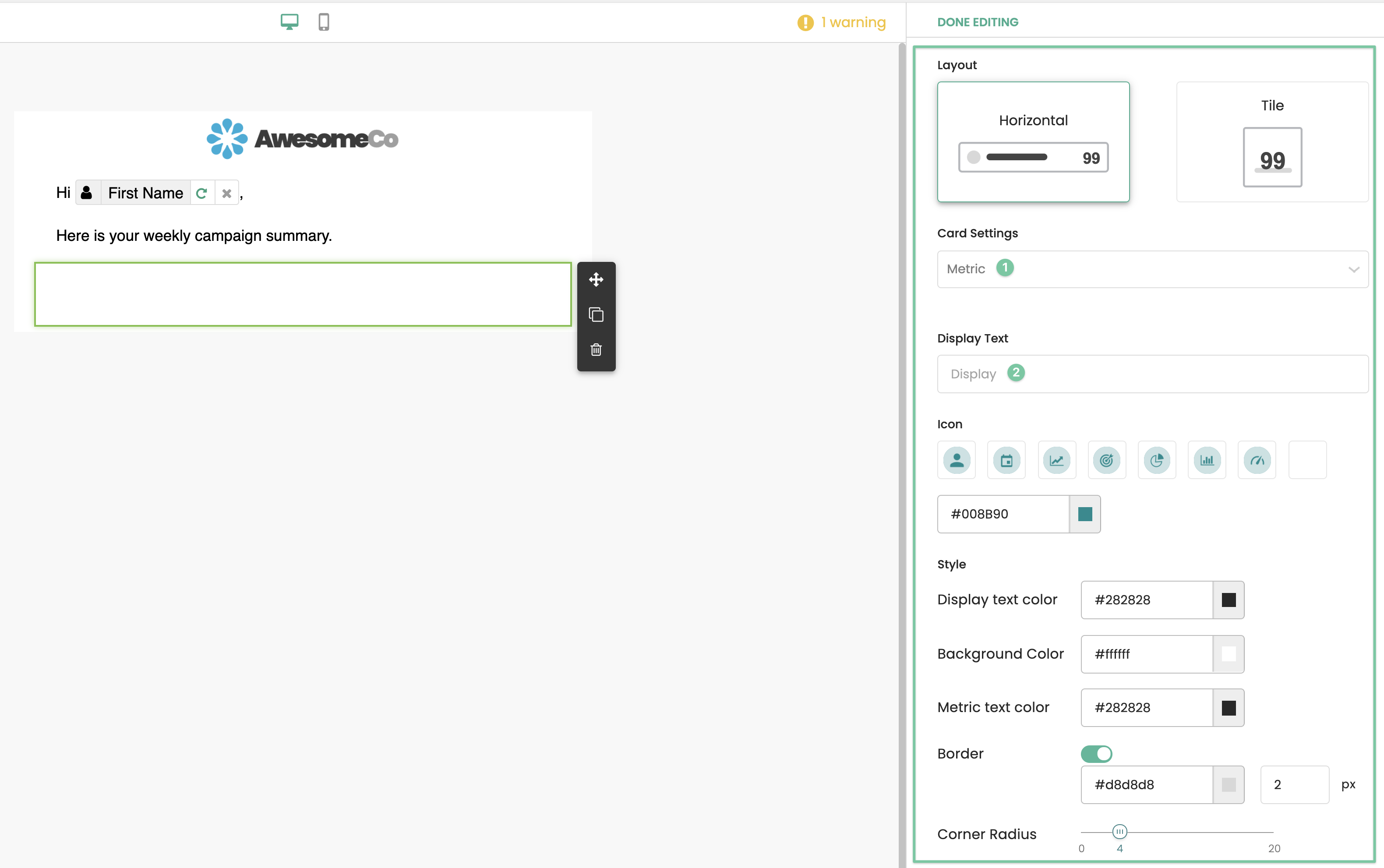 Choose a metric such as Active Users or Active Days or other metrics you may want to inform your customers. You can add a display label and choose an icon. Scheduling these campaigns on a recurring basis such as weekly and monthly lets you send the progress to your customers on a periodic basis.
Tracking all links for user engagement
With this Designer, you can link images, buttons, and links in texts. Each of these links is trackable and can be added in segments using the "Engaged With" query term. Using Engagement to target users for other campaigns can result in better segmentation and personalization. You can also use this for triggering SuccessPlays. For tracking links, follow these steps.
Ensure that you have "Track Links" checked with a unique link name entered for every link.

Link names within a campaign must be unique so you can track them individually.
Here is how you can use it in segments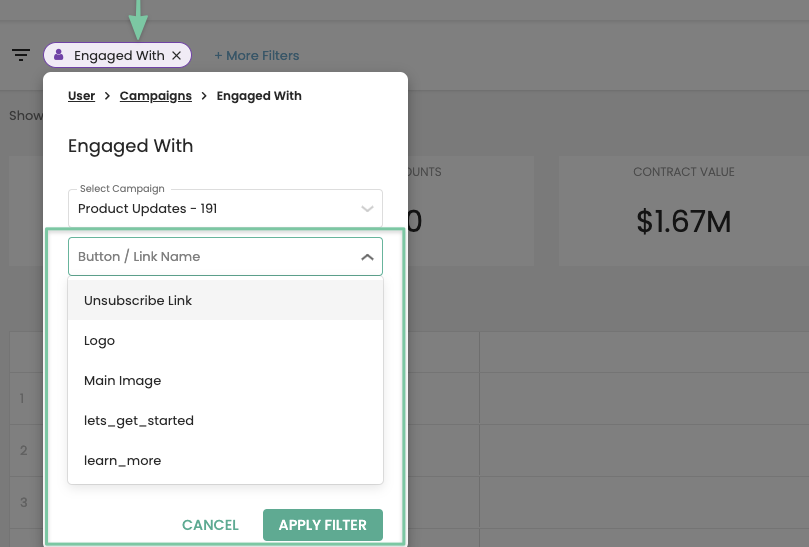 Segment users who engaged with a specific link and sent them specific campaigns
Trigger SuccessPlays to team members based on specific engagement
Defining and updating your company theme
You can define your company color theme once in Global Settings > Customer Engagement > Campaigns > Theme tab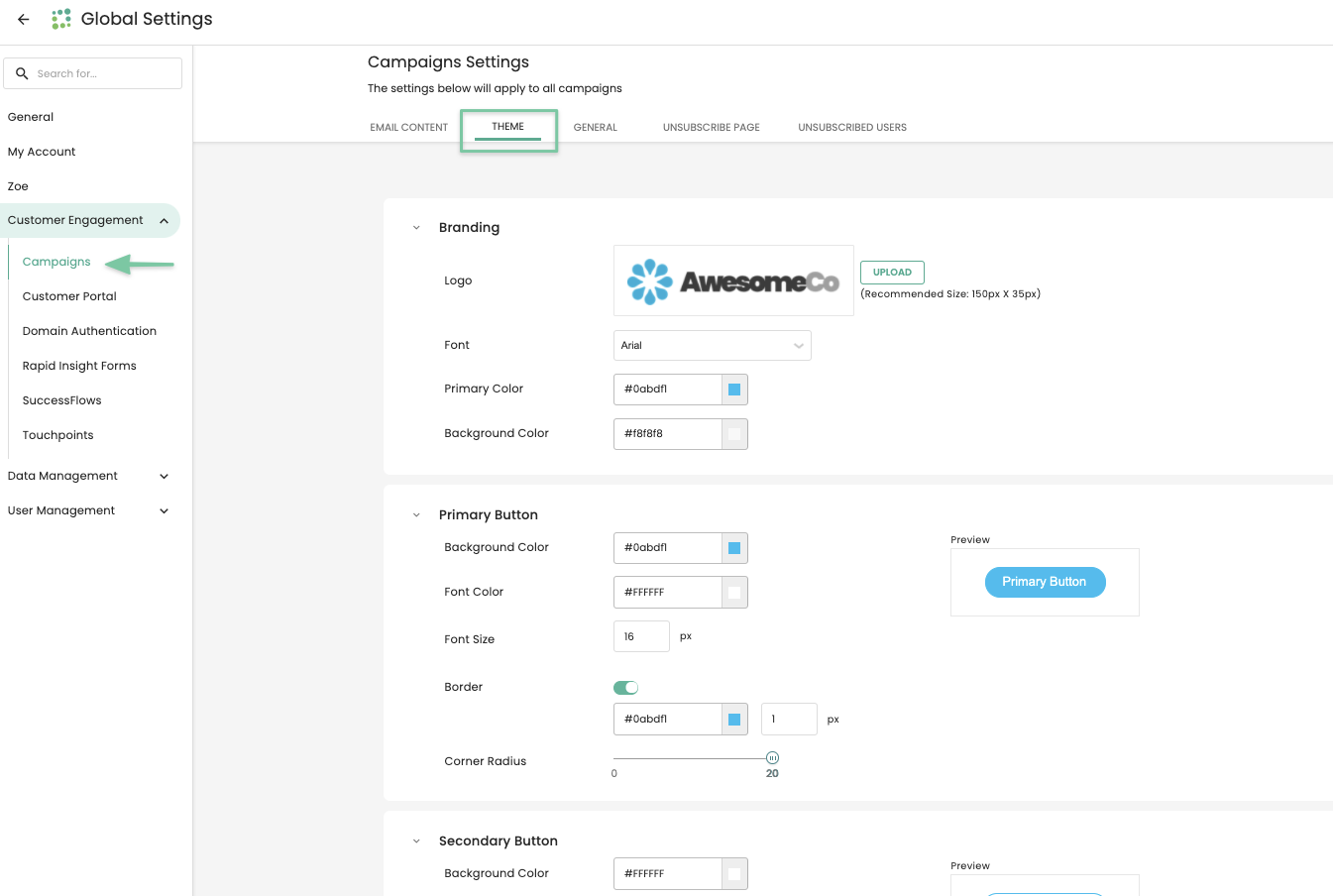 Defining your theme once applies to all campaigns, including existing enabled campaigns (created using this new designer). Changing the Footer also applies to existing enabled campaigns.
Global theme changes will not be applied to the campaign sections where the theme has been overridden.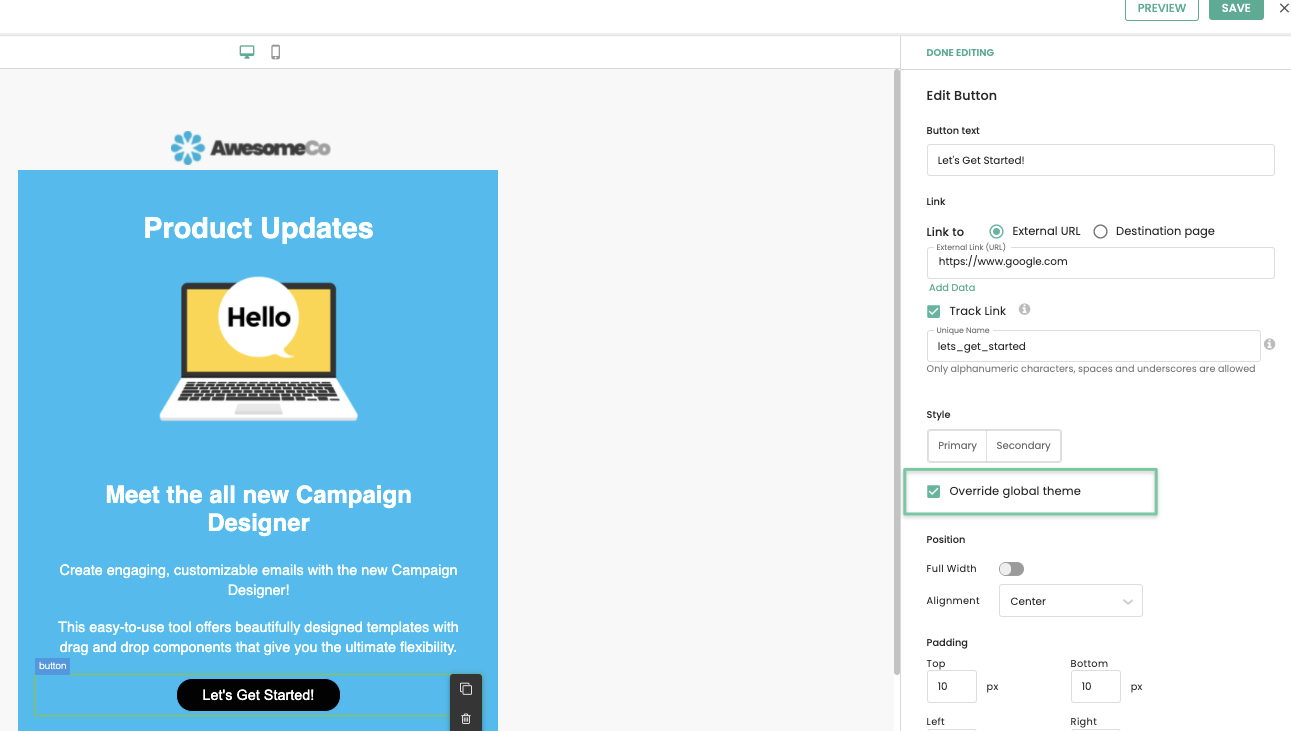 FAQ
What happens to my existing campaigns?
Your existing campaigns are fine, and editing existing campaigns will open in the legacy campaign designer.
Do I need to update my existing campaigns?
No, you don't have to make any changes to existing campaigns.
How can I tell which campaigns are new and which ones are old?
All campaigns created using the new designs have a bright, colorful dot on them.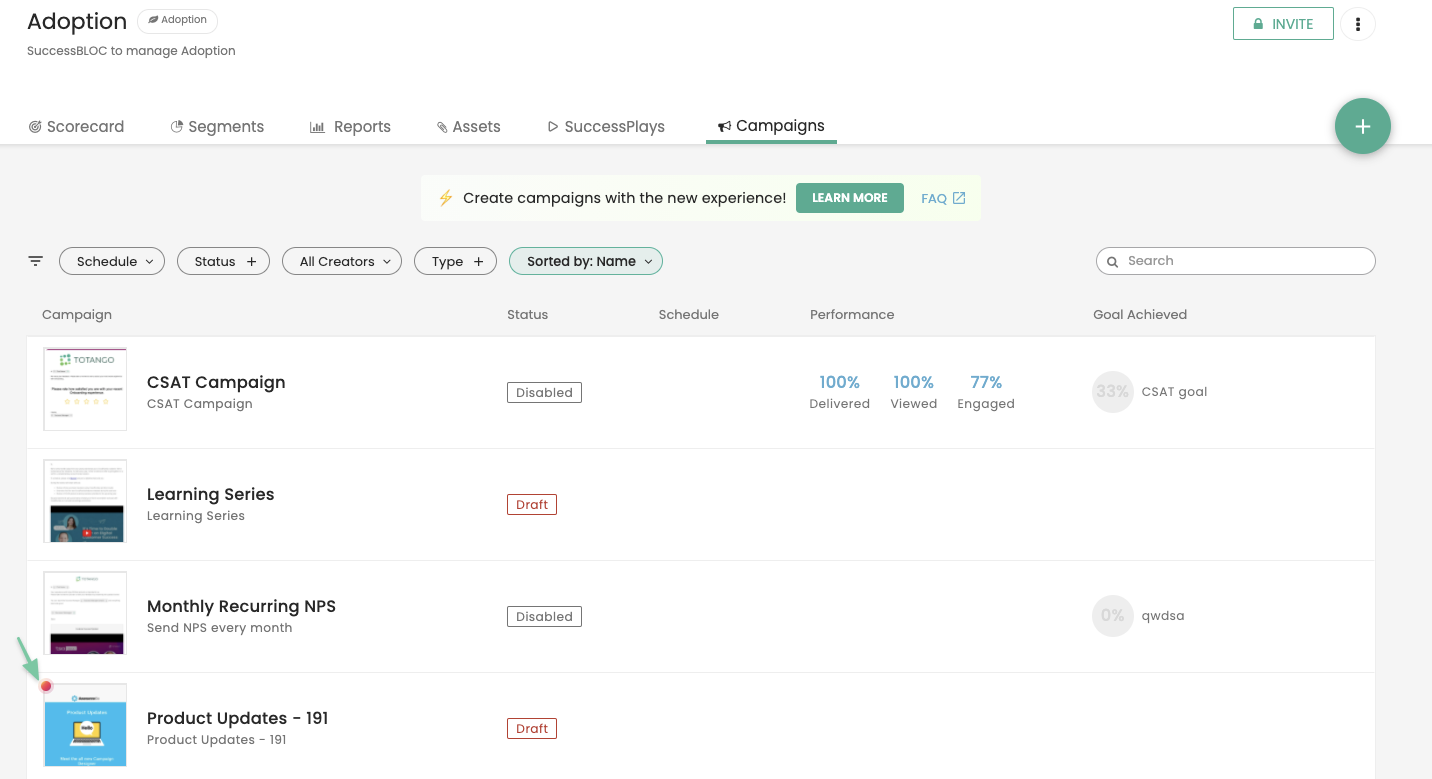 Can I convert my existing campaign to the new designer to take advantage of the new changes?
We are working to make that happen, but you are welcome to create new campaigns from scratch in the new editor.
Can the new campaigns open in the legacy designer?
No. Campaigns created using the new designer will always open in the new designer.
If you have more questions, feel free to reach out to your CSM.