Overview
The

Manage Onboarding Projects

SuccessBLOC enables you to manage your customer Onboardings with efficiency and ease.
The onboarding process naturally unfolds through a series of predictable steps. Optimize your customer onboarding process by following best practices, imitating companies with exemplary onboarding procedures, and using key performance indicators to track your onboarding performance.
It is intended for companies that use a High Touch, project-based Onboarding process.
You can find this SuccessBLOC in the Marketplace, click 'Add' to get this SuccessBLOC.
Steps to activation:
Onboarding Stages
Your Onboarding Stages are represented using a Lifecycle Status attribute type in Totango, which allows you to automatically track the time in each stage. These are key stages of the process and each stage will include a series of tasks required to complete that stage. These should be fairly high level (about 4 - 5 stages total).
Typical stages of Onboarding (and what is included in this SuccessBLOC by default) are: Kick Off, Business Discovery, Integration, Configuration, Training/UAT, Live (the end-stage - Once an end-stage is reached the counting of days stops. Moving the account to another stage after the end-stage restarts the clock and it starts counting the days in a stage again.).
Editing Stages: Once you have defined your key stages, you can edit the names (if needed) of each stage in Data Modeler.
Onboarding Tasks
Each stage will be comprised of a series of Tasks that are required to be completed for that stage to be completed. For example, Kick Off might include a Sales to CS Handover process or meeting, uploading documents to the customer record, and filling in attribute data.
As a best practice, tasks are not 'checklist' items. These are to-dos for your team. For example, a task might be "update account record" and the description of the task is "upload contract file, update key contacts", instead of having a task to upload the contract and another task to update key contacts.
Editing SuccessPlays
The Manage Onboarding Projects SuccessBLOC comes with 3 SuccessPlays that drive the Onboarding process: Internal Handover, Business Discovery and Implementation which include the tasks required to complete Onboarding Stages "Kick Off", "Business Discovery" and "Implementation".
Once you have defined your Onboarding Stages (or decided to use the ones that are pre-defined), then you are ready to edit these SuccessPlays to fit your key stages - or create your own.
Automating Movement between stages
Pro-tip: Each task can include Post-Completion actions, some automatic and some manual. Once the last task of one of your Onboarding Stages is completed, you will want to have a post-completion item that automatically moves the Onboarding Stage to the next one and that stage change will be the trigger for the next SuccessPlay.
Editing Scorecard
The Scorecard is made up of a series of KPI cards that measure the goals of your SuccessBLOC. Each KPI card is driven by a segment. The segment defines the list of customers that you want to look at based on attributes. For example, a segment for "Customers in Onboarding" is drilling down to only customers where Customer Journey Stage is Onboarding. And then the KPI card is looking at the metric (like # of Accounts) and then the format you want to see this KPI, for example, Number, Trend or %.
The KPI cards that come with the Manage Onboarding Projects SuccessBLOC are intended to monitor the time in Onboarding, the time in each stage, potential risks and CSAT.
If you have edited your Onboarding Stages, you may need to edit the segments that are driving these KPI. You may also want to edit your targets for the KPI. Read more about editing the Scorecard.
Customer Contacts & Campaigns
Customer contacts are important for your team to know who to reach out to during onboarding. There are several ways to add contacts in Totango. Watch now for a step-by-step guide.
Once you have contacts in Totango, there are several campaigns that come with your Manage Onboarding Projects SuccessBLOC that you can leverage - including a Post Onboarding CSAT survey and new user welcome. Read more about configuring and enabling campaigns.
Required Data
The Manage Onboarding Project SuccessBLOC does not require much data to get started! For a list of the required attributes, click on the 3 dots in the right corner of the SuccessBLOC and then 'Download CSV with SuccessBLOC Attributes'.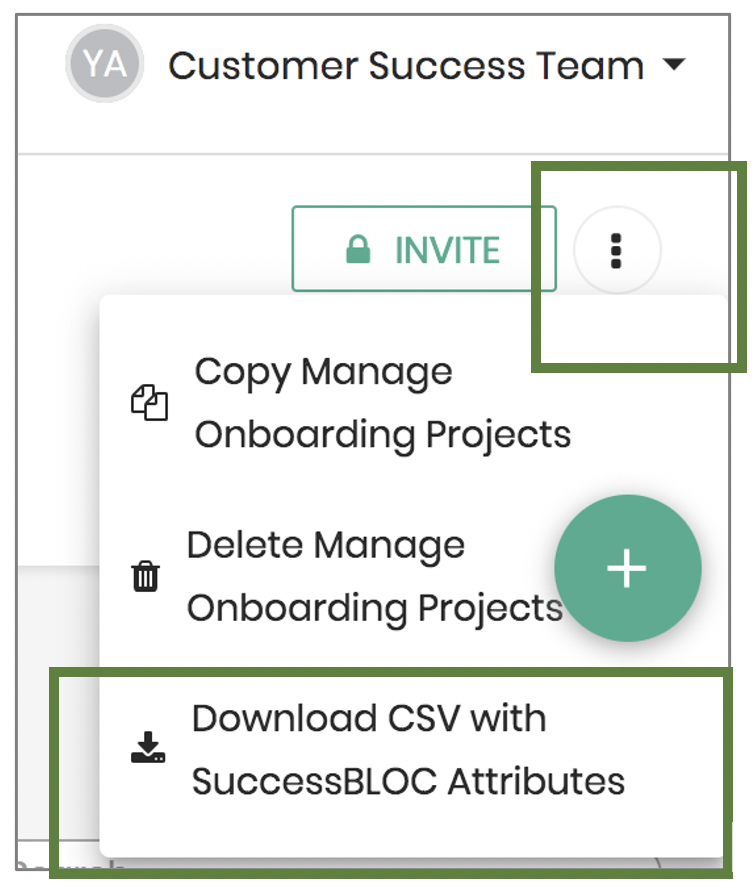 FAQ
Q: What if I don't have a High Touch/project based Onboarding process?
A: You should check out our Digitial Onboarding SuccessBLOC, also available in the marketplace. This SuccessBLOC is campaign driven based on user actions.