Overview
In this article, we will discuss how to create an OAuth2.0 application in your instance of Jira Service desk. This step is a prerequisite to using Jira to create a Virtual Collection in Totango.
Create a Connected App
In order to create a Jira Service Management connection in Totango, you need a Jira Client ID and Client Secret. Please follow these steps:
Got to JIRA Developer application: https://developer.atlassian.com/
Click on the user icon (in the top right corner) and choose "Developer console"
Click "Create app" and choose "OAuth 2.0 (3LO) integration"


Add application name ("Totango" for example), agree with Atlassian terms, and click on Create button
Go to the "Permissions" tab, Add "Jira API" and click "Configure" to add the scopes: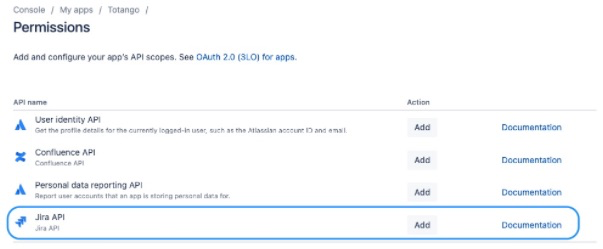 Note: If you don't see the Jira API row, you may need to tell Jira to show you the new permissions.
Click on the "Edit Scopes" button and add the following Scopes:
"read:field-configuration:jira"

"read:issue-details:jira"

"read:audit-log:jira"

"read:avatar:jira"

"read:issue-meta:jira"

"read:field:jira"

"read:project-category:jira"

"read:project:jira"

"read:organization:jira-service-management"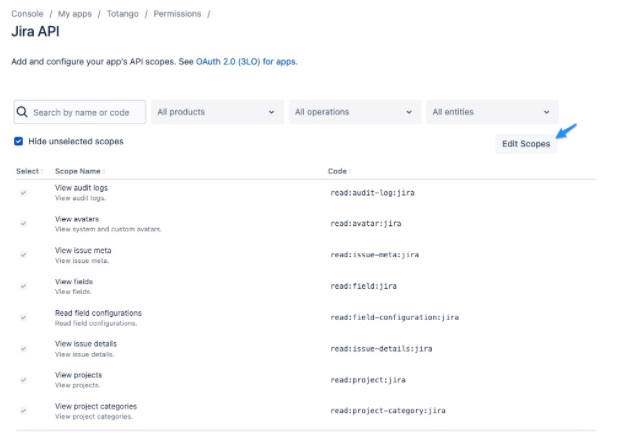 Go to the "Authorization" tab and set up the Totango call back URL: "https://app.totango.com/auth/das/callback"

Go to "Settings" and Copy the Client ID and Secret. Paste them in the Totango Connection window
Your Connected App is ready to use. Remember, this is an internal app that allowed you to connect to your Jira Service Desk only (based on your user).
Setting up the virtual collection in Totango
To retrieve data from Jira Service Desk, we are using the rest/api/2/search API. First, you will need to get your Jira Cloud Id. To do so, select the connection, set the API Query to https://api.atlassian.com/oauth/token/accessible-resources, and copy the cloud Id from JSON response (click on 'View JSON Response').

Use the cloud Id and set the API Query to https://api.atlassian.com/ex/jira/<CLOUD_ID>/rest/api/2/search?jql=<JBL SEARCH>
replace the <CLOUD_ID> with your Cloud Id.
Replace the <JBL SEARCH> with the search query (you can learn more here).
For example, the following API return all the tickets based on Jira field 'organizations' mapped to Totango attribute 'Jira Org' (which will hold the name of the organization in Jira):
https://api.atlassian.com/ex/jira/a195d1c4-912e-4b01-88f0-d57b5f919e58/rest/api/2/search?jql=organizations = "{Jira Org}" order by created DESC
{
"expand": "schema,names",
"startAt": 0,
"maxResults": 50,
"total": 8,
"issues": [
{
"expand": "operations,versionedRepresentations,editmeta,changelog,renderedFields",
"id": "10007",
"self": "https://api.atlassian.com/ex/jira/a195d1c4-912e-4b01-88f0-d57b5f919e58/rest/api/2/issue/10007",
"key": "DEMO-8",
"fields": {
"statuscategorychangedate": "2020-07-15T14:20:45.325+0300",
"issuetype": {
"self": "https://api.atlassian.com/ex/jira/a195d1c4-912e-4b01-88f0-d57b5f919e58/rest/api/2/issuetype/10004",
"id": "10004",
"description": "An IT problem or question.",
"iconUrl": "https://api.atlassian.com/ex/jira/a195d1c4-912e-4b01-88f0-d57b5f919e58/secure/viewavatar?size=medium&avatarId=10554&avatarType=issuetype",
"name": "IT Help",
"subtask": false,
"avatarId": 10554
},
"timespent": null,
"project": {
"self": "https://api.atlassian.com/ex/jira/a195d1c4-912e-4b01-88f0-d57b5f919e58/rest/api/2/project/10001",
"id": "10001",
"key": "DEMO",
"name": "Demo desk",
"projectTypeKey": "service_desk",
"simplified": false,
"avatarUrls": {
"48x48": "https://api.atlassian.com/ex/jira/a195d1c4-912e-4b01-88f0-d57b5f919e58/secure/projectavatar?pid=10001&avatarId=10420",
"24x24": "https://api.atlassian.com/ex/jira/a195d1c4-912e-4b01-88f0-d57b5f919e58/secure/projectavatar?size=small&s=small&pid=10001&avatarId=10420",
"16x16": "https://api.atlassian.com/ex/jira/a195d1c4-912e-4b01-88f0-d57b5f919e58/secure/projectavatar?size=xsmall&s=xsmall&pid=10001&avatarId=10420",
"32x32": "https://api.atlassian.com/ex/jira/a195d1c4-912e-4b01-88f0-d57b5f919e58/secure/projectavatar?size=medium&s=medium&pid=10001&avatarId=10420"
}
},
"customfield_10031": {
"id": "3",
"name": "Time to resolution",
"_links": {
"self": "https://totangodev2a.atlassian.net/rest/servicedeskapi/request/10007/sla/3"
},
"completedCycles": [],
"ongoingCycle": {
"startTime": {
"iso8601": "2020-07-15T14:20:45+0300",
"jira": "2020-07-15T14:20:45.043+0300",
"friendly": "15/Jul/20 2:20 PM",
"epochMillis": 1594812045043
},
"breachTime": {
"iso8601": "2020-07-17T14:20:45+0300",
"jira": "2020-07-17T14:20:45.043+0300",
"friendly": "17/Jul/20 2:20 PM",
"epochMillis": 1594984845043
},
"breached": true,
"paused": false,
"withinCalendarHours": true,
"goalDuration": {
"millis": 57600000,
"friendly": "16h"
},
"elapsedTime": {
"millis": 2292888096,
"friendly": "636h 54m"
},
"remainingTime": {
"millis": -2235288096,
"friendly": "-620h 54m"
}
}
},
"customfield_10032": {
"id": "4",
"name": "Time to first response",
"_links": {
"self": "https://totangodev2a.atlassian.net/rest/servicedeskapi/request/10007/sla/4"
},
"completedCycles": [],
"ongoingCycle": {
"startTime": {
"iso8601": "2020-07-15T14:20:45+0300",
"jira": "2020-07-15T14:20:45.043+0300",
"friendly": "15/Jul/20 2:20 PM",
"epochMillis": 1594812045043
},
"breachTime": {
"iso8601": "2020-07-16T14:20:45+0300",
"jira": "2020-07-16T14:20:45.043+0300",
"friendly": "16/Jul/20 2:20 PM",
"epochMillis": 1594898445043
},
"breached": true,
"paused": false,
"withinCalendarHours": true,
"goalDuration": {
"millis": 28800000,
"friendly": "8h"
},
"elapsedTime": {
"millis": 2292888123,
"friendly": "636h 54m"
},
"remainingTime": {
"millis": -2264088123,
"friendly": "-628h 54m"
}
}
},
"customfield_10033": null,
"fixVersions": [],
"aggregatetimespent": null,
"resolution": null,
"customfield_10035": {
"languageCode": "en",
"displayName": "English"
},
"customfield_10027": null,
"customfield_10028": null,
"customfield_10029": null,
"resolutiondate": null,
"workratio": -1,
"lastViewed": "2020-11-03T22:13:12.173+0200",
"watches": {
"self": "https://api.atlassian.com/ex/jira/a195d1c4-912e-4b01-88f0-d57b5f919e58/rest/api/2/issue/DEMO-8/watchers",
"watchCount": 0,
"isWatching": false
},
"created": "2020-07-15T14:20:45.043+0300",
"customfield_10020": null,
"customfield_10021": null,
"customfield_10022": null,
"priority": {
"self": "https://api.atlassian.com/ex/jira/a195d1c4-912e-4b01-88f0-d57b5f919e58/rest/api/2/priority/3",
"iconUrl": "https://api.atlassian.com/ex/jira/a195d1c4-912e-4b01-88f0-d57b5f919e58/images/icons/priorities/medium.svg",
"name": "Medium",
"id": "3"
},
"customfield_10023": null,
"customfield_10024": null,
"customfield_10025": null,
"customfield_10026": [],
"labels": [
"demo-desk"
],
"customfield_10016": null,
"customfield_10017": null,
"customfield_10018": {
"hasEpicLinkFieldDependency": false,
"showField": false,
"nonEditableReason": {
"reason": "PLUGIN_LICENSE_ERROR",
"message": "The Parent Link is only available to Jira Premium users."
}
},
"customfield_10019": "0|i0001j:",
"timeestimate": null,
"aggregatetimeoriginalestimate": null,
"versions": [],
"issuelinks": [],
"assignee": null,
"updated": "2020-11-03T21:52:35.175+0200",
"status": {
"self": "https://api.atlassian.com/ex/jira/a195d1c4-912e-4b01-88f0-d57b5f919e58/rest/api/2/status/10001",
"description": "This was auto-generated by Jira Service Desk during workflow import",
"iconUrl": "https://api.atlassian.com/ex/jira/a195d1c4-912e-4b01-88f0-d57b5f919e58/images/icons/status_generic.gif",
"name": "Waiting for support",
"id": "10001",
"statusCategory": {
"self": "https://api.atlassian.com/ex/jira/a195d1c4-912e-4b01-88f0-d57b5f919e58/rest/api/2/statuscategory/4",
"id": 4,
"key": "indeterminate",
"colorName": "yellow",
"name": "In Progress"
}
},
"components": [],
"timeoriginalestimate": null,
"description": "Stay on top of your team's performance by seeing the metrics you care about in *Reports*. Track performance over time to spot problems early and celebrate wins when they happen.\nh3. Try it out\nVisit *Reports* to get started (you may need to click *Back to project* to get out of your queues menu).\n\nTry our existing reports, including:\n * Created vs resolved\n * Team workload\n * Satisfaction (CSAT)\n\n..or build a *custom report* to track the metrics you care about.",
"customfield_10010": {
"_links": {
"jiraRest": "https://totangodev2a.atlassian.net/rest/api/2/issue/10007",
"web": "https://totangodev2a.atlassian.net/servicedesk/customer/portal/2/DEMO-8",
"self": "https://totangodev2a.atlassian.net/rest/servicedeskapi/request/10007",
"agent": "https://totangodev2a.atlassian.net/browse/DEMO-8"
},
"requestType": {
"_expands": [
"field"
],
"id": "9",
"_links": {
"self": "https://totangodev2a.atlassian.net/rest/servicedeskapi/servicedesk/2/requesttype/9"
},
"name": "IT help",
"description": "Get general tech support, like help with the Wi-Fi or printing.",
"helpText": "",
"issueTypeId": "10004",
"serviceDeskId": "2",
"groupIds": [
"2"
],
"icon": {
"id": "10491",
"_links": {
"iconUrls": {
"48x48": "https://totangodev2a.atlassian.net/secure/viewavatar?avatarType=SD_REQTYPE&avatarId=10491&size=large",
"24x24": "https://totangodev2a.atlassian.net/secure/viewavatar?avatarType=SD_REQTYPE&avatarId=10491&size=small",
"16x16": "https://totangodev2a.atlassian.net/secure/viewavatar?avatarType=SD_REQTYPE&avatarId=10491&size=xsmall",
"32x32": "https://totangodev2a.atlassian.net/secure/viewavatar?avatarType=SD_REQTYPE&avatarId=10491&size=medium"
}
}
}
},
"currentStatus": {
"status": "Waiting for support",
"statusCategory": "INDETERMINATE",
"statusDate": {
"iso8601": "2020-07-15T14:20:45+0300",
"jira": "2020-07-15T14:20:45.043+0300",
"friendly": "15/Jul/20 2:20 PM",
"epochMillis": 1594812045043
}
}
},
"customfield_10014": null,
"customfield_10015": null,
"customfield_10005": null,
"customfield_10006": null,
"customfield_10007": null,
"security": null,
"customfield_10008": null,
"aggregatetimeestimate": null,
"customfield_10009": null,
"summary": "Demo 8 description",
"creator": {
"self": "https://api.atlassian.com/ex/jira/a195d1c4-912e-4b01-88f0-d57b5f919e58/rest/api/2/user?accountId=5f0ee3415ee2c3002378e34f",
"accountId": "5f0ee3415ee2c3002378e34f",
"emailAddress": "sh.golan@gmail.com",
"avatarUrls": {
"48x48": "https://secure.gravatar.com/avatar/f8b9b3ebb87fafc145e3365c329a7e0e?d=https%3A%2F%2Favatar-management--avatars.us-west-2.prod.public.atl-paas.net%2Finitials%2FSG-3.png",
"24x24": "https://secure.gravatar.com/avatar/f8b9b3ebb87fafc145e3365c329a7e0e?d=https%3A%2F%2Favatar-management--avatars.us-west-2.prod.public.atl-paas.net%2Finitials%2FSG-3.png",
"16x16": "https://secure.gravatar.com/avatar/f8b9b3ebb87fafc145e3365c329a7e0e?d=https%3A%2F%2Favatar-management--avatars.us-west-2.prod.public.atl-paas.net%2Finitials%2FSG-3.png",
"32x32": "https://secure.gravatar.com/avatar/f8b9b3ebb87fafc145e3365c329a7e0e?d=https%3A%2F%2Favatar-management--avatars.us-west-2.prod.public.atl-paas.net%2Finitials%2FSG-3.png"
},
"displayName": "Shmulik Golan",
"active": true,
"timeZone": "Asia/Jerusalem",
"accountType": "atlassian"
},
"subtasks": [],
"reporter": {
"self": "https://api.atlassian.com/ex/jira/a195d1c4-912e-4b01-88f0-d57b5f919e58/rest/api/2/user?accountId=qm%3Ac0adbfae-3004-49bb-8c30-e60fa2c9e656%3Ac06063eb-e6da-4a71-ac40-47dd8fd049c4",
"accountId": "qm:c0adbfae-3004-49bb-8c30-e60fa2c9e656:c06063eb-e6da-4a71-ac40-47dd8fd049c4",
"emailAddress": "example@atlassian-demo.invalid",
"avatarUrls": {
"48x48": "https://avatar-management--avatars.us-west-2.prod.public.atl-paas.net/default-avatar.png",
"24x24": "https://avatar-management--avatars.us-west-2.prod.public.atl-paas.net/default-avatar.png",
"16x16": "https://avatar-management--avatars.us-west-2.prod.public.atl-paas.net/default-avatar.png",
"32x32": "https://avatar-management--avatars.us-west-2.prod.public.atl-paas.net/default-avatar.png"
},
"displayName": "Example Customer",
"active": true,
"timeZone": "Asia/Jerusalem",
"accountType": "customer"
},
"customfield_10000": "{}",
"aggregateprogress": {
"progress": 0,
"total": 0
},
"customfield_10001": null,
"customfield_10002": [],
"customfield_10003": null,
"customfield_10004": null,
"customfield_10038": "org 1",
"environment": null,
"duedate": null,
"progress": {
"progress": 0,
"total": 0
},
"votes": {
"self": "https://api.atlassian.com/ex/jira/a195d1c4-912e-4b01-88f0-d57b5f919e58/rest/api/2/issue/DEMO-8/votes",
"votes": 0,
"hasVoted": false
}
}
},
{
"expand": "operations,versionedRepresentations,editmeta,changelog,renderedFields",
"id": "10006",
"self": "https://api.atlassian.com/ex/jira/a195d1c4-912e-4b01-88f0-d57b5f919e58/rest/api/2/issue/10006",
"key": "DEMO-7",
"fields": {
"statuscategorychangedate": "2020-07-15T14:13:06.525+0300",
"issuetype": {
"self": "https://api.atlassian.com/ex/jira/a195d1c4-912e-4b01-88f0-d57b5f919e58/rest/api/2/issuetype/10004",
"id": "10004",
"description": "An IT problem or question.",
"iconUrl": "https://api.atlassian.com/ex/jira/a195d1c4-912e-4b01-88f0-d57b5f919e58/secure/viewavatar?size=medium&avatarId=10554&avatarType=issuetype",
"name": "IT Help",
"subtask": false,
"avatarId": 10554
},
"timespent": null,
"customfield_10031": {
"id": "3",
"name": "Time to resolution",
"_links": {
"self": "https://totangodev2a.atlassian.net/rest/servicedeskapi/request/10006/sla/3"
},
"completedCycles": [],
"ongoingCycle": {
"startTime": {
"iso8601": "2020-07-15T14:13:06+0300",
"jira": "2020-07-15T14:13:06.263+0300",
"friendly": "15/Jul/20 2:13 PM",
"epochMillis": 1594811586263
},
"breachTime": {
"iso8601": "2020-07-16T10:13:06+0300",
"jira": "2020-07-16T10:13:06.263+0300",
"friendly": "16/Jul/20 10:13 AM",
"epochMillis": 1594883586263
},
"breached": true,
"paused": false,
"withinCalendarHours": true,
"goalDuration": {
"millis": 14400000,
"friendly": "4h"
},
"elapsedTime": {
"millis": 2293346881,
"friendly": "637h 2m"
},
"remainingTime": {
"millis": -2278946881,
"friendly": "-633h 2m"
}
}
},
"project": {
"self": "https://api.atlassian.com/ex/jira/a195d1c4-912e-4b01-88f0-d57b5f919e58/rest/api/2/project/10001",
"id": "10001",
"key": "DEMO",
"name": "Demo desk",
"projectTypeKey": "service_desk",
"simplified": false,
"avatarUrls": {
"48x48": "https://api.atlassian.com/ex/jira/a195d1c4-912e-4b01-88f0-d57b5f919e58/secure/projectavatar?pid=10001&avatarId=10420",
"24x24": "https://api.atlassian.com/ex/jira/a195d1c4-912e-4b01-88f0-d57b5f919e58/secure/projectavatar?size=small&s=small&pid=10001&avatarId=10420",
"16x16": "https://api.atlassian.com/ex/jira/a195d1c4-912e-4b01-88f0-d57b5f919e58/secure/projectavatar?size=xsmall&s=xsmall&pid=10001&avatarId=10420",
"32x32": "https://api.atlassian.com/ex/jira/a195d1c4-912e-4b01-88f0-d57b5f919e58/secure/projectavatar?size=medium&s=medium&pid=10001&avatarId=10420"
}
},
"customfield_10032": {
"id": "4",
"name": "Time to first response",
"_links": {
"self": "https://totangodev2a.atlassian.net/rest/servicedeskapi/request/10006/sla/4"
},
"completedCycles": [],
"ongoingCycle": {
"startTime": {
"iso8601": "2020-07-15T14:13:06+0300",
"jira": "2020-07-15T14:13:06.263+0300",
"friendly": "15/Jul/20 2:13 PM",
"epochMillis": 1594811586263
},
"breachTime": {
"iso8601": "2020-07-15T16:13:06+0300",
"jira": "2020-07-15T16:13:06.263+0300",
"friendly": "15/Jul/20 4:13 PM",
"epochMillis": 1594818786263
},
"breached": true,
"paused": false,
"withinCalendarHours": true,
"goalDuration": {
"millis": 7200000,
"friendly": "2h"
},
"elapsedTime": {
"millis": 2293346908,
"friendly": "637h 2m"
},
"remainingTime": {
"millis": -2286146908,
"friendly": "-635h 2m"
}
}
},
"fixVersions": [],
"customfield_10033": null,
"aggregatetimespent": null,
"customfield_10035": {
"languageCode": "en",
"displayName": "English"
},
"resolution": null,
"customfield_10027": null,
"customfield_10028": null,
"customfield_10029": null,
"resolutiondate": null,
"workratio": -1,
"watches": {
"self": "https://api.atlassian.com/ex/jira/a195d1c4-912e-4b01-88f0-d57b5f919e58/rest/api/2/issue/DEMO-7/watchers",
"watchCount": 0,
"isWatching": false
},
"lastViewed": "2020-11-03T22:12:59.297+0200",
"created": "2020-07-15T14:13:06.263+0300",
"customfield_10020": null,
"customfield_10021": null,
"customfield_10022": null,
"customfield_10023": null,
"priority": {
"self": "https://api.atlassian.com/ex/jira/a195d1c4-912e-4b01-88f0-d57b5f919e58/rest/api/2/priority/1",
"iconUrl": "https://api.atlassian.com/ex/jira/a195d1c4-912e-4b01-88f0-d57b5f919e58/images/icons/priorities/highest.svg",
"name": "Highest",
"id": "1"
},
"customfield_10024": null,
"customfield_10025": null,
"labels": [
"demo-desk"
],
"customfield_10026": [],
"customfield_10016": null,
"customfield_10017": null,
"customfield_10018": {
"hasEpicLinkFieldDependency": false,
"showField": false,
"nonEditableReason": {
"reason": "PLUGIN_LICENSE_ERROR",
"message": "The Parent Link is only available to Jira Premium users."
}
},
"customfield_10019": "0|i0001b:",
"aggregatetimeoriginalestimate": null,
"timeestimate": null,
"versions": [],
"issuelinks": [],
"assignee": null,
"updated": "2020-11-03T22:13:06.279+0200",
"status": {
"self": "https://api.atlassian.com/ex/jira/a195d1c4-912e-4b01-88f0-d57b5f919e58/rest/api/2/status/10001",
"description": "This was auto-generated by Jira Service Desk during workflow import",
"iconUrl": "https://api.atlassian.com/ex/jira/a195d1c4-912e-4b01-88f0-d57b5f919e58/images/icons/status_generic.gif",
"name": "Waiting for support",
"id": "10001",
"statusCategory": {
"self": "https://api.atlassian.com/ex/jira/a195d1c4-912e-4b01-88f0-d57b5f919e58/rest/api/2/statuscategory/4",
"id": 4,
"key": "indeterminate",
"colorName": "yellow",
"name": "In Progress"
}
},
"components": [],
"timeoriginalestimate": null,
"description": "Track the priority of requests to spot problems quickly and set tighter *Service Level Agreement (SLA)* goals. Customers can set their own priority when raising a request, or you can hide it from customers and let your team decide.\nh3. Try it out\nAssign yourself and add a comment to stop the *Time to First Response* SLA from counting down. Resolve the request to stop all SLAs completely.",
"customfield_10010": {
"_links": {
"jiraRest": "https://totangodev2a.atlassian.net/rest/api/2/issue/10006",
"web": "https://totangodev2a.atlassian.net/servicedesk/customer/portal/2/DEMO-7",
"self": "https://totangodev2a.atlassian.net/rest/servicedeskapi/request/10006",
"agent": "https://totangodev2a.atlassian.net/browse/DEMO-7"
},
"requestType": {
"_expands": [
"field"
],
"id": "10",
"_links": {
"self": "https://totangodev2a.atlassian.net/rest/servicedeskapi/servicedesk/2/requesttype/10"
},
"name": "Computer support",
"description": "If you have problems with your laptop, let us know here.",
"helpText": "",
"issueTypeId": "10004",
"serviceDeskId": "2",
"groupIds": [
"2"
],
"icon": {
"id": "10467",
"_links": {
"iconUrls": {
"48x48": "https://totangodev2a.atlassian.net/secure/viewavatar?avatarType=SD_REQTYPE&avatarId=10467&size=large",
"24x24": "https://totangodev2a.atlassian.net/secure/viewavatar?avatarType=SD_REQTYPE&avatarId=10467&size=small",
"16x16": "https://totangodev2a.atlassian.net/secure/viewavatar?avatarType=SD_REQTYPE&avatarId=10467&size=xsmall",
"32x32": "https://totangodev2a.atlassian.net/secure/viewavatar?avatarType=SD_REQTYPE&avatarId=10467&size=medium"
}
}
}
},
"currentStatus": {
"status": "Waiting for support",
"statusCategory": "INDETERMINATE",
"statusDate": {
"iso8601": "2020-07-15T14:13:06+0300",
"jira": "2020-07-15T14:13:06.263+0300",
"friendly": "15/Jul/20 2:13 PM",
"epochMillis": 1594811586263
}
}
},
"customfield_10014": null,
"customfield_10015": null,
"customfield_10005": null,
"customfield_10006": null,
"security": null,
"customfield_10007": null,
"customfield_10008": null,
"aggregatetimeestimate": null,
"customfield_10009": null,
"summary": "Help! This is a high priority request",
"creator": {
"self": "https://api.atlassian.com/ex/jira/a195d1c4-912e-4b01-88f0-d57b5f919e58/rest/api/2/user?accountId=5f0ee3415ee2c3002378e34f",
"accountId": "5f0ee3415ee2c3002378e34f",
"emailAddress": "sh.golan@gmail.com",
"avatarUrls": {
"48x48": "https://secure.gravatar.com/avatar/f8b9b3ebb87fafc145e3365c329a7e0e?d=https%3A%2F%2Favatar-management--avatars.us-west-2.prod.public.atl-paas.net%2Finitials%2FSG-3.png",
"24x24": "https://secure.gravatar.com/avatar/f8b9b3ebb87fafc145e3365c329a7e0e?d=https%3A%2F%2Favatar-management--avatars.us-west-2.prod.public.atl-paas.net%2Finitials%2FSG-3.png",
"16x16": "https://secure.gravatar.com/avatar/f8b9b3ebb87fafc145e3365c329a7e0e?d=https%3A%2F%2Favatar-management--avatars.us-west-2.prod.public.atl-paas.net%2Finitials%2FSG-3.png",
"32x32": "https://secure.gravatar.com/avatar/f8b9b3ebb87fafc145e3365c329a7e0e?d=https%3A%2F%2Favatar-management--avatars.us-west-2.prod.public.atl-paas.net%2Finitials%2FSG-3.png"
},
"displayName": "Shmulik Golan",
"active": true,
"timeZone": "Asia/Jerusalem",
"accountType": "atlassian"
},
"subtasks": [],
"reporter": {
"self": "https://api.atlassian.com/ex/jira/a195d1c4-912e-4b01-88f0-d57b5f919e58/rest/api/2/user?accountId=qm%3Ac0adbfae-3004-49bb-8c30-e60fa2c9e656%3Aaf1aedcb-05be-4125-a2d5-85c6f199cdb8",
"accountId": "qm:c0adbfae-3004-49bb-8c30-e60fa2c9e656:af1aedcb-05be-4125-a2d5-85c6f199cdb8",
"emailAddress": "tester@customer1.test",
"avatarUrls": {
"48x48": "https://avatar-management--avatars.us-west-2.prod.public.atl-paas.net/default-avatar.png",
"24x24": "https://avatar-management--avatars.us-west-2.prod.public.atl-paas.net/default-avatar.png",
"16x16": "https://avatar-management--avatars.us-west-2.prod.public.atl-paas.net/default-avatar.png",
"32x32": "https://avatar-management--avatars.us-west-2.prod.public.atl-paas.net/default-avatar.png"
},
"displayName": "tester@customer1.test",
"active": true,
"timeZone": "Asia/Jerusalem",
"accountType": "customer"
},
"aggregateprogress": {
"progress": 0,
"total": 0
},
"customfield_10000": "{}",
"customfield_10001": null,
"customfield_10002": [
{
"id": "2",
"name": "Customer 1",
"_links": {
"self": "https://totangodev2a.atlassian.net/rest/servicedeskapi/organization/2"
}
}
],
"customfield_10003": null,
"customfield_10004": null,
"customfield_10038": null,
"environment": null,
"duedate": null,
"progress": {
"progress": 0,
"total": 0
},
"votes": {
"self": "https://api.atlassian.com/ex/jira/a195d1c4-912e-4b01-88f0-d57b5f919e58/rest/api/2/issue/DEMO-7/votes",
"votes": 0,
"hasVoted": false
}
}
}
]
}
Column Mapping
For main objects use issues
Use the following mappings (this is just an example, each Jira will have its own fields settings):

key: Jira issue key
fields.issuetype.name: issue type
fields.priority.name: Jira issue priority
fields.summary: Jira issue Title (Summary)
fields.reporter.displayName: Reporter name
fields.customfield_10010._links.agent: link to Jira issue (use this for external link)