Overview
The heart of any integration platform and its main capability is to enable mapping and matching between the source system and the target system. This matching will serve as the connection between the source data and target data for inbound and outbound integrations.
In this article
What is the Totango matching mechanism?
The Totango matching mechanism is a key mapping infrastructure that serves all the connectors and integrations. It manages the key mapping between the source object and the target object.

Manual Rebuild Matching
One of the Totango matching limitations is that there cannot be more than 1 object from the same connection connected to 1 Totango object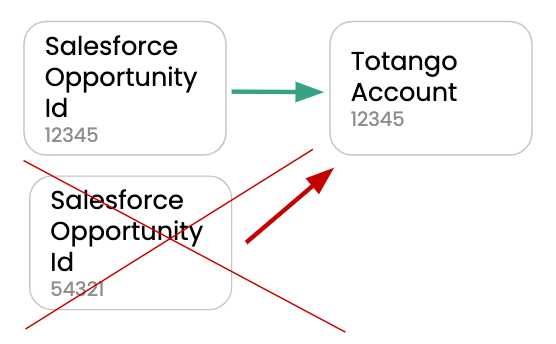 Why do I need to rebuild the Totango matching?
There are some cases in which the matching between the 2 systems needs to be cleared and rebuild.
For example, the customer wants to keep only the most updated opportunity synced with Totango.
In this case, the original matching need to be cleared and a new matching need to be created.
How to rebuild the matching?
Rebuild matching is a manual action done in the integration level by a user with data permissions or a Totango admin.
Follow these steps to manually rebuild the matching:
Go to Customer Data Hub, and go to the

connection page.

Choose the relevant integration you want to rebuild the matching for and click the "Rebuild Matching" option in the integration menu.



Important notes
The rebuild matching action deletes the existing matching between the objects, and immediately starts full sync of the integration which will build the matching and syncing the up-to-date information about all the integration objects.

Once the rebuild matching is in progress, no write-back actions can be done.
Automatically resolve matching conflicts
Turn on the resolve matching conflicts option will automatically choose the recent matching over the existing one. This option will not trigger full sync but will override the existing matching id with the new object id in the next sync of this integration.
How to set up automatic resolution of matching conflicts?
Automatic resolution of matching conflicts is part of the integration setting (per individual integration) and it is relevant only for CRM integrations.
Follow these steps to set it up:
Go to Customer Data Hub, and go to the

connection page.

Choose the relevant integration you want to automatically resolve matching conflicts and turn ON the automatically resolve matching conflicts toggle.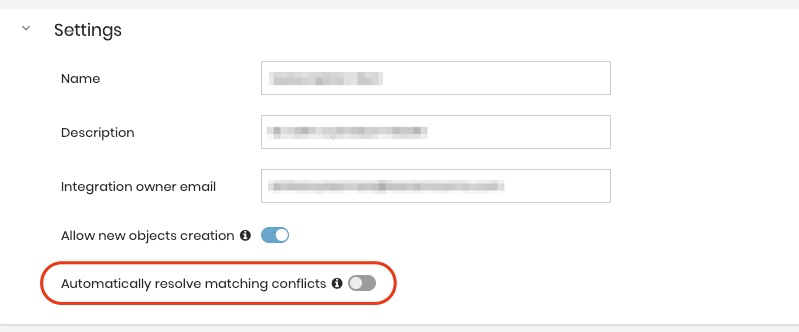 Important notes
The "automatically resolve matching conflicts" setting chooses the

last updated object

over the existing one in every sync.

The "automatically resolve matching conflicts" setting is

OFF by default

.

The integration will resolve all matching duplications and will not display it as errors but will report it in the "Duplicate records" statistics.

The integration status will be "Success" instead of "Partial Success".

As this feature automatically resolve conflicts, use it carefully otherwise inconsistent data can sync to Totango on the recurring basis.