Overview
Add Account, User and Collection attributes of type Multi-select List so users can choose more than one value from a pre-defined set of values. For e.g if you want to define an attribute "Systems Used" with values of (Salesforce, Microsoft Dynamics, Hubspot and Netsuite) where there is a possibility of more than one value being selected you can do that with a Multi-select List attribute.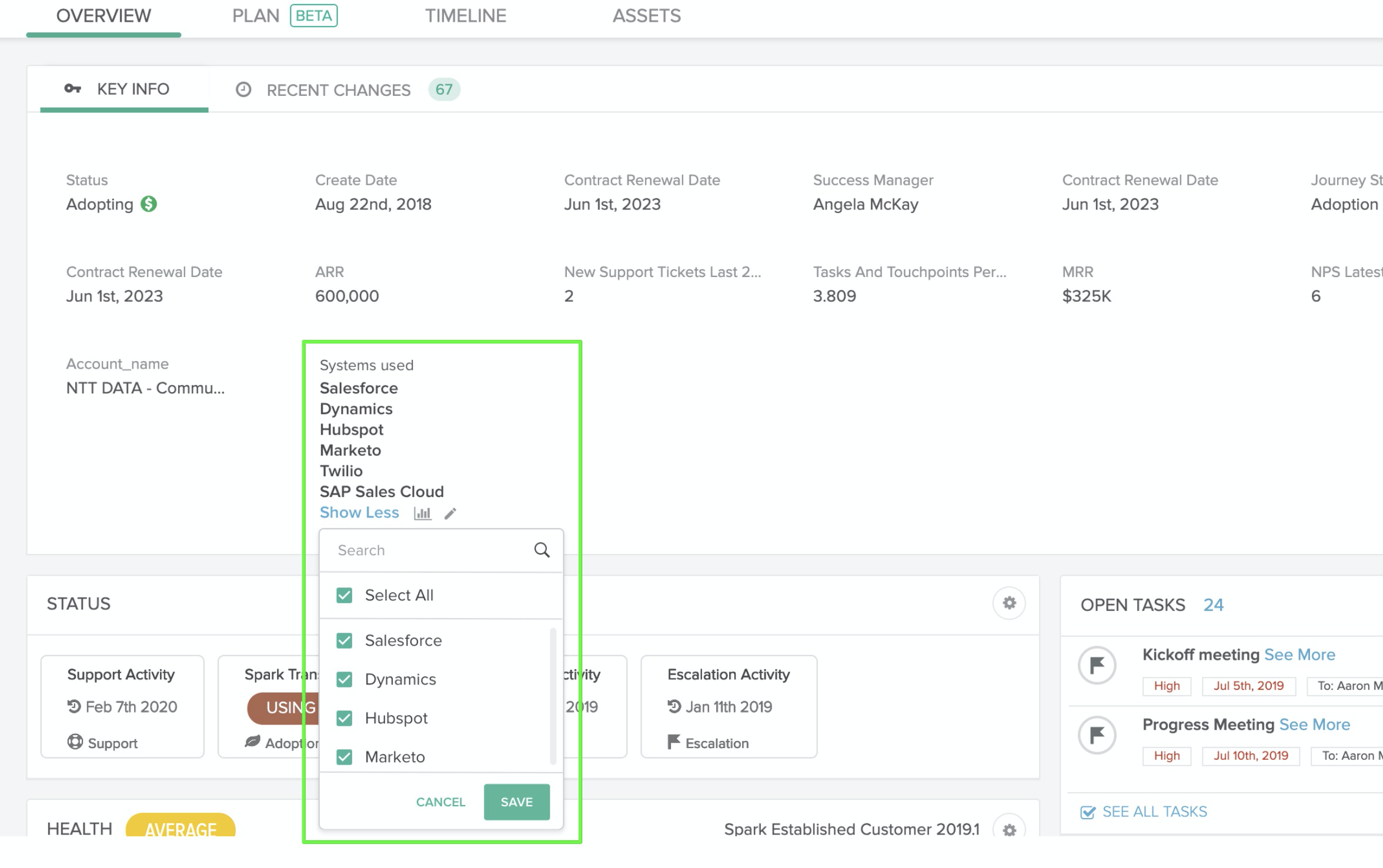 This article has the following sections
Defining an attribute of type Multi-select List
Defining a Multi-select List attribute for Account
To define an attribute of type Multi-select List follow these steps
Go to Global Settings > Data Management > Data Modeler
On Account tab choose new Attribute
Enter Display Name and provide Description
Choose Type = Multi-select List
Enter the valid values for this attribute that the user can choose from
Once done hit Create Attribute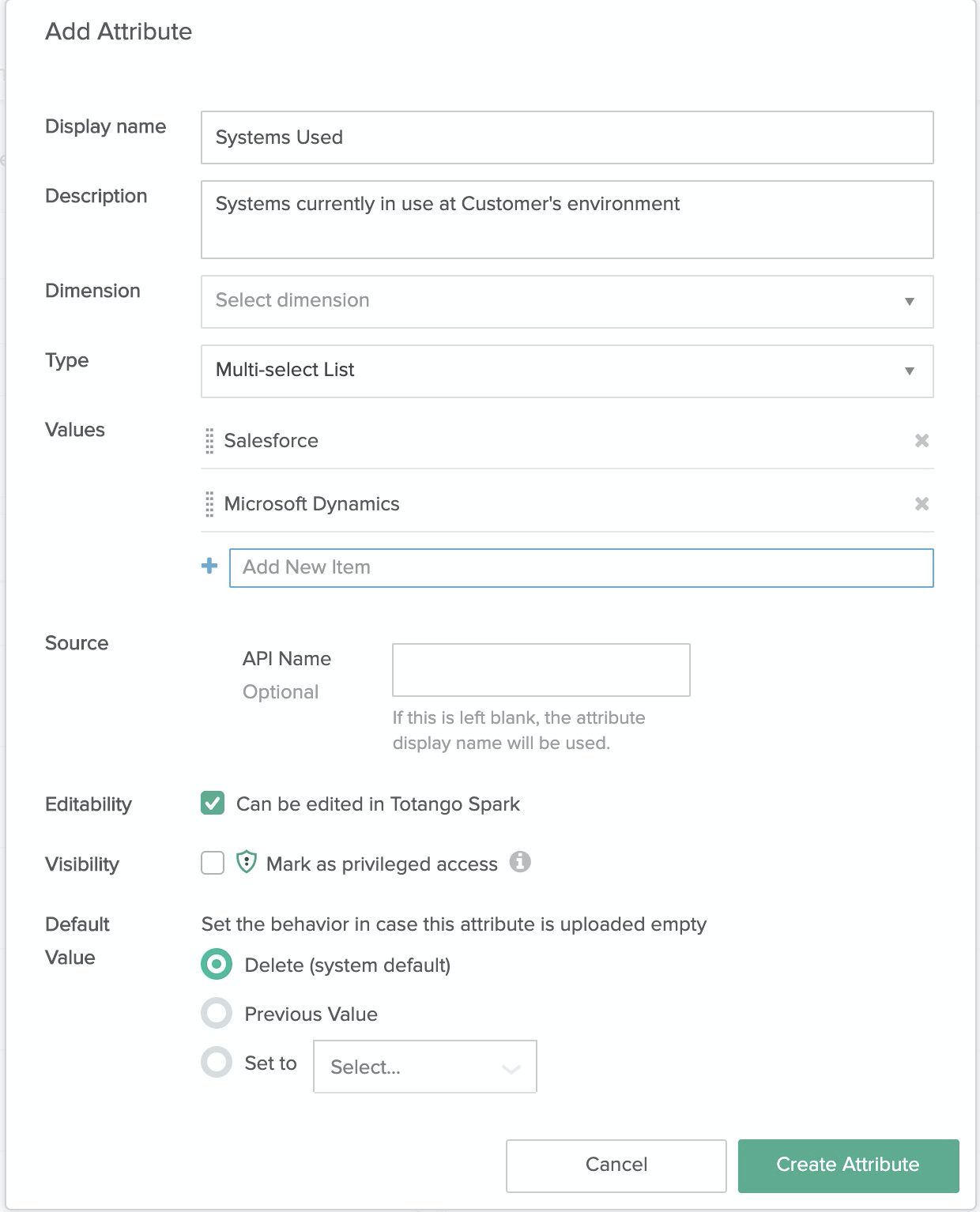 Once an attribute has already been defined, values can be disabled and new values can be added but existing values cannot be renamed. Disabled values will continue to be available to segment or query on but won't be present while assigning values.
The following special characters are supported in defining option values
- ? ' " ( ) _ – [ ] & /
Defining a Multi-select List attribute for a Collection
To define an attribute of type Multi-select List for a Collection follow these steps
Go to Global Settings > Data Management > Data Modeler
On Account tab choose New Attribute > Collection
In the Attributes define a collection attribute and choose type Multi-select List
To define values choose Advanced Settings and define values for this attribute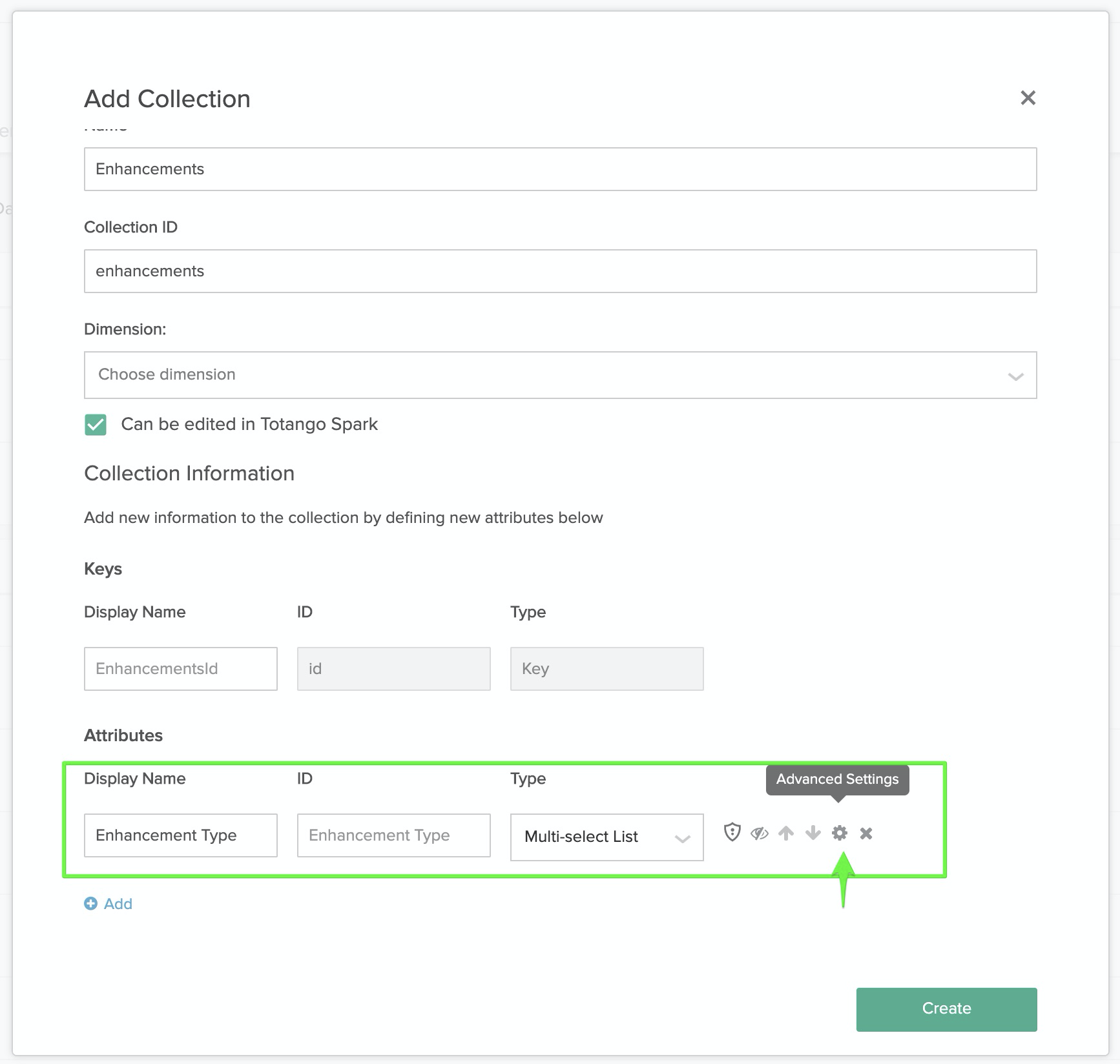 Defining a Multi-select List attribute for a User
To define an attribute of type Multi-select List for a User object follow these steps
Go to Global Settings > Data Management > Data Modeler
Click on User tab and choose new attribute
Give a name and choose type as Multi-select List
Add the options for the list that users can choose from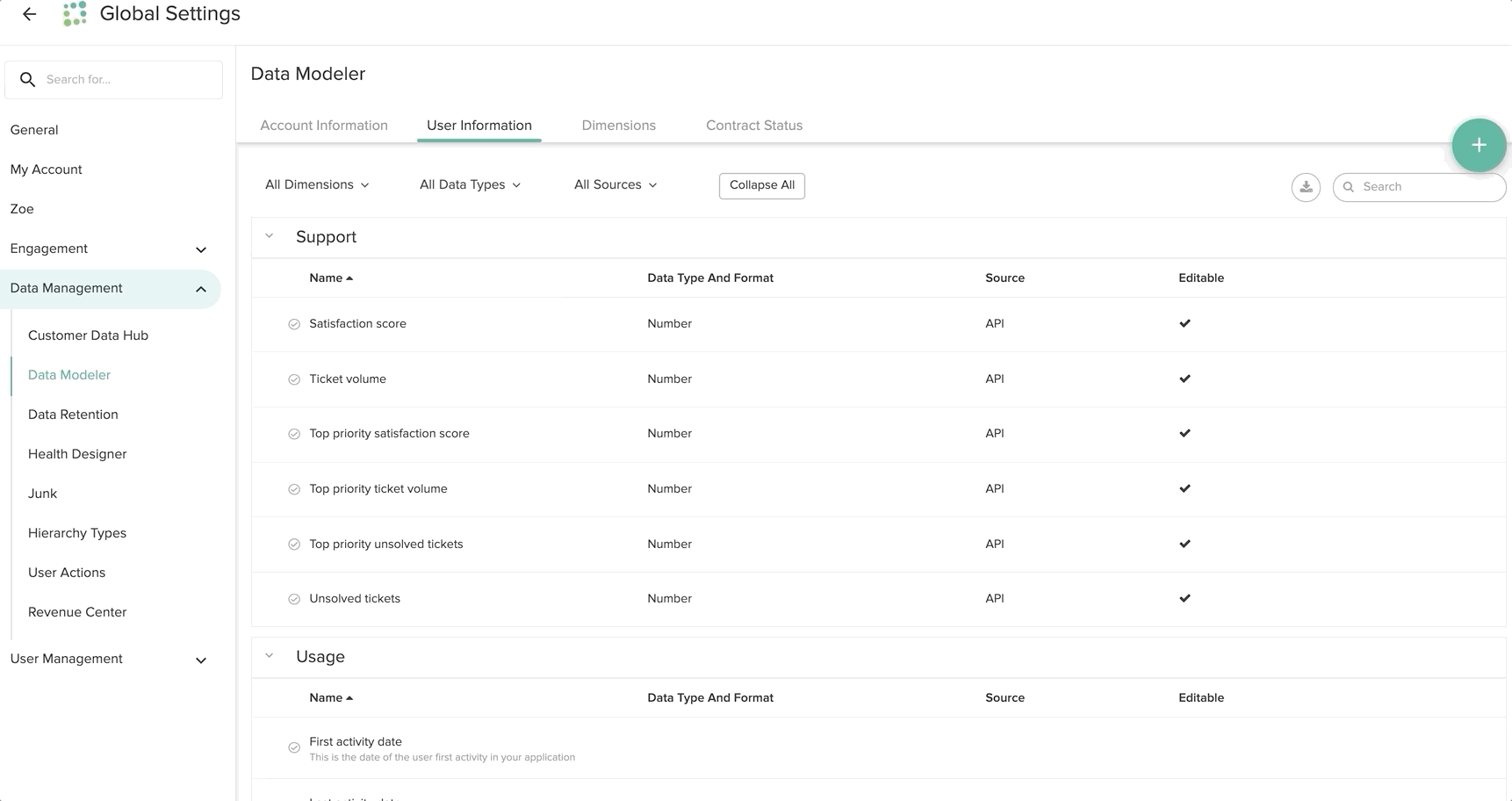 Setting value to account and collection attributes
Multi-select List attributes can be set with values in the following places
Account Profile
Information Tab
Rapid Insight Forms
Segment
Segmenting by querying Multi-select List attributes
To segment accounts, users and collection choose one of the following operators
is one of - Find accounts with any matching value mentioned
is not one of - Find accounts that don't match the value specified
has only - Find accounts with precisely the combination of options specified
has not only - Find account with options other that the ones specified
contains - Find accounts that contain any combination but with all the specified options present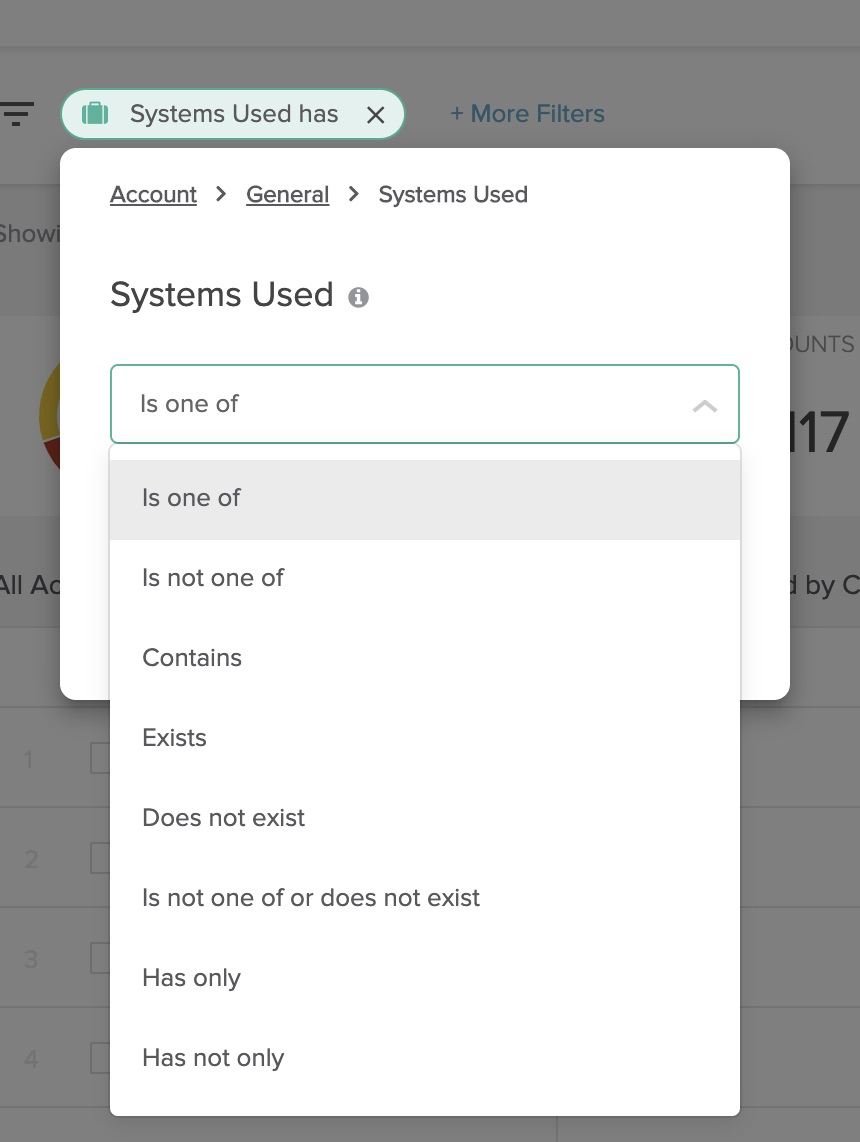 Note that the multi-select options that are disabled are also available for segmentation but the system does not let you assign disabled values while setting values to a multi-select list attribute
Limitations and Known Issues
Editing collection attributes in a collection segmentation is not yet developed