This tutorial will help you set up your SuccessBLOC after you added it to your service from the SuccessBLOC Marketplace. We will review how to prepare and upload the data needed for the SuccessBLOC and how to verify that it is set up correctly.
To set up your SuccessBLOC, you need to follow a few steps:
Upload your data
1. Remove sample accounts from your Totango account
To start from a clean slate, follow this guide to remove all the sample accounts in your Totango account.
2. Prepare your data
1. On the top right side of the SuccessBLOC, click on the 3 points button next to the Invite button, and click on the "Download CSV with SuccessBLOC Attributes" option.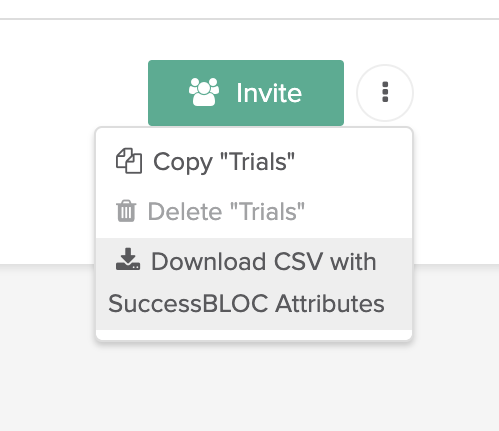 This will initiate a download, depending on the SuccessBLOC, of one or two files:
Account attributes file

User attributes file
These files include all the attributes that are necessary to activate the SuccessBLOC. This article will refer to the Account Attributes file, but the same also applies to the User Attributes file.
2. If you are looking to connect your Totango account to a CRM, such as Salesforce, MS Dynamics, or other types of data sources (you can connect to multiple data sources to your Totango account), please review Totango's Customer Data Hub connectors, and proceed to create a connection to sync your data from there. Otherwise, continue reading below.
3. Open the file, and fill in with your customer data. The only field that is required is the "Account ID." All the rest are non-mandatory, but we recommend you fill them up to get the most out of your SuccessBLOC and Totango. When you are done, export or save the file as a CSV.
You are now ready to upload your data to your Totango account.
3. Upload your data using Customer Data Hub
1. Open the Customer Data Hub.
2. Follow the instructions in the article explaining how to upload your data files using Customer Data Hub.
3. Depending on the amount of data in your file, the processing of it might take a few minutes.
By now, you have done the most "difficult" part and you are almost there!
4. Review your data
After your data was uploaded successfully, go back to your SuccessBLOC, and review your data. We recommend reviewing the Scorecard tab in the SuccessBLOC. Make sure the numbers make sense to you, and that the KPIs that matter to you are showing data. If something is missing, click on the segment link in the KPI. This will help you find if you missed a relevant attribute when uploading the data. Once the KPIs and numbers make sense to you, you are ready to configure your SuccessBLOC.

Configure your SuccessBLOC
1. Configure your business Goals and KPIs
You can edit, remove, or add KPIs to your SuccessBLOC to make sure it covers everything you need to meet your goals. Click on "Edit Scorecard" on the top right corner of the screen to edit or add goals and KPIs. See this guide to learn more about configuring goals and KPIs in your SuccessBLOC.
2. Configure SuccessPlays
What are SuccessPlays?
SuccessPlays are an automatically triggered set of tasks that an organization can configure in order to improve team workflows so that Customer Success Managers are focused on the meaningful activities at the right time.
Organizations and team leads can operationalize their business processes by defining and implementing consistent Customer Success activities across their team so that fewer accounts slip through the cracks. The ability to standardize workflows helps you achieve consistent and effective delivery of services to increase the scale of your team and reduce churn.
To configure and create your own SuccessPlays, read this article.
Once your SuccessPlays are set, enable them so that tasks will be generated automatically for your team.
3. Configure Customer Communication (Campaigns)
To configure your customer communication in the SuccessBLOC, read this article.
Once your Campaigns are customized to your needs, enable them.
Share the SuccessBLOC with your team
Your SuccessBLOC is private by default, which means only you can see it. Click on the "Invite" button to invite collaborators (if you are not ready to publish the SuccessBLOC yet).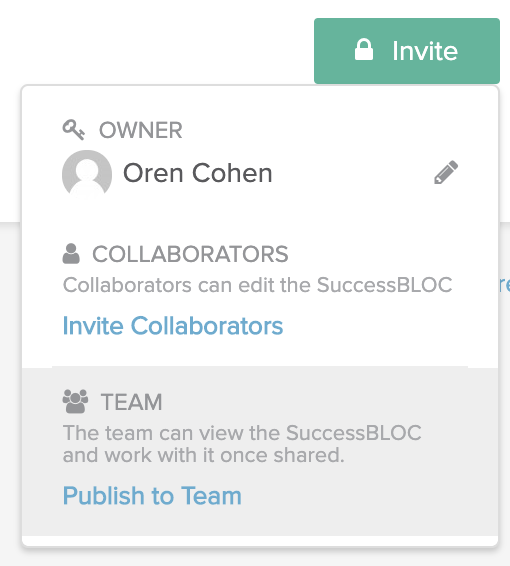 Click on "Publish" to publish the SuccessBLOC to your team.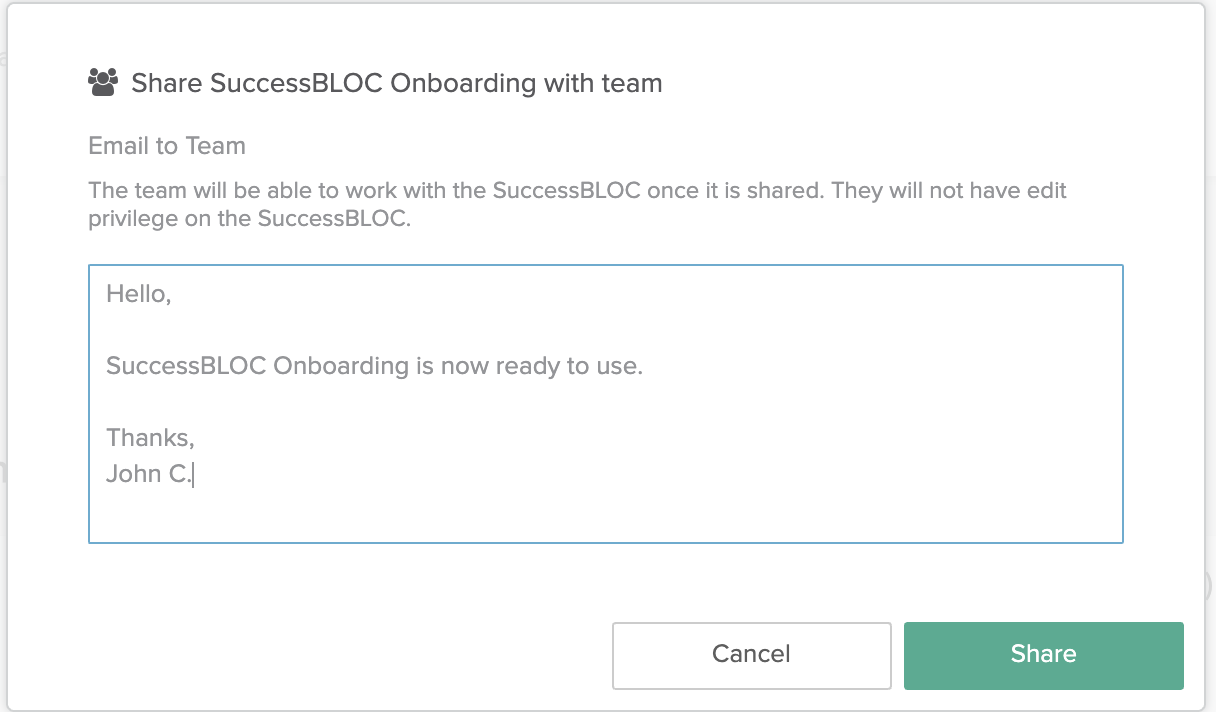 And... you are done. Your SuccessBLOC is now activated and Published!
Now let Totango's automation work for you, so that you can focus on your customers. Great work!