CRM Data Integrations
Use MS Dynamics CRM and Salesforce CRM to create integration faster and stream information directly to Totango DNX-CX to start analyzing and taking action on your customer data.

CRM data integrations new capabilities:
Sync data from several instances of the same data source
Save data team work and create integration faster by filtering incoming information.
All CRM information is monitored in a unified view
Better Analyze Your Customers By Using Enhanced Filters In Account Segments
Your account segments just became more powerful by enabling user and collection-level filters.
The enhanced filters enable you to better analyze your customers by asking questions mixing accounts, users and collections information.
For example, you can easily segment upcoming renewal tier-1 customers with over $1M opportunities and a bad survey logged recently.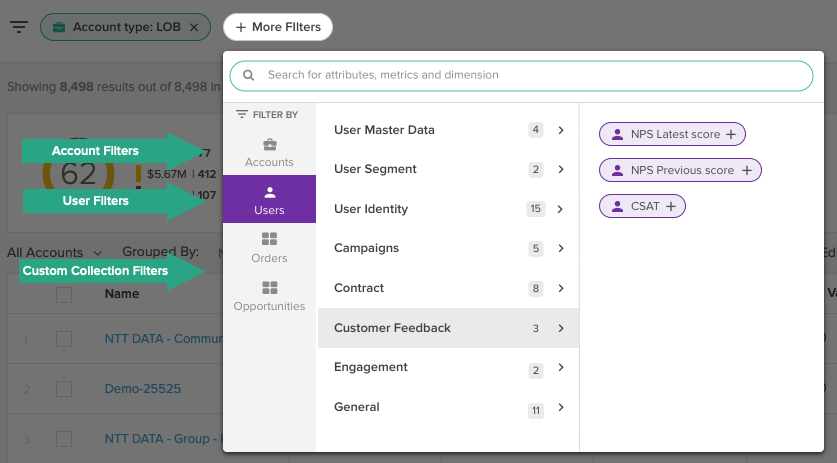 Collections store transactional information within the account as sub-objects, the most common collections are opportunities, orders, support ticket details, feature requests, surveys, and sales handover details.
Improvements and Bug Fixes
[Improvement]

Analyze and export renewal date and CSM information for past periods.
Click on the renewable number of accounts to see the renewable account up-to-date information
[Improvement]

Team spotlight - in the work focus tab

you are able to view the employees per their manager by selecting a manager from the list. This enhancement is part of the Employee Hierarchy feature, so the

Employee Hierarchy feature should be turned ON first.


Read more


[Improvement]

customer data hub integration - junked accounts validation.
Junked accounts are accounts that were deleted and filtered out from the Totango system.
Any junked accounts related information will be filtered out from customer data hub integrations and you will be notified on such filtering.
For example, if you upload contact information of a junked account contact via customer data hub integrations, this contact information will not be updated and a proper notification will be sent to the relevant user.

[Improvement]

SuccessBLOC sort items by type -

Sort by type on all tabs within SuccessBLOCs (minus Scorecard) lets users sort by folders or content so all the folders are presented on top in sorted order.
[Bug Fix]

We had an issue where the menu labeled as "beta" in the left navigation menu were duplicated when switching between teams. This issue is now fixed

[Bug Fix]

In Segments, we had an issue where selecting the 'Month' or 'Quarter' options in the Status filter did not return any results. After the fix, these filters are returning correct results.

[Bug Fix]

In Segments, we had an issue where editing an account filter in a user segment, removed the edited filter. After the fix, the filter stays.

[Bug Fix]

There was an issue where attributes values that contained links were presented with HTML tags. After the fix, the HTML tags are removed and the links are presented accordingly.

[Bug Fix]

In Assets, we had an issue where a user could not add files from a shared google drive. This issue is now fixed.

[Bug Fix]

In Audit API, we had an issue where it did not return results prior to January 1st, 2020. This issue is fixed and results are returned according to the query.
Note, when querying by the Audit API, the start and end year must be the same.