Overview
Totango can support your hierarchy exists in your SFDC, whether you are using the SFDC account object, any custom object or mix them together. Using the native integration makes it easy to set your hierarchy in Totango and this article will describe how to do this.
Setting up your Hierarchy
Let's assume your SFDC accounts are managed using the native Account object (Organization and Region) and the product as a custom object (child_account__c).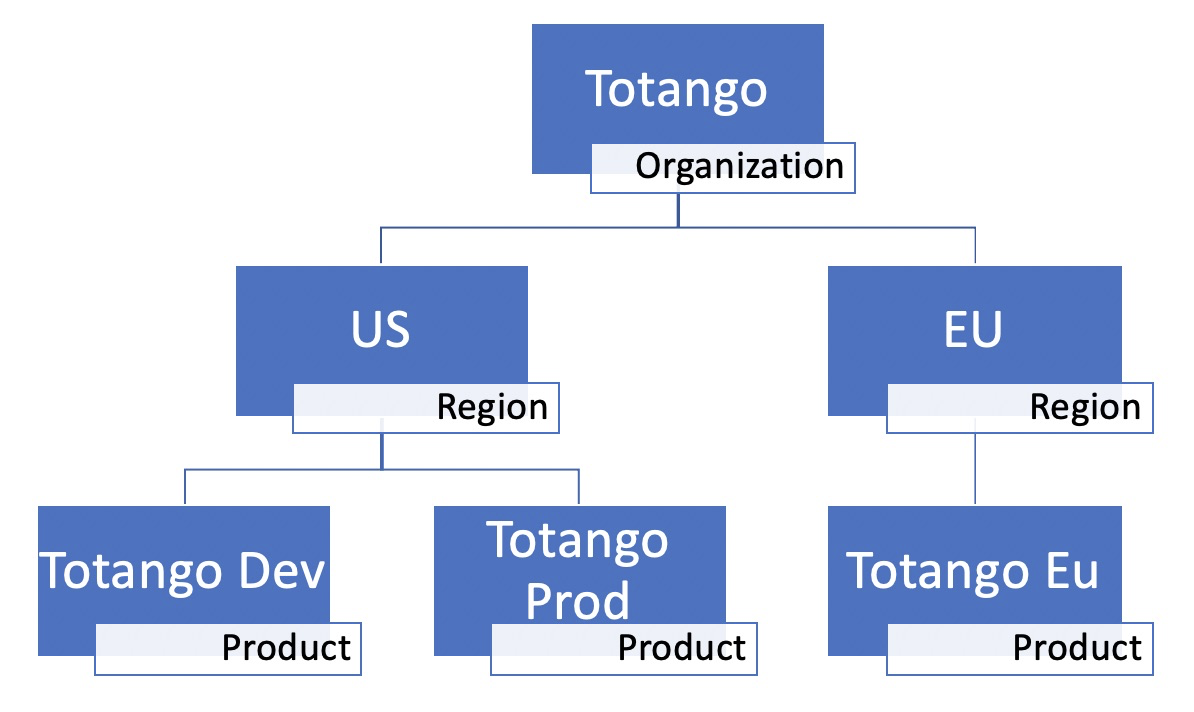 In order to set up the above hierarchy in Totango, as you create the SFDC mapping (use this link to learn how to connect Totango and SFDC), we will use the Parent ID of each object. The field, mapped in this attribute, will hold (in SFDC) the id of the parent account/level as follow:
For the Account object (which contains the Organization and the Region), use the native 'ParentId' SFDC field (unless you created a custom one).
For the Product (custom object in this case), use the field that holds the parent account (in case it is a reference to the account) or any field holds the account Id.

Validating the hierarchy
After processing the data, Totango will build the hierarchy which will look like this (please note that it might take a few minutes after the file processed, for the hierarchy to be built):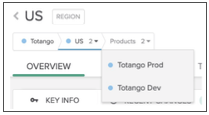 Take the following steps, if your hierarchy still not appears after 30 minutes:
Verify that all the accounts exist in Totango and connected to SFDC

The accounts have the 'sfid' attribute with the SFDC ID

The accounts should have the option 'Open with Salesforce' which will open SFDC.


Check the Salesforce integration configuration page

Did the sync complete?
Do you have any errors needed to be handled (under Sync Results tab)?

On child accounts, check the value of 'parent_id' (under Information Tab) - does it have the correct value (i.e., the account id of the parent account)?
Q&A
Q. How to set the account type
A. The Account Type can be set up using the 'Totango Account Type' option. Make sure each level of the hierarchy has a different Account Type, which identifies the level itself (for example, values could be Organization or Company, Business Unit or Region, Office).


If the level identifies the product, use 'Product' as the Account Type and identify the variety of your product using the attribute 'product_id'.
Q. How to set up roll up values
A. On the Data Modeler page (under Global Settings --> Data Management), click to add a new account attribute and select the Hierarchy Roll-up option.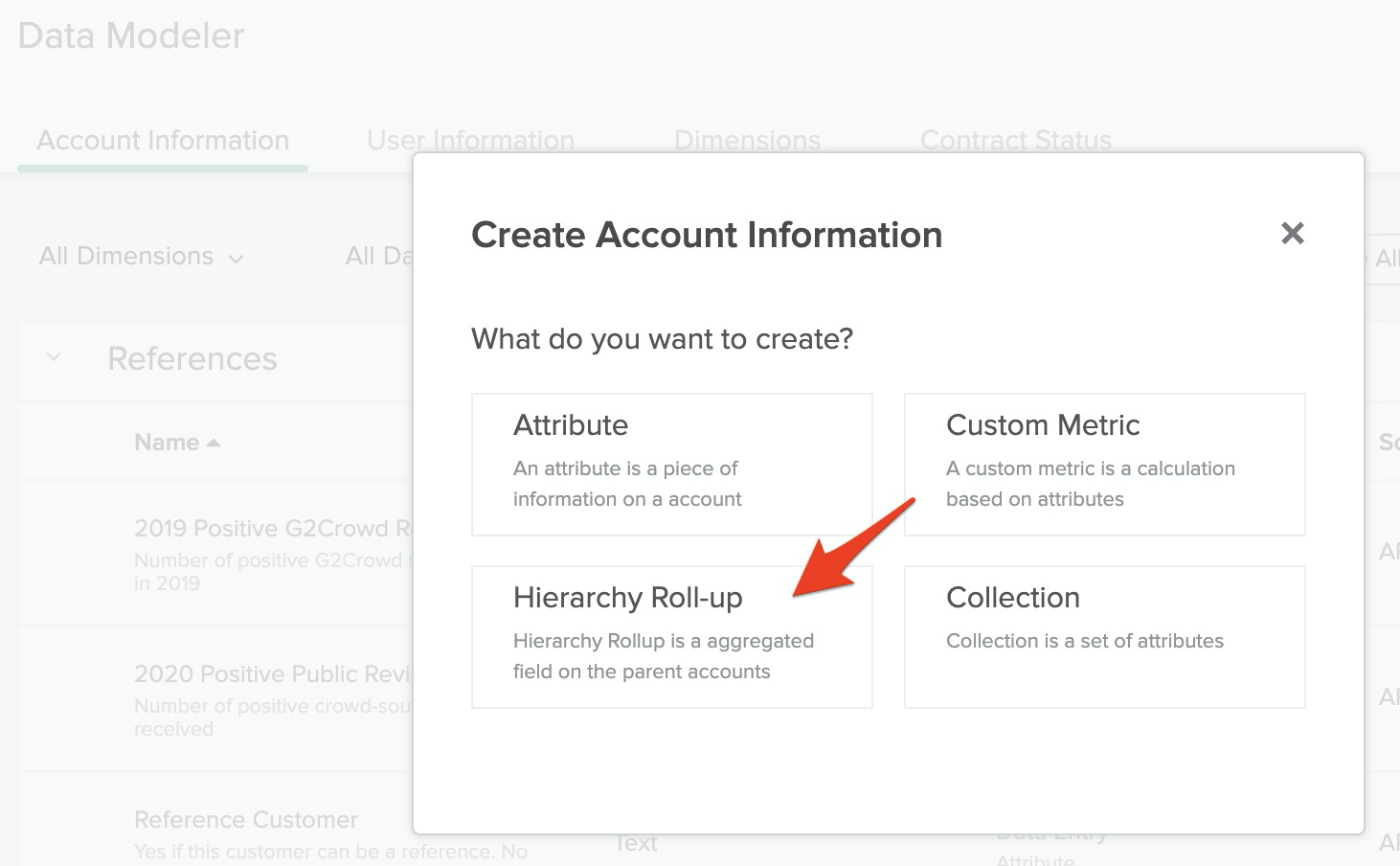 Then, select the source attribute (any numeric attribute), the formula (Sum, Avg or both) and the Dimension.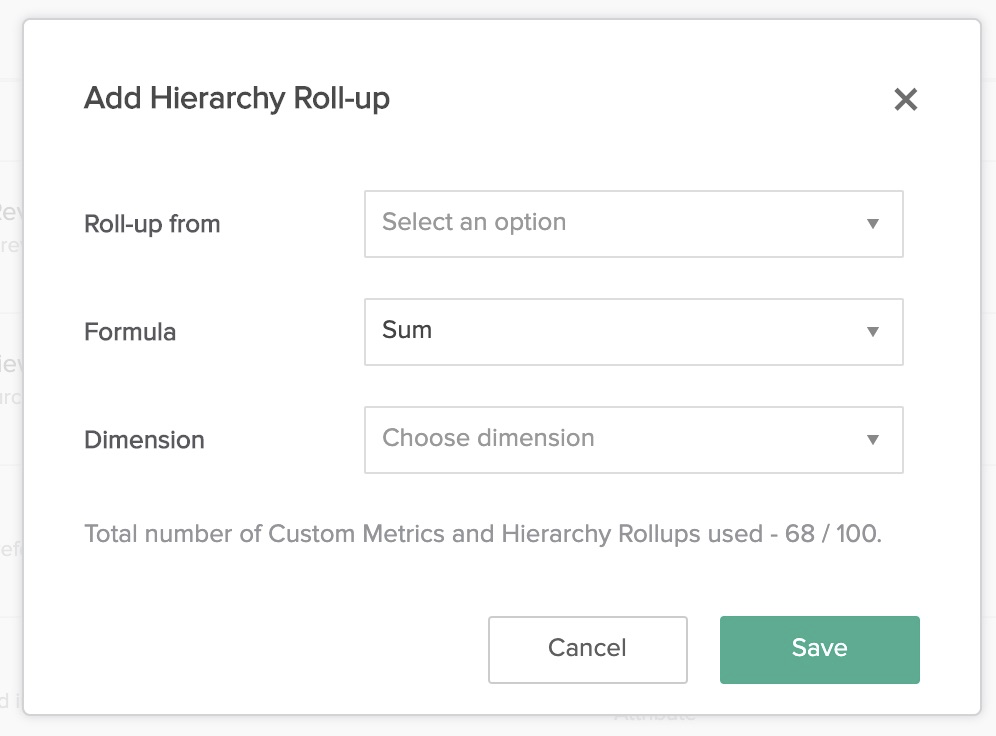 When you save, Totango will create the roll-up and start to calculate the roll-up with the current data.
Read more, on how to use Hierarchy Rollups here.
Q. Where do I set up the integration with Salesforce?
A. Read and view our tutorials to learn how to connect Totango and SFDC.