Overview
Hierarchy helps you reflect and organize your customers according to how you work with them in your business and support the complexities that come with it. For example, some companies have customers with a parent company, several lines of business or regions below it, individual locations and then multiple products purchased at each. The hierarchy gives you visibility into the success of the customer at every level.
How do I know if I need a Hierarchy?
Hierarchy is not a must and used in most cases if you have multiple products or your customers are divided into sub-organizations (different offices, regions, Business units, etc) and each sub-organization has its own usage, contract (or renewal date) or Customer Success from your team.
What should I consider while designing my Hierarchy?
Do I have multiple products?
Products should not have any children under them.
If the answer for these questions is yes, then you can probably add your products as the last (leaf) level for your branch:

Are your customers' contracts based on products (i.e., you have a price or licenses per product and not fixed)?
Can usage data be sent per product?

Products give you the ability to segment customers, that own (or do not own) your individual products (which is a great starting point for upselling).
How many levels do I need?
Hierarchy allows you to manage your customers, but too many levels can add noise and affect your team's workflow. Note: Totango supports unlimited hierarchy levels.
If you have different products, a good hierarchy can be company/region/product or company/division/product. Or it might just be company/product.
If you have only one product (or no product at all), a good hierarchy can be just Customer (flat hierarchy), or company/region/office or just company/office.
For any selected hierarchy, make sure your business flows are covered.
Each level of your hierarchy becomes an 'Account Type' in Totango. And data is sent to Totango for each individual Account Type.
Check where your teams are working (which level?) and make sure they have all the data they need on this level (use Hierarchy Roll-Ups for numeric attributes, if needed).
Try to start with a simple hierarchy. If your customers are managed, for example, with a single point consider working with a flat hierarchy (1 level only).
Usage data, in most cases, will come on the last level (product). SuccessPlays can use Usage Data to trigger tasks on the immediate parent account (if that is your working level), but remember that the Users cannot be rolled-up and your campaigns should be trigger on this level.
How to identify your team's working level
"Working level" is where your team logs touchpoints and where they will see Tasks assigned to them.
As best practice, CSMs should work on a single level. While in some cases you would like them to view other levels (product usage, for example), try to keep them on this level for easy support and coverage.
Ask your self the following questions:

Where is contract & renewal information handled? Is it in on the product or the customer?
Do I have only a single contract & renewal date for all my customers' sites/products?
How does Totango handle hierarchy?
The hierarchy, in Totango, is built using the parent_id attribute.
All levels, except the 'ultimate parent' (top-most level) should have a parent_id
Add this attribute to the child account with the account Id of its parent.

For example, in order to create the example hierarchy below of Totango --> Totango Prod, use the add the value 'totango.com' to parent_id attribute, for Totango Prod account.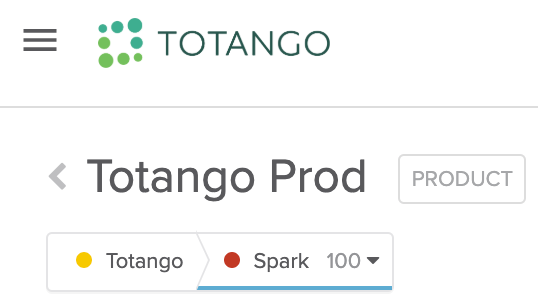 Please Note: a parent account can have multiple child accounts, but the child can only have one parent. Here is an example:

Numeric attributes can be rolled up from the child accounts to the parent (using Sum or Average).
Make sure every level is a different Account Type (Ex: Company, Region, Product), so data would need to be sent to all account types if you need or want to see that data at that account type/level. It will not automatically 'flow down' or 'flow up'
FAQs
Question: Where can I define a new Product?
Answer: A Global admin can define a new Product at Global settings > Data Hub> Hierarchy types
Question: How do I define an Account Type in Totango?
Answer: Account Type is a default attribute in Totango and you will see in Global settings > Data Modeler. However, the values for this attribute must be defined in your data set. There is no way to 'pre-define' these.