Overview
The Forms feature has been enhanced to allow creating new Accounts in Totango in an intuitive and user friendly manner. Accounts creation was previously supported using Integration Hub but with this feature, Admins can create customized Forms per account types letting users create new Accounts in the system via these Forms.
Here are some business cases that can be unlocked with this feature
CS Organizations who want to completely unplug from their CRM system and only create and maintain accounts in Totango can now do that in a very simple and intuitive manner
Organizations that wanted to have a high level integration of accounts with CRM but needed the ability to create some sub accounts such as Initiatives or Engagements can now create them in Totango using this new feature
This article contains the following sections
Where can new accounts be created in Totango
New Ultimate Parent or Primary account can only be created from My Portfolio

Creating Sub accounts under a Primary account is possible from the sub accounts widget on Account Profile page
How to create account creation Forms
A Global Admin in Totango can create new account creation Forms under Global Settings > Rapid Insight Forms. An Admin can create only 1 Form per parent Account Type. The system will show an error if the user tries to save another Form with the same parent account types.
Go to Global Settings > Rapid Insight Forms (Forms)
Hover on the Plus Sign and click on Create Account
Enter the Parent Account Type for the type of account you are creating the form for. Leave it blank if you are creating this Form for a top level ultimate parent account
Enter the account type(s) of accounts that can be created using this form.
Add additional sections to add the right fields to the form that the user should fill out while creating this account.
Save and Enable the Form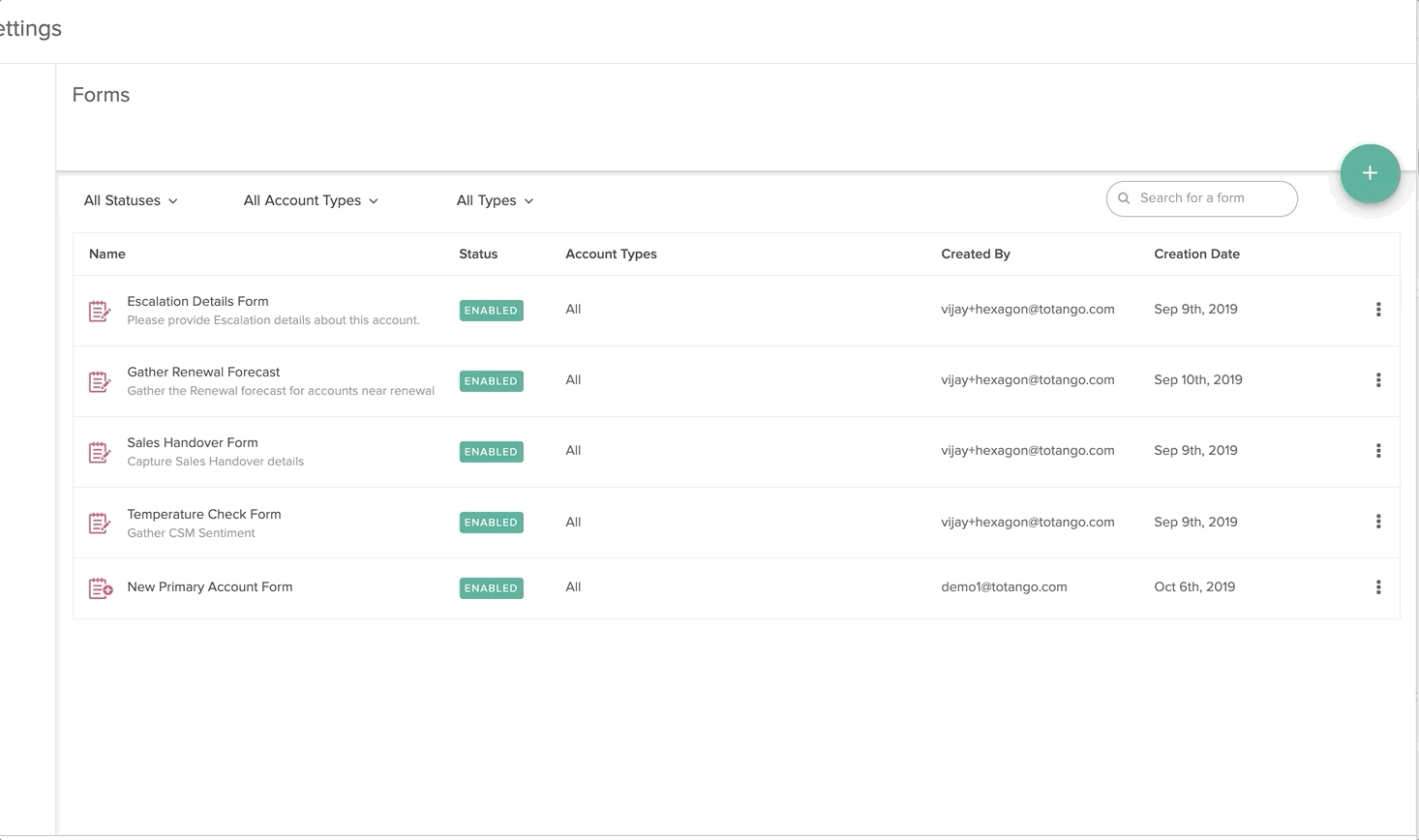 How to grant permissions to users for creating accounts
The Admins should decide on which users will need permission to create new Accounts in the system. This should be a controlled activity so only a few users are designated with the responsibility of creating new accounts in the system.
Go to Global Settings > Permissions
Click on Application Permissions tab
Scroll to the bottom and look for "Create Account" section
Choose "Only Specific Roles" and specify the roles of users that should have the ability to create new accounts in the system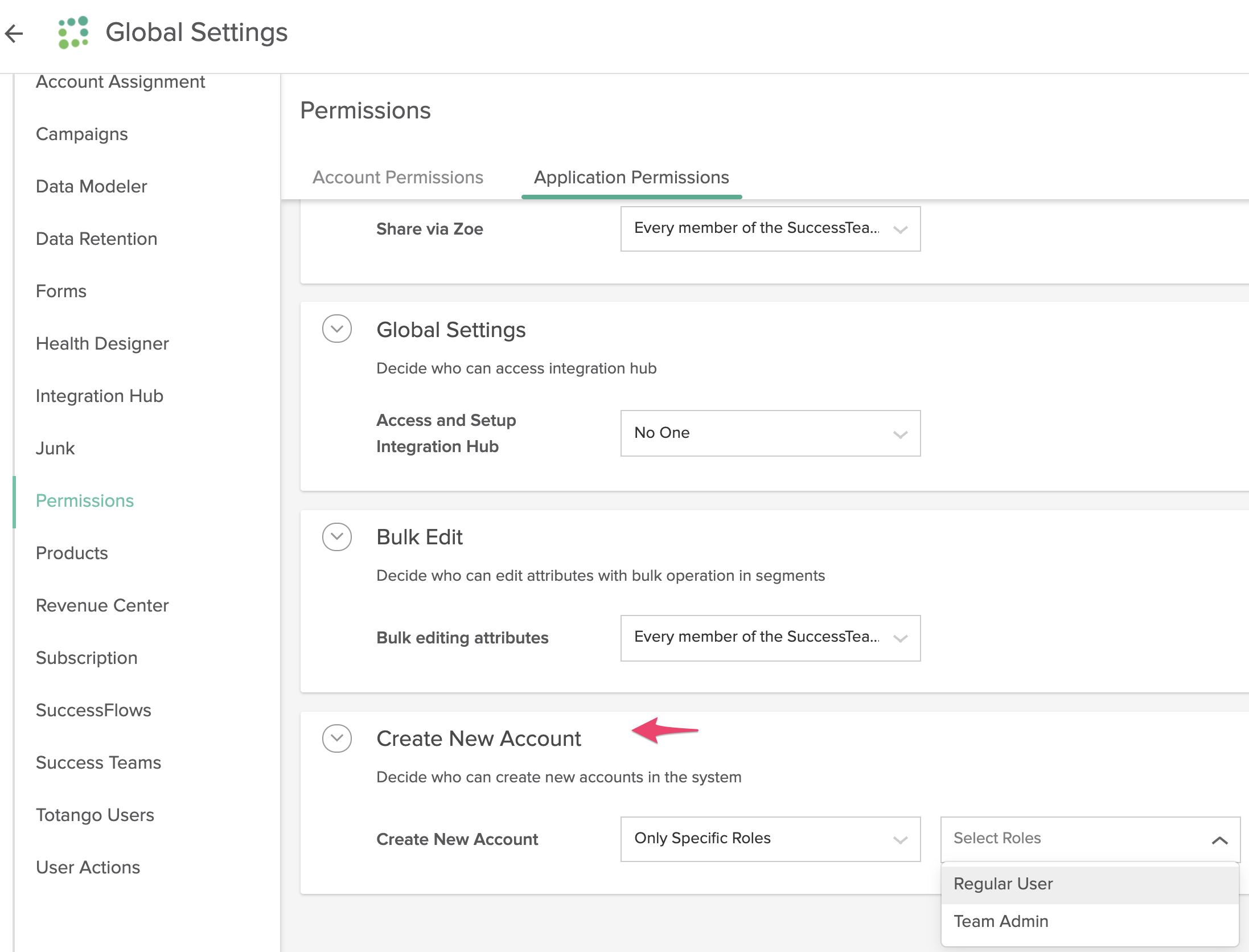 Filling a create account form to create a new account
A user can click on "Create New Account" in My Portfolio or click on New Account icon in the Sub Accounts widget of account profile.
Enter a unique Account ID
Enter a unique Account Name
Choose the right Account Type
The Parent ID is automatically populated if you are creating a sub account.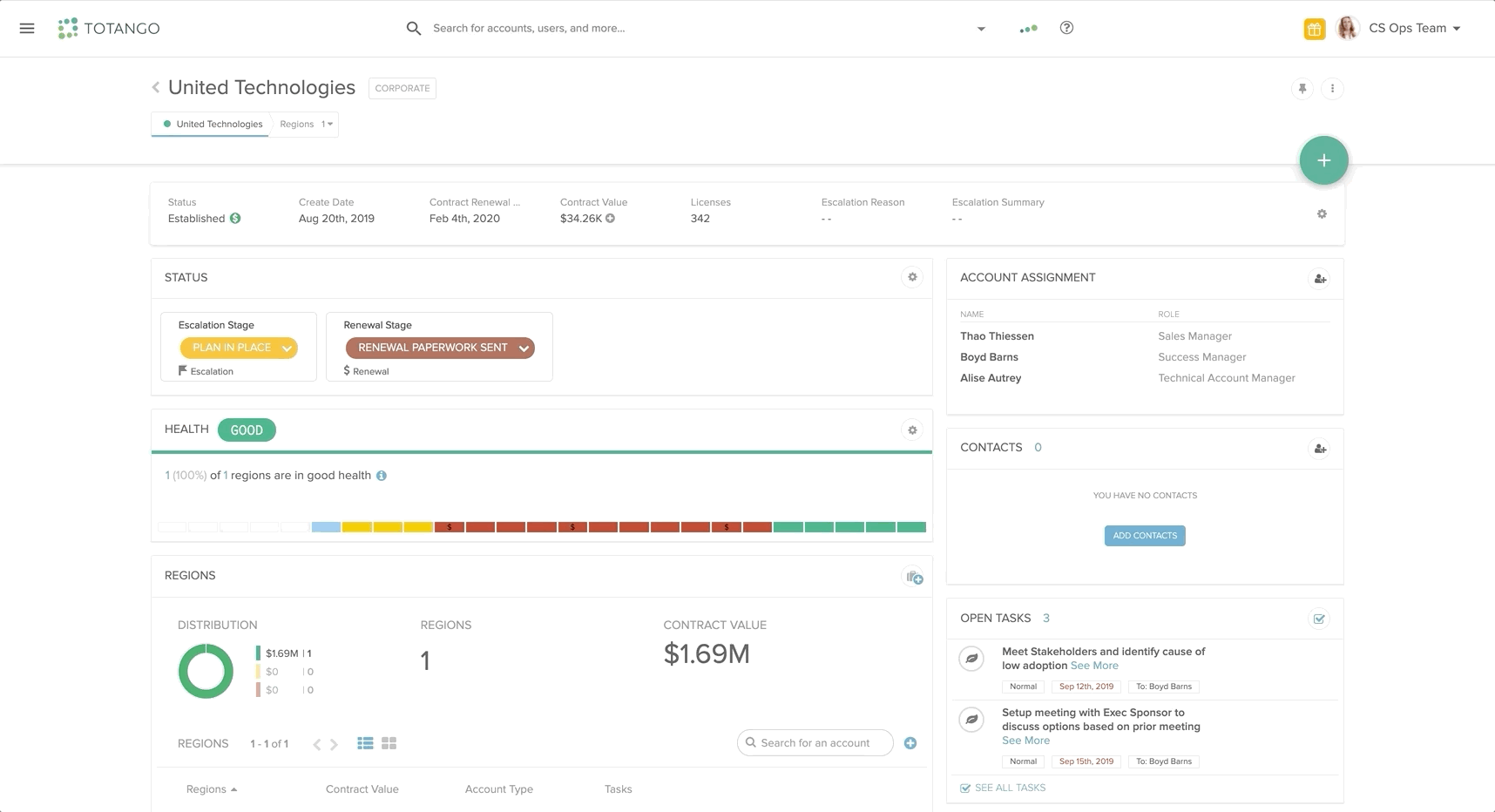 Things to consider
Plan on which account types you want to create from the UI
Ensure that you have a unique numbering scheme for creating accounts
Identify the right users in your team to create new accounts in the system
Setup the Forms with the additional sections and fields necessary to create new accounts in the system