Overview
Changes in your business, account sets, or team members may require maintenance on existing SuccessPlays. It is always a good practice to review any ongoing and enabled SuccessPlays any time there are changes that might effect which accounts a team is assigned, when account assignment roles are changed or removed, or when Totango administrators change.
Topics covered in this article:
Disabling a SuccessPlay
A SuccessPlay can be edited without disabling it and in that case no changes will be applied until the very last step in editing where you will be asked to confirm that you want to activate the new changes by saving as "enabled".
However, you may want to disable it if you are making large changes or if you will be working on it over time or if you are done with the SuccessPlay but do not want to delete it completely. Once disabled, the SuccessPlay will no longer fire Tasks or be available to Run Manually and then once re-enabled, it will evaluate the criteria and configuration anew (and you can again decide if you want existing accounts in the criteria to get a Task or only new ones that enter/exit).
You can easily disable a SuccessPlay in the Quick Menu, or after making edits on the last screen of the editor as described above.
Note: When a SuccessPlay is disabled all open tasks remain open. The only way to delete open tasks is in deleting the SuccessPlay.
Editing a SuccessPlay
If you are editing a SuccessPlay that is currently enabled take special consideration as to how this will impact open, closed, and future Tasks.
Note: If you are editing without disabling first your changes will not be saved until the last step where you are asked to confirm you want to enable it. There is no 'draft' mode in this case.
Select the SuccessPlay either from any of your SuccessBlocs and choose an action from the quick menu under the "3-dots" at the far right of the listing. To make edits without Disabling first, simply click 'View Details' to open the SuccessPlay.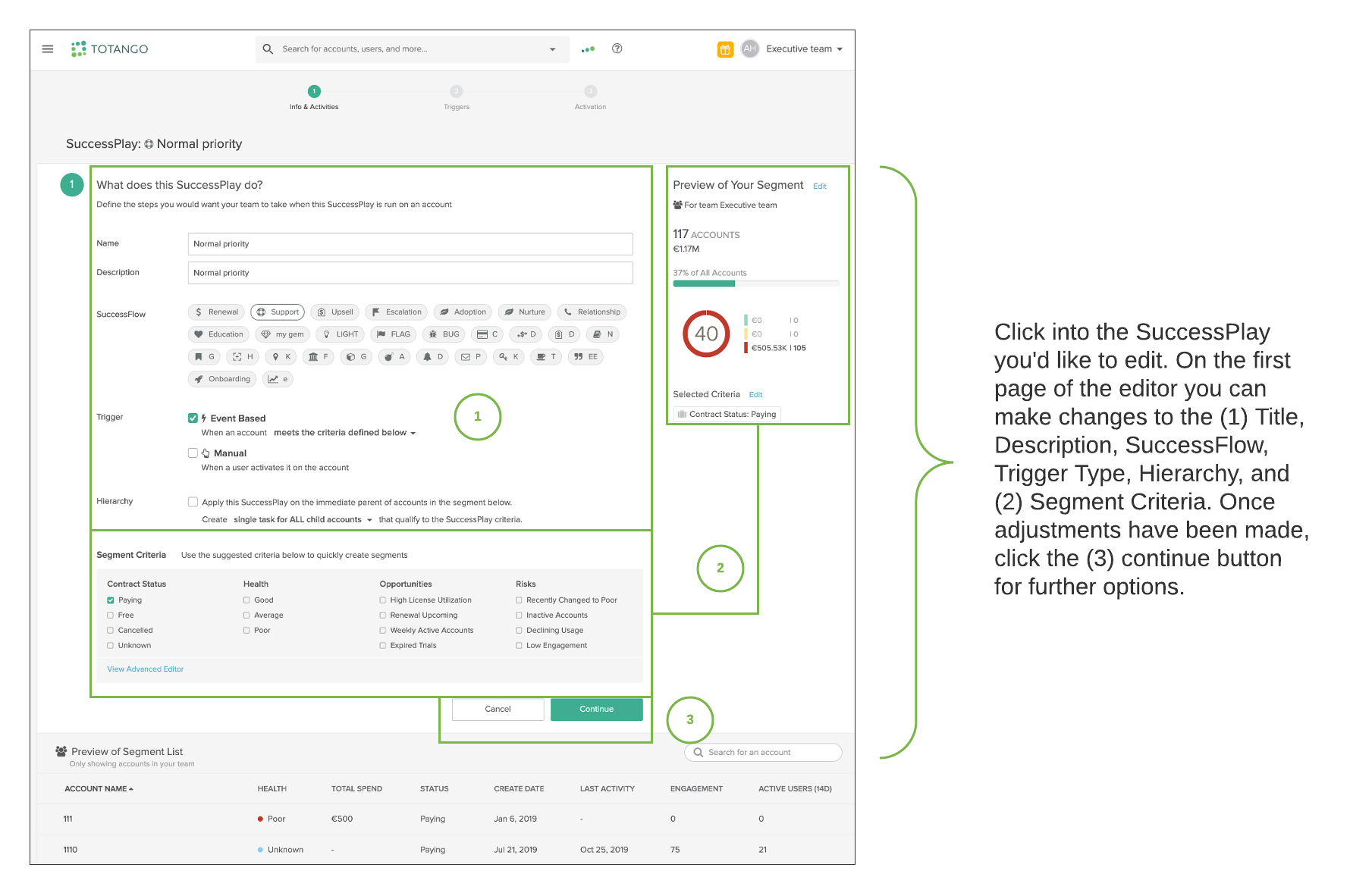 *Pro Tip: If making multiple changes to a SuccessPlay, or if you plan to work on it over time and would like to leave the existing one active, copy the SuccessPlay and make changes to the copy in a disabled state. There is no draft mode when editing SuccessPlays. You may save your changes as disabled on the last screen, but this will also disable the SuccessPlay as a whole. If you save your changes as enabled and find errors were made, it could be hard to retrace and undo. By copying the SuccessPlay you can leave the original undisturbed to behave as normal and disable that once you are satisfied with the changes, and have enabled the new one.
Also, the only way to delete (remove) any open or existing Tasks from a SuccessPlay is by deleting the SuccessPlay. So by making a copy and enabling the copy, you can then delete the original along with any existing open Tasks if you want to.
Editing a Segment or Criteria in a SuccessPlay
Editing a segment or criteria will update which accounts are affected by the SuccessPlay. This will not affect the Segment if it is used in other parts of Totango as the Segment criteria are essentially copied for each SuccessPlay. Editing the Segment may scoop new accounts into the SuccessPlay. If you save the SuccessPlay as "disabled" no new Tasks will be created for the Segment changes. If you save the changes as "enabled" all new tasks will be created immediately.
Editing Tasks in a SuccessPlay
On the second page of the SuccessPlay editor you can add, delete, or modify Tasks.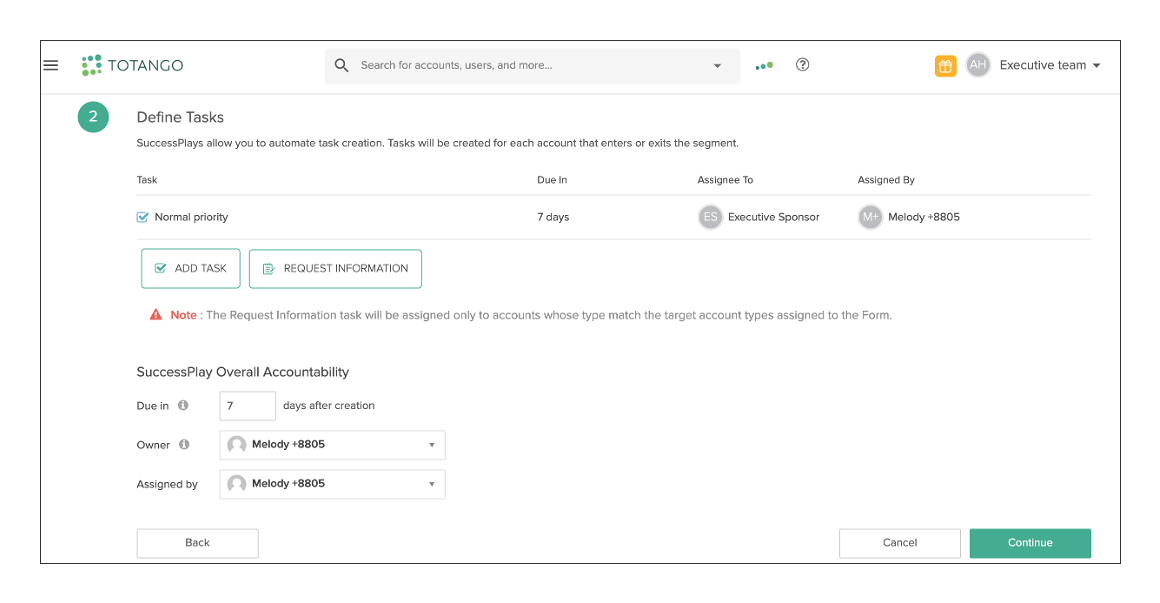 When editing Tasks in a SuccessPlay where the segment criteria has also been changed such that new accounts are added to the SuccessPlay an option to fire Tasks to all accounts meeting the criteria is offered as a radio button. If left unchecked only new accounts will have Tasks immediately created.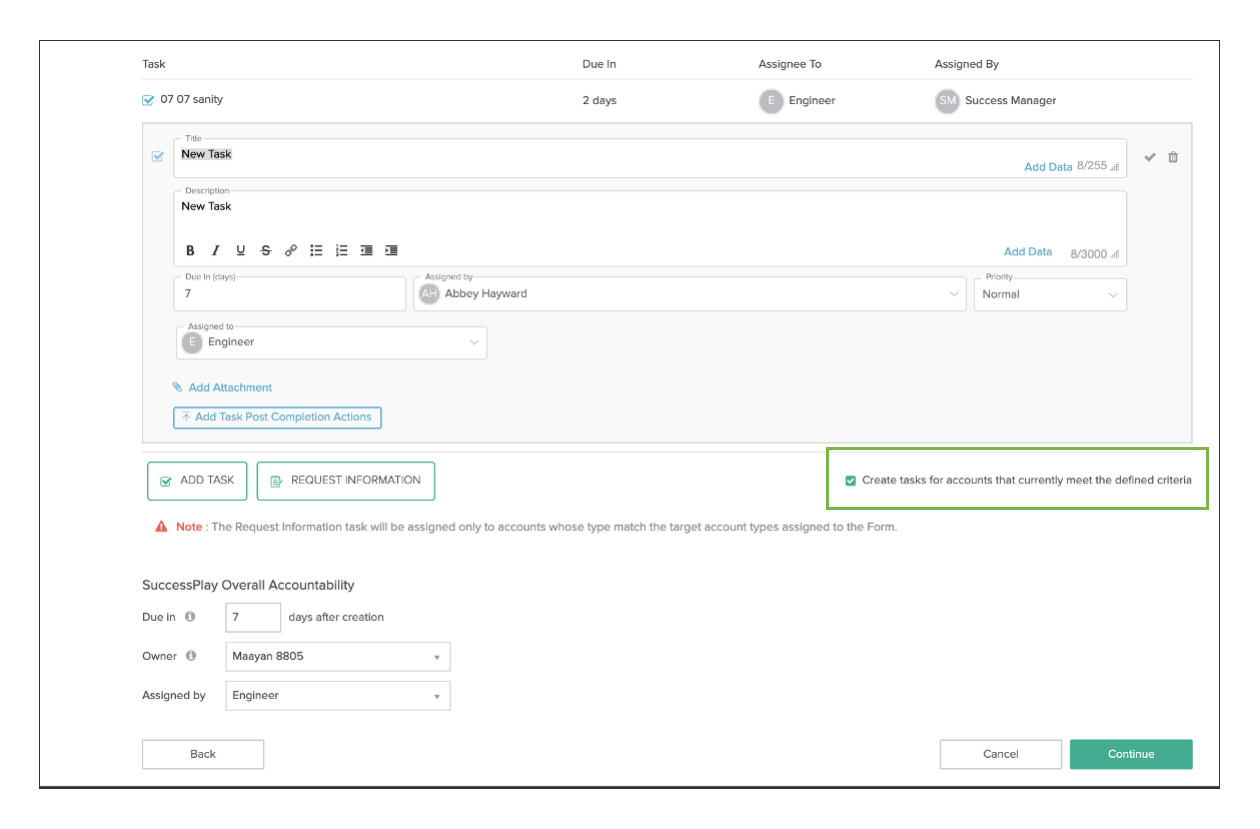 Finally, save your SuccessPlay as either "enabled" to begin aggregating and firing Tasks immediately, or as "disabled" to keep the SuccessPlay dormant.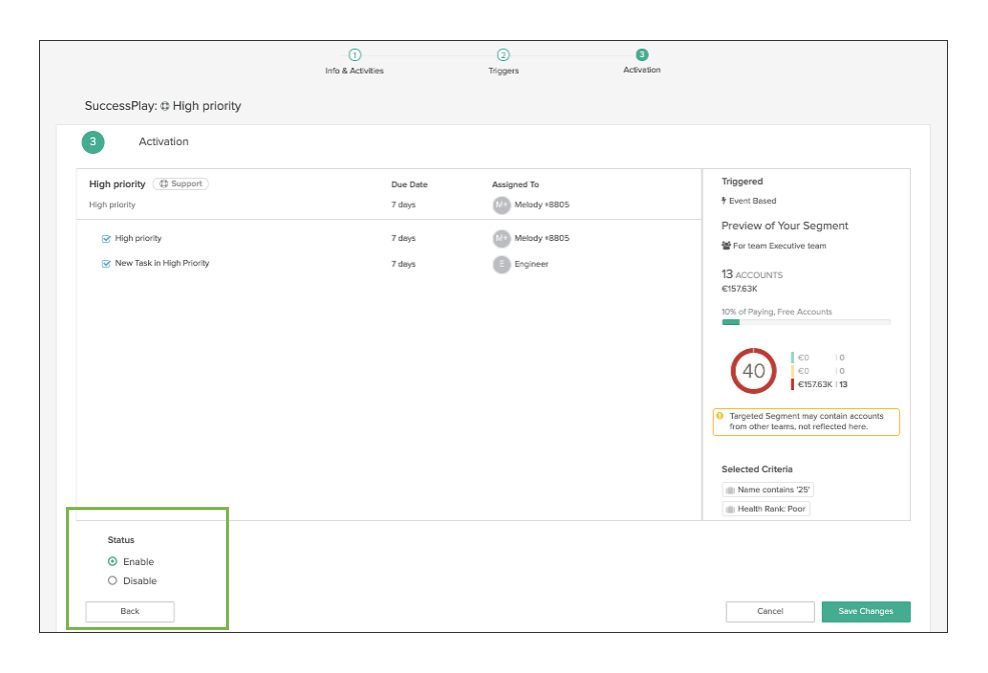 When saving as enabled, or re-enabling a SuccessPlay you may see one of two messages.
If there are no new accounts meeting the SuccessPlay criteria (for example - you did not make changes to the Segment criteria):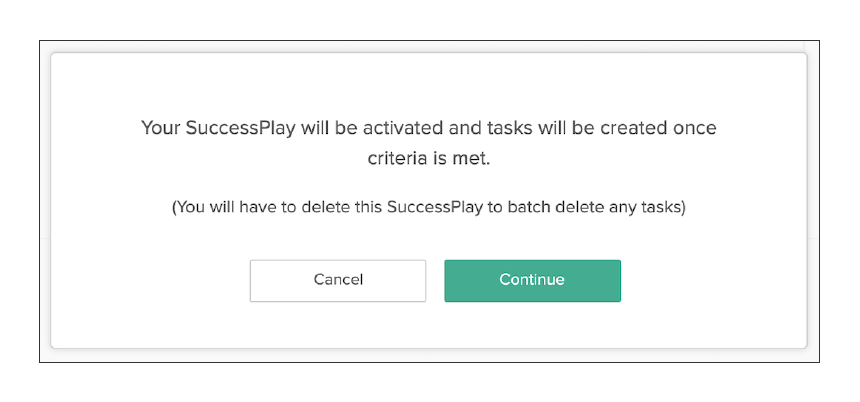 If there are new accounts that meet the SuccessPlay criteria at the time you are re-enabling it (for example - you changed the Segment criteria):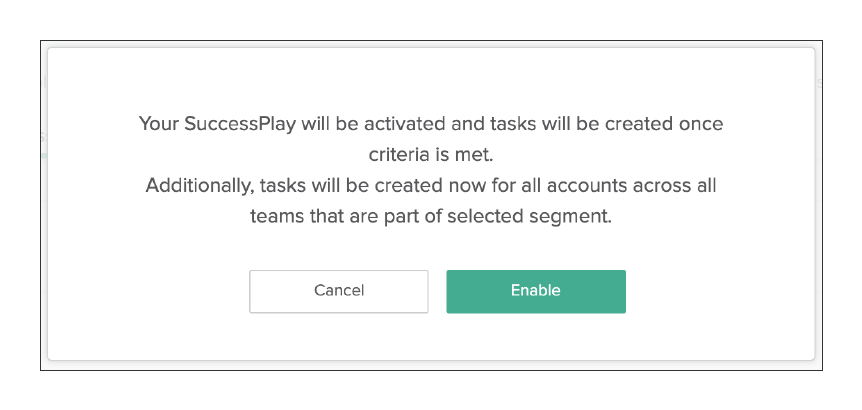 Deleting a SuccessPlay
Deleting a SuccessPlay can delete all tasks past, open, and future.
Selecting "Do not delete any tasks" will leave all previous and assigned, but not completed tasks open and visible. However new tasks will not be created.
Selecting "Delete only the tasks that have not been completed" will leave the task history on the account, but will delete all open tasks.
Selecting "Delete all tasks" will delete all historical and open tasks. This option should only be selected if the SuccessPlay has been created by mistake, such as if the segment criteria contains accounts that should not have been included.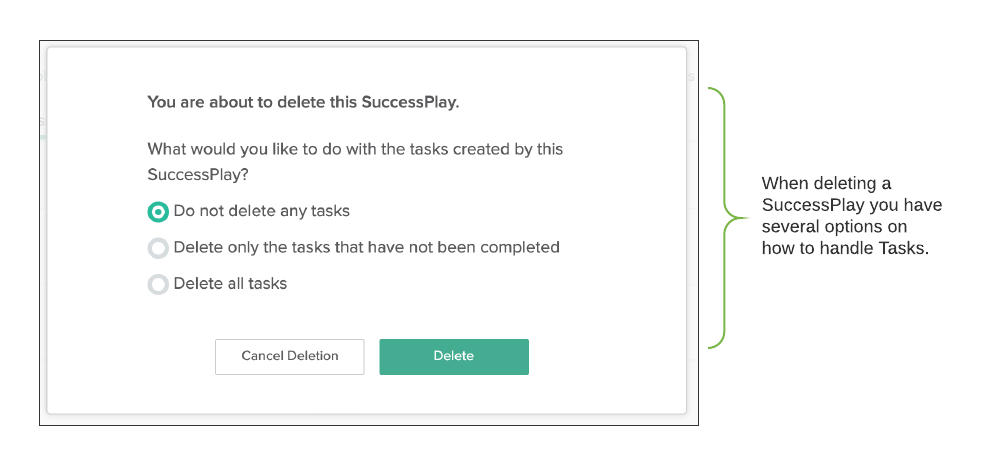 Monitoring Results
Customer Success teams would like to be more effective and get results faster. SuccessPlays — which drive the customer success workflow — need to be effective and tuned according to real results. In order to make SuccessPlays effective, users must have accurate information about performance. Using the SuccessPlay Effectiveness Score, Totango users can understand the impact of every SuccessPlay and take action to accordingly.
FAQ
Question: If I selected an "Existing Segment within SuccessBloc" as my segment criteria and then that segment gets changed later, will it impact the SuccessPlay?
Answer: No. The SuccessPlay effectively 'copies' the criteria used to build that segment and that criteria then stays stagnant in the SuccessPlay. If you want the SuccessPlay to change as the criteria of a segment changes, use the 'is in' or 'is not in' segment criteria instead.
---
Question: What happens to the open tasks when a SuccessPlay is disabled?
Answer: Tasks that were already fired and still open will not be impacted but the SuccessPlay will not generate any new tasks when disabled.
---
Question: Will Tasks get fired by a SuccessPlay that is in a SuccessBLOC when that SuccessBLOC is not published?
Answer: Yes, if the SuccessPlay is 'active' then Tasks will get fired even if the SuccessBLOC is not published.
---
Question: Will a task get fired multiple times to the same account with an ongoing SuccessPlay?
Answer: If the previous task is closed, then yes, it will fire another task to the same account. If the previous task is still open when the account meets the SuccessPlay criteria again, then the SuccessPlay will not fire another task.