Overview
Tasks can be created and configured automatically as part of a SuccessPlay, or they can be added manually and ad hoc from MyPortfolio or on any account page.
Topics covered:

Creating a Task Manually:
Click on the 'Add Task' button on the far right side when you hover over the '+' symbol.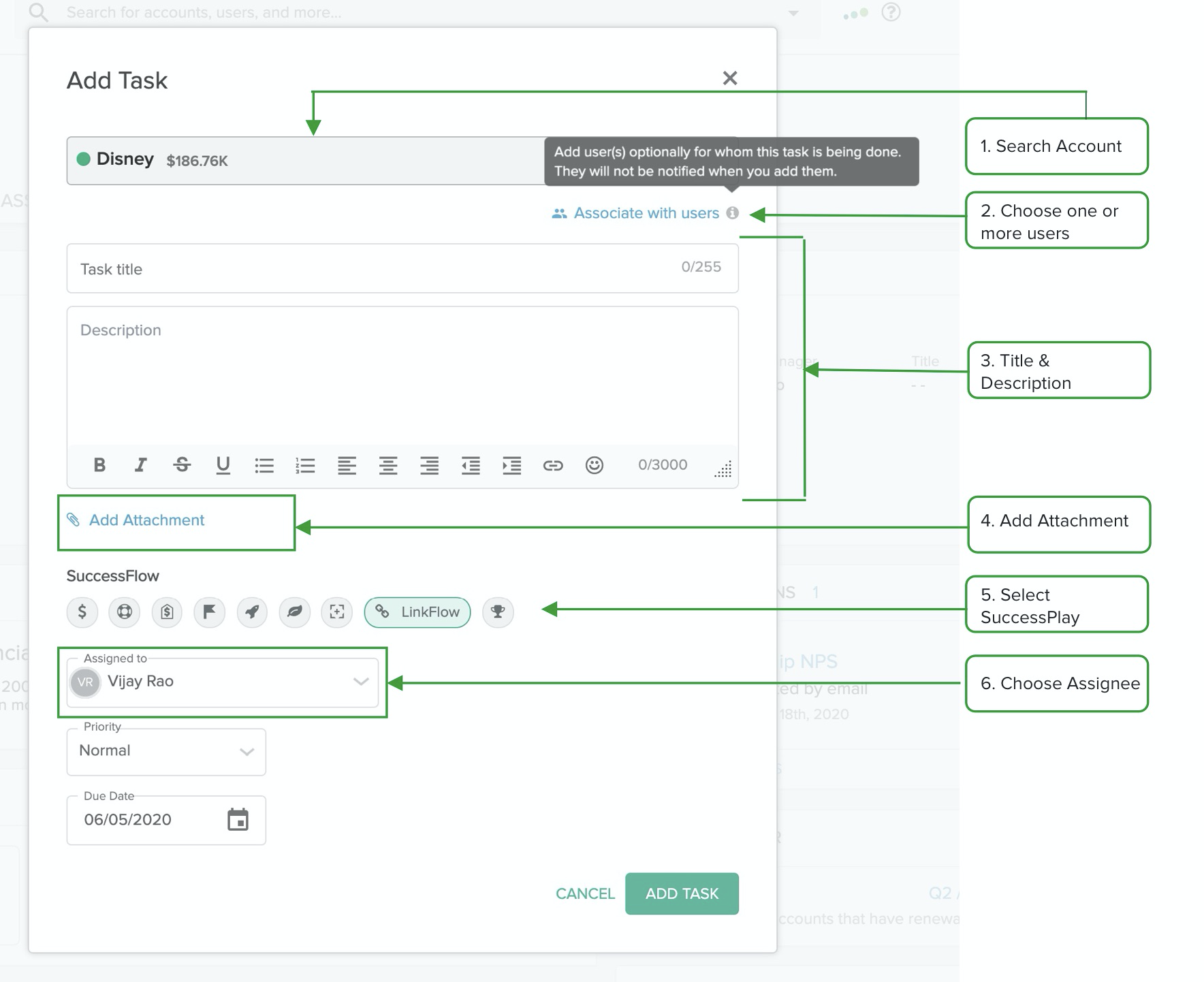 Search Account - this is pre-populated if creating from an account profile or if creating from MyPortfolio, you can search the correct account here. Only account in your Team will be available.
Associate with Users - this is an optional field to capture the user(s) for whom this task is being performed. This information will be useful for reporting in the future. Also read this article for more context
Title & Description - both are required fields
Add Attachment - add documents relevant to that particular Task. These will also be saved under the 'Assets' tab in the Account Profile.
Select a Flow
Choose the Assignee - this could be yourself or another team member
Choose the priority and due date - this will impact where the Task appears in your 'Work' tab on the account and on MyPortfolio.
Save and you're done! You will now see the Task appear under the 'Work' tab on the Account Profile and in My Portfolio (if the Task is assigned to yourself).
Creating from a SuccessPlay:
When configuring a Task from a SuccessPlay, you have a few additional options.
Event Based or Manual
When creating a Task from a SuccessPlay the first screen allows you to define whether your tasks should be "event triggered" when certain criteria are met, such as an upcoming renewal, or when certain criteria are not met, such as the account being in good health (i.e. the trigger would fire associated tasks when an account moved from "good health" to "average" or "poor").
Additionally you can trigger your tasks automatically as customers move in and out of those defined criteria segments, or (less commonly) as a manual trigger, for those processes you'd like to manually fire, such as ad hoc customer requests.

Dynamic Data
Dynamic data can be used in either your task title or description giving the task assignee valuable information at a glance.

Assign to a specific person or by Account Assignment Role:

1. Request a manual update to a selected attribute (and make mandatory).
2. Select an attribute for automatic update.

Request information via Forms & assign Overall Accountability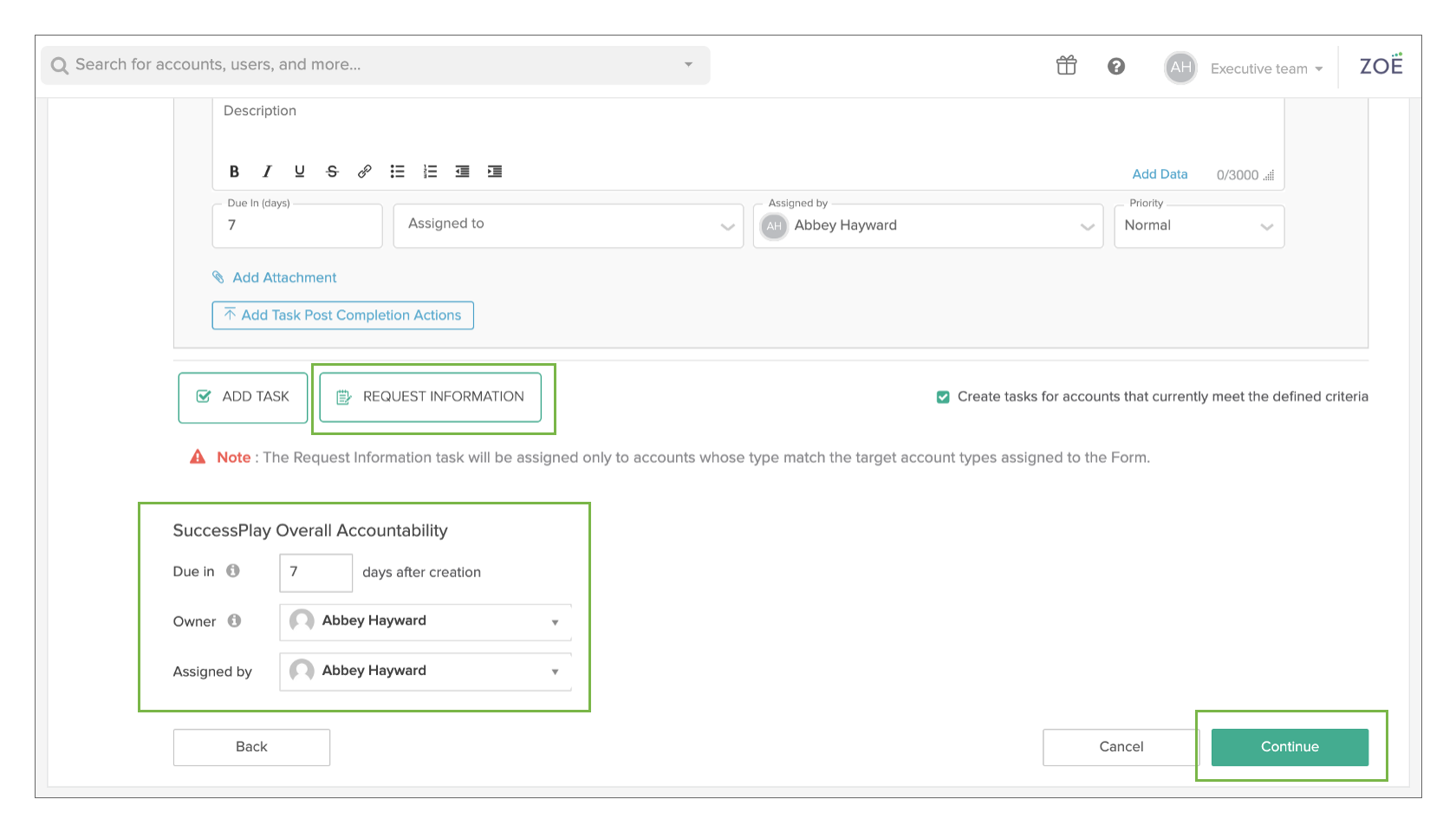 A SuccessPlay's Overall Accountability might be different from the task assignee. This may be true if the overall SuccessPlay is owned by one department, but the task completion is owned by another department or person.
Learn more about creating SuccessPlays.
Managing and Closing Tasks
1. View all open tasks within your team or portfolio in MyPortfolio.
2. View all tasks assigned to you in MyPortfolio under "Work" and use the check mark to complete a task.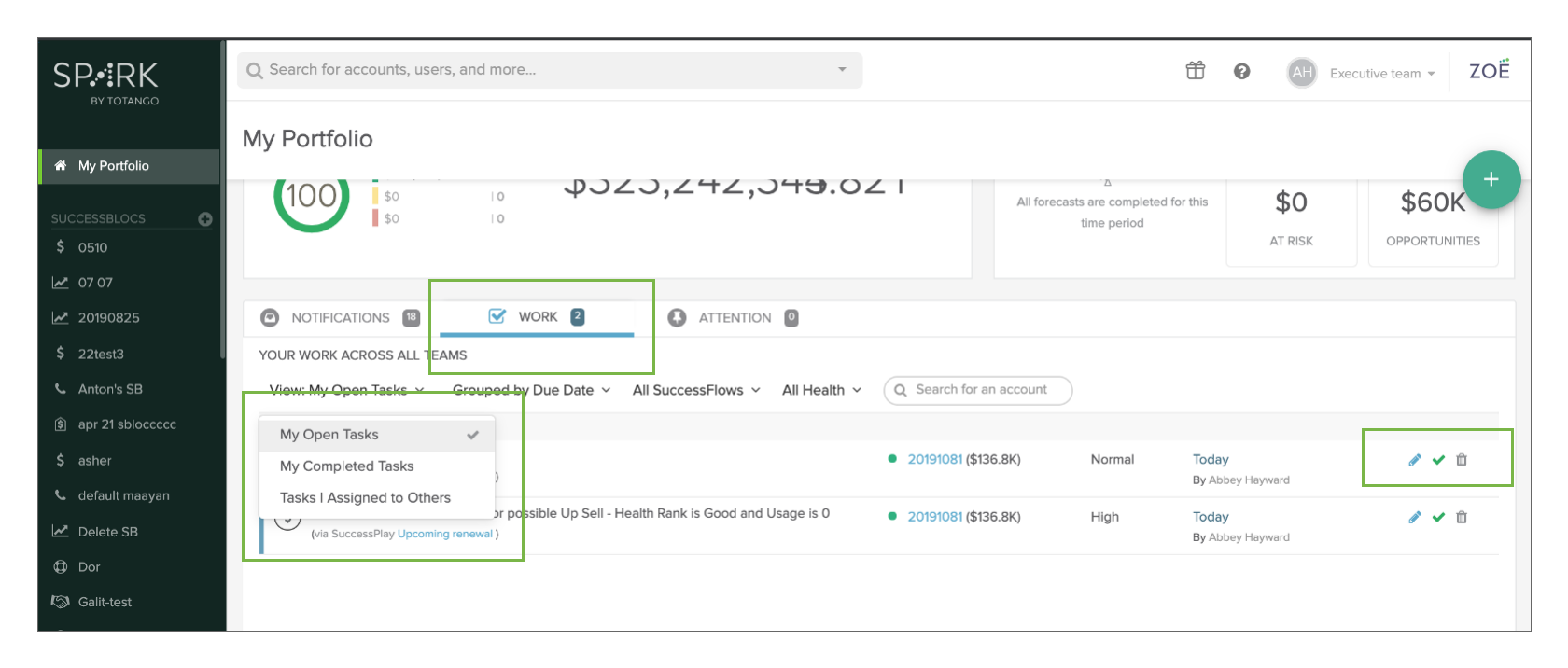 3. Clicking the checkmark will open a form that guides you through all completion items. You can simply close the task, or choose from a set of attributes to further configure follow-up actions, such as:
Add a touchpoint with note and/or attach documents.

Update an account attribute such as number of licenses.
Add further follow-up tasks as requested by your client.
Read more about optional updates on attributes upon task completion here.
Monitoring & Reporting on Open/Closed Tasks
There are several ways to monitor and report on Tasks outside of Timeline and Task views available on MyProfile or accounts pages.
Filtering in Segments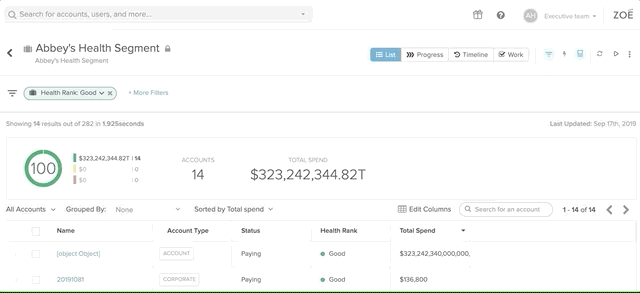 Add a specific Task filter to your segment and apply constraints to that Filter. Choose from one or multiple of the following options: Overdue Tasks, OpenTasks, CreatedTasks, Completed Tasks.
Once a Task filter is selected you may constrain results by SuccessPlay, or view all SuccessPlay results. Further constrain results by applying a threshold for # of Tasks, such as "at least 1".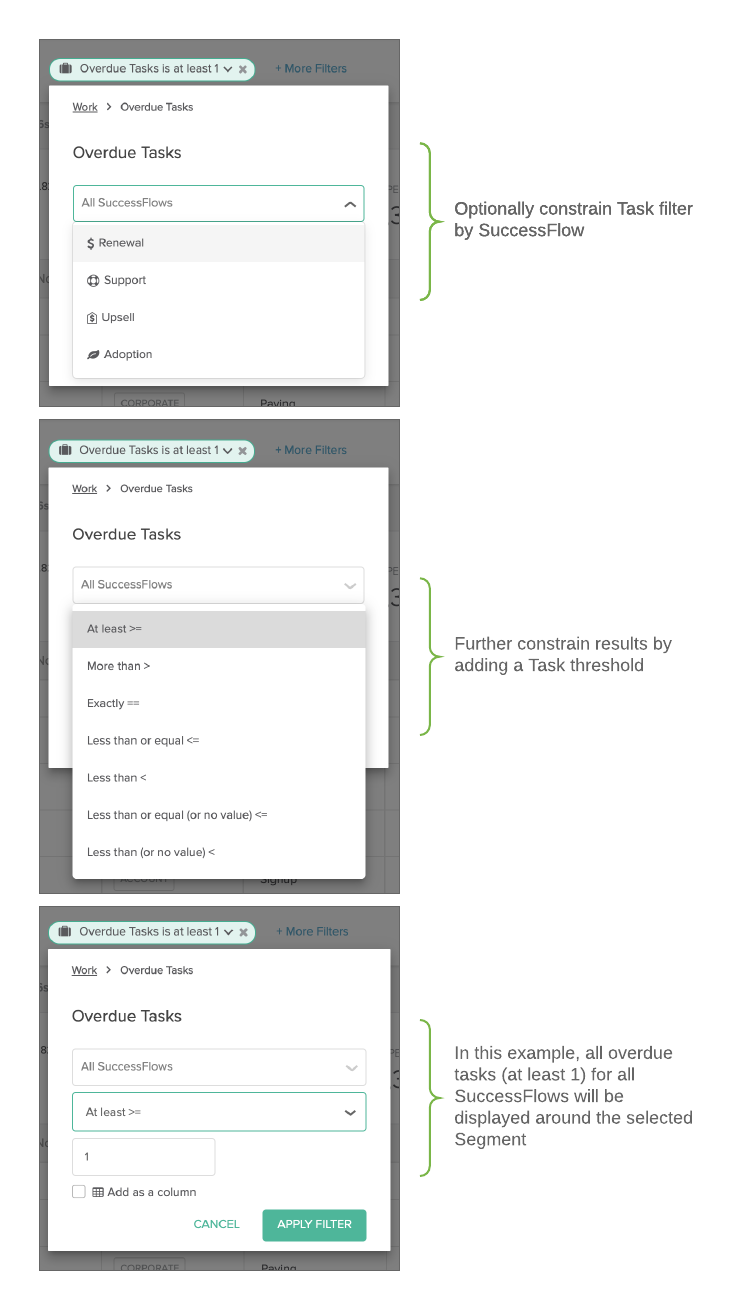 Segment 'Work' view
In the "work" view of any segment, review all related tasks, open or closed.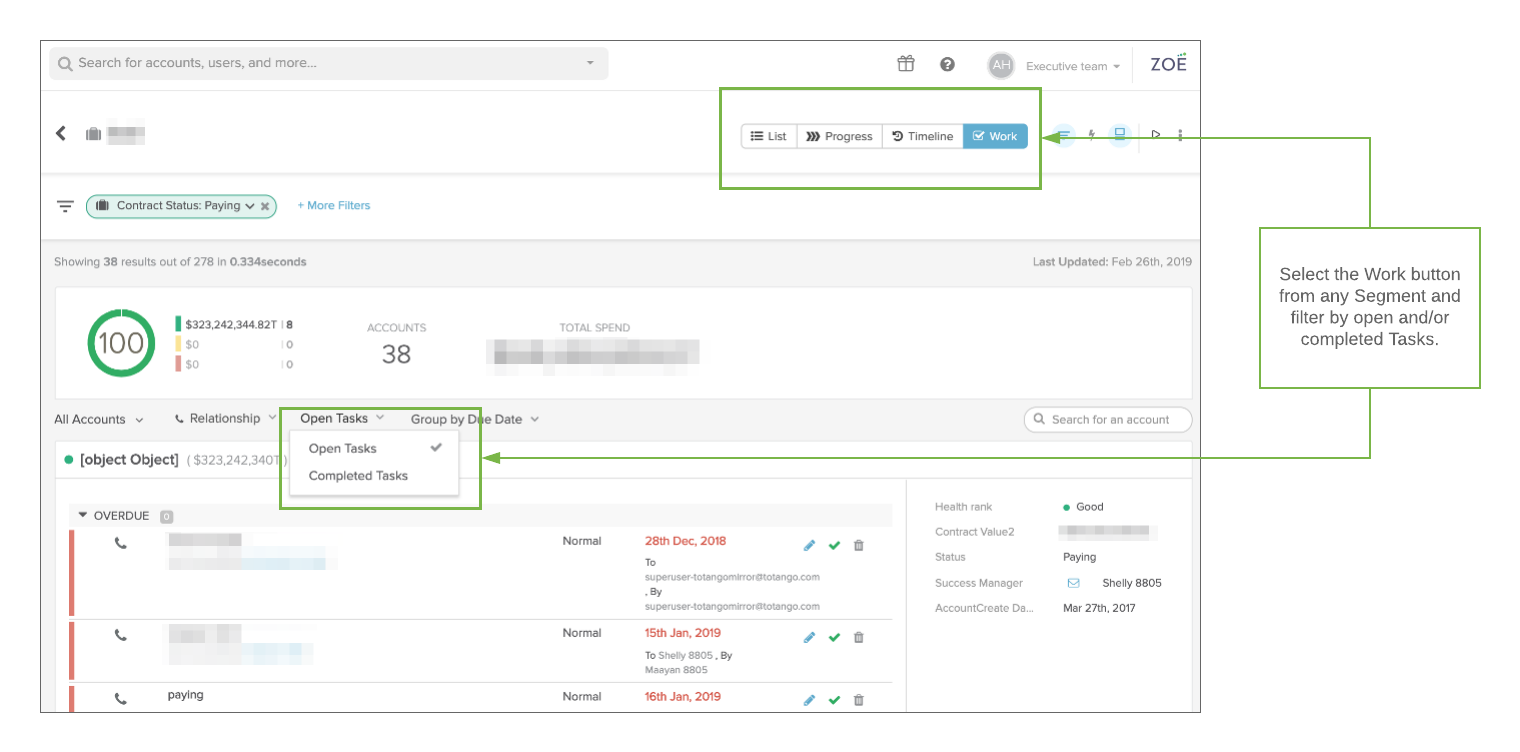 Team Spotlight 'Work Focus'
Use Team Spotlight, found in the Executive Console of the left navigation, to gauge the performance of a team as a whole, or the individual team members. Click into Work Focus and discover the status of all the team's tasks.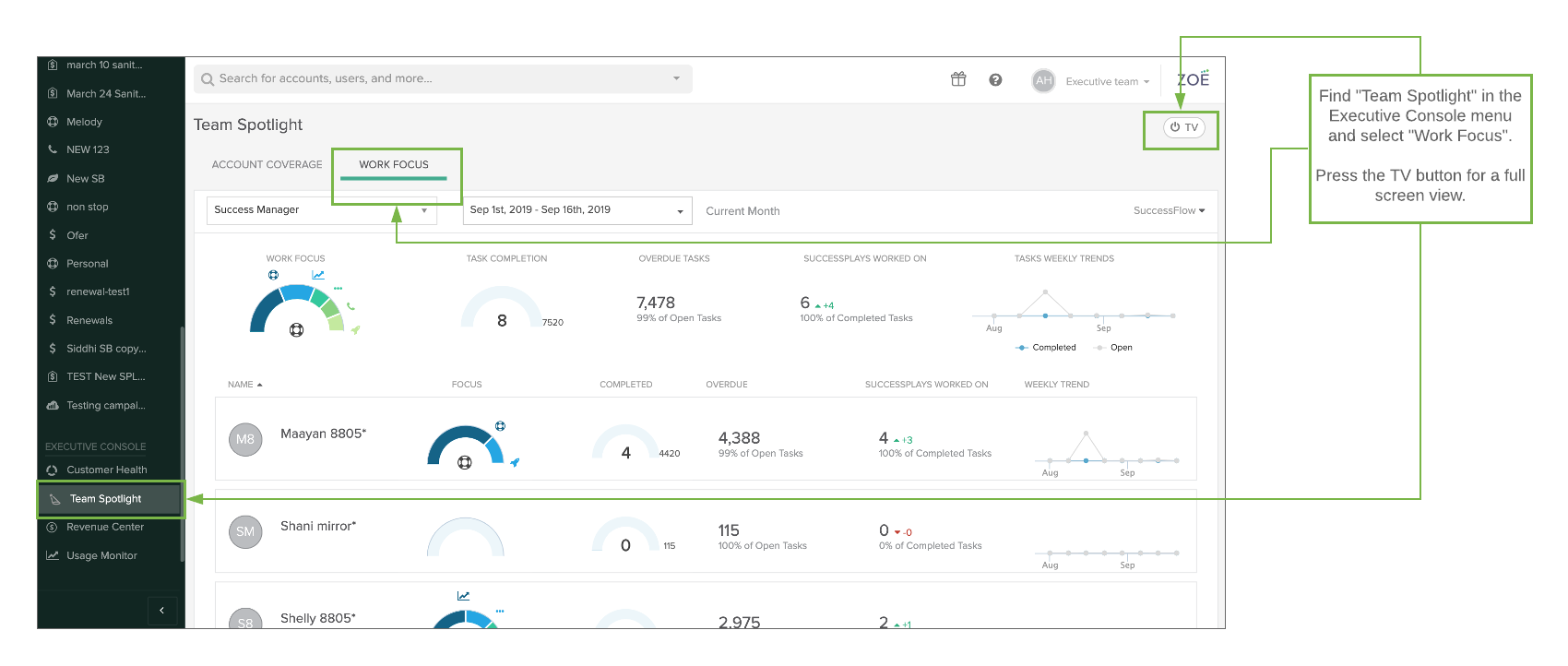 Sort by Date, Role, and/or Flow(s)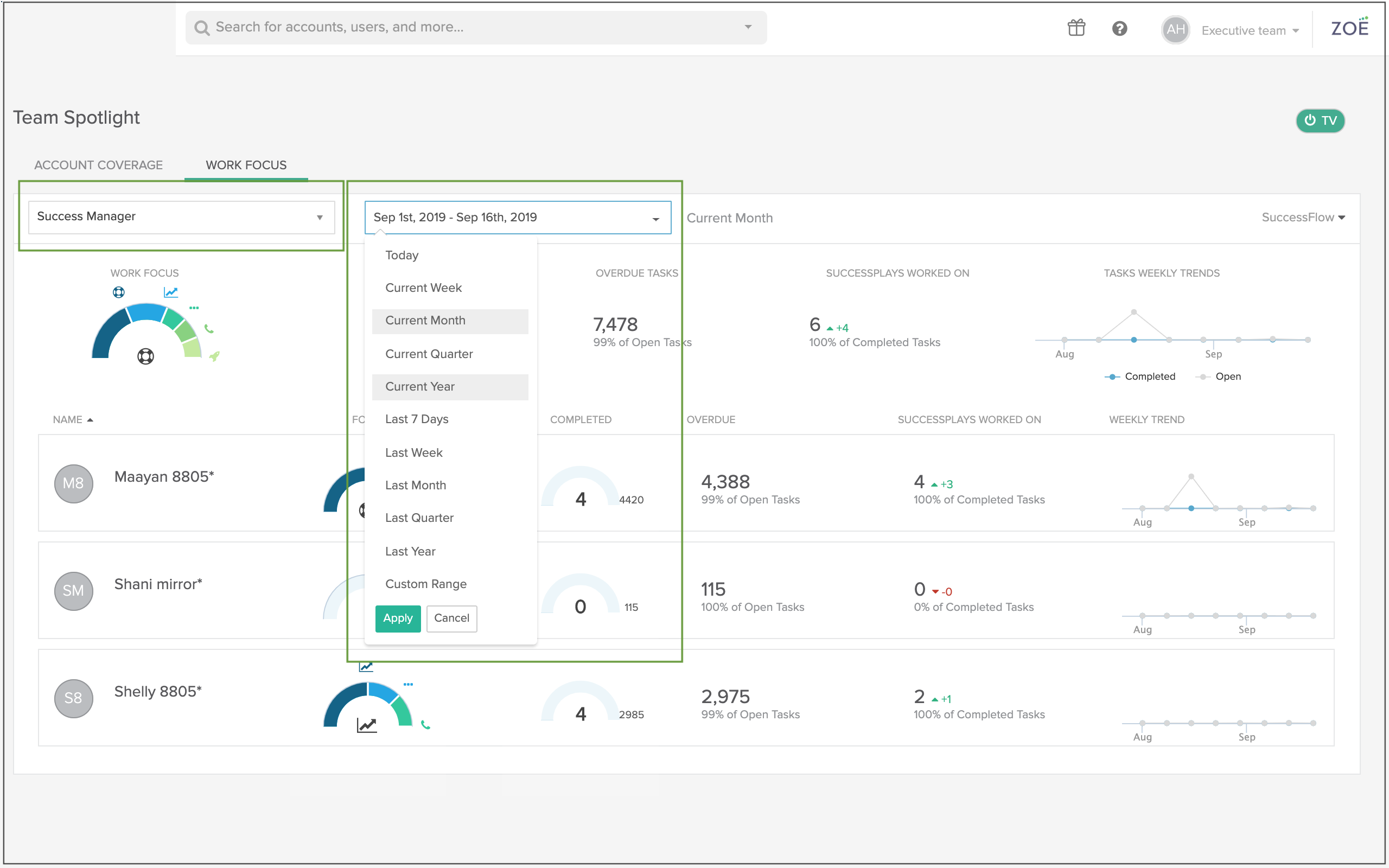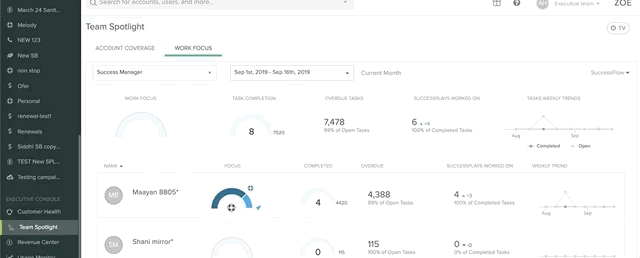 Hover over various fields for quick insights. You can see the overall team statistics as an aggregate in the upper panel, or view individual team members in the ribbons below. Click into "Task Completion" or "Overdue Tasks" to see complete activity.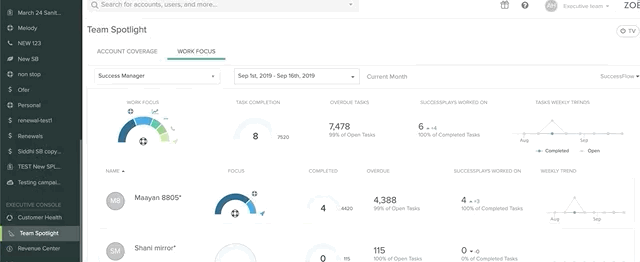 Learn more about how add Touchpoints automatically from your emails!