Totango Customer Success Campaigns is an engagement and marketing tool that brings the power of user communications directly to the Totango platform.
With Customer Success Campaigns by Totango, email automations and traditional campaigns have never been easier. If you are new to Campaigns, you may want to view the Customer Success Campaigns Overview or Basic Requirements for Using Customer Success Campaigns.
We will cover the following topics in this article:
Campaign Global Settings
As a Totango Global Admin, you can configure some basic campaigns settings under Global Settings>Campaigns.

Email Content - Set up your company signature, footer and social links
General - Set up your Campaign Frequency Cap, Goal Achievement calculation and External Error Logging
White Label - This allows you to send Campaigns through your own custom domain.
Unsubscribe Page - Use the Totango template for your unsubscribe page, or set up your own
Unsubscibed Users - View and manage the users that have unsubscribed
Creating a Campaign
You are now ready to create your first campaign. Customers on Totango Pro Plus edition have access to create unlimited number of campaigns. However, customers on Totango Professional edition have access to one campaign, after which they can request information on how to upgrade.
There are two ways to access Campaigns, either under "Tools" click on "Campaigns" or within any SuccessBLOC, click on the "Campaigns" tab. You must be a Global Admin, or have specific Role based access to these tools in order to create, edit or send.
Info & Type: Provide your Campaign with a name and description, don't worry - the name will not be the same as the subject line of the Campaign. Then you will need to attach this Campaing to the appropriate SuccessFlow and the type of campaign you would like to run. We came up with some common campaign names, but feel free to create your own as well.
Also on this step, you can select whether you would like the Campaign to be counted as a customer Touchpoint or not on the Account Profile.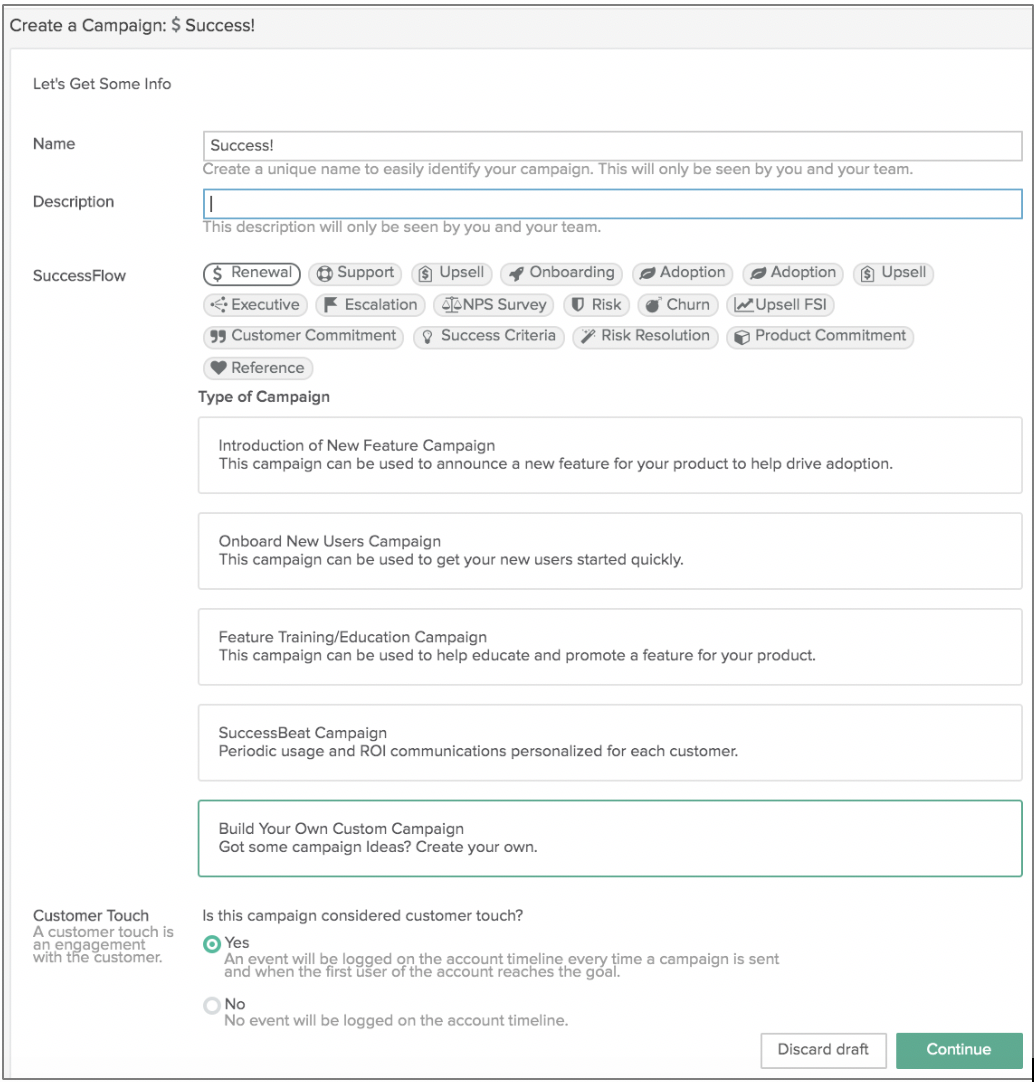 Segment: You will need to select a segment of customers to whom you'd like to send the campaign. Click "Edit" next to Segment Criteria section and apply account or user segmentation for your campaign audience. You will be able to preview the users in the segment you configured at the bottom of the page.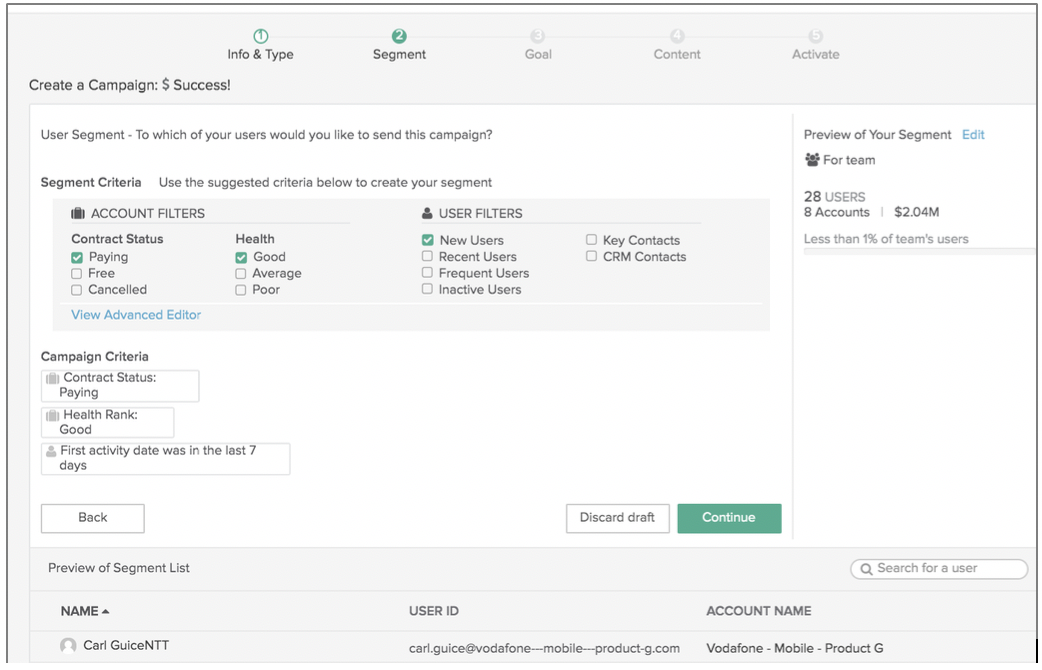 Setting your goal achievement criteria
Goal: One of the key advantages of using Totango Campaigns is ability to set goal achievement criteria that are more meaningful than your vanity marketing metrics. For example instead of focusing on clicks and views, you will now be able to take a true customer success perspective and measure changes in user behavior towards the goal you are trying to achieve. This is where setting a goal comes into play.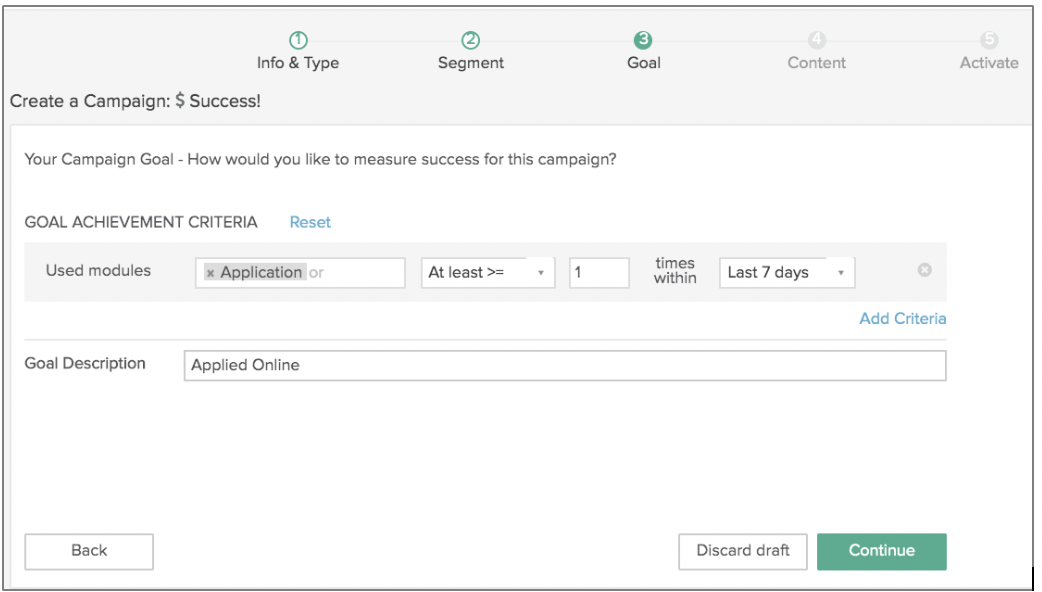 Defining the Campaign Content
Content: In this step, you will configure email subject and sender, as well as select the template you'd like to use. You can configure sender by either role or by a specific individual user in your organization. Configuring the sender by role will make the sender dynamic with respect to each user or account that receives the campaign. Doing so by a specific Totango User, will send the campaign to everyone from the same sender.
As a best practice, you will want to enter a 'Fallback Sender's Name' and email address if you are sending by role for those cases where the targeted user account does not have a person by that role in the Account Assignment.

You can then use the editor on the left in order to edit the message content and other components of the campaign.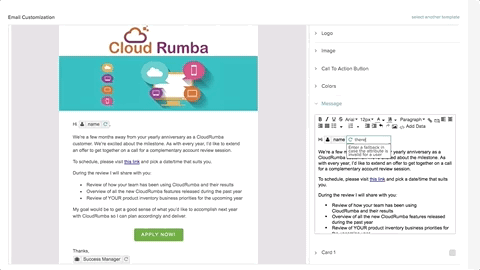 Logo - Upload your company logo, which you will see positioned in the template

Image - Depending on the template you selected, you may have a place for an image, or you can choose to 'Hide Image'

Call To Action Button - If your template has a CTA, you can configure the link here (or use a Dynamic Link), or you cad 'Hide Button'

Colors - You can select the color palate or enter your Hex codes

Signature - You can select the company signature, a personal signature or create a custom signature

Footer - You can use the company footer or customize it
Social - Choose what social icons you want to display
Message
Here is where you will write the content of your email. The campaign will default to Hi "Name" which will be your users full display name. You may want to update this to be just first name (for example) so you will need to pull in a new dynamic attribute here. To bring in any dynamic attribute, start by typing $ and you will see a list to choose from (you can use these throughout your campaign).
Make sure you use the

(user attribute) for names and depending on how you have brought in your data, first name will probably be under 'firstName'.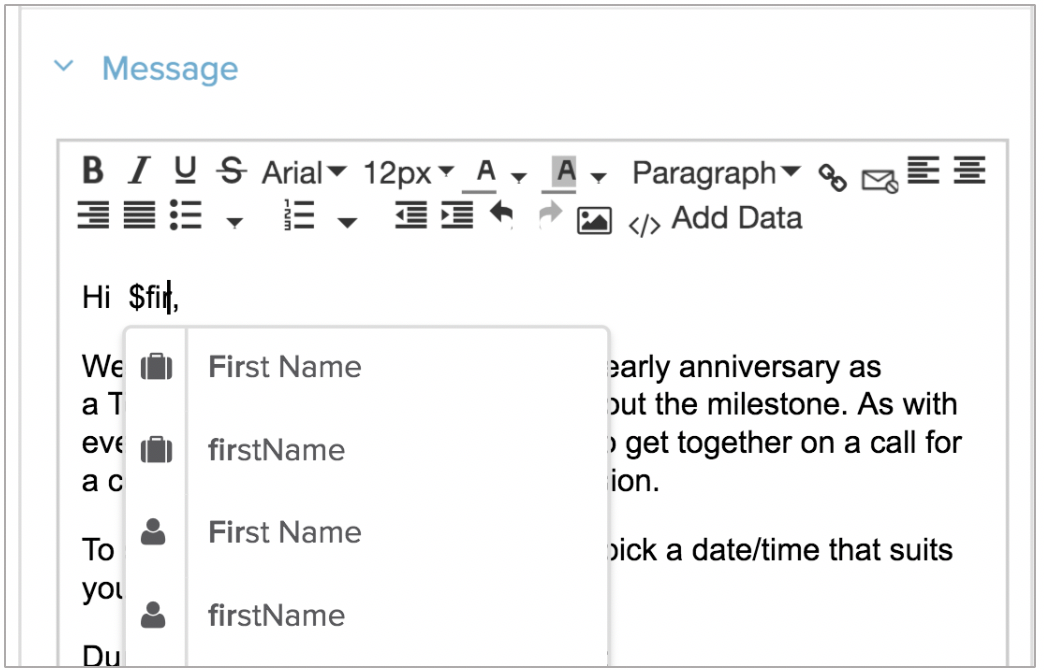 You can also use custom HTML if you prefer.
You can then preview the campaign as specific users and send yourself a test email.
Activating & Scheduling
Last but not least, you can activate the campaign in one of the following ways:
Send Now - Campaign will be sent 1 time to any user that currently meets the criteria

Send Later - Campaign will be sent 1 time, at the date & time that you specify, to any user that meets the criteria at that time

Ongoing (Start Now) - Campaign will be sent ongoing to any user that meets the criteria, starting now
Ongoing (Start Later) - Campaign will be sent ongoing to any user that meets the criteria, starting at the date & time that you specify
Recurring - Campaign will be sent on a regular basis (ex - every Wednesday) to any user that meets the criteria at the time it is sent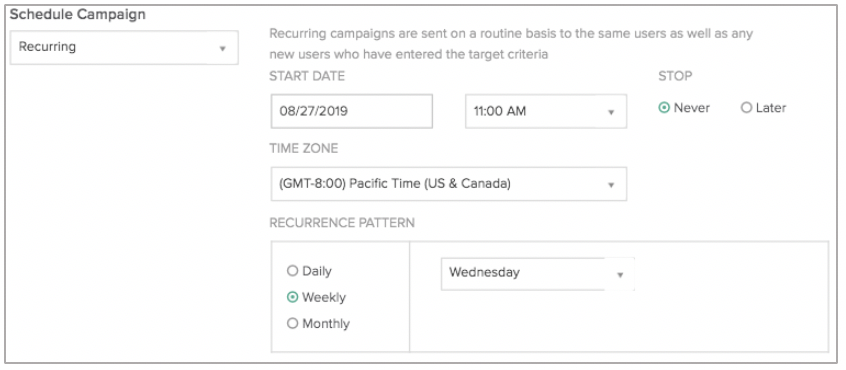 Check out Customer Success Campaign Advanced Topics and Campaign Dynamic Links to learn more.
FAQs
---
When the segment criteria on an ongoing campaign is edited, do emails get sent again?
No, the emails are sent only to people who qualify for the new criteria, who did not already receive the email.
---
If a user enters the segment of ongoing campaign again, is the email sent again?
No, an ongoing campaign is sent to a user only once no matter how many times the user exits and enters the segment criteria.
---
If a user exits and enters the segment of a recurring campaign again before it is scheduled to be sent, will the email be sent?
Emails from a recurring campaign are only sent when they are scheduled to be sent. In this case, since the user enters the segment before it is scheduled to be sent, the email will not be sent immediately. Eventually, if the user continues to stay in the segment when the campaign is scheduled to be sent, then the email will be sent to the user at that point.
---
What if I have a frequency cap setting and I am sending ongoing or recurring campaigns?
For ongoing campaigns, when a user meets the campaign criteria but also exceeds the frequency cap, the campaign will not be sent. For recurring campaigns, if the user meets the criteria but exceeds the frequency cap, the campaign will be sent.
---
If a receiver of my campaign clicks 'reply', who will that reply go to?
The reply will go to the email of the person that you set as the 'Sender' of the campaign - or the fall back in cases with the 'Sender' role does not exist.
---
Why is the sender of my campaign coming out with quotations around it?
If the sender has a title that is separated by a comma (example: Jane Doe, Executive Director), the sender will be shown in quotations (example "Jane Doe, Executive Director"). If you prefer not to have the quotations, then simple remove the comma between the name and title.