Overview
With Totango's powerful segmentation, you can now quickly segment your customers using an intuitive experience with insights based on your customers' data. Account attributes are presented in the context of 'dimensions' so they are easier to find. You can also save private segments in personal folders.
This article has the following topics:
Creating a New Segment
There are several ways to create a new segment in Totango. You can create an account segment or a user segment from any SuccessBLOC or quickly create a new segment using the main search bar from anywhere in Totango.
To create a new segment from anywhere in Totango:
Go to the main search bar at the top of Totango and c

lick on the down arrow.
A window will open up that will give you the option to create a 'New Segment' of several types:

Segment on All Accounts
Segment on each one of your instance account types
Segment on All Users
Segment on All Touchpoints
Segment on each one of your instance Collections (marked as "Other" in this window)


Note, a Totango admin can hide/show the account types in this window. Read more.



You can then filter your accounts or users to create your segment.
To create a new segment from any SuccessBLOC:
Go to the SuccessBLOC where you would like to create your segment and click on the 'Segments' tab.

Click on the green plus sign and you can select 'Create Account Segment' or 'Create User Segment'.

You can then filter your accounts or users to create your segment.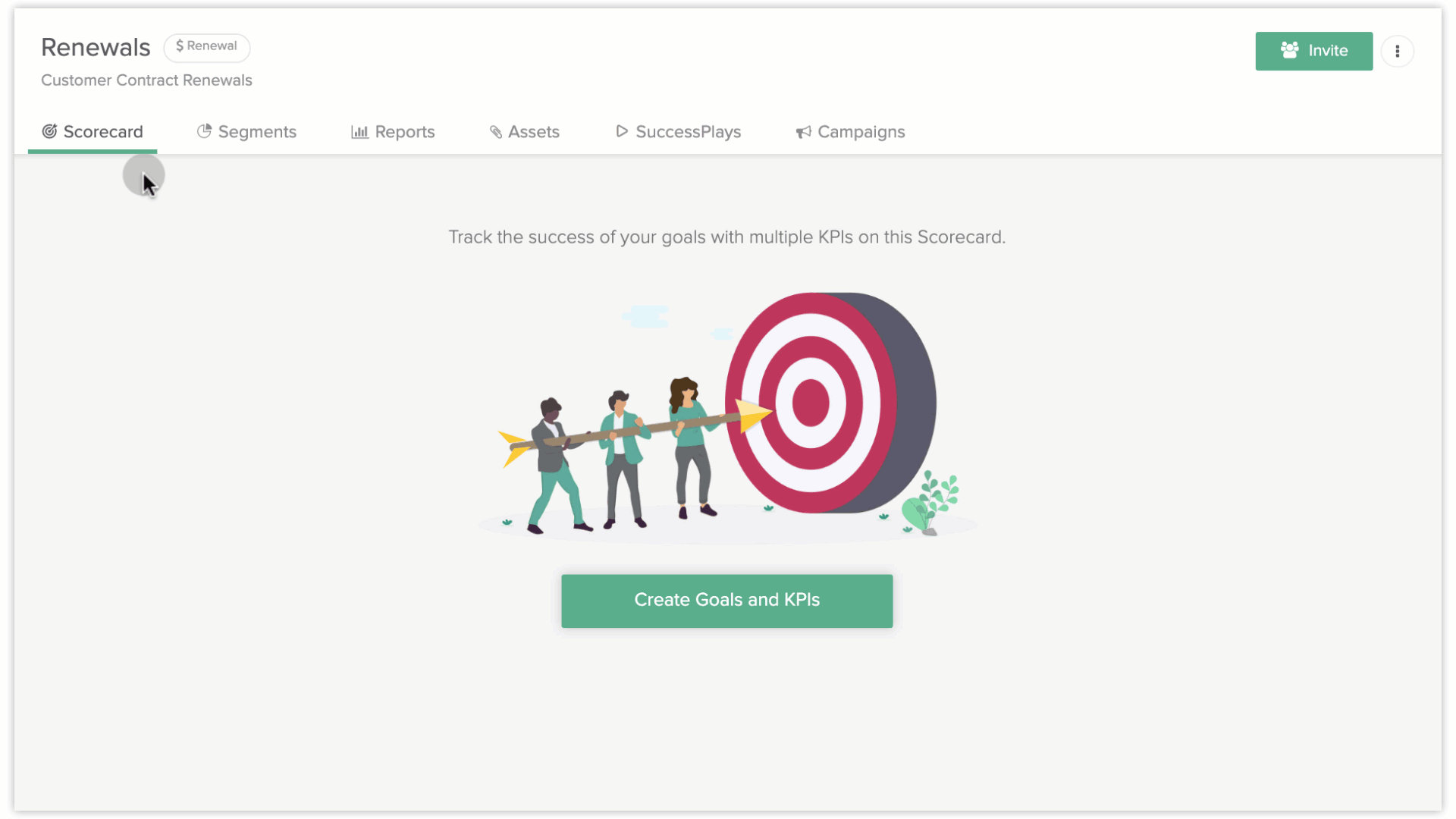 Segment Filters
Users can quickly apply criteria to filter results based on the customer segment they want to create.
In an account segment, you can filter on Account, User, Touchpoint, and any Collection information.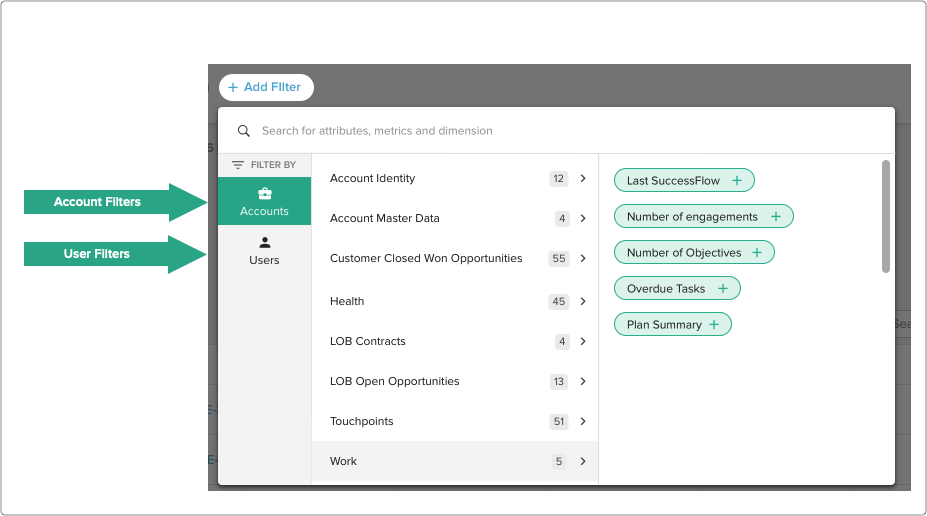 The Touchpoint and Collection filters appear as are part of the account filters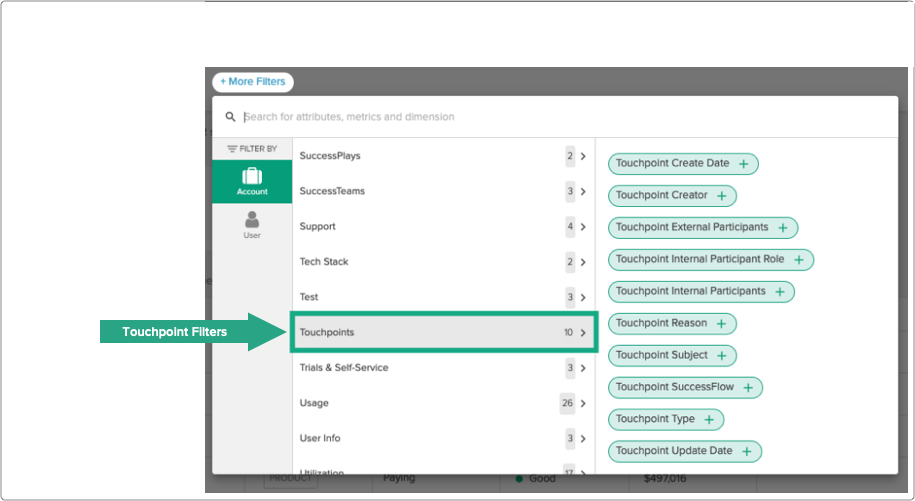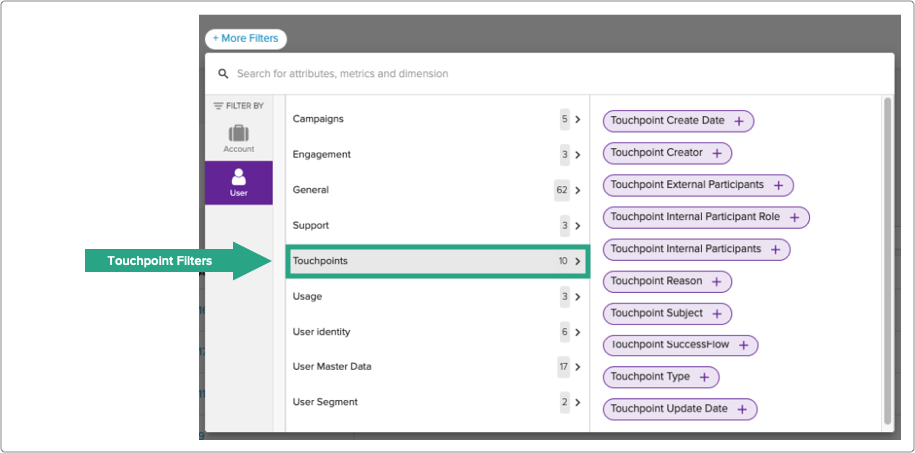 Important note, for the Touchpoint segments only, you are limited to data from the last 6 months. If you need a wider timeframe for your segment analysis, reach out to your CSM in Totango.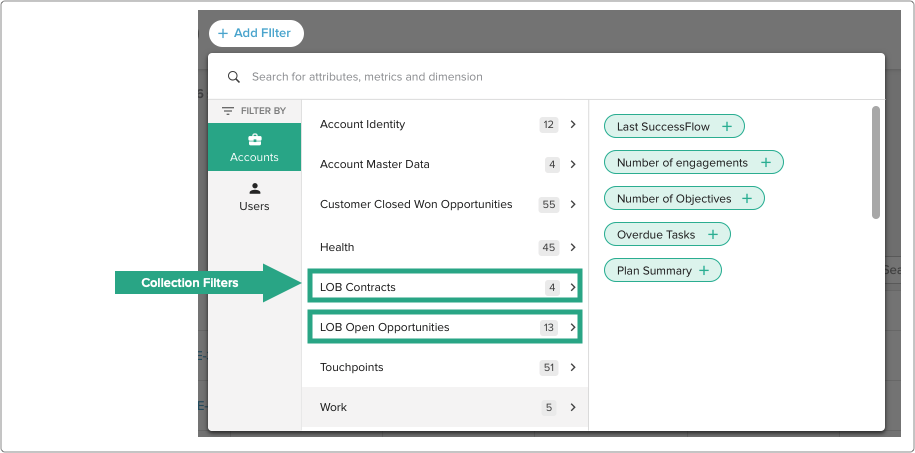 In a user segment, you can filter on the account, user, and touchpoints information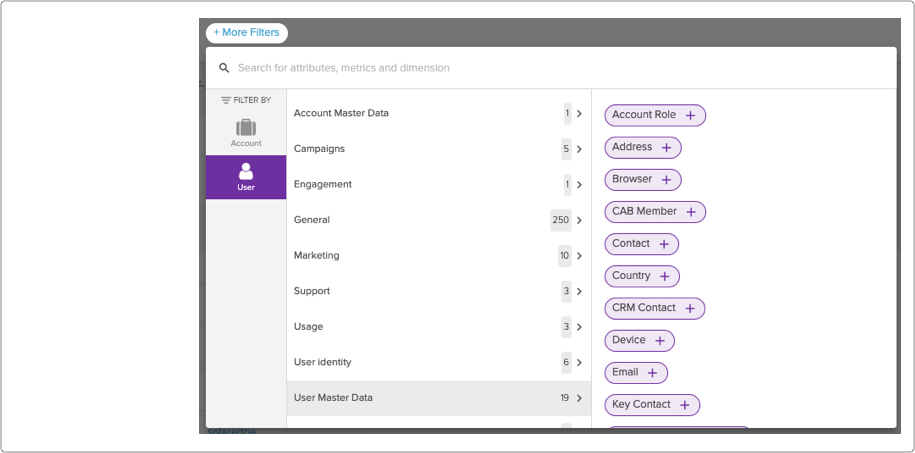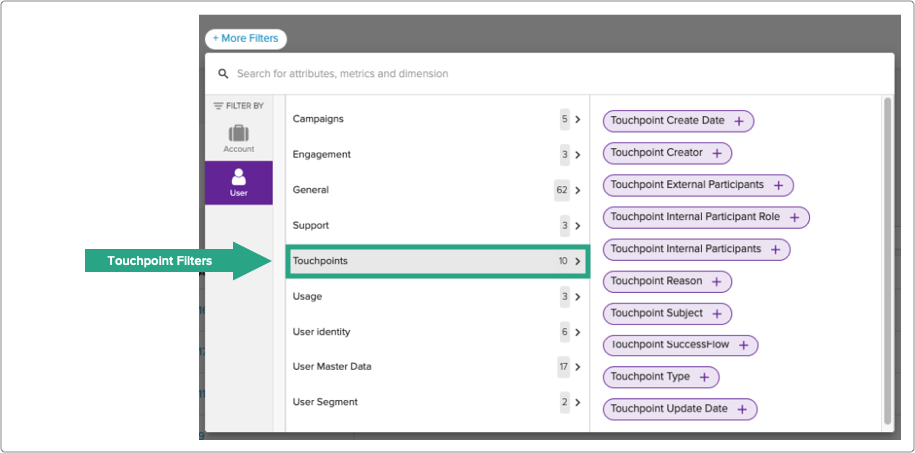 In a Touchpoint segment, you can filter on the account, user, and touchpoints information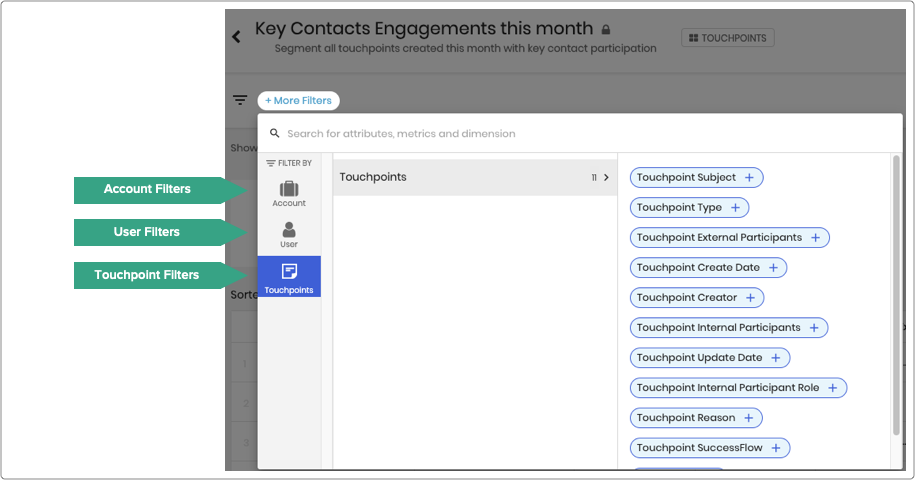 Suggested Filters
Our suggested filters allow you to filter on the provided search terms in one click.
If you create an Account Segment, you'll see 'Health' and 'Contract Value' as suggested filters:

If you create a User Segment, the suggested filters will be 'Key Contact' and 'Targeted Users':

If you create an Other Segment, no suggested filters appear.
See Data While You Segment
While creating segments, you can see the breakdown of your customers based on each filter allowing you to create and adjust segments with insights from the data. This is extremely powerful because it helps you create the segments with the right values so you are targeting the right set of customers.
The 'Add as a column' shortcut allows users to quickly add the search filter as a column to the segment results. This can also be done at the top of your segment results by clicking on 'Edit Columns'.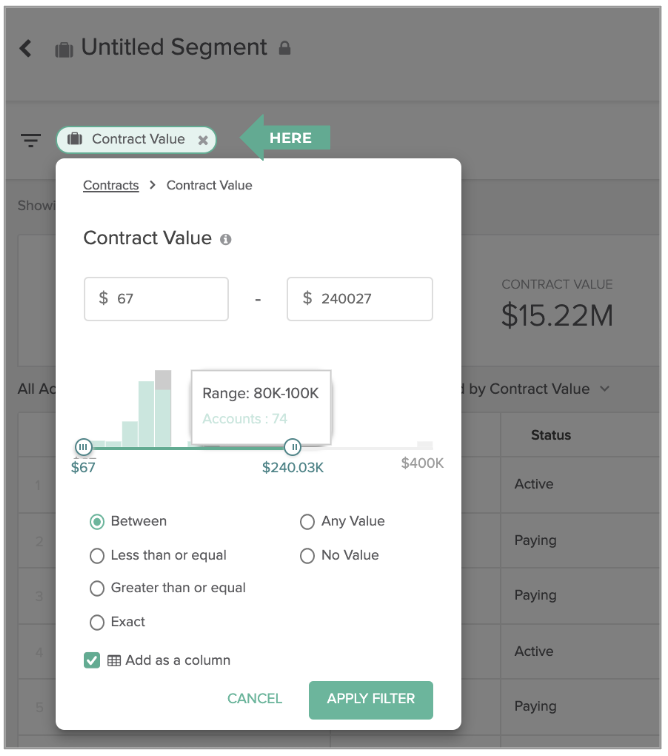 Filtering Search Terms
Users can find the search terms in the context of Dimensions defined in your instance. You can read more about Dimensions here. This provides consistency and familiarity when you are looking for search terms to segment on. Adding more attributes to the dimensions automatically shows them under the right Dimensions. Please work with your Admin to classify attributes in the correct Dimensions.
The numbers beside the dimension indicate the number of search terms in each Dimension. And each search term's type is highlighted by icons to indicate:
Date (calendar icon)

Currency (dollar icon)

Text (abc icon)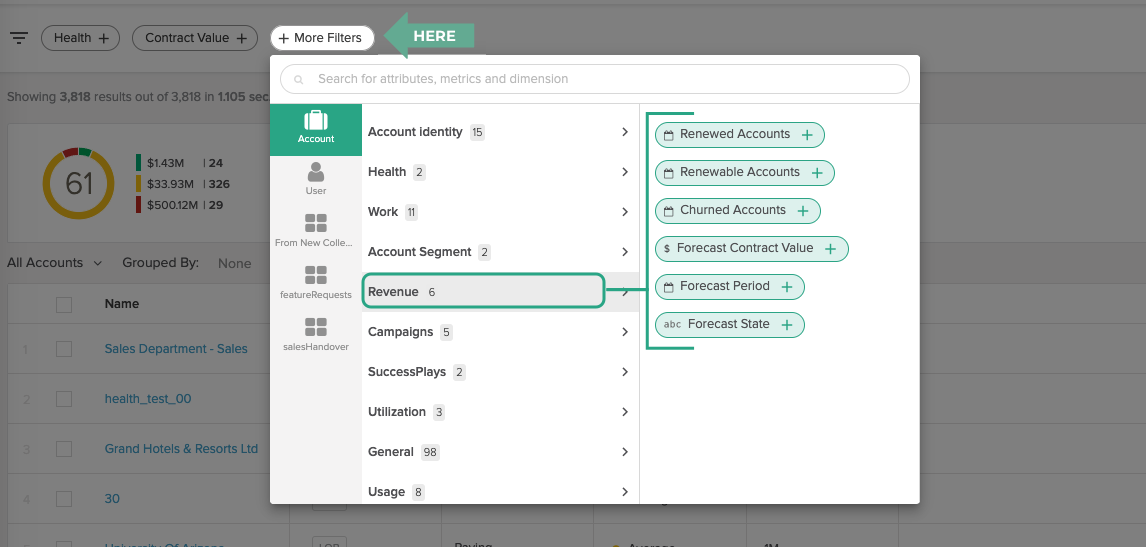 As you filter your segment, you'll see a segment summary.
The Account Segment Summary lets you understand the number of accounts, the sum of the contract value, and their health distribution in the filtered segment.
The User Segment Summary lets you understand the number of users, number of accounts, and the sum of the contract value.
You'll also see a summary of any activated triggers. To learn more about activating triggers, please read the article on Account and User Tags.

Working with Segment Results
You can quickly filter and sort through segment results in a variety of ways. The following will provide more detail on how you can work with segment results.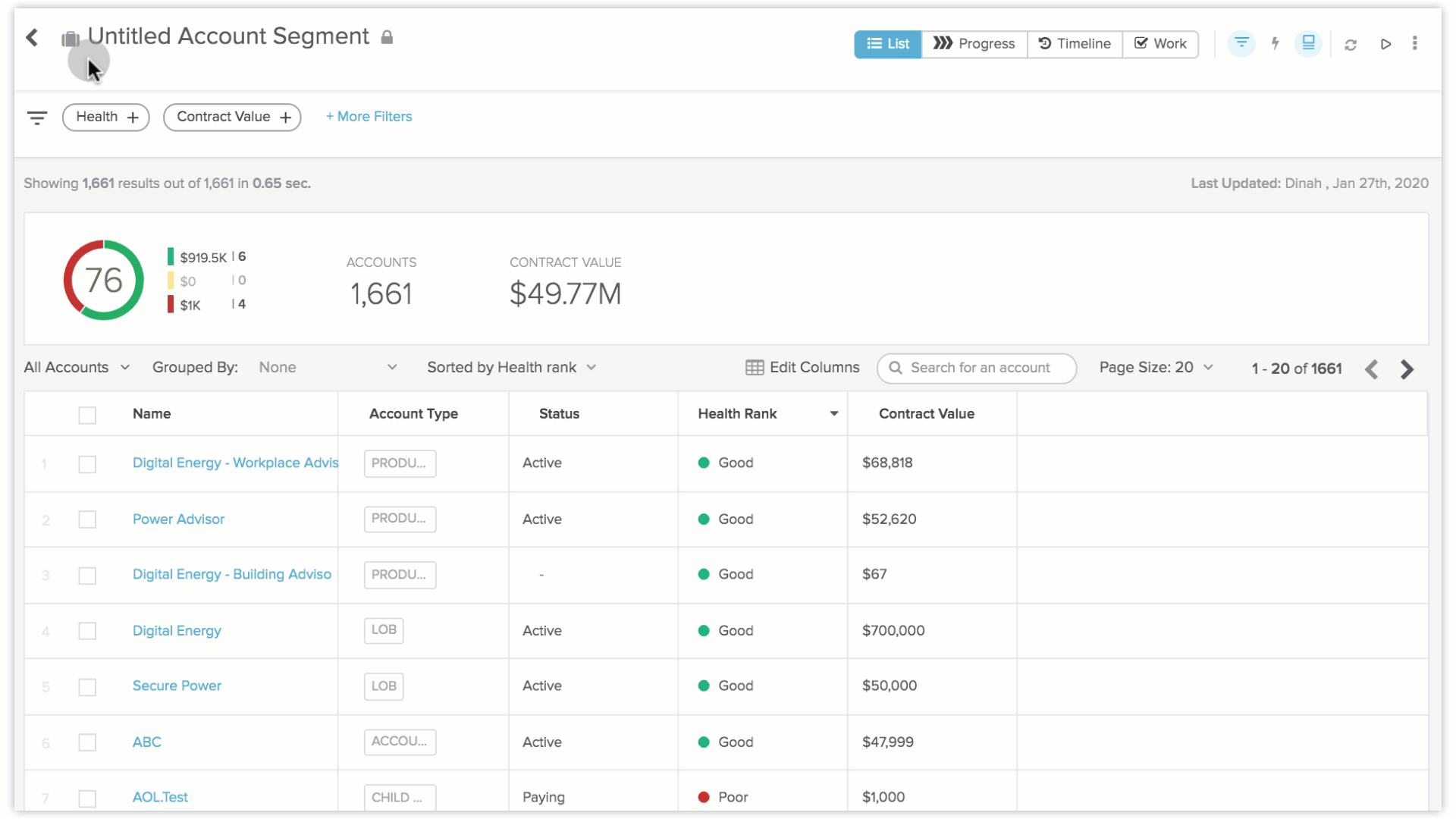 All Accounts/My Accounts: View results for "All Accounts" or filter results by the accounts you own by switching to "My Accounts". For segments aimed towards CSMs and sales managers, we recommend to save the segment filtered on "My Accounts"- it will open the segment sliced on the user's own accounts.
Search for Accounts and Users: In order to search accounts just start typing in the search bar. Note, in a user segment you will be able to search users instead of accounts.

Note, in Other Segment there is no search.
Grouped By: Group your segment by any text-based attribute to analyze a group of accounts.
Select the attribute from the "Grouped By" drop-down. You can use column sorting to sort the grouping, and also switch to see only your accounts.
You can also click on the health distribution data to view the accounts.


In order to remove the grouping, and change the view to a list of accounts - delete the group by attribute.



Note, Grouped by option is only relevant in an account segment.


Column Selector: You can select your desired columns in your results view and organize them in the order you want to view them in. Follow the steps below to add and organize columns:

Click the 'Edit Columns' link located towards the right side of the table and a window will open up that has t

he selected columns on the right.

You can drag & drop from the column bank on the left (clicking on the column name works as well). (Tip! We encourage you to use the search feature to find columns. The search finds columns even within activities, attributes, and modules, so you can search an activity name right from the search bar.)

Reorder the columns on the right side by dragging & dropping a column in the order you want it.

Remove a column by using the "x" button located on the right side.

Once you're done selecting your columns, click the 'Done' button.
Table Sorting: Click on each header to sort the column, clicking it again will reverse the sorting.
Bulk Editing: Depending on the user's permissions, a segment can allow the user to make bulk edits to attributes on multiple accounts at a time. You can also add or remove tags to bulk accounts in the segment table.

To Add/Remove Tags or Edit/Clear Attributes:

Select the accounts by clicking the check-boxes.

Choose to add or to remove tags, and select the tags (one or more).

Choose one of the attributes to change clear values.
Segment Actions
We encourage you to monitor and push your accounts forward! Following a list will send a daily snapshot of your segment to your email. You can also create an automated SuccessPlay, which will increase your productivity and you will be able to respond to any account indication. Below are instructions along with information about more segment actions.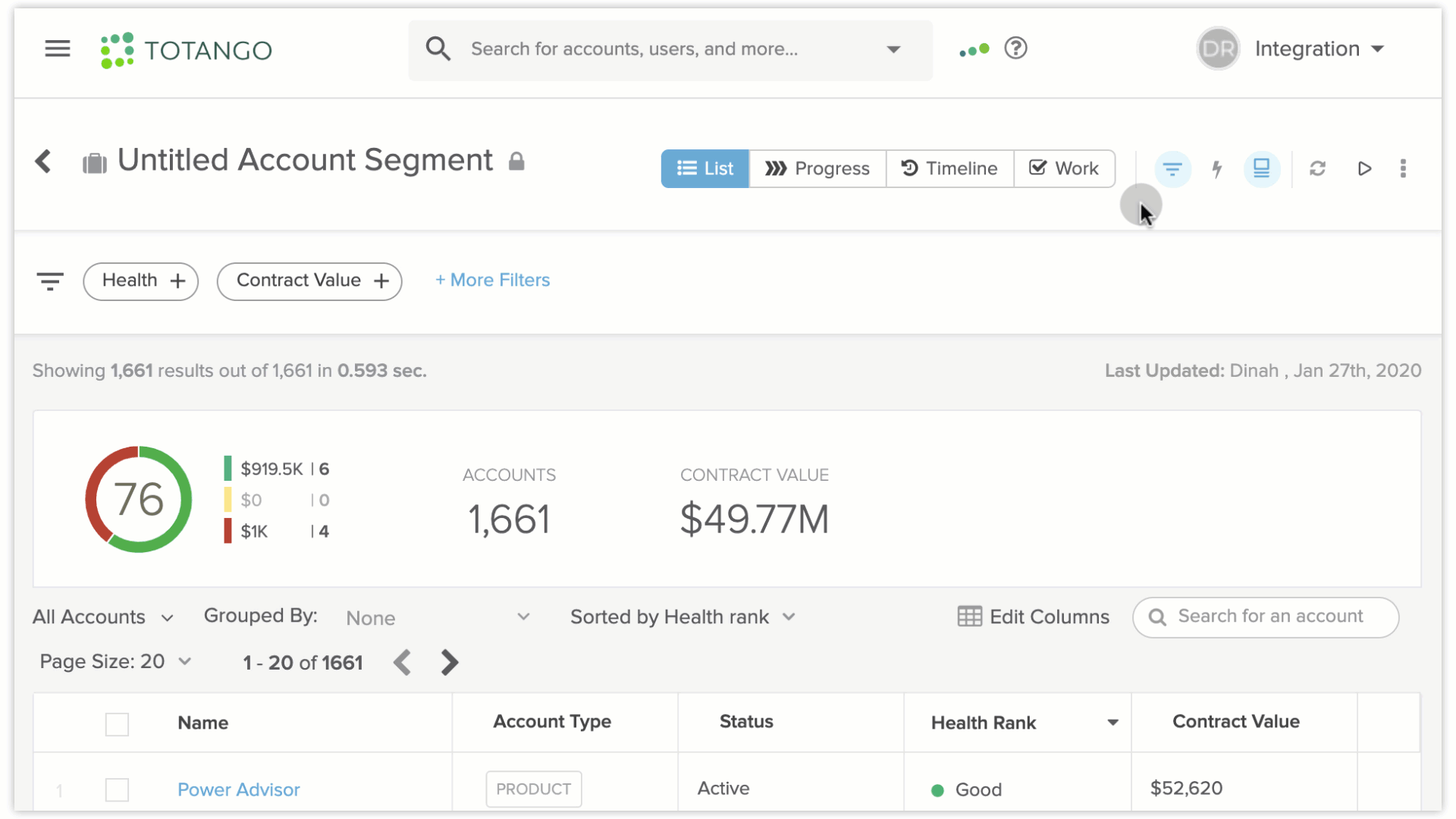 Follow a list:

Go to the 'more actions' menu in the upper right-hand corner.

Select the 'eye' button to follow or unfollow the segment.

Create a SuccessPlay:

Go to the SuccessPlay icon in the upper right-hand corner.

Follow the prompts to create a SuccessPlay

Note: The filter definitions, name, and description will be pulled from the segment and will be used as a starting point for your SuccessPlay.

More actions:

'Save current view as default' to save segment changes for future viewing.
'Download CSV' segment results to a spreadsheet
'Generate API endpoint' is the easiest way to use Totango's search and API starts by generating this endpoint. Read all about it in the Search API article.
'Copy' a segment to duplicate it.
'Delete' a segment if you do not want to save it or work with it anymore.
Segment Settings and Saving Segments in Personal Folders
You can save your segment, add a description, and save it to a designated location. You can also share your segment with others by selecting 'Public" or keep it 'Private'. Users can save segments in their 'Personal Folder', which provides a convenient location to store personal assets such as private segments. You can read more about it here. Segments placed into 'My Personal Folder' will automatically be switched to 'Private'.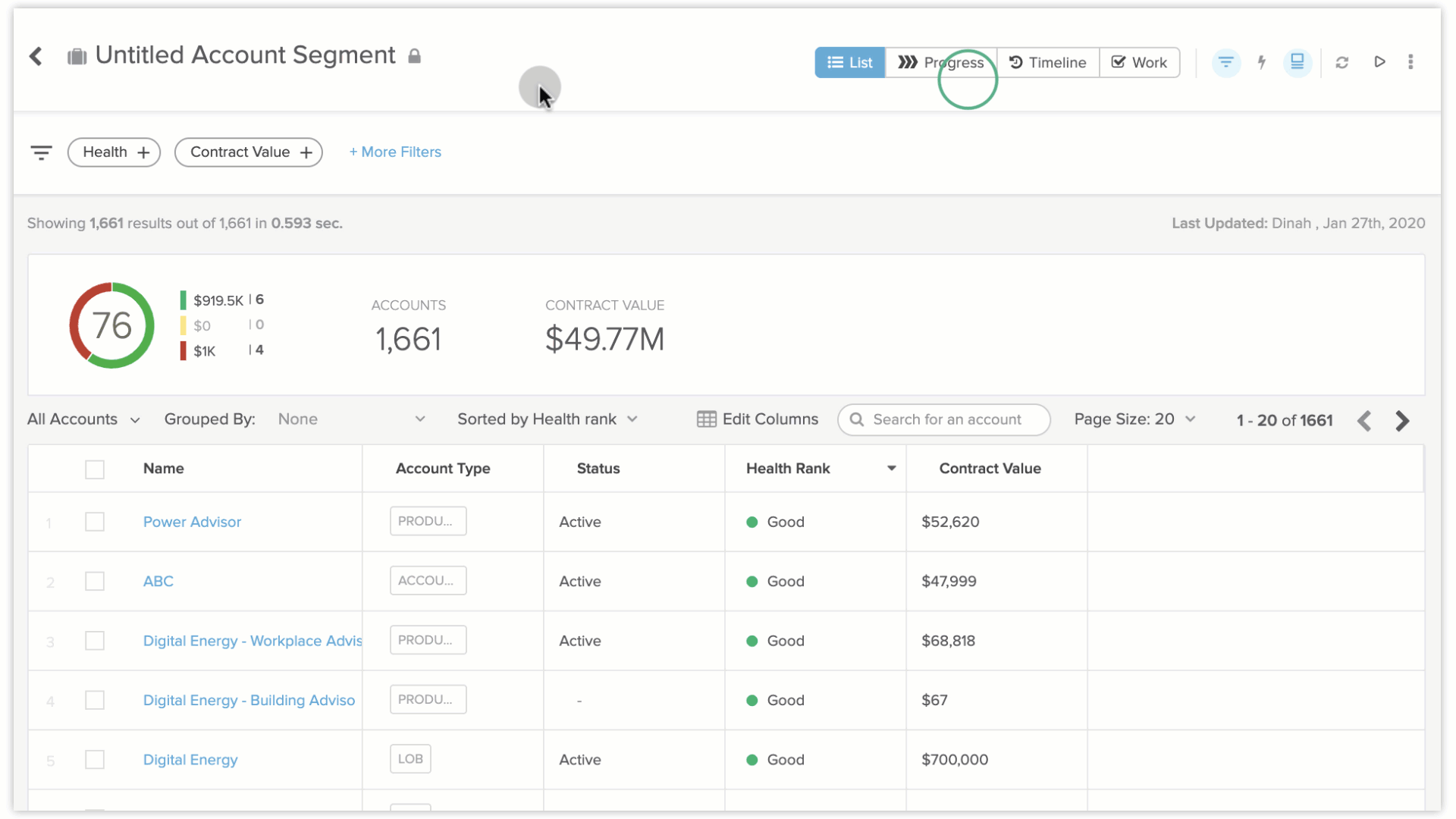 Known Limitations
When filtering information not based on the native object in filters and saving it (for example, saving an account segment which includes user information filtering), you are able to use the saved segment in any "In Segment" and "Not In segment" filters, but you cannot use this segment in an "In Segment" or "Not In segment" column.


FAQs
Question: I want to use a current segment as a base to create another one, but I cannot find a "save as" option. How can I do that?
Answer: Enter the current segment and duplicate it by going to the "More Actions" menu) and select 'Copy'. Then change the segment as you like and save it.
---
Question: I have a column of data in my segment that includes numbers. I have it sorted from highest to lowest, but it is not sorting them correctly. Why?
Answer: Make sure that the attribute field type that contains these numbers is either a numeric or currency data type. If it is set up as a text field, it will sort left to right instead of highest to lowest.
---
Question: I have non-relevant account types which are exposed in the "New Segment" modal, what can I do with it?

Answer: You can manage these account types or hide it in an account type dedicated page.
Go to the Account type tab in the Hierarchy Types page where you can hide account types and present only the "All Account" option in the "New Segment" modal.
Furthermore, you can review the account types and view your accounts in a segment to update their account type assignment.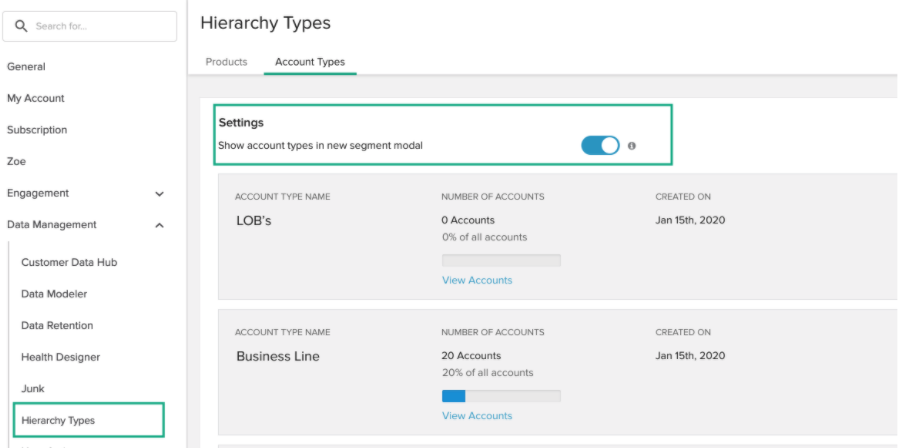 ---
Question: Why is the Contract value not displayed in the segment column?
Answer: There are 2 columns in segments that hold Contract value. One is under "Subscription information" and the second one is under "Attributes". The Subscription information > Contract value will get updated after the daily data aggregation job run for the service instance. The Attributes > Contract value gets updated in realtime.