Global Admins and those with permission to access 'Global Settings' can create, edit, reorder and delete Health Profiles. To access Totango's Health Designer, go to Global Settings | Health Designer.
Building a New Profile
To add a new Health Profile, click "New Profile" on the "Health Designer" screen.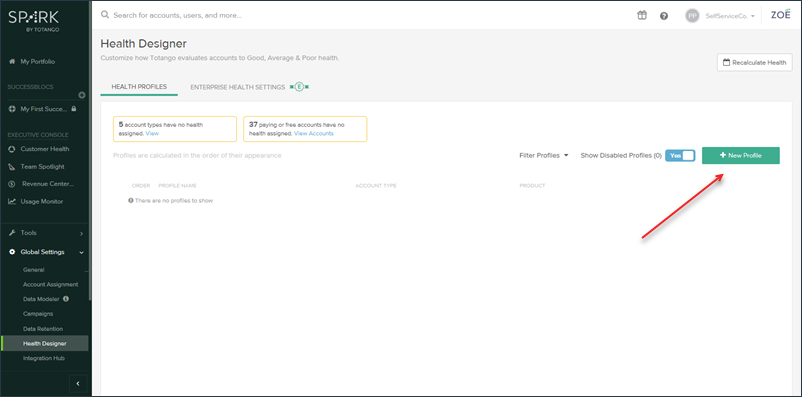 If this is the first Health Profile that you are creating, click "Create in Last Position," as shown in the illustration below.
**Keep in mind that order matters. If an account qualifies for more than one profile, then Health will be calculated in the order that the profiles are in. You can drag and drop to reorder.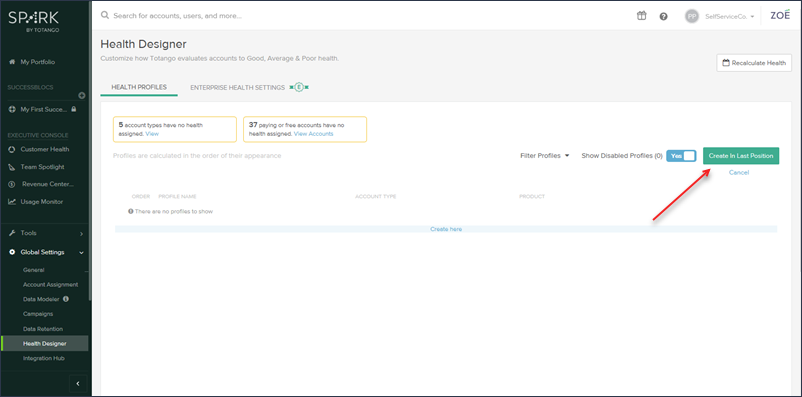 Enter a name for your new Health Profile and select the "Account Type" from the drop down.
Next you will need to define the accounts that will use this profile to calculate their Health with segment criteria.
For best practices on how to segment your accounts, see Defining the Customer Health Score.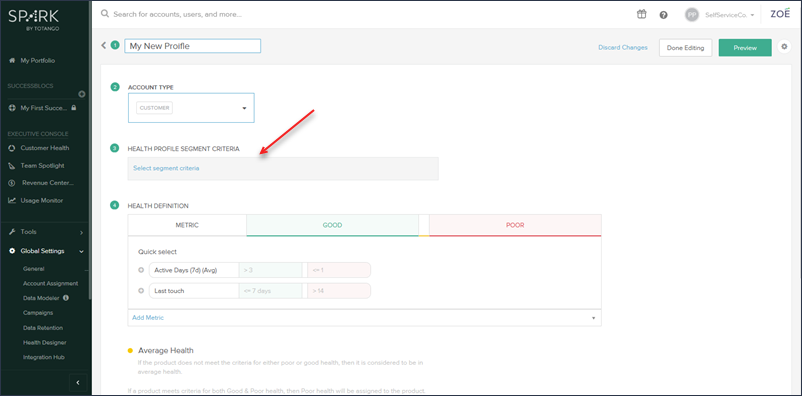 Health Definition
Within the "Health Definition", you can begin to define your Health Scorecard. The 'Quick Select' will offer you a starting place based on Totango's established best practices for calculating Health, but you can (and should) add your own business-specific criteria.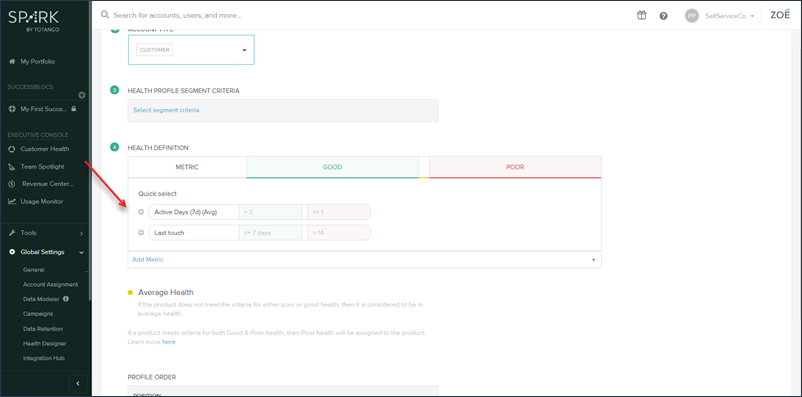 You will select the criteria that will determine 'Good' and 'Poor'; anything in between will be considered 'Average.' Additionally, if an account qualifies for both 'Good' and 'Poor' criteria, then Totango will automatically assign it to 'Poor.' An account must qualify for all of the 'Good' criteria in order to be in 'Good' Health and vice versa.
To add additional metrics, click "Add Metric" and you can select and configure any of the options available.
Note: If you use 'Is in Segment' as criteria to define your Health Score, the segment cannot include any User Attributes or Touchpoint criteria.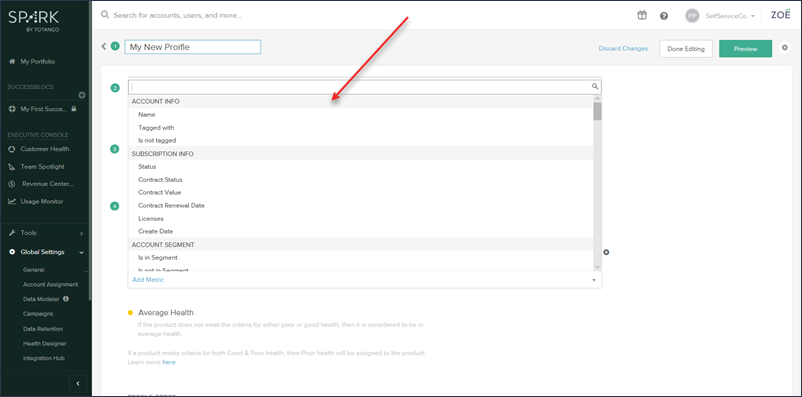 You can view a preview of the list of accounts that qualify for the Health Profile you just designed, as well as what their Health Score they would be assigned based on your criteria by clicking 'Preview.'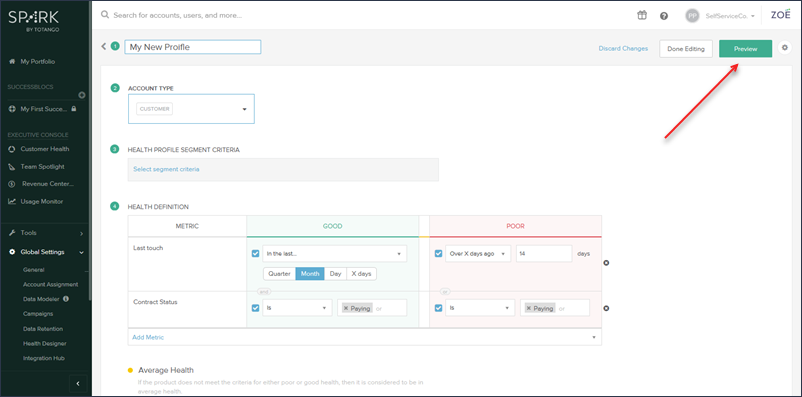 When finished setting up your new Health Profile, click "Done Editing" and then, on the next page, make sure that you click 'Save Changes.'

You can 'Disable Profile' or 'Delete Profile' by clicking the gear icon in the upper right-hand corner.
You can edit or reorder your Health Profiles at any time. Keep in mind that order matters. In the event that an account qualifies for more than one Health Profile at a time, Totango will use the profiles in the order that they appear in the Health Designer.
Anytime you edit, reorder or create new profiles, Totango will recalculate the Health automatically. You will see the Syncing icon while this process is happening.

Enterprise Health gives Enterprise-tier customers the ability to drive even more value across their sub-accounts, products, and channels by understanding how customer health differs across various levels of your account hierarchy.
Totango's Customer Health Console gives you the ability to segment, examine, and drive health across your entire customer portfolio.