Overview
Organizing attributes by business dimensions is an important step towards creating a digital representation of your customer data in Totango. Dimensions allow you to categorize your account and user attributes into logical groups for easier access while creating segments or viewing attributes. Each attribute in Totango can be associated with one Dimension.
This article includes the following topics
Data Modeler - Redesigned Attributes and Metrics page
The Attributes and Metrics page is now redesigned as the Data Modeler page. All the account attributes are now available in the Account Information tab and it includes named and custom attributes as well as custom metrics and rollup attributes. The User Information tab contains all the User attributes. The Contract Status is also available in its own tab here.
How to view System Dimensions
As a Global Admin in Totango, go to Global Settings > Data Modeler Dimensions tab. Named attributes and Default Hierarchy Rollups are already assigned to Dimensions shipped out-of-the-box. See the list of System Dimensions here.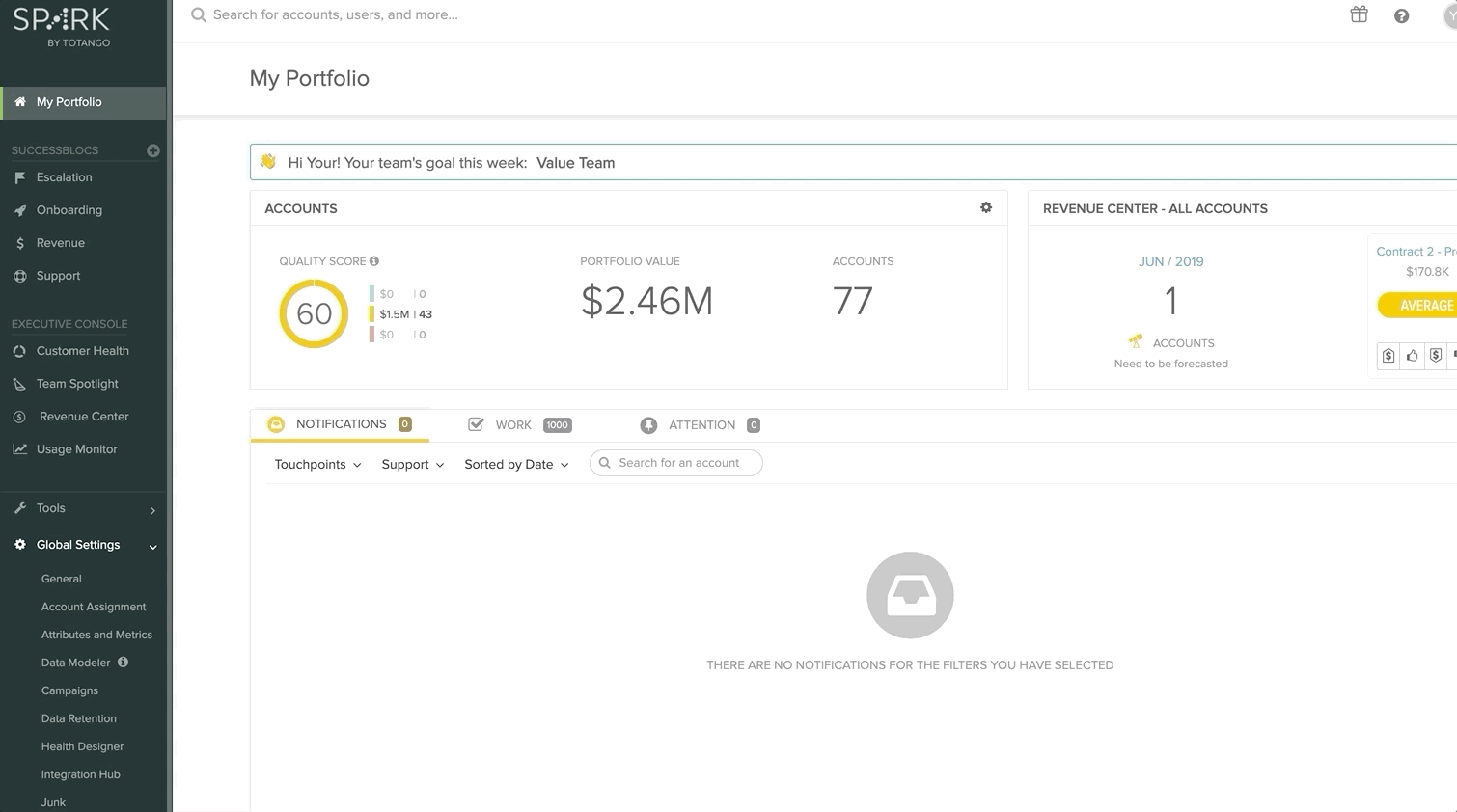 How to create new Dimensions
In the Dimensions, tab click on the green + sign to create a new Dimension
Enter a unique Dimension name
Dimension Description
You can add one or more account and user attributes to this Dimension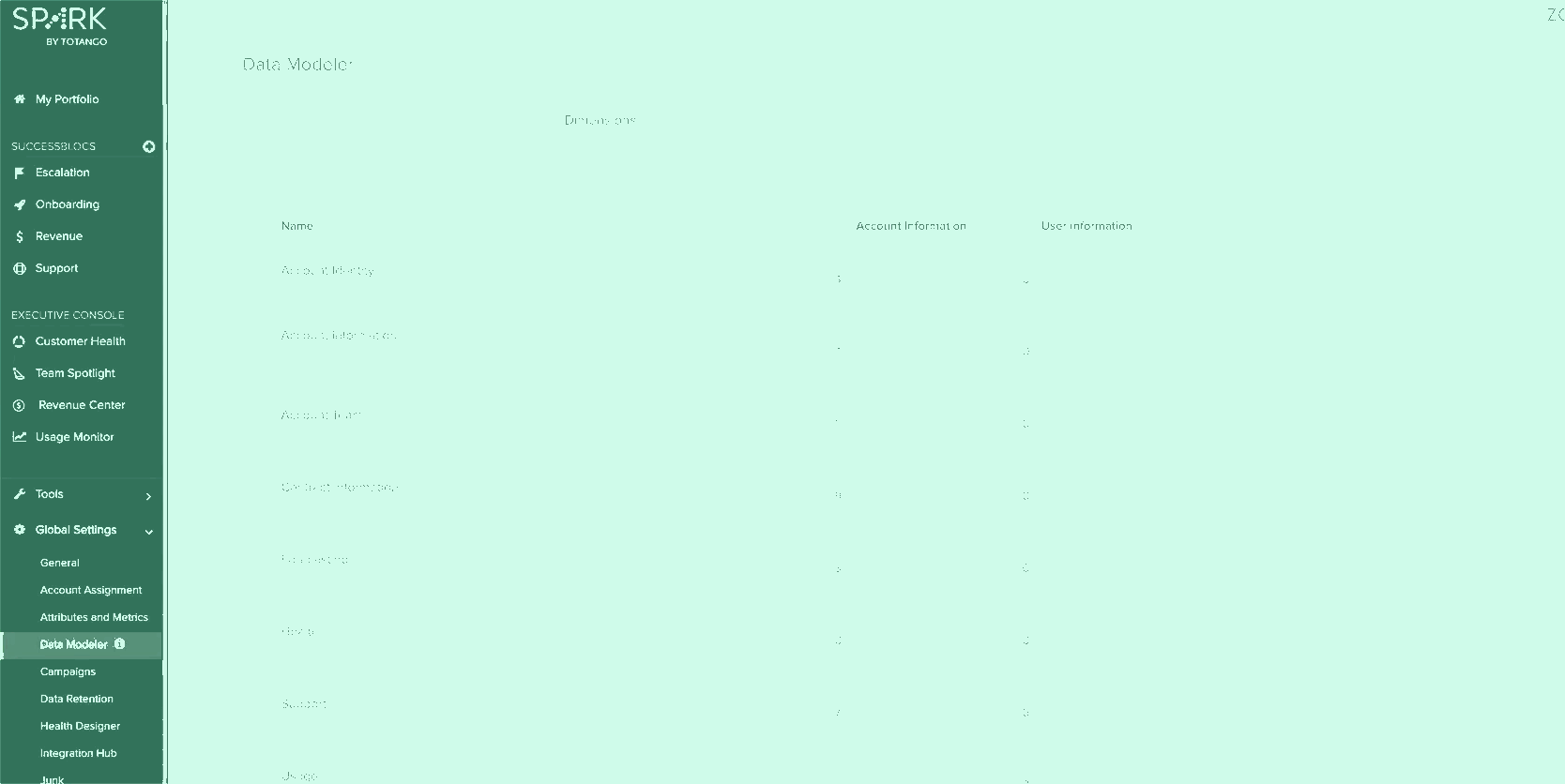 System Dimensions
The following dimensions are shipped out of the box. System dimensions can be renamed but cannot be deleted. Custom dimensions can be deleted from the system at any time. Uncategorized attributes are automatically put in a dimension called "General".
| | |
| --- | --- |
| Dimension / Category | Description |
| Account identity | Contains information related to the identity of the account and its hierarchy identity such as account id and CRM system id and hierarchy parent id |
| Account Master Data | Contains information related to account demographic details such as company domain and name and creation date |
| Account Team | Contains information related to account team assignments such as who is the account success manager and sales manager |
| Campaigns | Contains information related to campaigns such as targeted by a campaign and campaign goal achievement |
| Contracts | Contains information related to contract terms such as ARR and subscription start and end dates. |
| Health | Contains information related to health such as health rank and health profile |
| Hierarchy | Contains information related to account hierarchy such as direct parent and children and product owned |
| Revenue Forecasting | Contains information related to renewal, upsell, downgrade and churn forecasting such as forecast state and forecast amount |
| SuccessPlays | Contains information related to SuccessPlay automation such as targeted by a SuccessPlay |
| Support | Contains information related to support tickets such as severity and status |
| Usage | Contains information related to product usage such as active users and number of logins |
| User identity | Contains information related to the identity of the user such as user id |
| User Master Data | Contains information related to user demographic details such as email, name and address of your customers |
| Utilization | Contains information related to product utilization such as license utilization |
| Value Metrics | Contains information related to customer measurement metrics such as Last NPS score and satisfaction score |
| Voice of the Customer | Contains information related to customer feedback such as Last NPS score and satisfaction score |
| Work | Contains information related to a Totango user work such as open tasks and number of engagements |