Overview
Customers can use the new Revenue related segment criteria to understand their Renewal and Churn metrics for any historical or future quarters.
Trend is not available when these metrics are used (however specific historical periods can be queried) and hence these segments cannot be used in Reports.
This article includes the following topics
How to define the Financial Calendar
The financial calendar settings are available in Global Settings > General. Customers who use Revenue center will notice that the calendar settings has moved from Global Settings > Revenue Center to Global Settings > General. Their settings will be carried over from Revenue Center. However if you have not used Revenue Center you can define your financial calendar that defines your fiscal calendar. This calendar is used extensively in this feature.
The Global Admin can follow these steps to setup the Financial Calendar
Go to Global Settings > General
Specify the start of year month and the fiscal year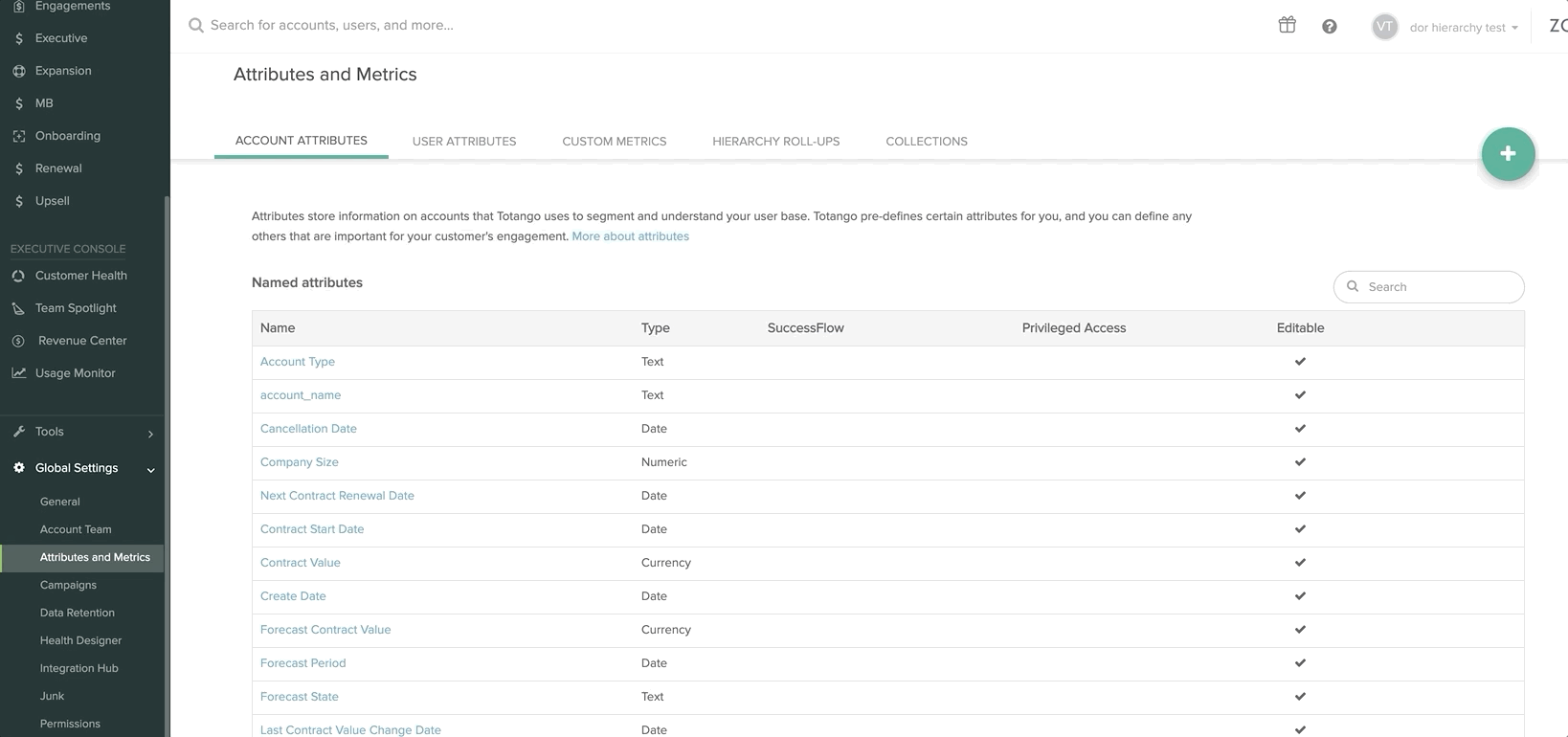 Renewables vs Renewed vs Churned Segment Criteria
While creating a segment a new Revenue section has 3 segment criteria options available while creating a segment. Choosing a segment criteria also prompts the user to pick a period for which the data should be retrieved.
Renewable Accounts in <period> - Renewables are accounts that are candidates for Renewal in the specified period. Renewables are determined by the Contract Renewal Date falling in a certain quarter at the beginning of a quarter/month.
Renewed Accounts in <period> - Renewed accounts returns accounts that renewed in the specified period
Churned Accounts in <period>- Churned accounts returns accounts that cancelled their subscriptions in the specified period.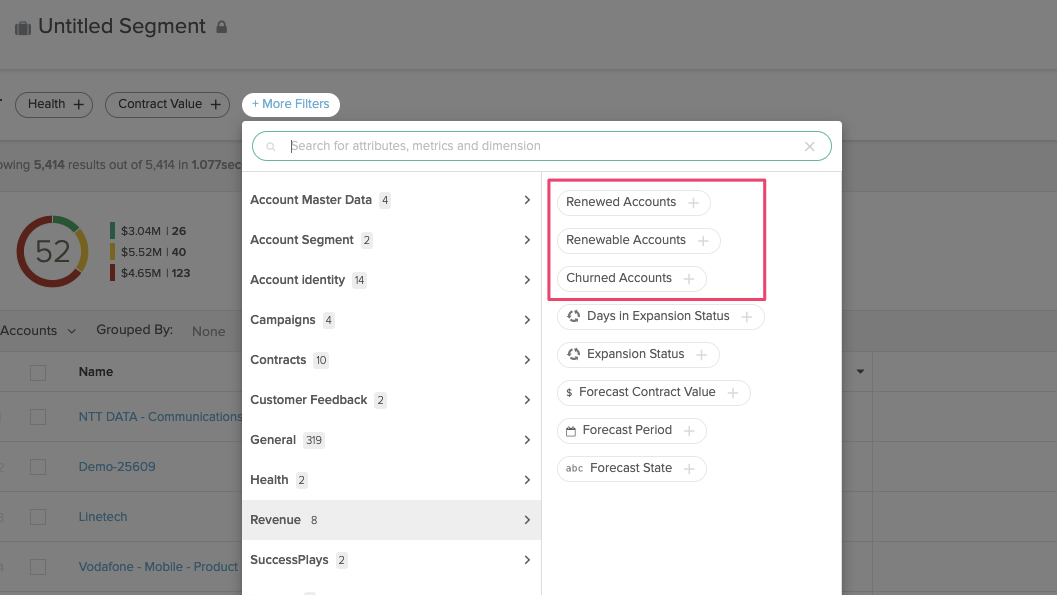 The following period options are supported
In current <month|quarter>
In next <month|quarter>
In previous <month|quarter>
In a specific <month|quarter> <choose month/quarter> <year(optional)>

For a specific quarter user can choose relative or specific quarters. When year is not provided the current fiscal year is added
Note: The Contract Value may not reflect the right value for the period being queried. To see the right amounts pls choose one of the columns as defined in the next section.
Viewing the Renewable, Renewed, Downgraded, Upsell or Lost Revenue
The Renewed or Upsell amounts are available as additional columns that can be added in a Segment as columns.
Renewable Revenue for <period>
Renewed Revenue for <period>
Upsell Revenue for <period>
Downgraded Revenue for <period>
Lost Revenue for <period>
Use one of these columns in the segment created with the new segment criteria to get a complete picture of the Revenue details. Note the regular Contract Value field captures the latest value of the account and may not reflect the right amounts for the period the data is being reviewed.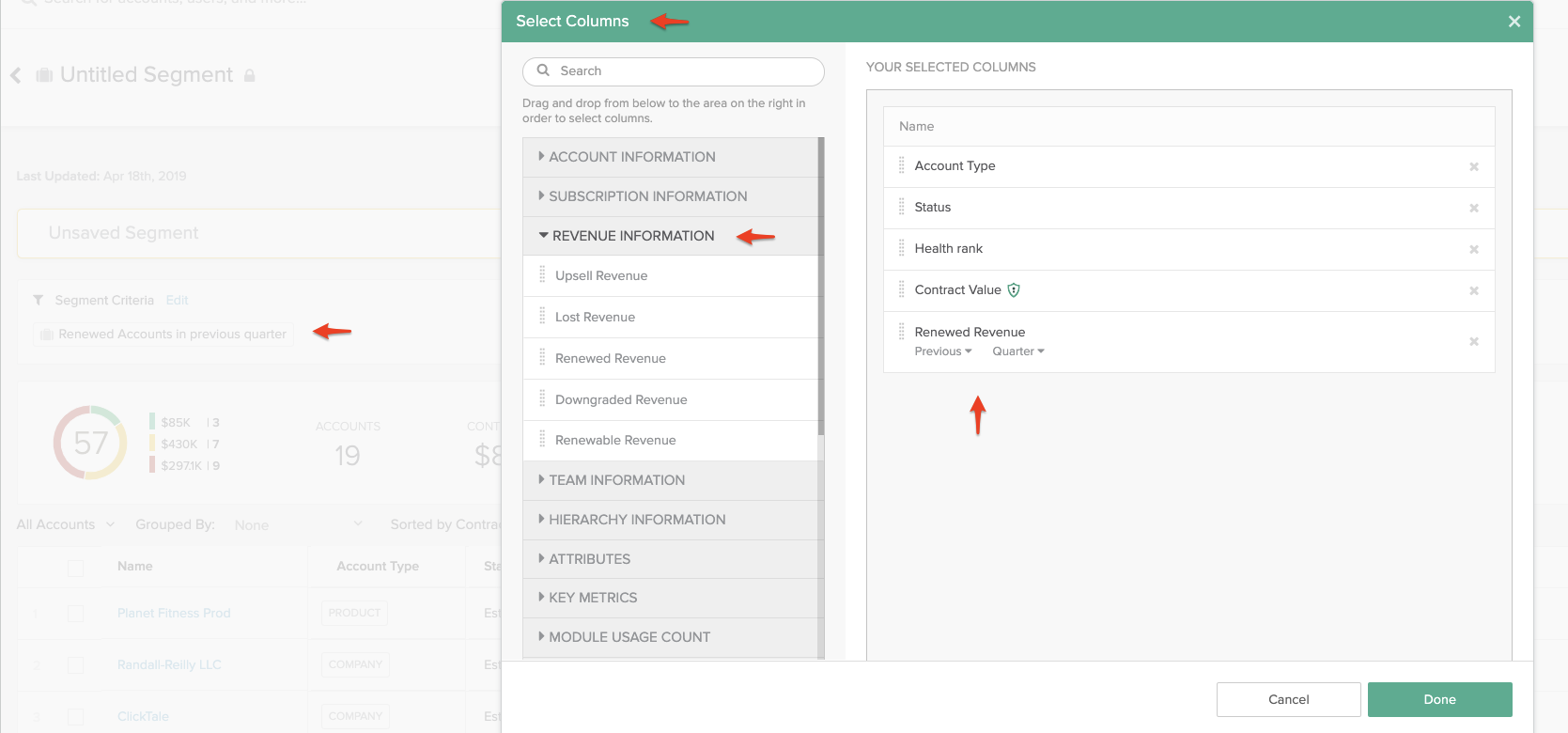 How are the various Revenue amounts calculated
The system tracks the named attribute out of the box Contract Renewal Date and Contract Value. Changes to these two fields help determine if an account renewed, upsold or downgraded and the day the change occurred is tracked.
For e.g. Imagine an Account "ABC Corporation" with a Renewal date of "July 15 2019" and a Contract Value of $120,000 with a calendar based financial year (Jan - Dec 2019). Imagine a series of updates on this account as shown. The various columns indicates how the system calculates the Revenue amounts
| | | | | | | | | |
| --- | --- | --- | --- | --- | --- | --- | --- | --- |
| Date | Event | Renewal Date | Contract Value | Renewable Revenue | Renewed Revenue | Upsell Revenue | Downgraded Revenue | Period |
| March 15th | Upsell | July 15th 2019 | $150,000 | - | - | $30,000 | - | Q1 Upsell |
| June 30 | Downgrade | July 15th 2019 | $100,000 | $50,000 | - | - | $50,000 | Q2 Downgrade |
| July 20th | Renewal | July 15th 2020 | $100,000 | $100,000 | $100,000 | - | - | Q3 Renewal |