Overview
You can better control the format of your customer data in Totango with the the List attribute data type.
With this data type you can predefine field values and set defaults, allowing administrators to standardize inputs.
Once you've set up your first List attribute, you can do the following things:
Restrict inputs to predefined values
Filter Segments
Use List values like any other attribute. For example: kick off a SuccessPlay or Campaign when the field value changes.
Creating a List attribute
To set up a List attribute, follow these steps (note - you must have the Global Admin role to create a custom attribute):
Navigate to Global Settings
Select Attributes and Metrics
Choose whether you are creating the attribute at the Account or User level
Click the green "+" button to add a new attribute
Name the attribute and provide a description
For the attribute type, select List.
Define the values for this List. You can re-order values as necessary.
Decide whether or not the field can be edited. Note: if you decide to restrict editability, no one including Global Admins will be able to edit the field value from within the Totango user interface.
Decide whether or not the field is visible to everyone, or restricted to users who's Team has access to these accounts.
Select what you want to happen in case a new account is created or updated and no value is provided for this field. Your options are:

Delete - the attribute will not be displayed on the Account or User profile. If there is an existing value in the field and a null value is upload, the existing value will be cleared and the attribute will be deleted from the Account Profile.
Previous Value - If the attribute is updated with a null value via manual upload or through the API, Totango will retain the previous value rather than deleting it.
Default Value - If the attribute is updated with a null value, Totango will populate the default value as defined by the Global Admin.

Save your attribute and it's ready for use!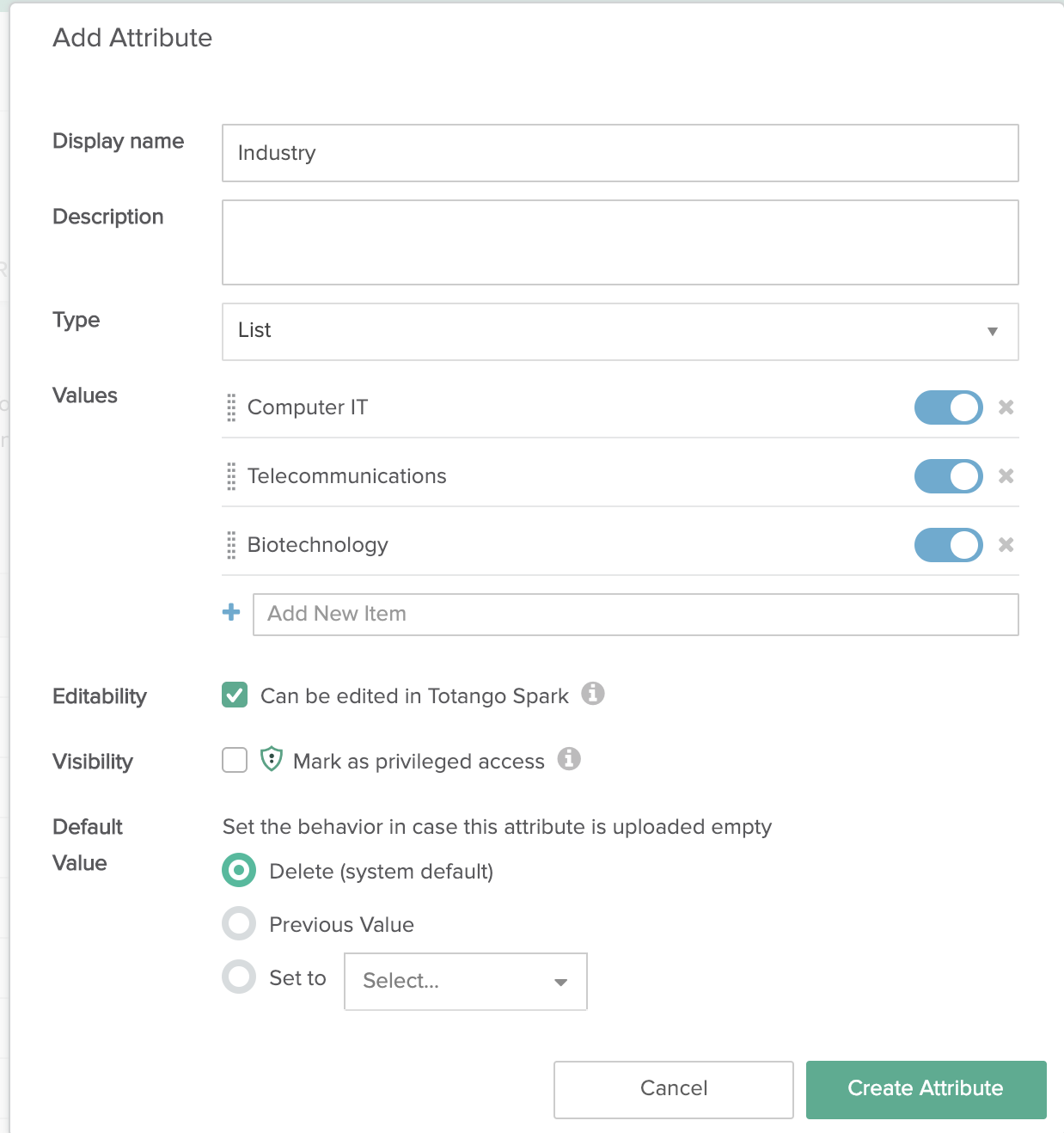 Using List attribute in Collections
While defining collections collection attributes can also be defined with the List data type.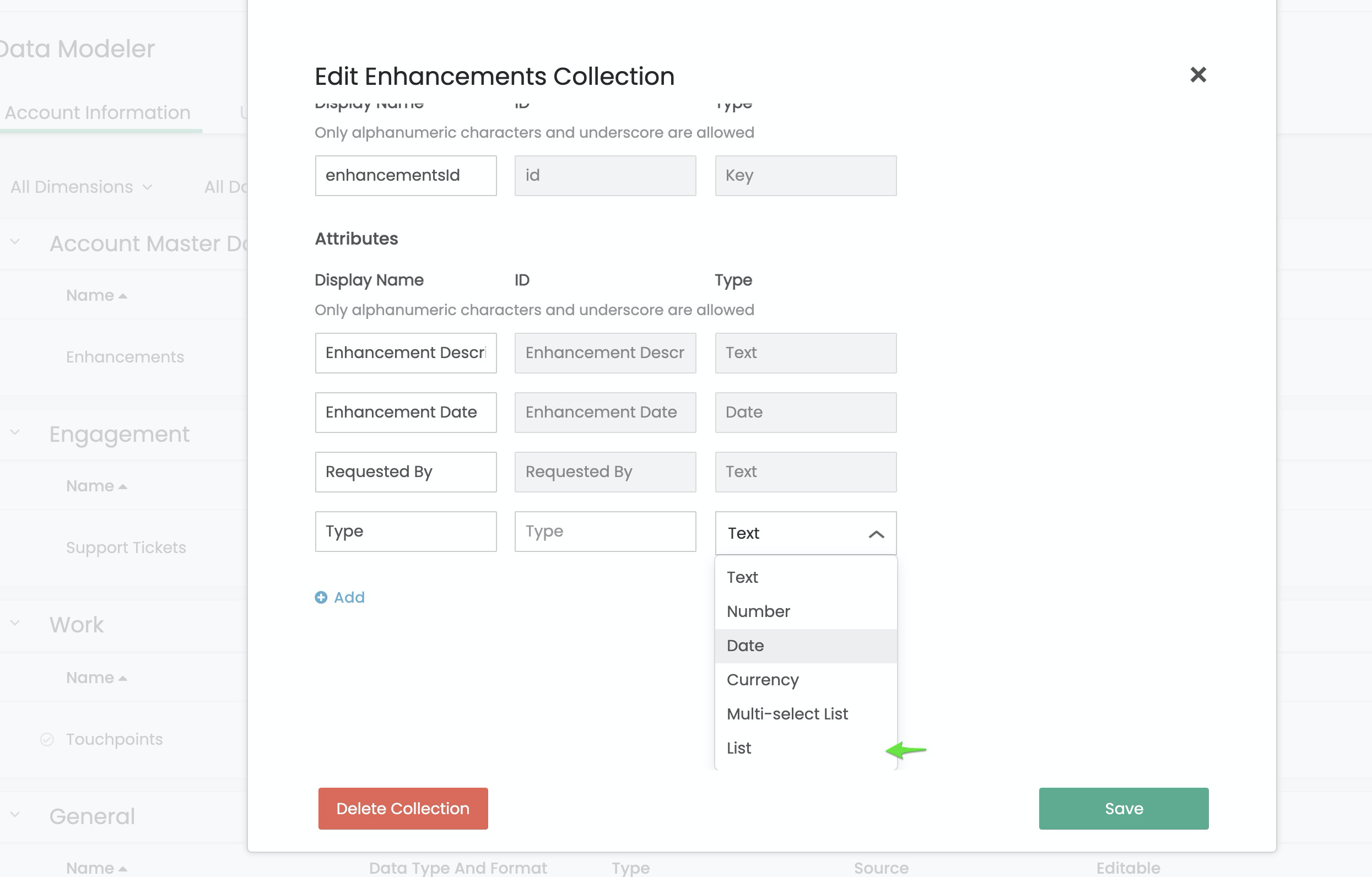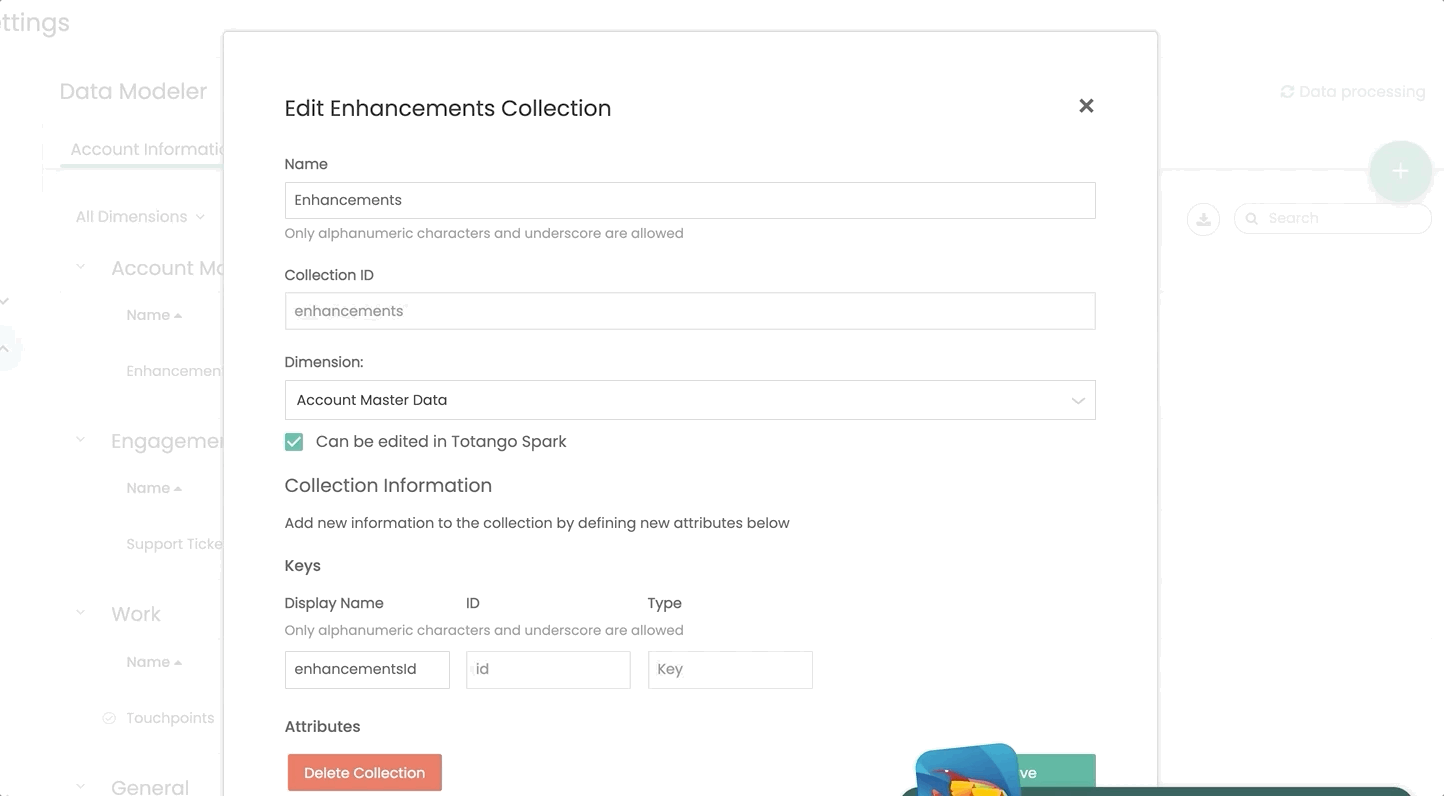 Querying List attributes in Segments
Once created, the List attribute can be used to generate segments. When you using a List attribute in your segment criteria, you will have two options:
Is one of - Allows you to select one or more values to search on.
Is not one of - Allows you to filter out undesired values from your segment.
Because disabled values are not deleted, it is possible to use disabled values in your segment criteria.

Limitations
List values cannot be deleted once they are created; however, they can be disabled and renamed.
When List values are renamed, once saved, the changes will cascade to all accounts.
The size of a list attribute is limited to 10K characters maximum including all meta data