Overview
The Copy SuccessBLOC feature allows users to copy SuccessBLOC and its contents from one Team to one or more Teams. Using this CS OPS members can maintain SB in an admin team and copy it to all the other teams so users can use these SuccessBLOCs.
This article includes the following topics
How to copy a SuccessBLOC
This feature is limited to Global Admins in Totango. To copy a SuccessBLOC go to a SuccessBLOC and click on the 3 dots on the right.

Once a user selects the Copy menu option for a SuccessBLOC the system opens a dialog to allow the user to pick what elements in the SuccessBLOC should be copied.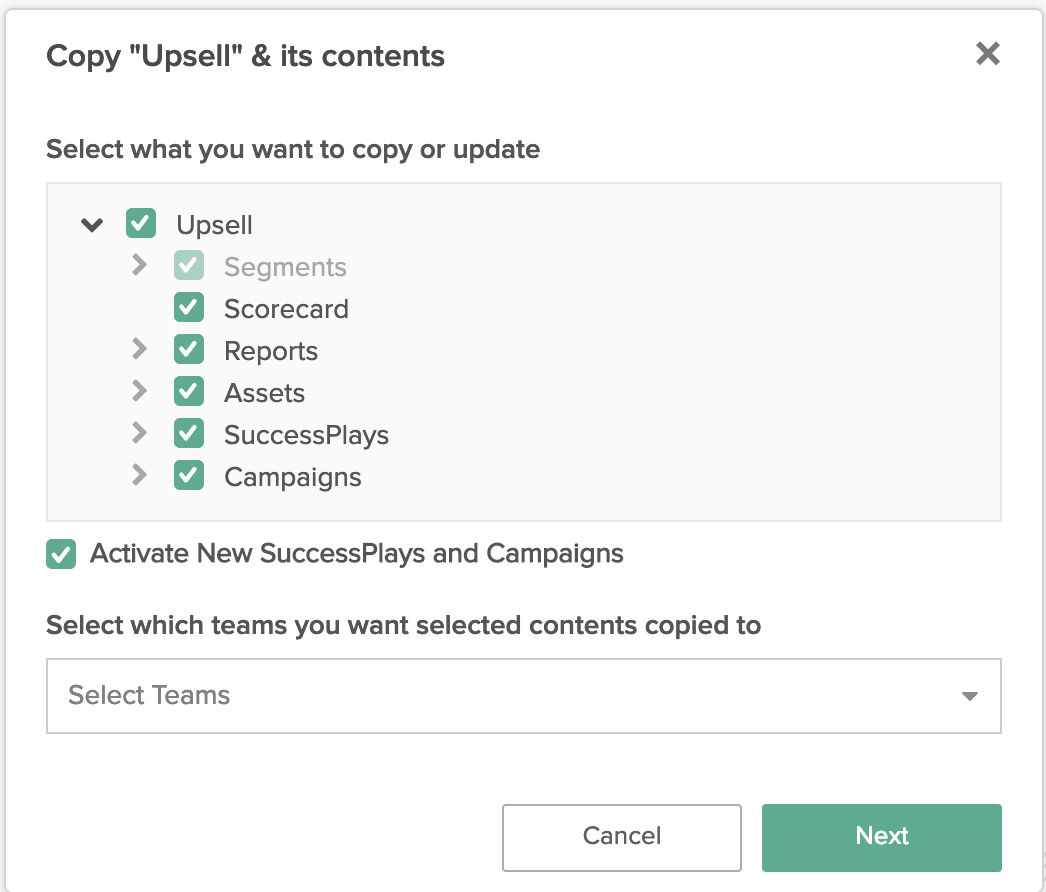 The system allows the user to choose Scorecard, Reports, Assets, SuccessPlays or Campaigns however Segments are always copied over by default. Optionally activate SuccessPlays and Campaigns (this option is only offered if you select SuccessPlays or Campaigns)
The user can pick one or more teams to copy SuccessBLOCs. The system provides a few shortcuts while selecting teams.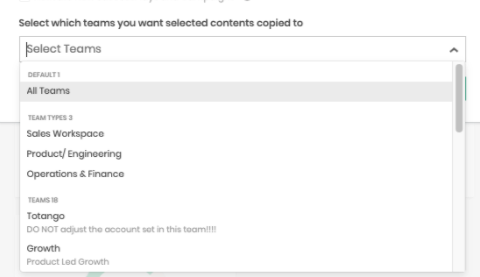 Users can pick:
All Teams

To copy SB to all other teams

Teams of a certain Team Type

Users can choose a certain Team type to copy SuccessBLOC to only the teams that are of that team type. You can read more about Team Types here.
The system copies the SuccessBLOC to the respective teams. However if the system detects the presence of a SuccessBLOC with the same name in any of the destination teams the system prompts the user to choose from one of the following options
Override SuccessBLOC
Delete and Recreate SuccessBLOC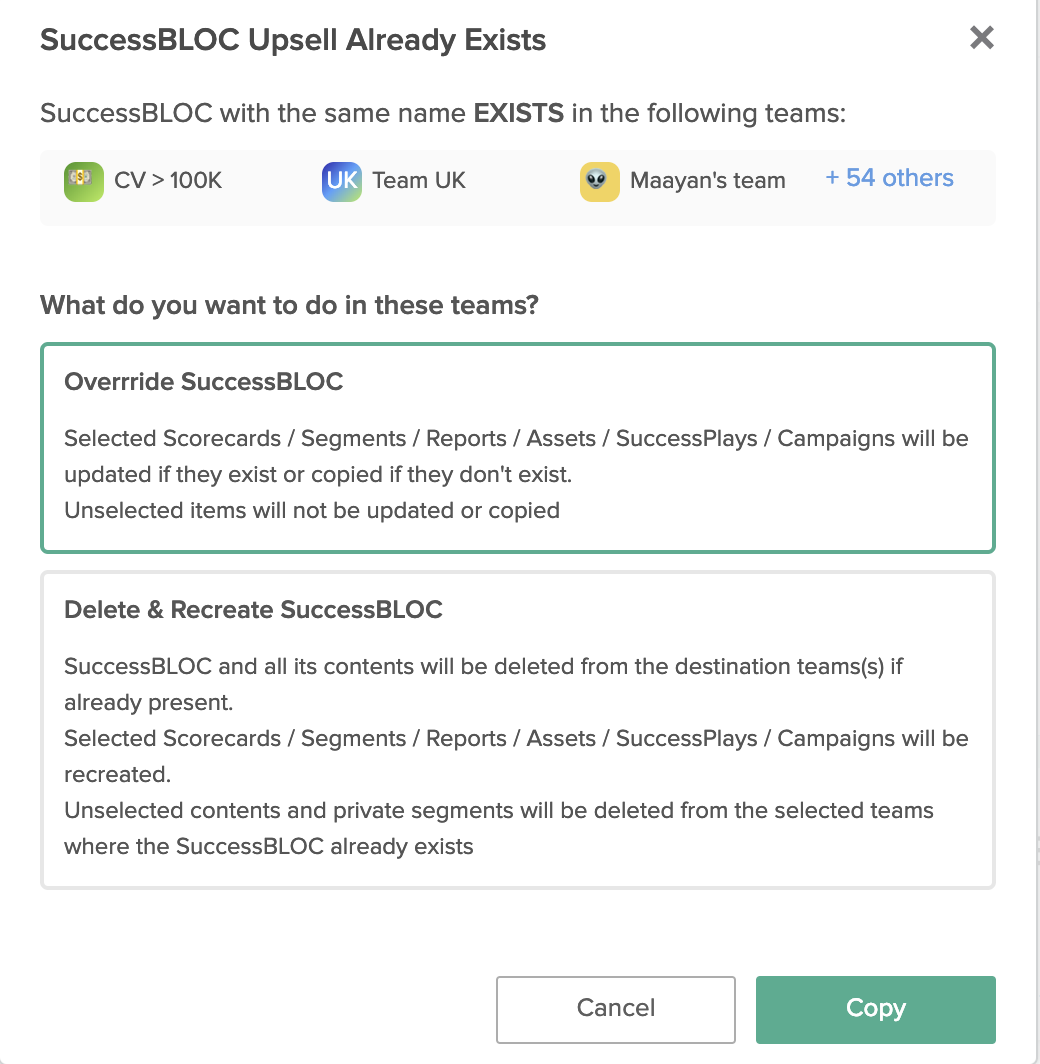 Override SuccessBLOC
If this option is selected, the system creates new SuccessBLOC in teams where the SuccessBLOC does not exist and overrides contents in the Destination. Contents with matching name is overwritten and new content is added to the destination team SuccessBLOC. Unselected contents are not updated or deleted in destination teams.
Delete and Recreate SuccessBLOC
If the Delete and Replace Existing option is picked, the SuccessBLOC in the destination is deleted and replaced with what the user has selected. Any new reports / segments / scorecards etc including changes to existing items in Destination SuccessBLOC will not be retained. Unselected contents will be deleted from destination teams.
Users can choose to optionally perform the additional steps as part of the copy SuccessBLOC
Publish SuccessBLOC in destination teams
Notify team members in each team inviting them to use the new SuccessBLOC
Current Limitations
The copy SuccessBLOC feature cannot be used if the SuccessBLOC has any of the criteria "is in Segment:" or "is not in Segment", "targeted by" or "not targeted by" and "goal achieved" or "goal not achieved" in either.
Segments
Reports Filter
SuccessPlay Criteria
Campaign Criteria
The system will warn the user of the presence of this criteria and copy will not proceed unless the user has deselected the highlighted elements. If this criteria is used in segments the user cannot deselect a segment (since all segments are always copied).