Role based access control allows customers to control access to various functions in the application based on users roles on the account team and SuccessTeam. Customers can define permissions for account roles and also create custom SuccessTeam roles for users and define account and application level permissions.
Common Use Cases
As a Global Admin I want to grant SuccessManagers on an account team the ability to update account information, update tasks and touchpoints but want to prevent them from accessing the Executive console
As a Global Admin I want to grant a first line manager for CSM's the ability to perform all the actions on an Account but not have access to Tools
As a Global Admin I want to create a System Admin role for my sysadmins and only grant them access to the Integration Hub in Global Settings
Note : Global Admin has all the privileges by default and this cannot be changed. Pls be cautious in creating users as Global Admins.
Account Level Permissions
The following account level permissions are available to grant to account roles as well as team member roles on an account
Category
Description
Functions Controlled

Account Information

Update Account Information

 

Update account attributes
Edit Forecast
About the Company
Update Account Team
Cannot change Account Status

Account Configuration

Update Account Configuration

 

Edit account layout
Key Metrics Configuration
Last Successflow Configuration
Configure account header
Move to Junk list

Tasks

 

Create, Edit, Delete and Complete Tasks

 

Create Task
Edit Task
Complete Task
Delete Task

Touchpoint

 

Add Update and Delete Touchpoint

 

Add Touchpoints
Edit Touchpoint
Delete Touchpoint

Contacts

 

Add and Update Delete Contacts

 

Add Contact
Update Contact
Mark as key contact
Delete Contact
App level access permissions
The app level access permissions allows admins to restrict access to various parts of the Totango application
Category
Description
Functions Controlled

Executive Console

Permission to access the Executive Console
Executive Console menu
SuccessBLOC
Ability to create a SuccessBLOC

Create SuccessBLOC
Access SuccessPlays
Access Campaigns

Tools

Access Tools

Access Tools menu

Global Settings

Access to Global Settings

Global Settings > Integration Hub

Zoe

Access to the "Share via Zoe" option

Create & participate on impact step on Zoe
Share via Zoe
Granting Account Permissions to Roles
A Global Admin can define the permissions to one or more roles in the Global Settings > Permissions
Each permission can be assigned in the following ways
Everyone in the SuccessTeam - Grant this permission to every role in a SuccessTeam
Everyone in the Account team - Grant this permission to every role in the Account team. New roles created in the future will also get this permission automatically
Only Specific roles - Grant this permission to specific roles that have been specified
No one - No roles will be granted this permission. Global Admins are an exception and have all permissions by default.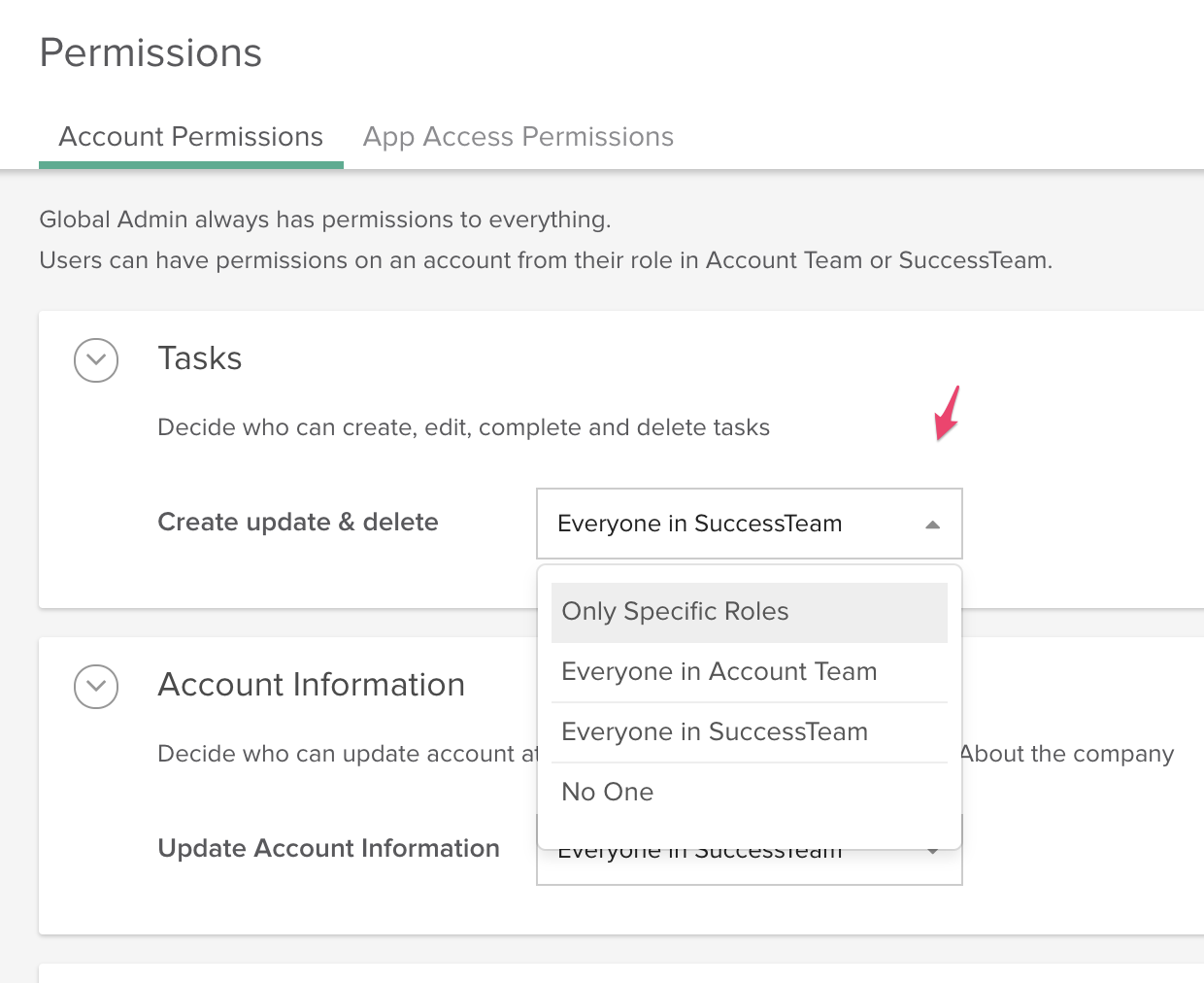 Granting App Access Permissions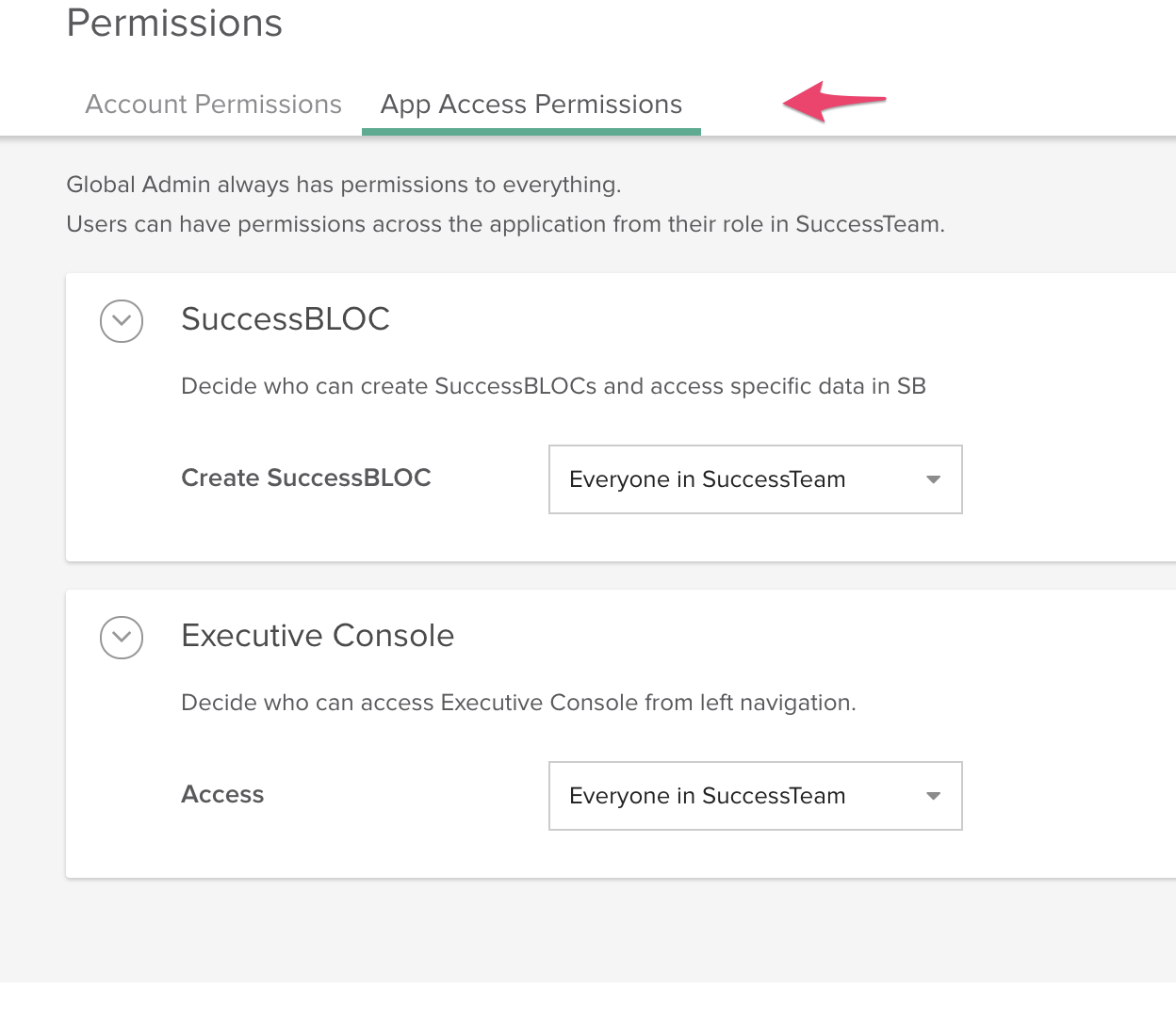 Defining custom SuccessTeam roles
A Global admin can define custom roles in the system. The following roles are available out of the box
Regular User
Team Admin
Note : Global Admin is default super user role in the system with full privileges and comes out of the box but is not listed with other roles mentioned above.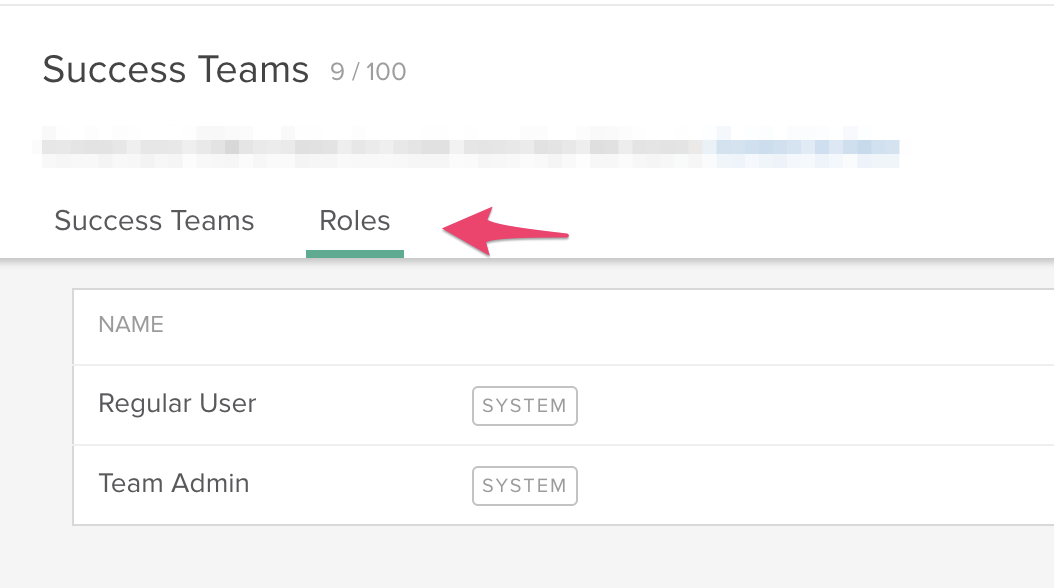 Clicking on the green + button launches the New Role window allowing the user to define a new role with a Role Name and Description.