Overview
Attributes are the defined fields for your data and are powerful tools to segment and report on your customers and KPI. The purpose of this document is to get you familiar with the various attribute types, the system default Totango Named attributes and attribute settings.
Attributes are either related to Account Information (account attributes), User Information (end user attributes) or Totango User Information. And these can be organized into attribute Dimensions which you define.
Topics covered in this article (Custom Calculated Metrics, Hierarchy Roll-Ups and Collections are not covered here):
Attribute Data Types
Totango supports the followings Attribute Data Types:
Text - Supported as Account or User Attributes
The attribute can contain any textual data.
Totango will show the value as is
Totango will identify a link, and will show the text as linkable
Limitation: up to 512 characters for account attributes and up to 255 characters for user attributes.
Numeric - Supported as Account or User Attributes
The attribute can contain any numeric value
Positive and negative values are supported
Both integer and decimal values are supported
Limitation: a comma is not supported (i.e., values should be sent as 1000 instead of 1,000). If this data is synced via Customer Data Hub, use source formatting to handle the above use case.
Date - Supported as Account or User Attributes
Display Date values
Values should be sent with complying with ISO 8601 (i.e., it should have following date format: "yyyy-mm-ddThh:mm:ss.sZ" or ""yyyy-mm-dd").
If this data is synced via Customer Data Hub, use source formatting to handle any type of source data date format.
Currency - Supported as Account Attributes only
Choose the currency to display from a list of 100+ global currencies, only one attribute can be set per attribute, Totango does not perform conversions
Decide on EU or international format
Select the number of digits to display after the decimal
List - Supported as Account Attributes only
Create a list of predefined options
Drag & drop to resort list at any time
Supports any combinations of text, numbers or special characters
Totango support multi-select list attributes
Lifecycle Status' - Supported as Account Attributes only
Support pre-defined set of values (called Stages)
Totango will automatically track time between Status Stages
Set an End Stage to denote the end of this part of the Lifecycle journey (in the below example, 'Closed Won' and 'Confirmed Canceled' would both be end stages to the Renewal Probability)
Note: the values sent should match the Attribute Stages and are case sensitive
For more details please refer to Lifecycle Status
Account Roles
Account Assignment Roles are used for the purpose of assigning ownership of a task either manually or automatically as a result of a SuccessPlay. They can also be used like any other attributes for the purposes of creating segments, dynamic fields in campaigns, reports and SuccessPlay tasks. You can create as many Account Assignment Roles as you like. Totango provides Success Manager and Sales Manager by default (see Totango Named Attributes). You can populate the values of these roles from any data source, just like any other attribute.
If you want to ensure that the tasks/touchpoints for the role are correlated to the Totango user. The value in the Account Assignment Role should match the exact spelling of the name of the associated Totango User. For example, if Jonathan Doe (jonathan.doe@acme.com) is the Success Manager of Account A, but his Totango User is created under John Doe, then the tasks assigned at the account will not flow/relate to the correct Totango user.
If you are concerned about name duplication within your roles, every account role has a ___tid value. This should be populated with the email address of the user. In that instance both the email and name values for the role have to match the Totango User profile.
Totango User Attributes
Your Totango Users have a lot of HR and demographic information that is important for making better decisions. Viewing this information helps managers make smarter information-based decisions. By creating Totango User Attributes, you can create Totango User Pools to better analyze Totango User data on the Totango Users page and Team Spotlight. You can also Dynamically assign SuccessPlays Tasks.
Totango Named (Default) Attributes
You can define any account attributes you want for filtering and segmentation purposes. In addition, Totango comes out of the box with a number of named attributes for which it defines special functionality. Adding data to these attributes is required in order to get full functionality from your Totango instance. Here is a list of these attributes and supported syntax.
Attribute Settings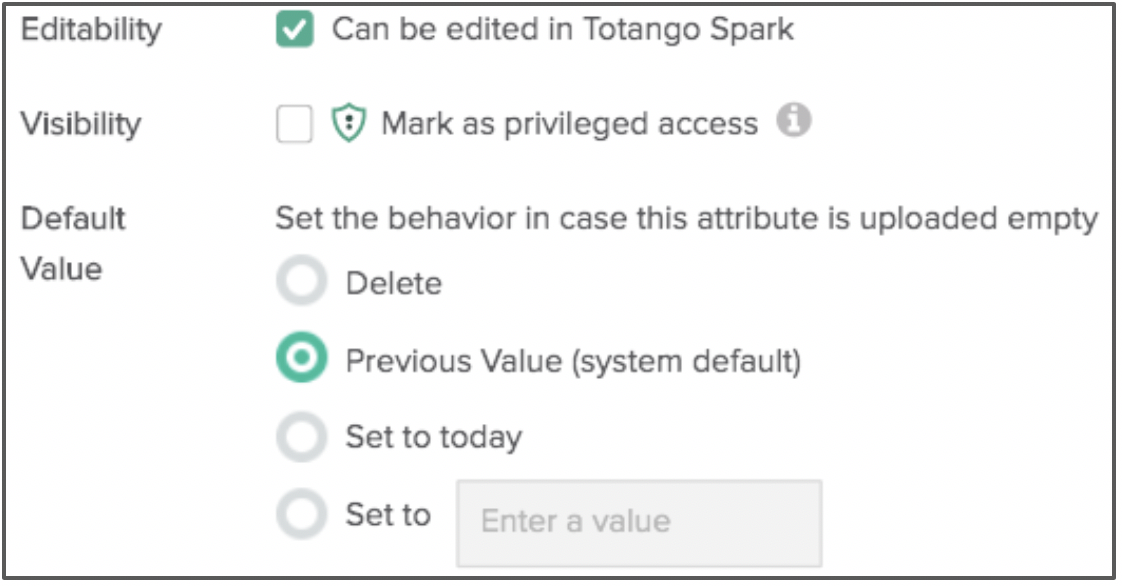 When creating or editing attributes, you also have settings for:
Edibility - Do you want to edit this attribute in Totango? You may want to deselect this option when the attribute is being populated by another source, which should remain the source of truth.
Visibility- You can mark the attribute as 'Privileged Access' meaning it is sensitive data that should not be seen by all Totango Users.
Default Value - You can set the behavior of the attribute value in the case that it is uploaded empty via a CSV file.
Attribute Sources & API Names

When creating an attribute, you can select its source - either Salesforce or through API (which denotes all other sources). If an attribute is set up as Source=Salesforce, it cannot be updated from any other source (API or CSV) and Totango will ignore the data sent to this attribute, without showing an error. Note: This setting is for the Legacy Salesforce connector. The new SFDC connector does not rely on this button. This functionality will be retired soon.
Once you have defined an attribute, the API name cannot be changed, it is set based on your api definition the first time data is received for that attribute or when you define the attribute in the Data Modeler.
Note: the API name is the attribute identification you need to use in order to update it's value from any source.
Note: Totango does not support special characters in the API name of attributes (Examples: .,#,?,*..), only dash "-" and underscore "_"