Overview
During the life of a customer, hundreds of documents get created starting with the original contract to presentations for QBRs and other material that are relevant for the customer. Additionally within an organization CS teams prepare process documents for internal use from Onboarding checklists to configuration documents to QBR templates that is leveraged by the entire team to present a consistent experience to customers. Having documents in a single repository accessible quickly in a central location is very useful. With the Assets tab on Accounts and SuccessBLOCs allows CSM's and any user of Totango to store the customer and process documents. Customer documents can be stored against each customer record and can be attached to Tasks and Touchpoints while process documents can be attached to each SuccessBLOC.
This article includes the following topics:
How-To attach documents to Account or SuccessBLOCs
Any user of Totango can follow these steps to upload documents to Accounts. Users can upload attachments of common file types (.pptx,.docx,.xlsx, .pdf) from their local system. Users can also integrate with OneDrive and GoogleDrive to add documents from these repositories. Totango stores the link to these documents and opens them in a new tab when you access them. Customers can also store links to intranet or internet locations.
Select the paper clip icon underneath the + sign that appears on hover of Account Profile or SuccessBLOC assets tab
Choose whether you want to upload file from a local system, OneDrive, Google Drive or regular Link
If you choose OneDrive or GoogleDrive the system redirects you to login and request access to your drive to access files
Once logged in you can choose and attach any file from your drive
The system adds the chosen files to the Account or SuccessBLOC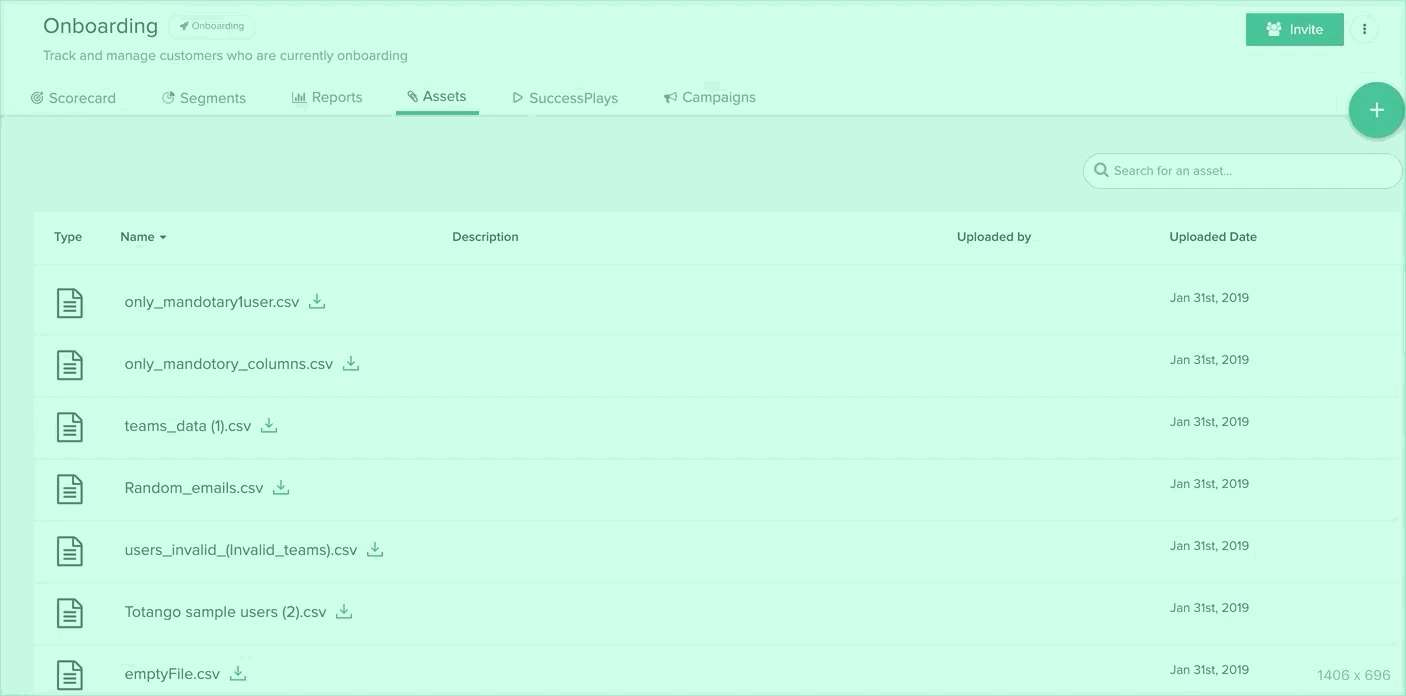 How-To attach attachments to tasks and touchpoints
Users can follow these steps to add attachments to tasks and touchpoints
Create a task or touchpoint
Click on Attach to upload a new file
Click on Choose from existing to link a previously uploaded file from the Account with the current task or touchpoint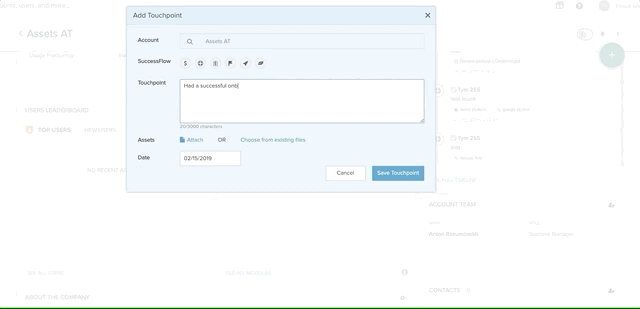 Known Limitations
None